Namastey from team India Ghoomo,
During our recent 4 days trip to this Hampi, we decided to spend the last 2 days at Hampi Heritage & Wilderness Resort earlier known as the Sloth Bear Resort. This video aims to give you an overview of the property, hospitality offered by the staff and our experience over there.
Located at the edge of the Daroji Sloth Bear Sanctuary , Hampi Heritage & Wilderness Resort is a Jungle Lodges & Resorts property situated in Hampi.
WATCH the VIDEO :
DAY 1
We checked out from Hotel Mayura at 9:00 am and headed towards The Hampi Haeritage and wilderness resort which was just 8 kms away – both situated at Kamlapura.
In no time we reached the resort and were amazed with the location. The property is spread across 32 acres of shrub land and blends pretty well with the surrounding shrub forest. It has a huge reception area, a dining hall and around 20 cottages spread across the property at a considerable distance from each other . The location of these cottages with huge boulder laden hills in the backdrop gives the property a mystical touch.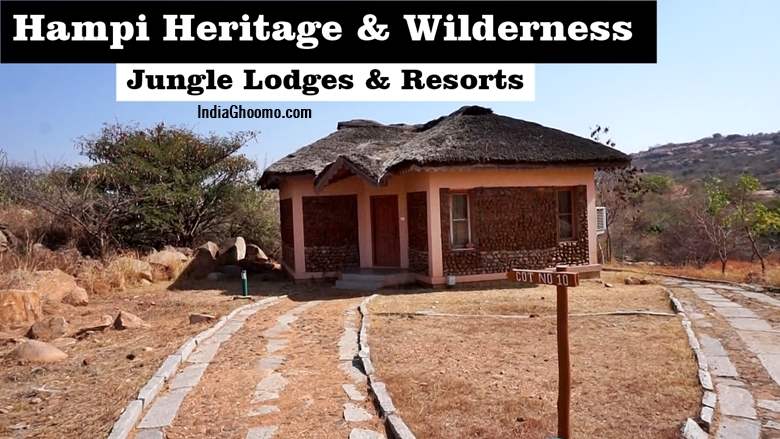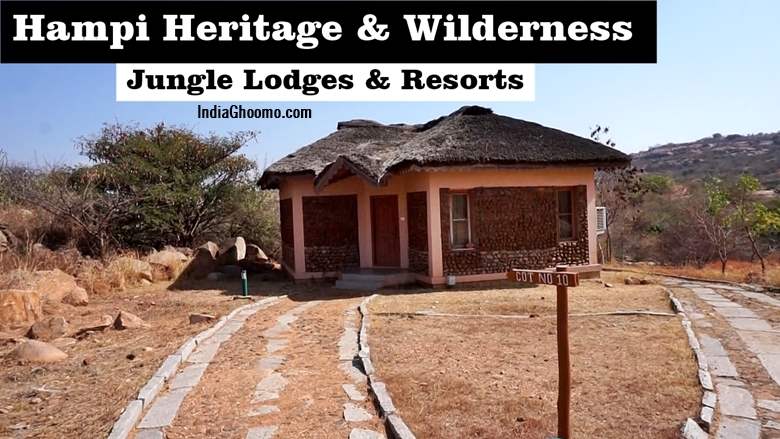 Hampi Heritage & Wilderness Resort Jungle Lodges
We were allotted cottage number 11, which was a bit away from the reception and dining area and required around 5 minutes walking which we enjoyed. The cottage was located at a secluded place and was spacious and clean. It was equipped with an air conditioner, bed, an almirah, a wardrobe space, chairs and side tables. The room also has a huge glass panel offering the views of the surrounding shrub land with hills in the backdrop.
The bathroom is a basic and clean one and has hot water supply and basic toiletries. It also has a huge balcony overlooking the hills and one can spot a number of birds chirping around. A very peaceful and relaxed area where one can spend hours soaking in the nature around.
After keeping our luggage in the room we went to the dining area to have breakfast.
Post breakfast we took a walk around the property. Since the time the resort became operational management has planted around 4 thousand trees inside the property. This makes property grounds less warm compared to the other areas outside the resort.
It also has a bird bath area with a hidden viewing post offering great views of birds coming down in the evenings for a bath. We could'nt spot any since it was afternoon but a nice place to sit and listen to the sounds of the nature .
At 1:30 pm it was time for lunch. Lunch served was a buffet spread and the food served was a mix of north indian and south indian cousine. I have to say the food was deliciously awesome. Special thanks to Chef Manju Nayak and team.
They took care of all the requirements and not to mention they were humble, courteous and polite.
Visiting Daroji Sloth Bear Sanctuary
After lunch, we took some rest inside our cottage and at 3:30 pm it was time to visit the Daroji Sloth Bear Sanctuary, this visit was included in the package.
Located at a distance of 15 kms from Hampi city, the Daroji Sloth Beach Sanctuary is around 1 hrs drive from the Hampi heritage and wilderness resort. The drive through the scrub forest lined with hills on all the sides is unique and beautiful. Driver Venkatesh who double up as guide is a very knowledgeable person. He briefed us about the flora and fauna of the sanctuary and helped us spot a number of birds including Painted Sandgrouse , Red-wattled lapwing, Little Brown Dove or the Laughing Dove & Indian Robin.
There is a watch tower from which sloth bear sighting is possible. We were able to spot around 5-6 sloth bears over rocks which was at a 300 meters range from the watch tower. We will soon upload a separate video on Daroji Sloth Bear Sanctuary covering detailed review. So stay tuned for that. Watching the bears was a delightful experience.
After enjoying the unobstructed 360 degree view of the sanctuary and watching the sun setting down behind the hills, we made our way back to the resort.
It was dark by the time we reached. Tea and snacks were served by the bonfire which instantly washed away the tiredness. Soup and dinner followed soon. After dinner it was time to bid good-night.
DAY – 2
We woke up quite early the next morning to go for bird watching. Naturalist Mahesh took us to the Tungabhadra high level canal where a large number of birds can be found.
Bird watching
Mahesh helped us spot Rufous Tailed Lark, Grey Francolin, Purple Sunbird, Pond Heron, Red Headed Bunting , a number of peacocks, pea hens and a couple of Indian Eagle owls and more. We have thought of making a separate video on Bird watching in Hampi which will cover more details and a lot more information. So stay tuned for that as well.
Mahesh also took us to a lake where we spotted ducks and herons.
After enjoying around 2 hrs of bird watching experience we were greeted back to the resort with a glass of fresh lime juice which was extremely refreshing . Breakfast served was once again simple and delicious.
We quickly freshened up and at 10:00 am, it was time to explore Hampi. Since we had already explored quite a number of places in Hampi, the management modified the sight seeing locations to suite our preferences.
Visting Hampi Ruins
Friendly guy Venkatesh once again accompanied us and took us to places we wanted to cover. Our first stop was the Royal centre-It is where
the Vijayanagara king stayed with his family and private households and conducted governance, business and ceremonies.
At Royal Palace we saw the Queens bath, Lotus mahal, Maha Navami Dibba, Watch Towers, Royal Elephants Stable, Underground Chamber, Kings Audiance Hall, Hazara Ram Temple, Pushkarni or the stepped tank and a lot more. Will cover everything in detail in our upcoming Hampi Tourism videos.
Venkatesh served as a a very knowledgeable , enthusiastic, energetic, patient and a friendly guide. He truly made our Hampi sight-seeing experience a lot more fulfilling and memorable one. He is a true asset to This Jungle lodges and resorts property. Special Thanks to him.
At 1:00 pm we returned back to the resort and had lunch at 1:30 pm. We took a 2 hrs nap and woke up refreshed for the evening sight-seeing.
We went to see the Achutaraya temple, Varah temple and a couple of more nearby places.
We also took a coracle boat ride into the Tungabhadra river and discovered a couple of temples inside the caves on the either sides of the river. After enjoying 1 hr coracle boat ride session it was time to climb up the Hemkut Hill to watch the sunset. Watching sun setting behind the hiils was mesmerizing. We returned back to the resort, had snacks followed by dinner and turned off the lights for the night.
DAY – 3
We started our our 3rd day at Hampi Heritage and wilderness resort, by watching the sunrise from the Malyawant Raghunath Hill. You must have already watched this video. If not, I will mention the link to the video in the description box below. you can click the like to watch the Sunrise at Hampi video.
After watching the sunrise, we returned to our cottage, packed our bags and made our way back to our home in Bangalore.
VERDICT!
We seriously had no idea that Jlr has such a wonderful property in Hampi. This one is truly one of their best properties that needs to be promoted well.
The management and staff is very polite, caring and friendly. They make you feel at home.
The food quality and amazing hospitality has won our hearts.
It is a complete package of a picturesque location combined with archeology, wildlife and warm hospitality.
You will love every bit about this place.