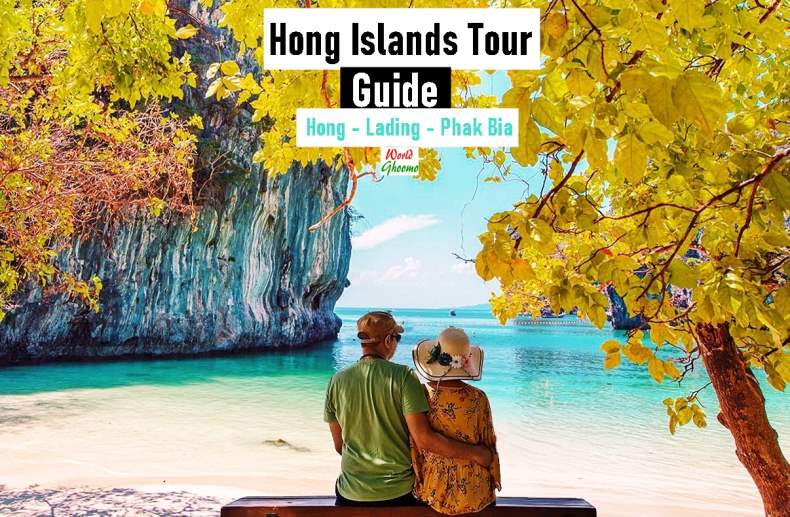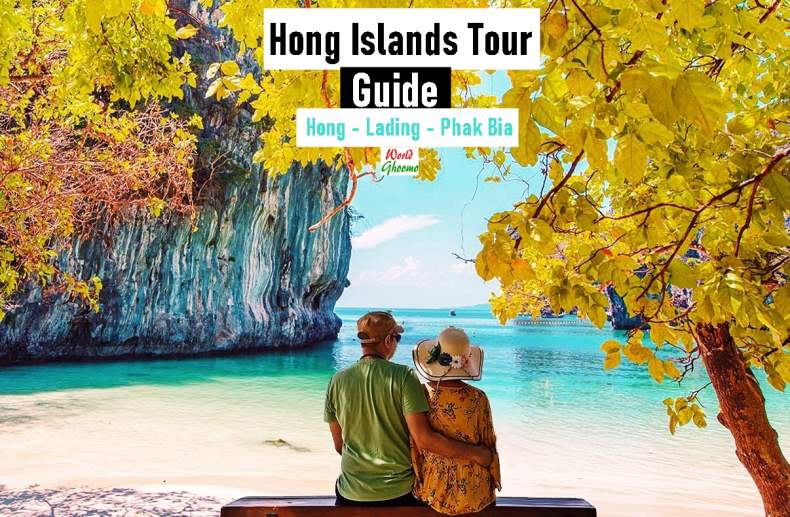 Krabi is a popular and most preferred starting point for the various island hopping tours in Thailand. The alluring islands with soft powdery sand and turquoise water mesmerizes one and all. Out of the many island hopping tours we did from Krabi, Koh Hong / Hong islands tour was one of our favorites. In this post/video, we are going to list down all the necessary information regarding this tour. Hope this helps you in planning your Hong Island Tour.
What is Hong Islands ?
"Koh Hong Tour" or "Hong Islands Tour" basically involves visiting 3 islands that come under the "Hong Islands" group. The name of the 3 islands are : Hong island , Lading and Phak Bia
Location
Located off the coast of Krabi, Hong Islands group is easily accessible from Ao Nang Beach and Railay in Krabi and from Phuket.
How to Get to Hong Islands group
Among Phuket & Krabi, the latter is more preferred starting point because it takes lesser time – just 20 minutes by speedboat and 45 mins on a long-tail boat.
How to Book Hong Islands Tour
Option 1 ) You will find countless tour operators along the main road opposite to Ao Nang Beach selling various tour packages. You can simply stop by the lane, check out the prices and book the tour on-spot.
Option 2) Another option is to get your tour booked by the hotel you're staying at. Almost every hotel/resort in Krabi have their own tour packages. So, go ahead with whatever is convenient for you.
Note: It's advised to book the tour a day before to avoid any last minute chaos. It will be a good idea to compare the prices offered by different tour operations.
What is included in Hong Islands Tour Package
The Hong Islands Tour Package usually includes:
– Pickup from the hotel,
– Transfer to the pier,
– Visit to the 3 islands (either on a long-tail boat or a speedboat. Prices will vary),
– Buffet lunch &
– Transfer back to the hotel.
– Snorkel gears, life-jackets and water-bottles are provided
What is the Price of Hong Islands Tour
Prices may vary depending on which package you opt.
– Shared Boat (Longtail/speedboat)
– Private Boat (Longtail/speedboat)
– Pickup point : Krabi or Phuket
How Much did We pay ?
We went to the Hong Island on a shared speedboat from Krabi.
Price – 1000 Bhat per/person + 300 Bhat per/person (National Park entry fees)
Total – 1300 Bhat per/person
Is there a National Park Entry Fee?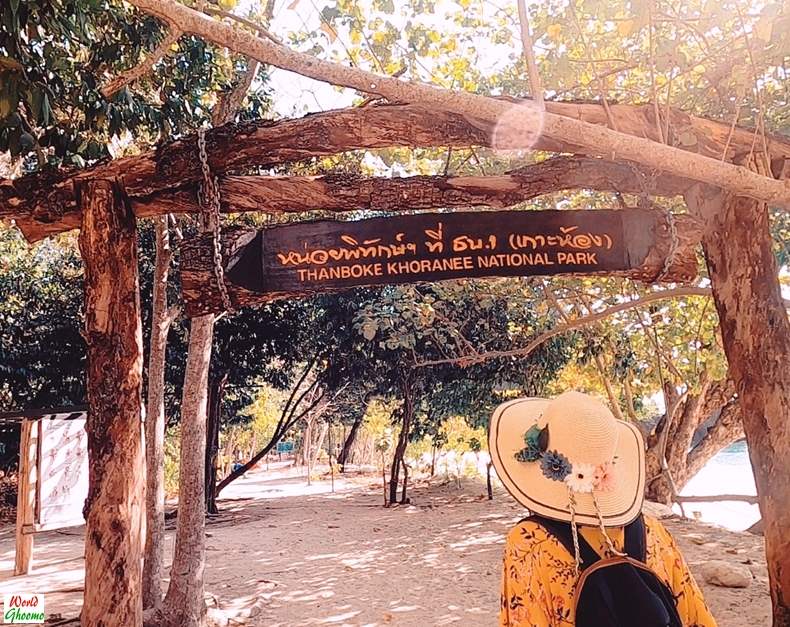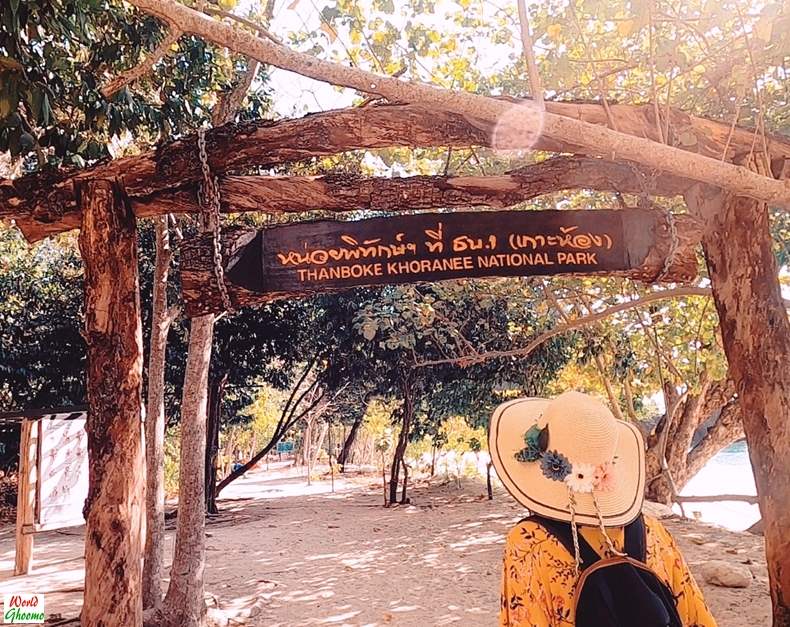 Thanboke Khoranee National Park
The Koh Island group are part of Thanboke Khoranee National Park . While booking the tour (either with tour operator/hotel) make sure to ask if the National Park entry fee is included in the package.
The National park fee 300 baht per person needs to be paid before getting onto the boat.If the packages does not include the NP fee, then you will have to make the payment later. So be prepared and carry some cash.
Long-Tail boat or Speedboat?
Depending on what you want to do and how much time you wish to spend on different islands, you can make the choice.
Long-Tail boat – Takes around 40-45 minutes. One might not get sufficient time to spend on the islands.
Speed-boat – Takes only 20 minutes and ones get to spend enough time on each island.
How About Renting a Private Boat ?
When you have a boat specifically for yourself for the entire day, you have the freedom to decide which islands you want to go and how long you want to stay at each. In addition, you can sit on the boat wherever you want and get uninterrupted views of the ocean and the limestone cliffs jutting out of the water.
Price for a rented Private boat – Between 2514 – 3140 Bhat
The Hong Islands Day Tour At 8:30 am, we were picked from the hotel and got transferred to the Ao Nang pier. Here, we paid the National Park entry fee and then got into a speedboat.Our first stop was the Hong Island.
1) The Hong Island
Stay Duration – 40 minutes
This is the largest of the Islands in the group and the highlight of the trip. Hong means "room" in Thai. The "room" is a lagoon at the center of the Island that can be reached by boat through a narrow entrance.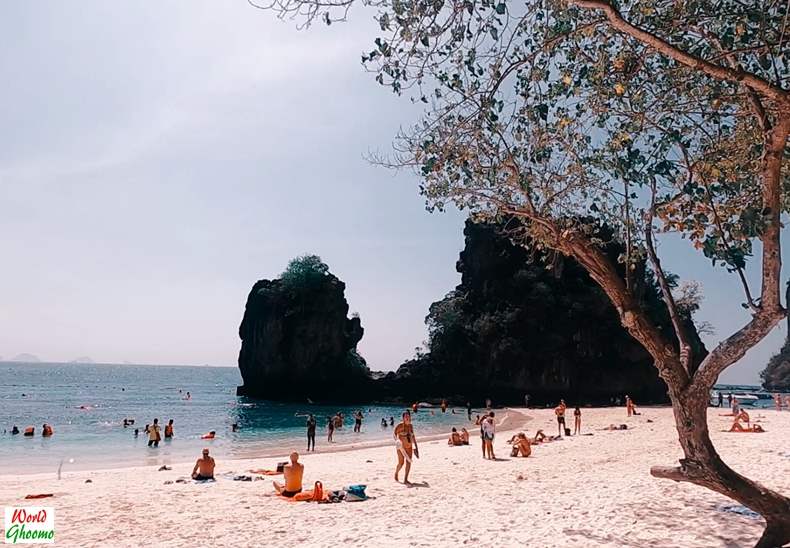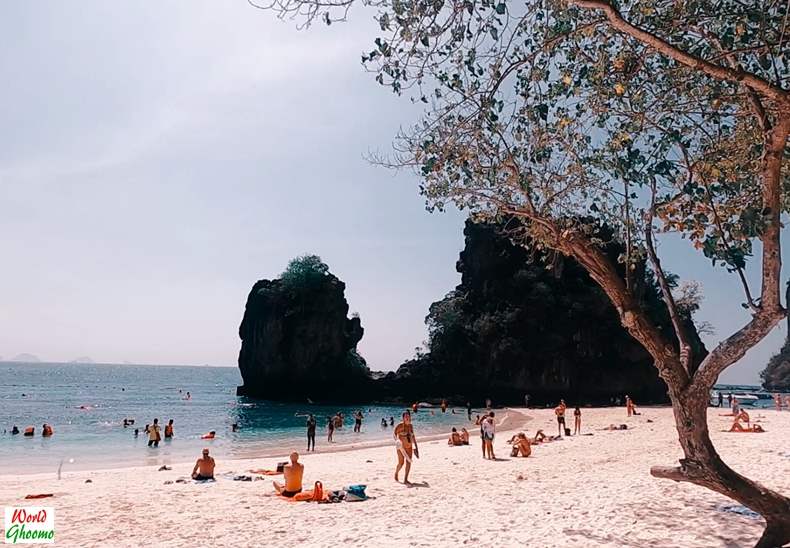 Hong Island
Hong Island Main Attractions
The main attractions of Hong island are
– 2 beaches
– A nature trail &
– The enclosed lagoon.
There is a pier at one end of the beach where Park Fees are collected and the boats are anchored. One can see the 2 beaches separated by a big rock outcrop in the middle. The one where you land is a long stretch of a bit rocky beach, not ideal for swimming. A little further down is a beautiful horseshoe shaped bay perfect for swimming.
How to Reach the Bay?
There are 2 ways to reach the bay. One is by following a 600 meters nature trail and the other is walking straight from the pier towards the bay.
The Nature Trail Walk
This 600 meter nature trail that runs behind the beach is a well maintained trail with signposts and information boards. The path follows the base of a cliff. One has great chances of spotting water monitor lizard. Frequent sightings of butterflies and different birds will keep you engaged. It takes only 10 minutes to reach the bay.
The Hong Bay
The very first sight of the dramatic bay leaves the spectators awestruck! The bay is protected by rocks that rise out from the sea creating a circular area of calm shallow water with no waves.
There are many small fishes along the shore that can bee seen during snorkelling. A perfect place to swim and snorkel among a multitude of colorful fishes.
The soft white coral sand is protected with many trees and shrubs offering tourists a nice spot to sit, relax, gaze at the turquoise green water and get some fantastic Instagrammable pictures.
Wait, have you followed us on Instagram? If not, then Do check out our Instagram account for some amazing pictures and also don't forget to Follow us while you are there.
Thank you. Now let's talk about the other facilities available at Hong island.
Other Facilities
– National Park Ranger station
– Public toilet
– Small restaurant &
– Shaded seating area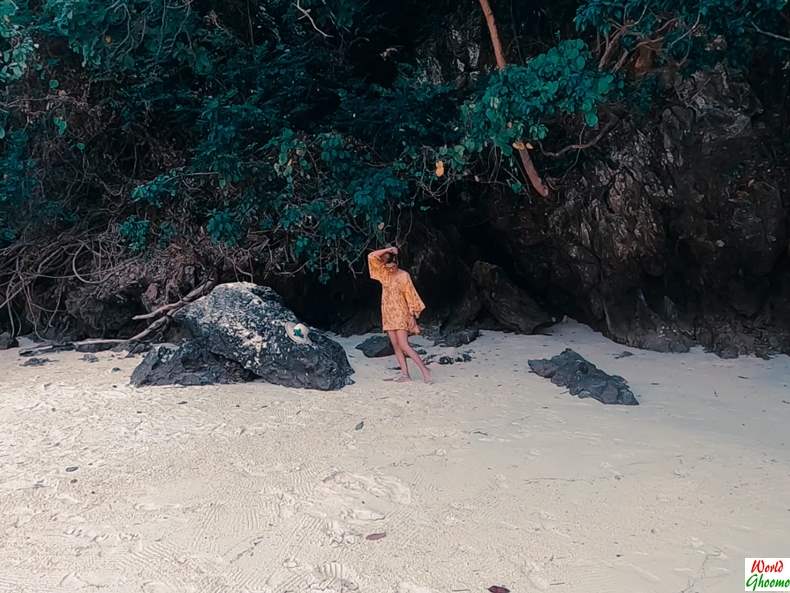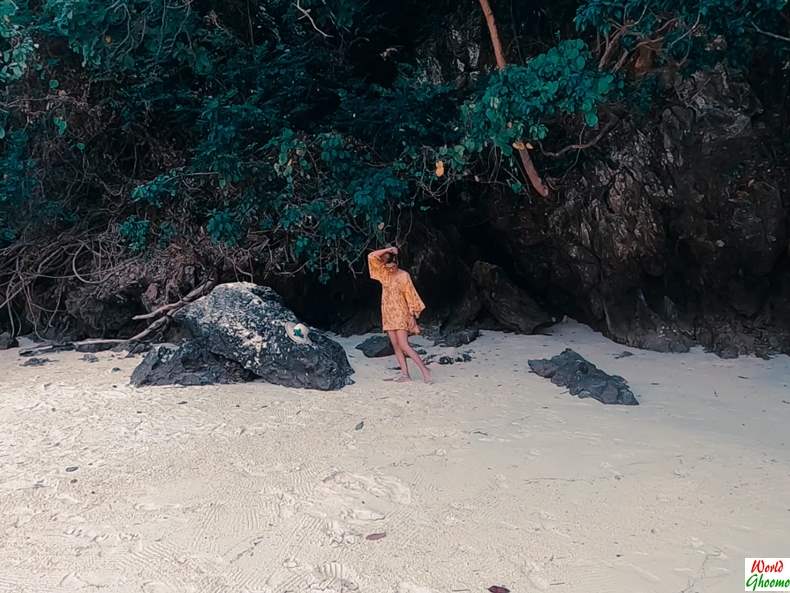 Hong Islands Tour – Thailand
Tourists are allowed to stay for only 40 minutes. We felt it was very little time. One could actually spend an entire day on this island alone! However, we were equally excited to check out the hidden lagoon – which was just a few minutes on boat around the Hong island.
The Hidden Lagoon of Hong Island
The entrance to the hidden lagoon is through a small narrow opening between the cliffs. If the tide is too low, the boat can't pass through the opening. One can still manage to see the sight of towering cliffs encircling the lagoon. If the conditions are favorable, one can also swim in the lagoon. Our speedboat couldn't make it through the opening so we just watched the lagoon from a distance. The alluring water will tempt anyone to take a jump.
Our next stop was – the Lading Island, a mere 10 minutes boat ride from Hong Island.
2) Lading Island
Stay Duration – 30 minutes
Also known as 'Paradise Island', Lading is actually a thin strip of white sandy beach surrounded by huge cliffs on ends. Because the beach is very small, it feels crowded even with less people around.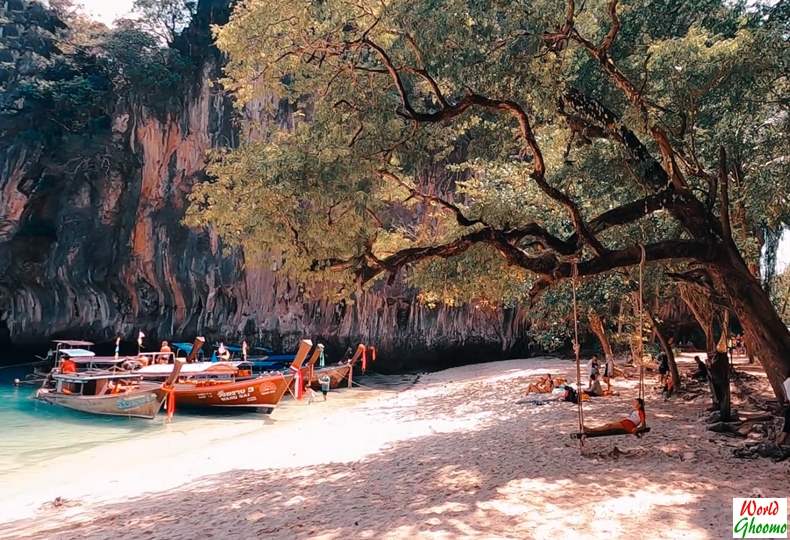 Lading Island Krabi
Lading Island Main Attractions:
– Caves & Rocky Formations
The huge cliffs and rocky formations offer plenty of shade. One can easily spend some time gazing at the water or simply lying on the white sand. We were allowed to stay here for 30 minutes.
The third Island was Pak Bia
3) Phak Bia Island
Stay Duration – 40 minutes
A 10 minutes boat ride from Lading got us to the Phak Bia Island. We landed on a stretch of sandy beach between two islands.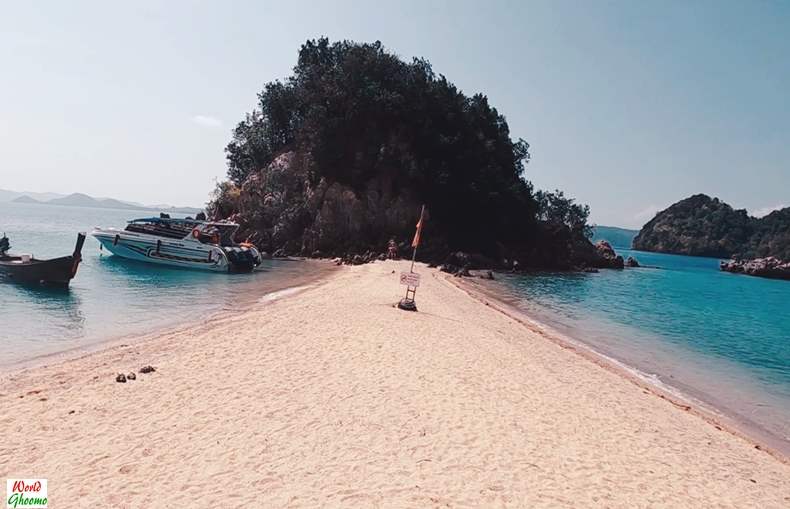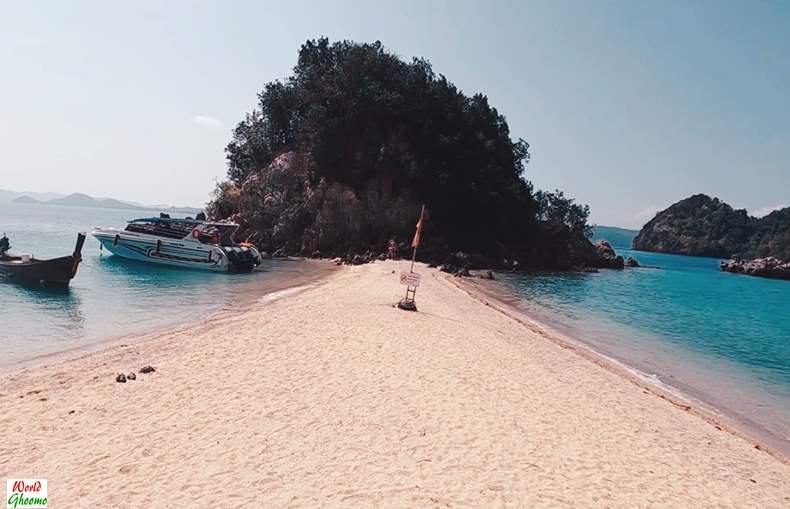 Phak Bia Island Thailand
Pak Bia Island Main Attractions:
– Sandbar connecting 2 islands
– Swings on the beach
– Scenic views
The island itself is quite scenic, with a couple of swings hanging from the tree branches by the beach. The shore is a bit rocky and not the best place to swim or snorkel. However, one can sit on the sand or the benches and simply gaze at the water.
Lunch was served on this beach. We had opted for vegan food. Make sure to inform your tour operator if you have specific food choices beforehand.
Other Facilities
– Public toilet
– Small restaurant &
– Shaded seating area
After spending around another 40 minutes at Pak Bia island, it was time to head back to Ao Nang beach – the place we started the trip.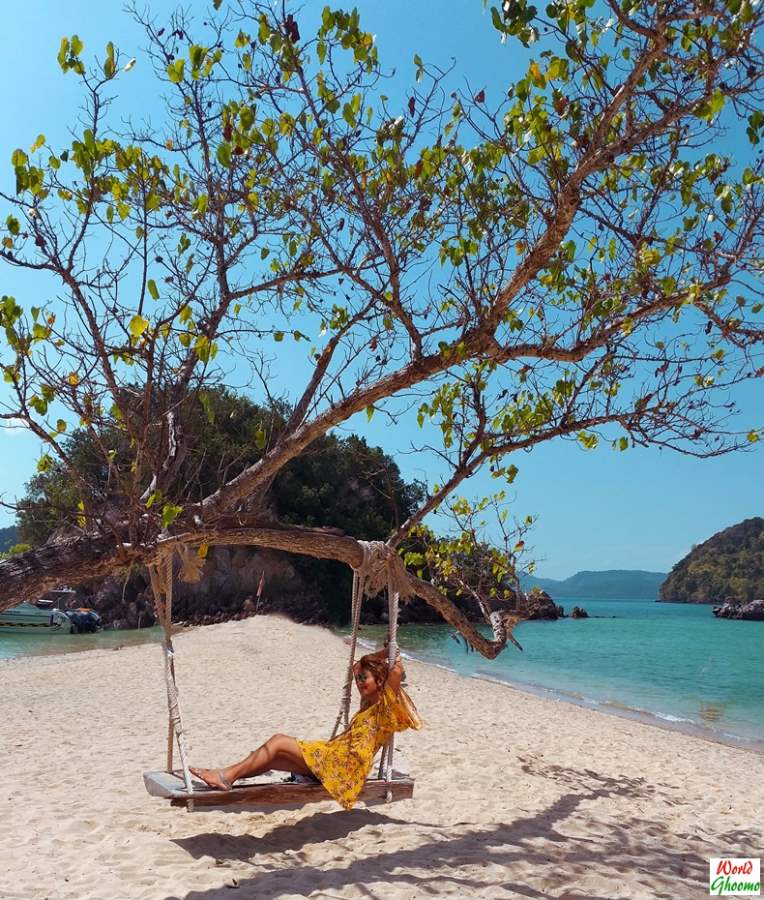 Hong Islands Tour – Phak Bia Thailand
Verdict!
The Hong Islands Tour is a wonderful island hopping tour. A must do!
Things to Carry
Swimsuit Snorkel gears – optional
– Beach towel
– Ear-plugs – optional
– A set of extra clothes
– Light snacks/water bottle
– Cameras
– Hat
– Sunscreen
– Sunglasses
– A water bag to put everything into
The Best way to Dress up for Island Hopping Tour
Put on your swimsuit and cover-up with a flowy kaftan top (for a dressy look) or cover up your swimsuit with a pair of shorts and a loose t-shirt. This way, you will have the freedom to jump into the water whenever you want. You will also save quite a lot of time that would otherwise be wasted in changing clothes in the washrooms.
Moving on to footwear, you can wear water shoes, flip-flops or floaters.
Hope you found the information shared on this page useful. Do check out our Youtube channel and Instagram handle. Thanks 🙂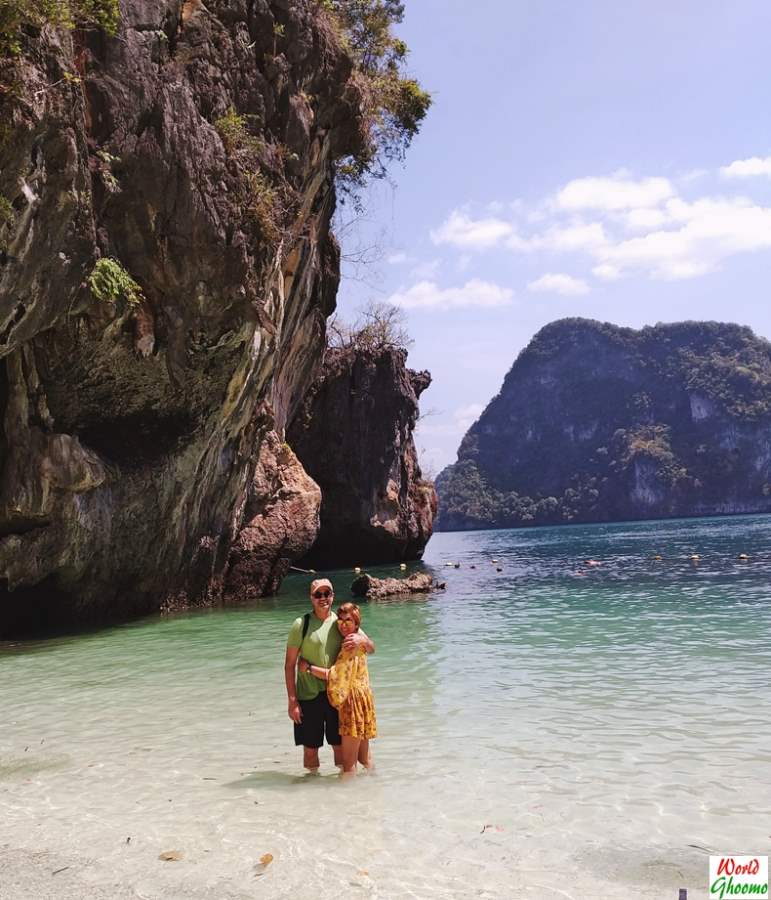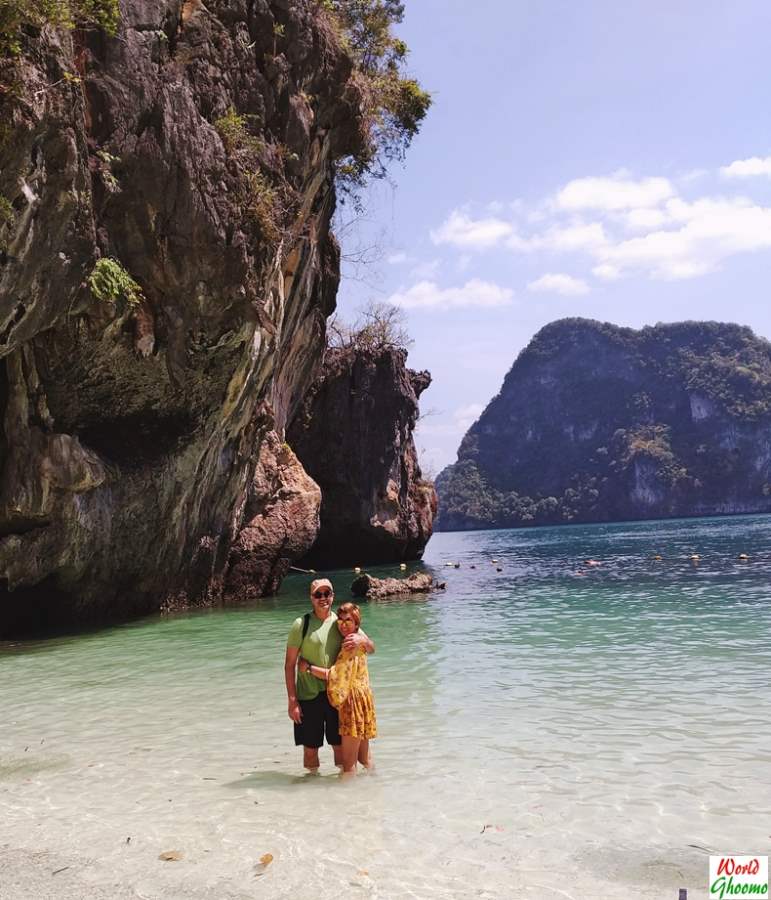 Thailand Hong Islands Tour