Located on Thailand's southern west coast, Krabi is home to more than a hundred offshore islands. One can visit the islands via various island hopping tours that can be done as a full day or half day tours.
But if you are looking for an amazing evening adventure, look no further than a sunset cruise!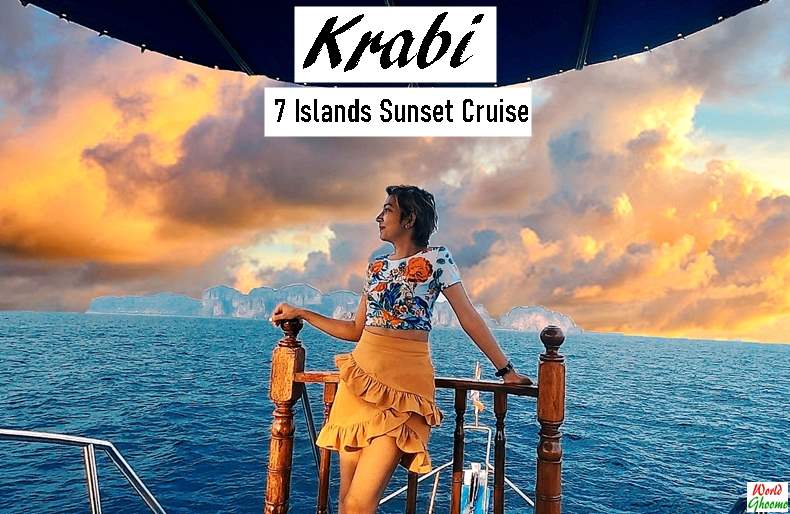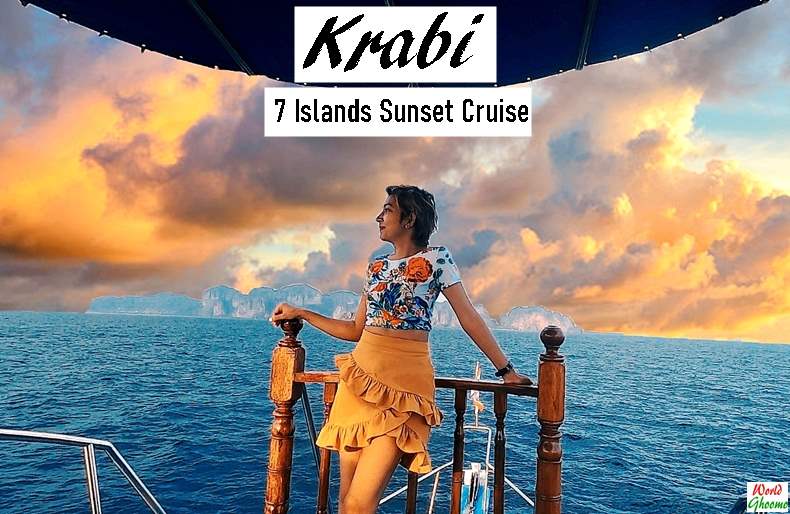 In this post/video, we are going to list down all the necessary information regarding 7 Islands Sunset Cruise. Hope this helps you in planning.
What is 7 Islands Sunset Cruise?
The 7 island sunset cruise is a very popular island hopping tour. On this excursion, you will be making a stop at 4 islands namely:
The Chicken Island,
Koh Tup,
Koh Poda &
Phra Nang Beach.
The order varies depending on the tour operator. In addition to the 4 islands, you get to see
3 more islands from a boat
– yes! you don't get down and can only see them from a distance. The sunset cruise also includes:
BBQ on the beach
Swim among the bioluminescent plankton &
Fire show.
Location
Located off the coast of Krabi, The islands are easily accessible from Ao Nang Beach and Railay in Krabi and Phuket.
How to get to 7 Islands Sunset Cruise?
Out of Phuket & Krabi, the latter is more preferred starting point because it takes lesser time – just 20 minutes by speedboat and 45 mins on a long tail boat.
How to Book 7 Islands Sunset Cruise?
You will find a number of tour operators at Ao Nang Walking street, selling 7 island sunset cruise tour packages. It advised to book the package a day before. It will be a good idea to compare the prices offered by different tour operations.
Another option is to get your tour booked by the hotel you're staying. Almost every hotel/resort in Krabi have their own tour packages.
So, go ahead with whatever is convenient for you.
What is included in 7 Islands Sunset Cruise Package?
The tour package usually includes
Pickup from the hotel
Transfer to the pier.
Visit to the 4 islands
Thai Buffet At sunset by the beach
Night time snorkel with fluorescent plankton
Fire show performed by the locals &
Transfer back to the hotel.
(snorkel gears, life-jackets and water-bottles are provided)
What is the Price of 7 Islands Sunset Cruise?
Prices may vary from different tour operators.
What We Paid
Price – 1200 Bhat per/person + 300 Bhat per/person (National Park entry fees)
Total – 1500 Bhat per/person
Is there a National Park Entry Fee ?
Yes! While booking the tour (either with tour operator/hotel) make sure to ask if the National Park entry fee is included in the package.
Ones needs to pay the National park fee 300 baht per person before getting onto the boat.
Tour Timings
1:30 pm – 7:30 pm
Pick-up Time?
We had booked our tour package from the resort we were putting up. At 12:30 pm, we were picked from the hotel and got transferred to the pier. Here, we paid the National Park entry fee. At 1:30 pm we got into a double Decker boat.
7 Islands Sunset Cruise Experience
As soon as we got on board, we were warmly greeted and were offered refreshments by the staff. The boat was spacious with wooden benches and tables. As soon as the boat started to move, one of the staff members played music and we could feel everyone's excitement. The sky was clear, the water was calm, and we were off for some adventure.
The view of crystal clear waters of the Andaman with huge limestone cliffs jutting out of the water was truly amazing!
In just about 15 minutes, we got to the first stop – Koh Gai popularly known as the Chicken Island.
1) Chicken Island / Koh Gai
Stay Duration
– 30 minutes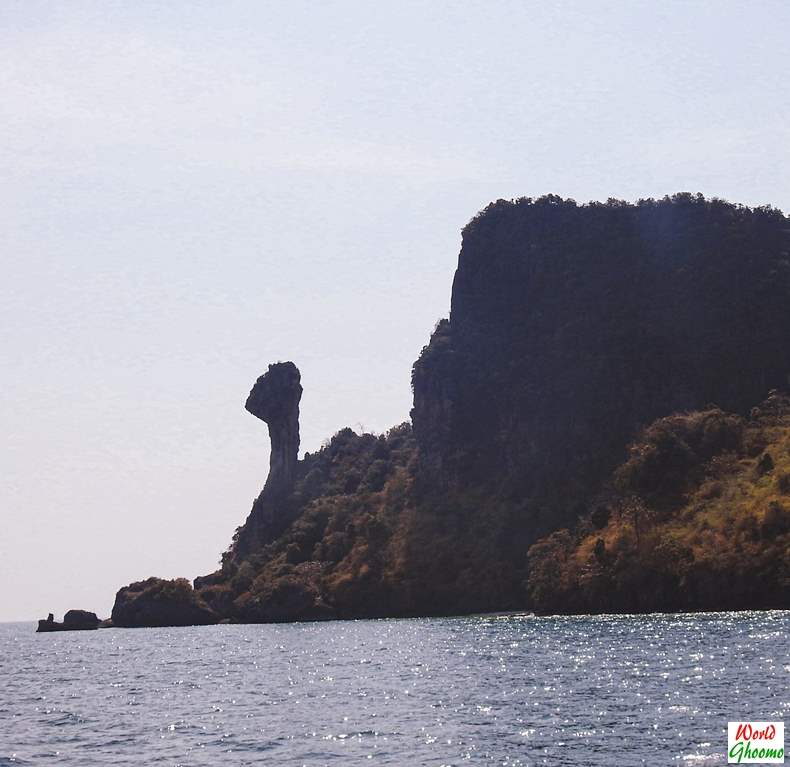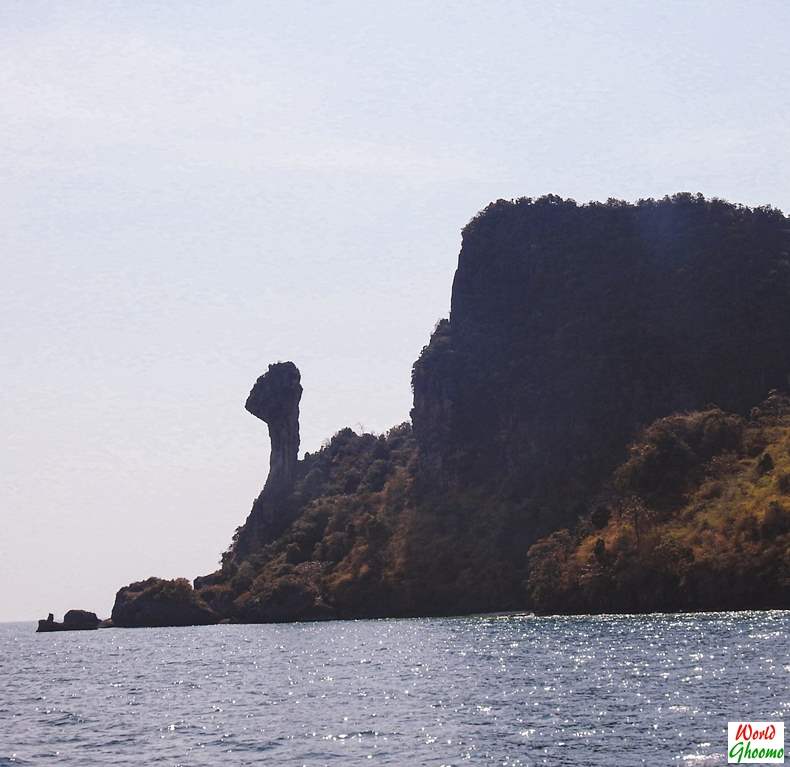 Chicken Island Krabi
The island gets its name after the shape of its unique limestone rock jutting out into the sea. The island provides excellent snorkelling opportunities in warm waters, rich in marine life.
Chicken Island Main Attractions:
Unique shape
Snorkelling near the rocks
Crystal clear water
Rich marine life : Fishes, corals and sea urchins.
It's important to note that you actually don't land on the Chicken island.
The boat stops near the reefs where one can swim and snorkel for around 30 minutes. Life jackets and snorkel gears are provided. We totally loved the snorkelling experience at the Chicken island. We could see live corals along with a variety of fishes and Sea urchins, unique to the island.
After 30 minutes of snorkelling it was time to head towards the second stop – The Tup Island which was only 5 minutes from the snorkeling point.
2) Tup Island
Stay Duration
– 30 minutes
Highlight
– Sand Bar "Thake Weak"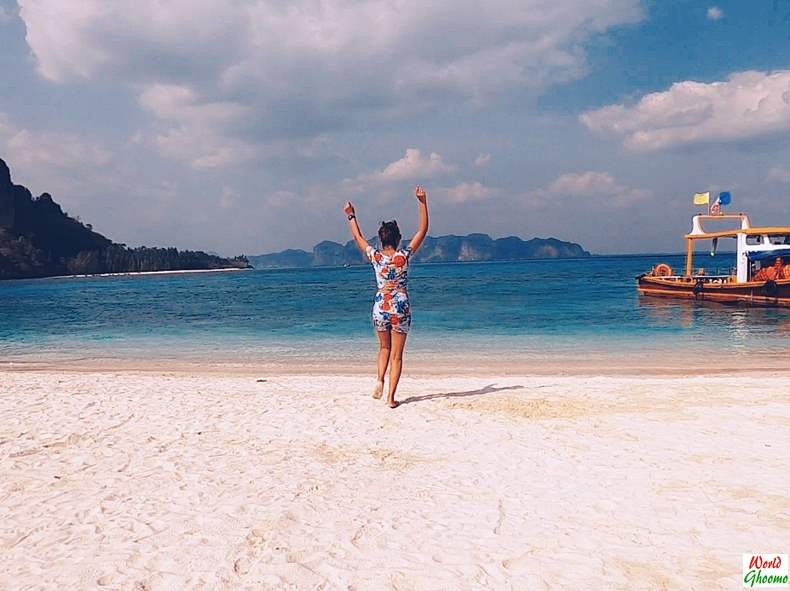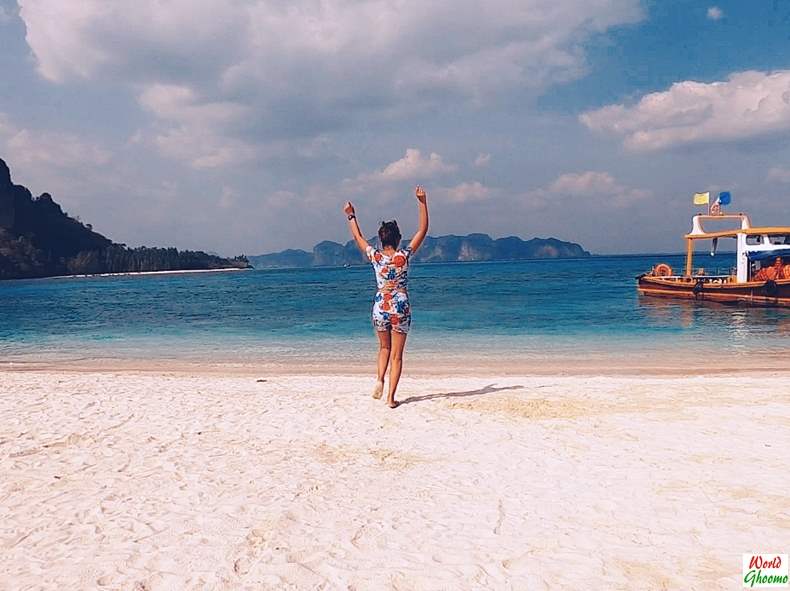 Tup Island Krabi
One of the highlights of Tup island is "Thale Waek" . Also known as "Separate Sea". It is basically a long stretch of T-shape white sandbar that connects the 3 nearby islands -The chicken island, Koh Tup & Koh Mor. Visible only during low tide, one can easily walk on the sand bar to reach the connecting islands.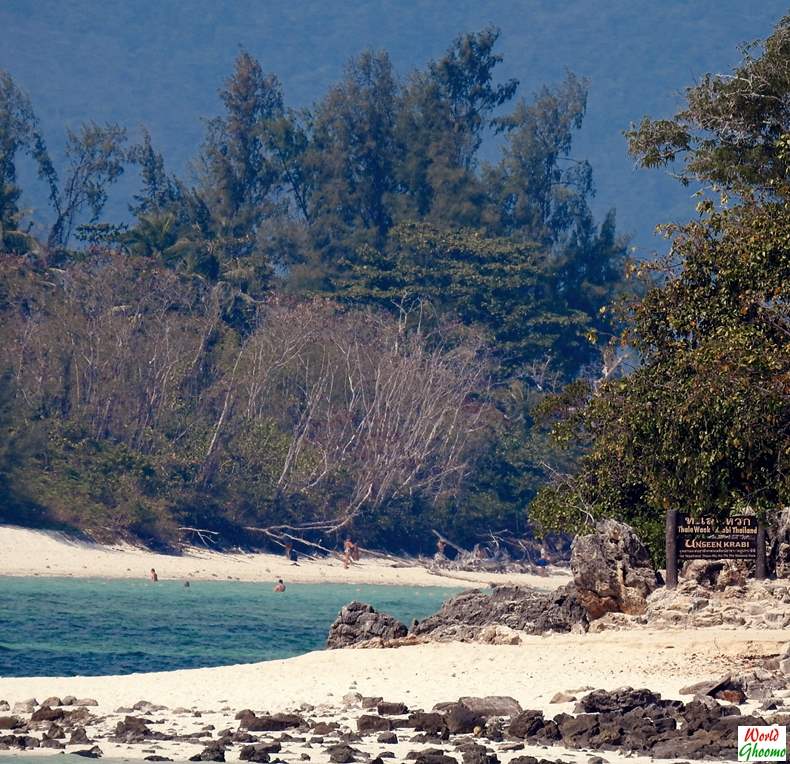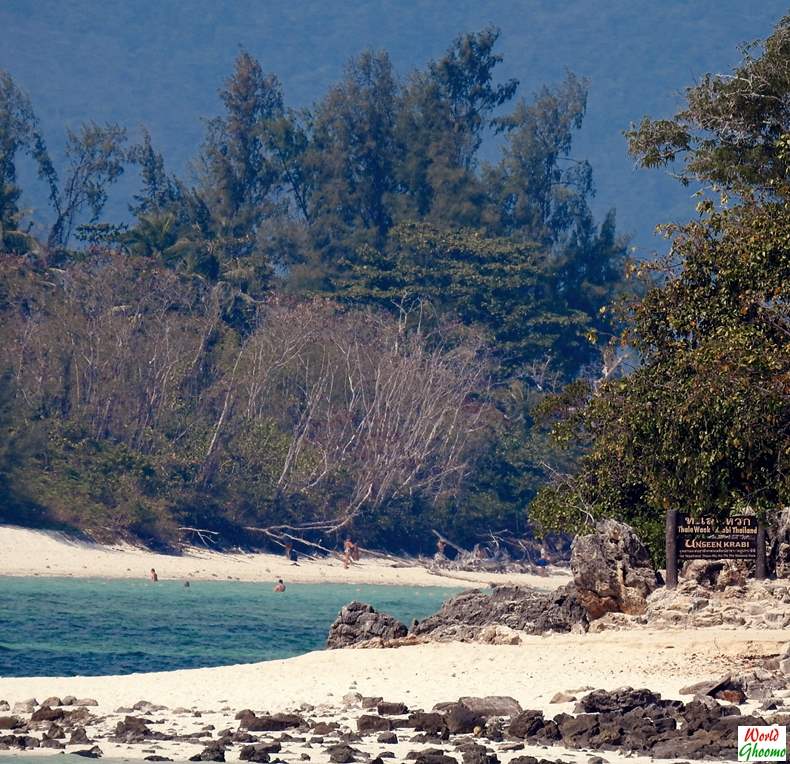 Thale Waek Tup Island Krabi
Tup Island Main Attractions:
Soft white sand
Crystal clear water for swimming
Very Scenic
The sandbar
The sand at Tup island is very soft and the crystal clear turquoise blue water will take your breath away. For the next 30 minutes we simply played and spent some time swimming in the water. It was so much fun, difficult to describe in words. You've got to experience it yourself.
After spending some fun time at Tup island, we headed to Poda Island – the biggest in the group.
3) Koh Poda
Stay Duration
– 40 minutes
Highlight
– Long Sandy Beach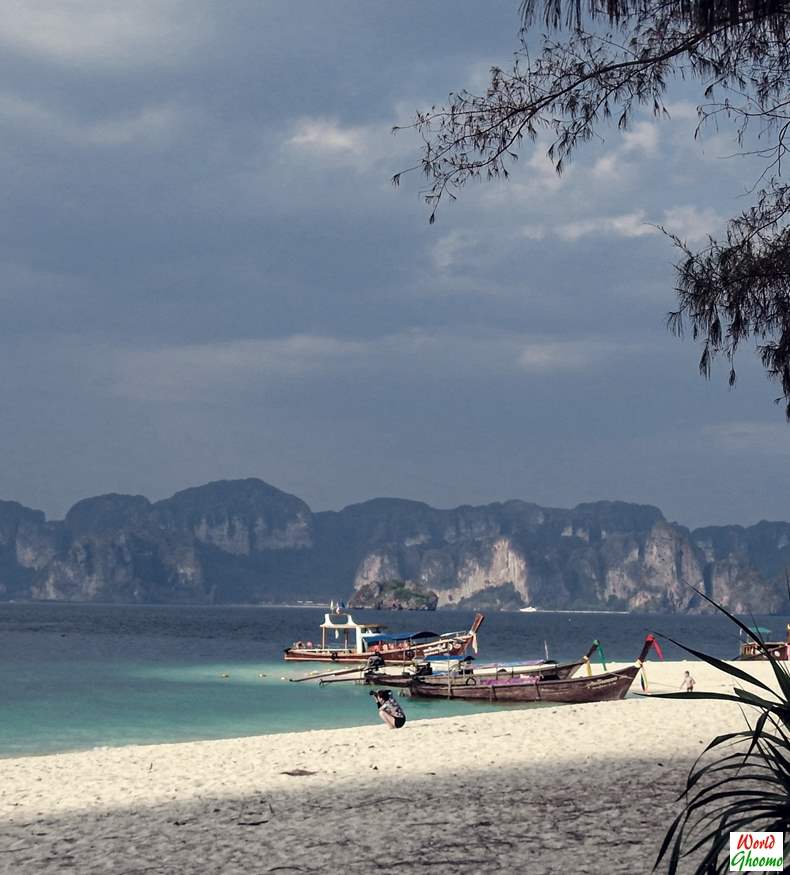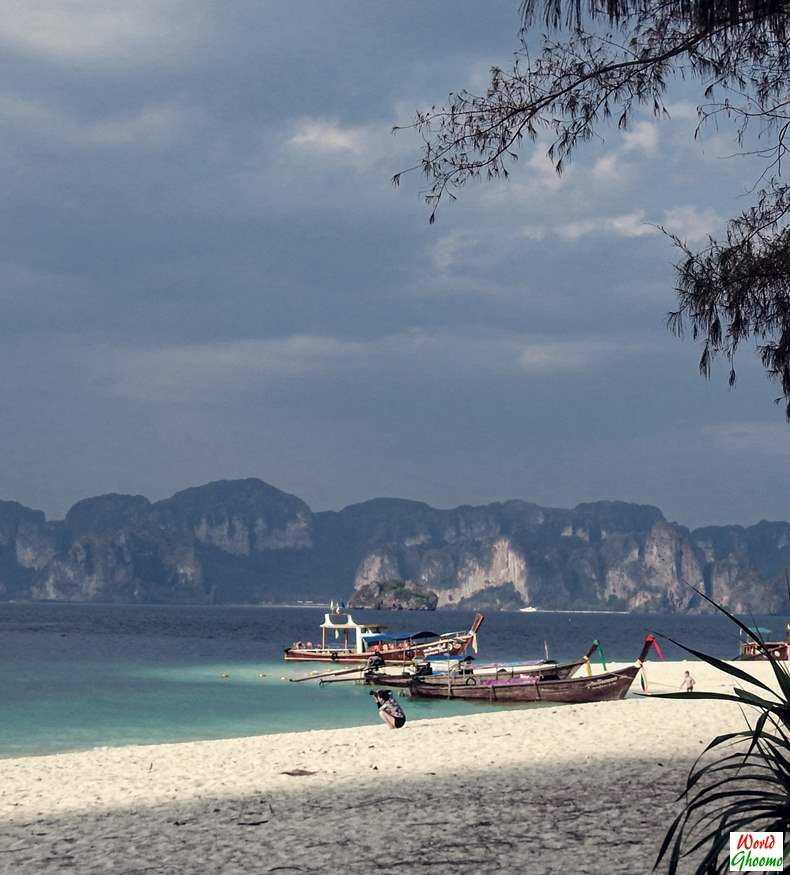 Poda Island Krabi tour
At Koh Poda, a little paradise awaits you: white sand , turquoise colored water and reefs for snorkeling make this island one of the best in Krabi. The moment you step, the huge stone rock in the middle of the sea will grab your attention. Surprisingly, the beach doesn't get very crowded.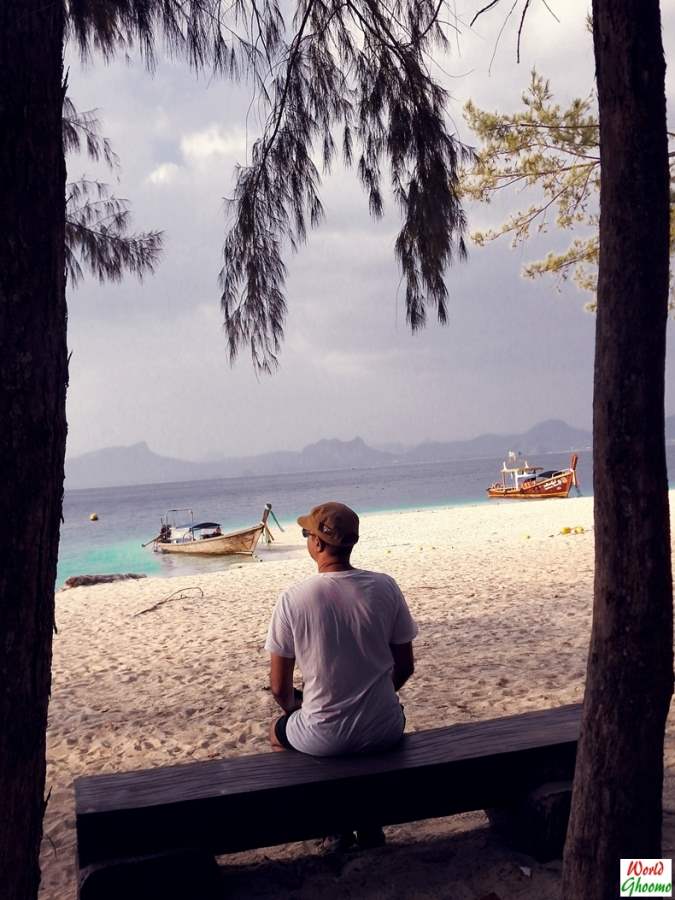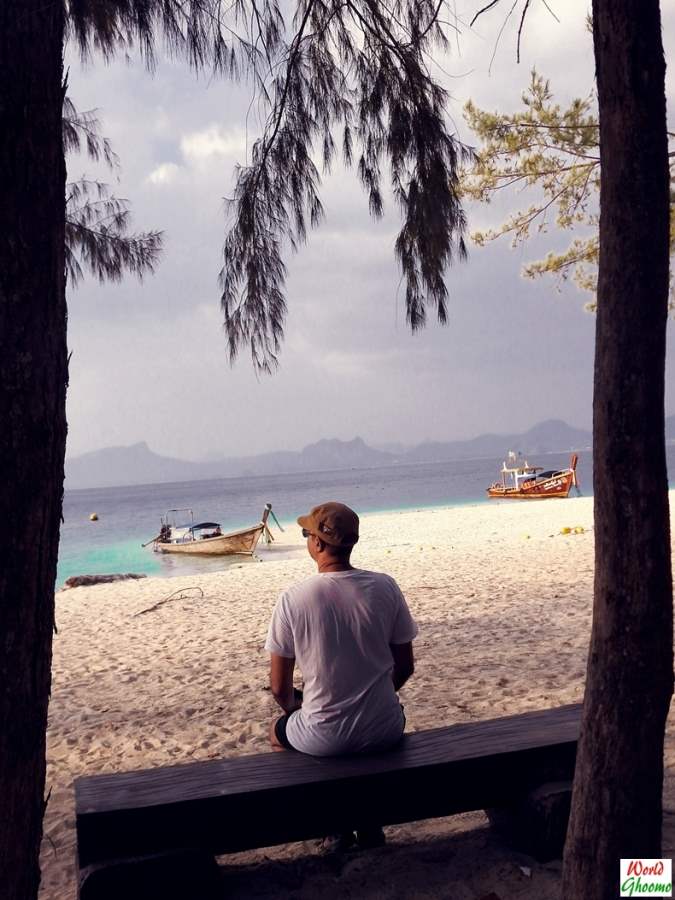 Poda Island Tour
Koh Poda Main Attractions:
Beautiful, long, white sandy beach
Scenic Views
Crystal clear water for snorkeling
You can walk along the beach, take some pictures, snorkel, go for a swim, or just relax at some shady spots.
Other Facilities
Public toilet
Small restaurant &
Shaded seating area
We spent around 30 minutes just sitting and admiring the incredibly beautiful scenery. At around 5:30 pm, we headed to the 4th island – Phra Nang Beach to catch the sunset.
4) Phra Nang Beach
Stay Duration
– 40 minutes
Highlight
– Best Sunset Views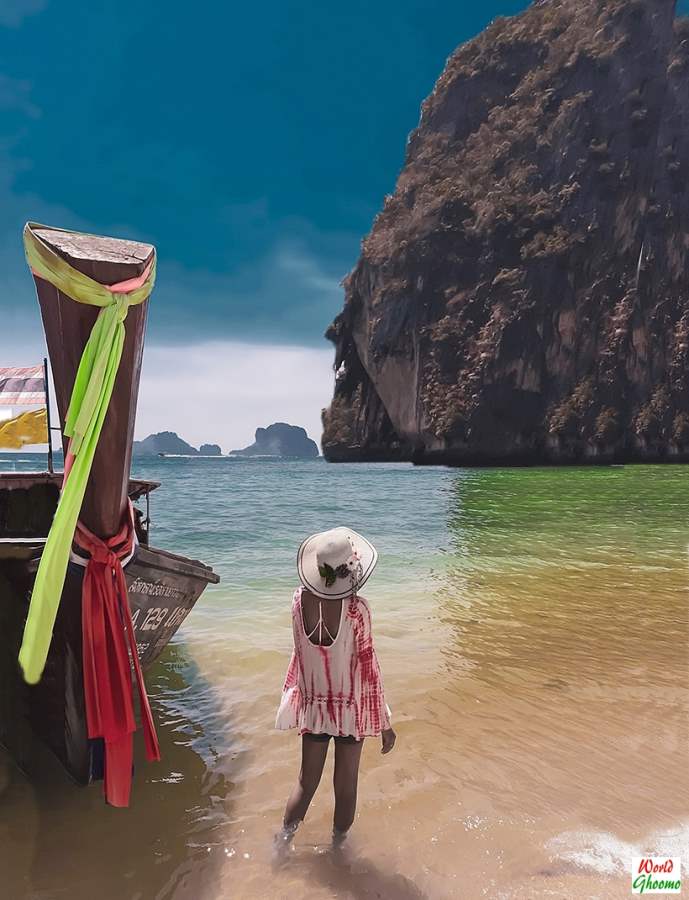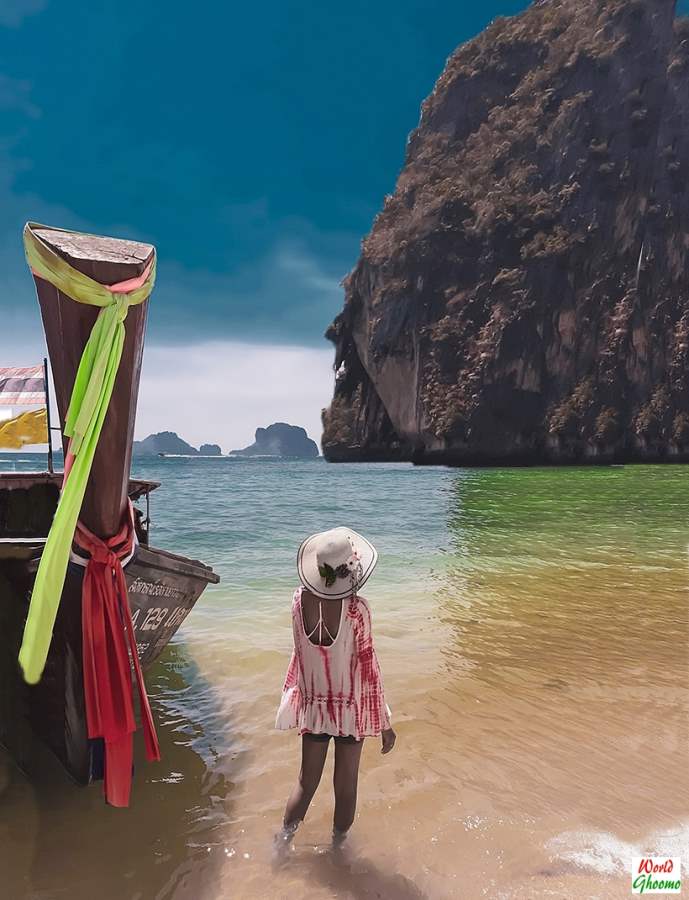 Phra Nang Beach Krabi
Phra Nang Beach Main Attractions:
Located on the southernmost tip of the Railay Peninsula, Phra Nang Beach houses
A Cave,
A Lagoon,
A Viewpoint and
Countless stalagmites & stalactites.
At Phra Nang You will find unique longtail "food boats" offer a variety of delicious Thai food along with snacks and fruit juice. These food boats are an attraction in itself.
By the time we reached, the beach was already packed with fellow tourists waiting to catch a glimpse of the sun taking a dip into the ocean. The beach itself is very beautiful. We enjoyed the spectacular sunset views with buffet style dinner and not BBQ, actually. The food was satisfactory. If you are vegan like ourselves, or have certain food preferences, do inform the tour operator in advance.
5) Night Snorkeling with Plankton
The last stop of the sunset cruise was night snorkeling with plankton. There is a secret fluorescent plankton swimming spot very close to Phra Nang beach. Swimming in the water offers a unique experience of watching these tiny water creatures that appear dust-like light sparkles as you move in the water.
For those who didn't wish to get in the water, watched the plankton while the staff poured buckets of water on the deck. They are so tiny, you can't capture them in your camera.
6) Fire Show
The tour ended with a spectacular fire show back at the pier. Overall, it was an amazing tour and we enjoyed every bit of it.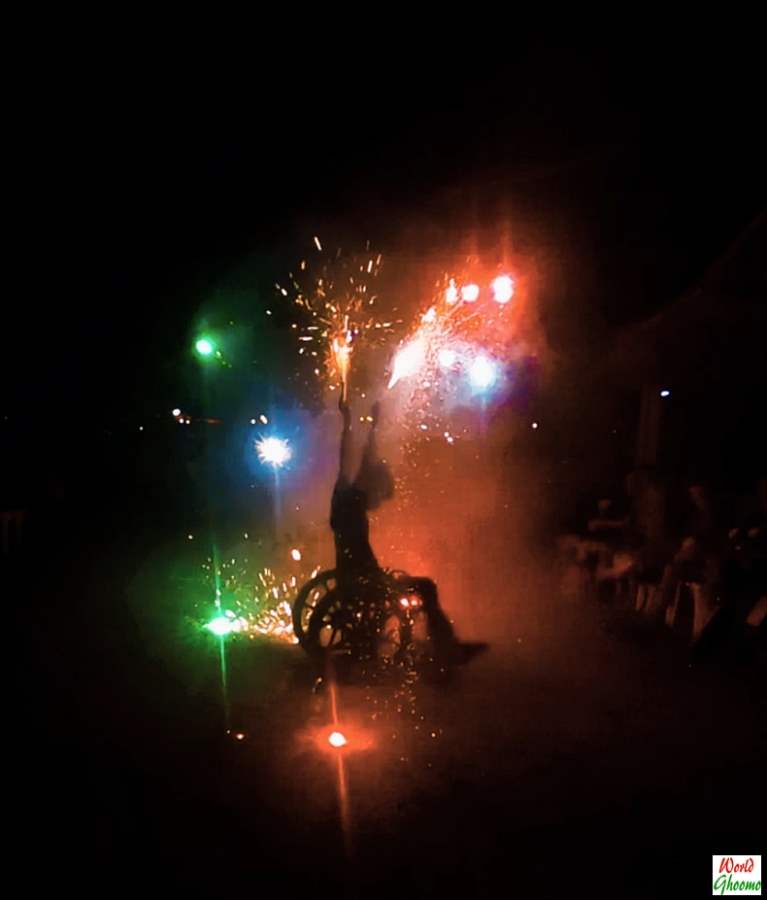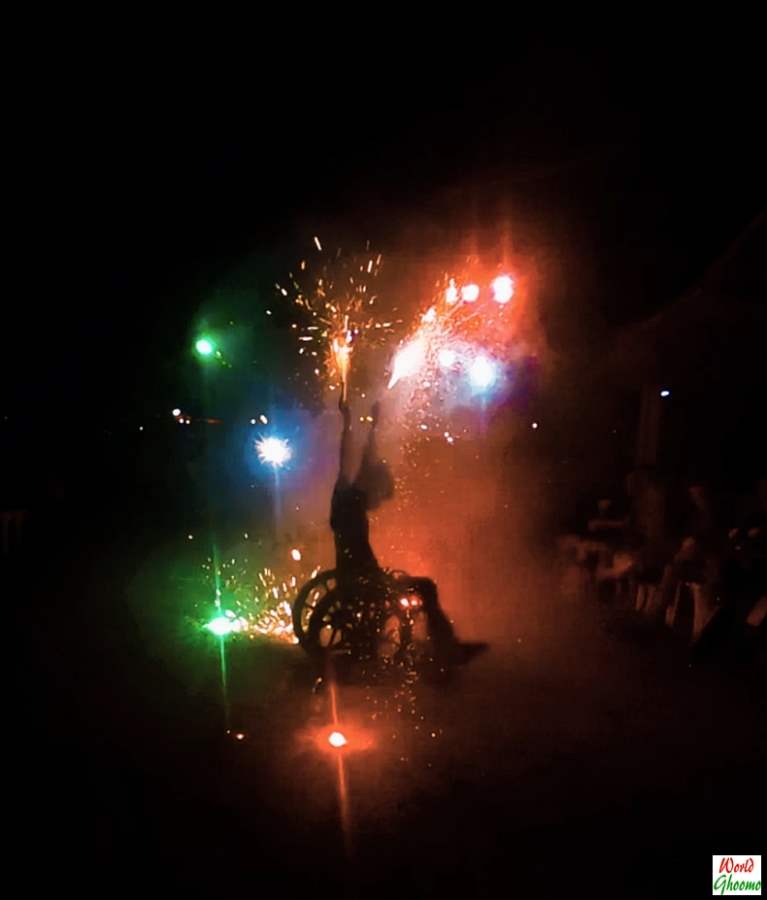 Fire Show Krabi Sunset Cruise
Verdict!
Sunset Cruise is the perfect way to spend a unique evening in Krabi.