Bali in Indonesia, attracts a large number of tourist from around the World. It is one of the most popular tourist destinations known for it countryside beauty, lovely beaches, rice terraces, gorgeous waterfalls, scenic landscapes and of course it's rich culture.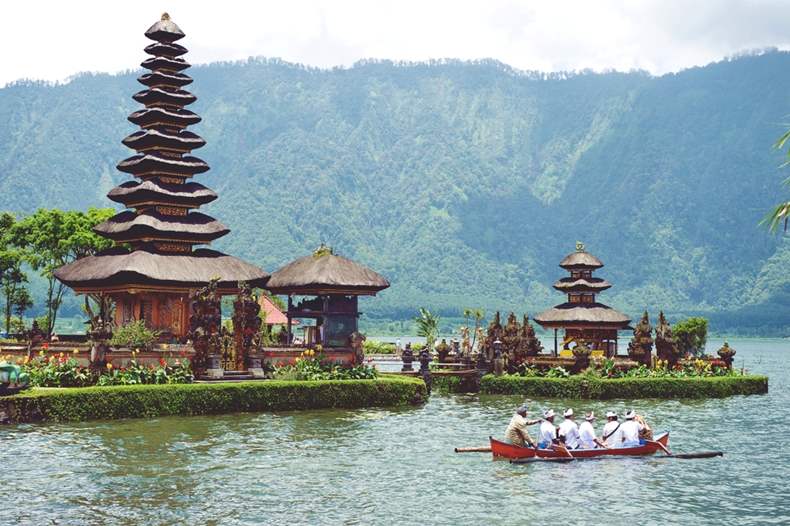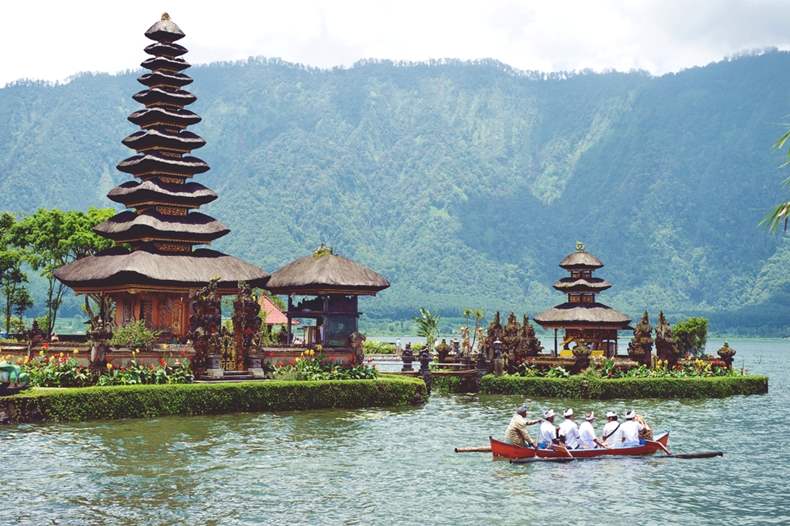 Bali Travel Guide – For First Timers Traveling to Bali
Before you pack your bags and head off to this paradise, there are a couple of things you must know before visiting Bali. These tips and information will help you to make out the most of your Bali trip.
WATCH Bali Travel Guide VIDEO
Bali Location
Bali is an island and province of Indonesia with the largest Hindu population. The province includes the island of Bali along with a few smaller neighbouring islands, the Nusa Penida, Nusa Lembongan and Nusa Ceningan.
The Capital city of Bali is Denpasar located in the southern part of the island.
Bali Climate
Bali has a warm, tropical climate throughout the year with 2 main distinctive seasons –
Dry Season – between May to September

Wet Season – between October to April
Best Time to Visit Bali
The month of June, July and August are the most preferred amongsts tourists.
How Expensive is Bali ?
Bali, in general is not very expensive. Bike rentals are very cheap and are usually around 50,000 rupiah ($5USD) per day. However, if you plan to rent the scooter for longer duration, the rate can come down to almost half.
Food, accommodation, activities and shopping costs will greatly vary from one region in Bali to the other. To save more money you can head to smaller villages and towns where tourists are still less compared to the locations ridiculously crowded.
Booking an Accommodation in Bali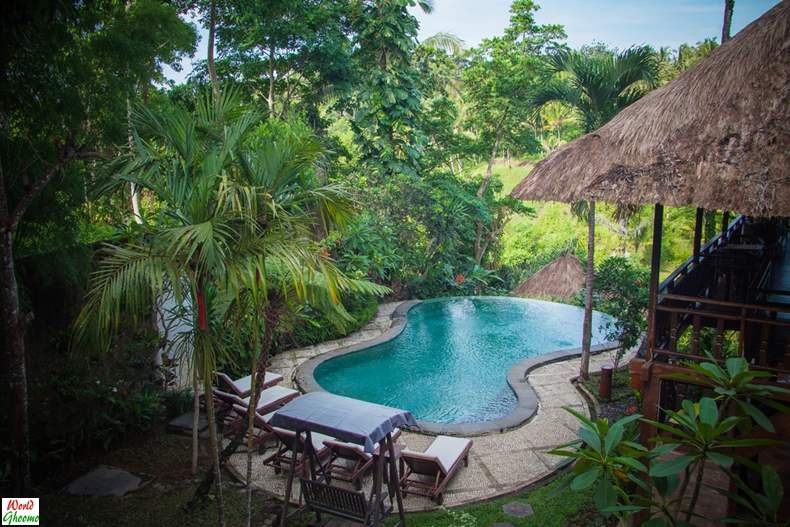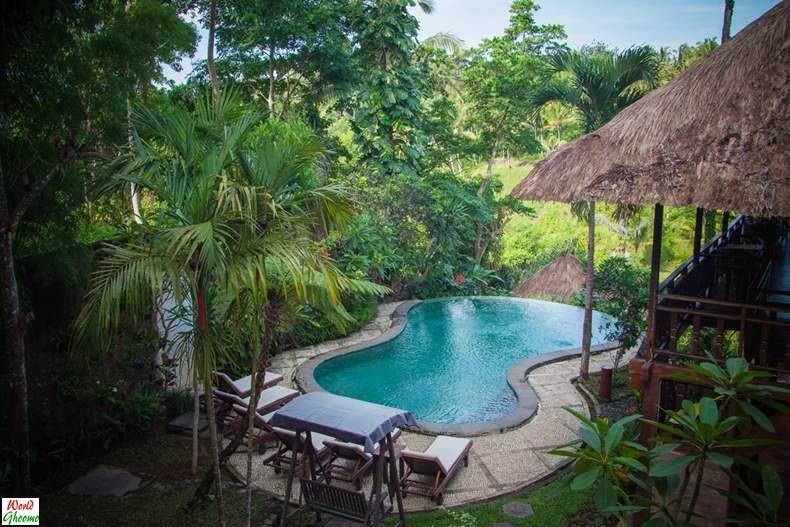 Booking an Accommodation in Bali – Central Bali Ubud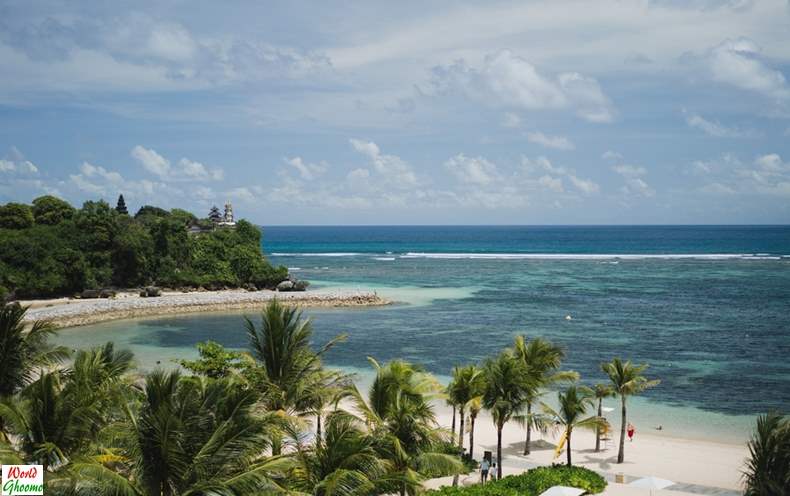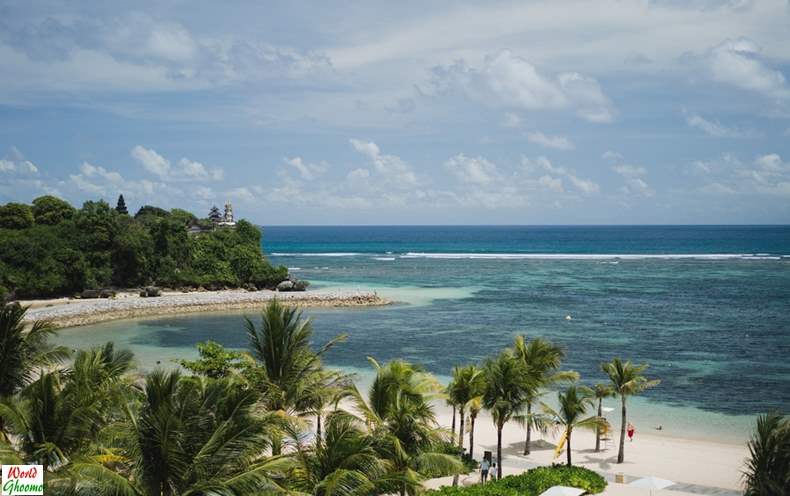 South Bali Resorts
Location – South & Central Bali are the most preferred choice amongst tourists.
Beach Lovers – If you wish to spend more days near a beach then, look for an accommodation in either Kuta, Seminyak , Sanur or Nusa Dua in South Bali.
Countryside Lovers – On the other hand , if you wish to spend more days amidst greenery experiencing the countryside, then look for an accommodation in Ubud in Central Bali.

You can also split up the days and book a hotel in both the regions.

If you are a backpacker, you have multiple options – You can plan your stay in each region depending on the number of days you have.
Booking Tickets
To avoid any last minute hassle, plan and book your hotel and flight tickets at least 2 months ahead.
How to Reach Bali
Flights from major international cities regularly fly in and out of the Denpasar Airport. From the airport, you can easily hire a taxi to your destination. In most cases, the hotel you have booked your stay with, will arrange for the taxi. Just confirm prior booking.
How to Tour Bali
You can book a taxi or self drive a car. Remember that the Balinese drive on the left hand side of the road. The best way to tour around Bali is self driving a bike or a scooter. Several tourist agencies throughout Bali rent out scooters to the tourist for a fairly small charge per day.
A word of caution – You must carry your international driver's license and wear helmet while driving.
Always Carry some Cash
While touring around Bali, make sure to carry some cash. Most tourist attractions in Bali have an entrance ticket plus vehicle parking ticket (usually a very small amount) Tip is not expected but you are free to.
What to Expect in Bali
Religion
Unlike most of Muslim-majority Indonesia, about 83.5% of Bali's population adheres to Balinese Hinduism. Minority religions include Islam (13.37%), Christianity (2.47%), and Buddhism (0.5%)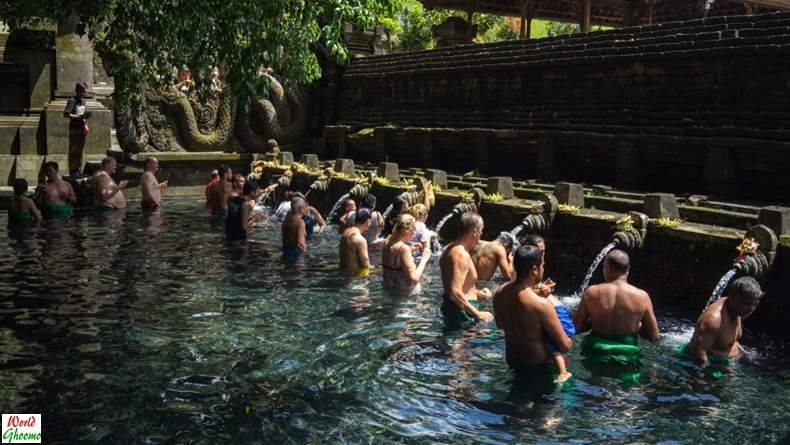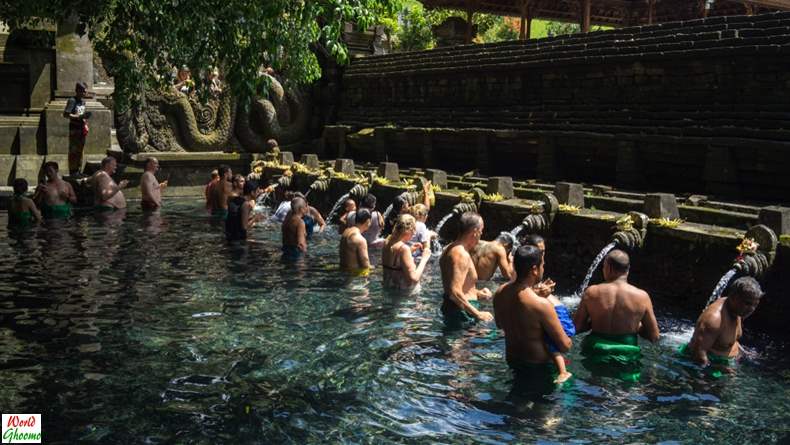 Bali Culture
Religion is of particular importance in Bali culture and there are many rituals and traditions observed. Everything you see the Balinese people do is connected with their beliefs in the gods and goddesses, good spirits and bad spirits.
Everywhere you look, you will see ceremonies, rituals and sacred offerings. Apart from the daily offerings seen on the lanes (Canang Sari), In Bali you will come across many beautifully adorned and sacred temples built throughout the island. Even in rural and neglected villages, beautiful temples are a common sight.
Canang sari – The Offering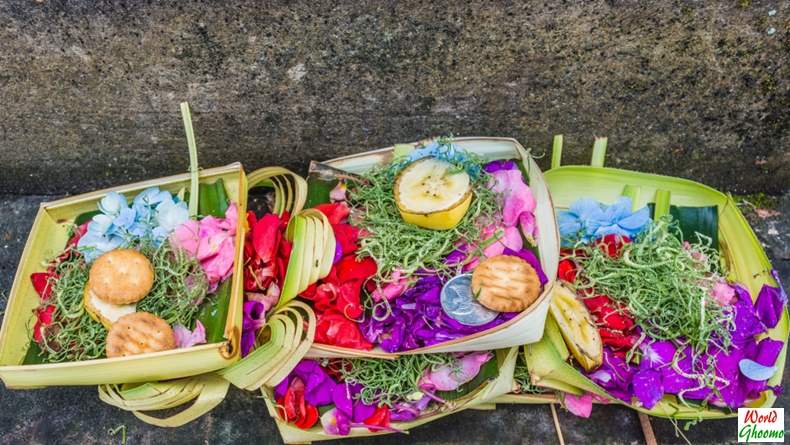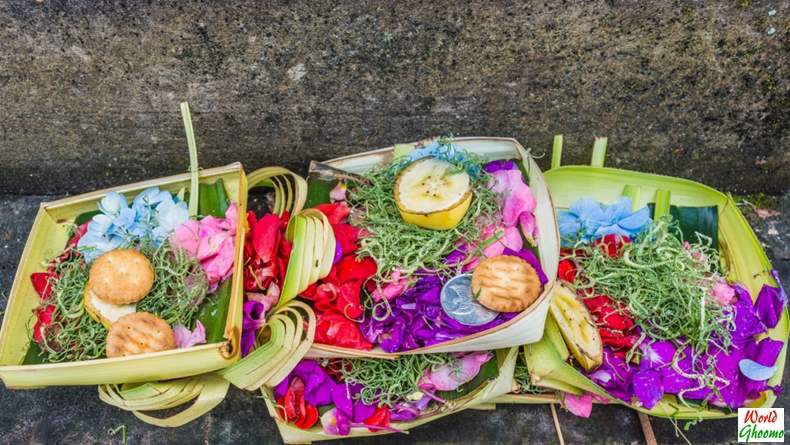 Canang sari – The Offering Bali
You can't miss noticing the canang sari found everywhere: in front of homes, shops, at the foot of temples and on top of statues. These are the offerings the Balinese women do every morning to please the Gods. Be careful not to step over these offerings.
Balinese Dance & Music
The Balinese culture is famously expressed in dance and music which is very vibrant. The cultural centre of Bali, Ubud is the place to see and hear balinese dance and music. Some restaurants in Bali have these Cultural dinner shows that allows you to enjoy dining experiences, combined with visual treats of Balinese dance and music.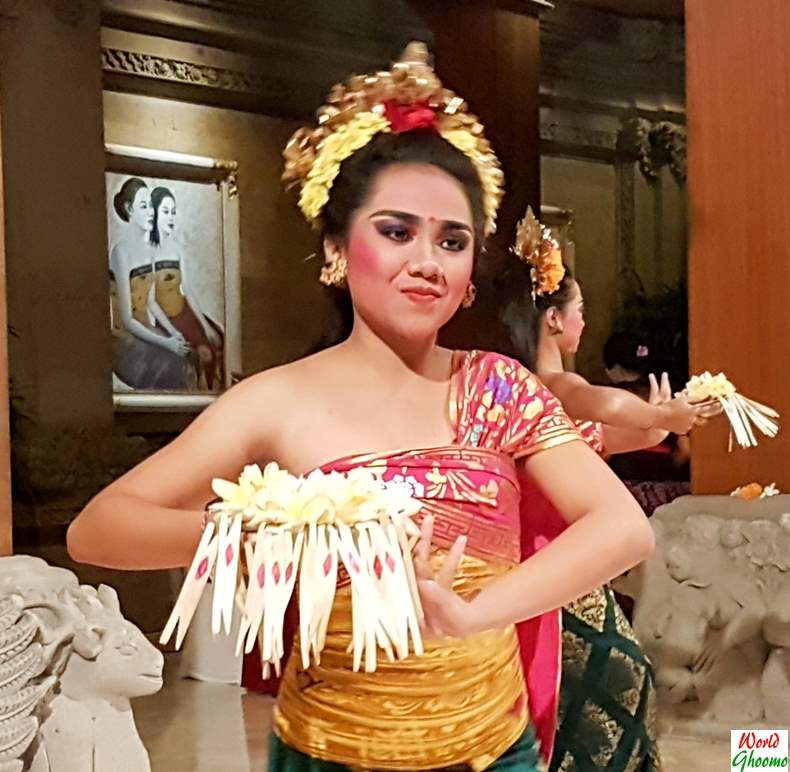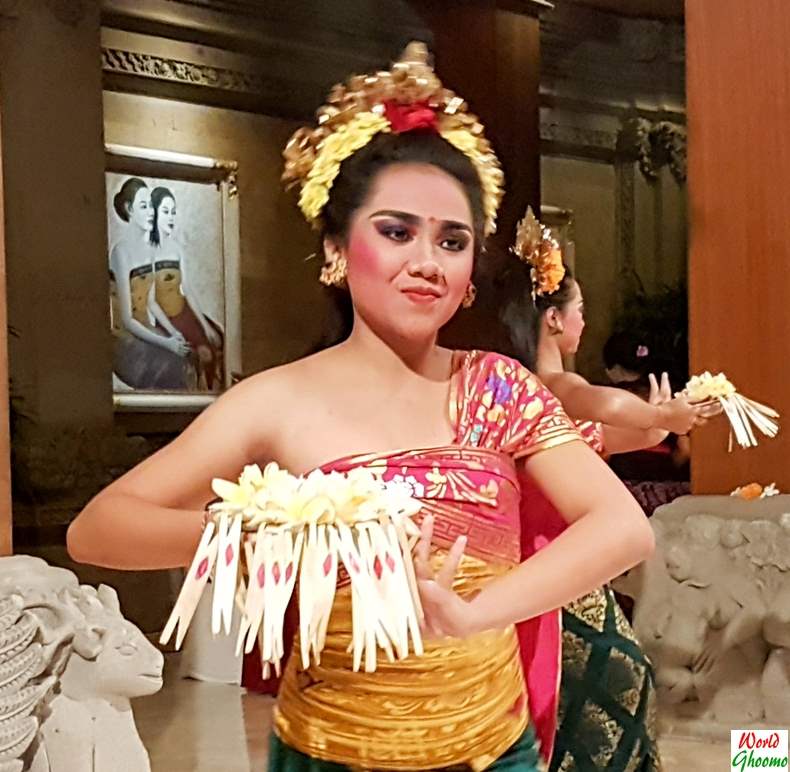 Balinese Dance Music
Uluwatu Temple Amphitheatre Jimbaran (to watch Bali's legendary singing and dancing ritual known locally as Kecak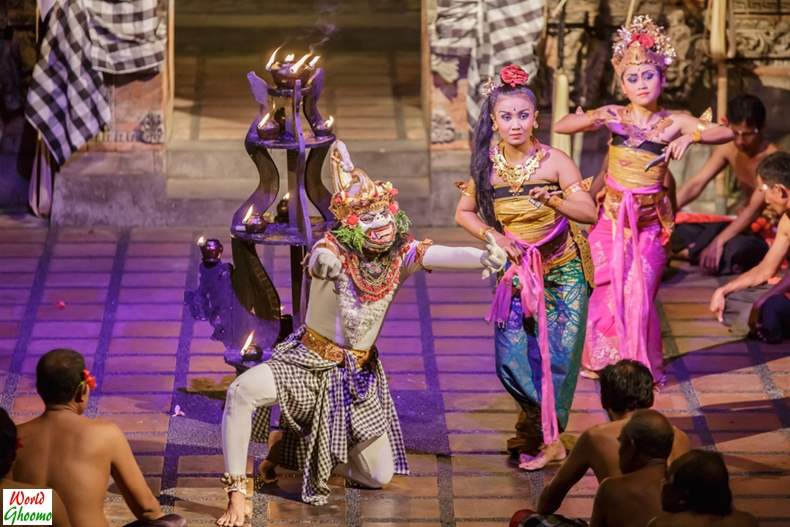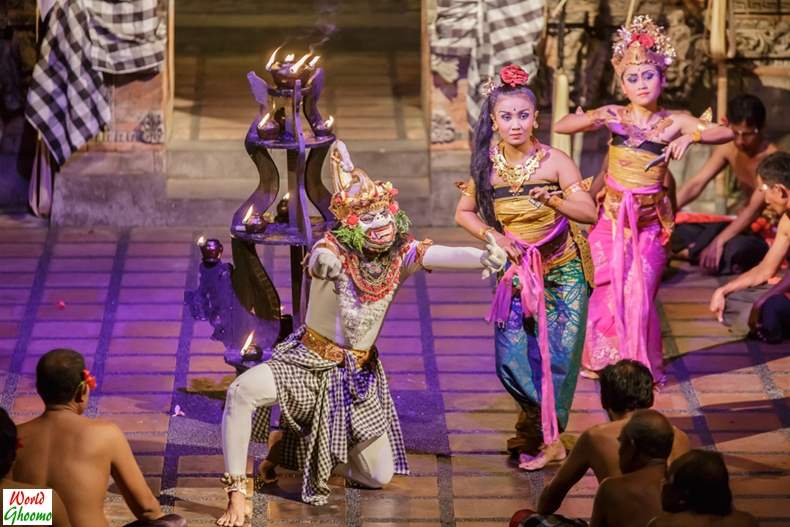 Kecak dance Bali
Uluwatu Temple Amphitheatre Jimbaran (to watch Bali's legendary singing and dancing ritual known locally as Kecak)

Devdan Show at Nusa Dua Theatre

Bali Agung Show at Bali Theatre Gianyar

Night at The Zoo at Bali Zoo Jalan Raya Singapadu, Gianyar

Café Lotus Ubud Jalan Raya Ubud (near Museum PuriLukisan)
Restaurants in Bali & Food Options
There are a number of themed restaurants in Bali featuring unique locations with awe-inspiring views and artistic interiors. Often facing rice fields, mountains or rivers these restaurants offer a variety of food, both Indonesian and cuisines from many countries around the world.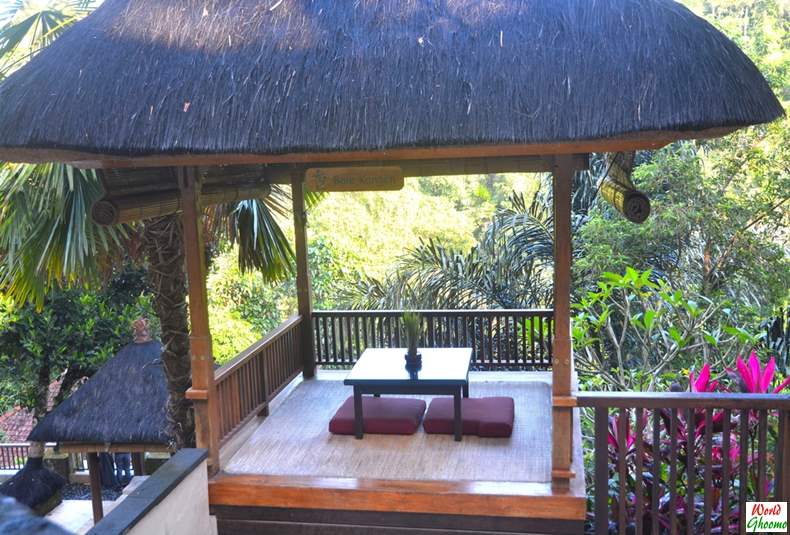 Bali Themed Restaurants
A number of restaurants and eateries can be found specializing in certain delicacies. For Indians travelling to Bali, good news is there are a number of Indian restaurants spread across the island.
Shopping in Bali
Enjoy the best shopping experiences in Bali where international and world-famous designer brands can be found right next to each other. From handicrafts to vibrant clothes , from intricate woodwork to decorative home interiors, Bali has it all.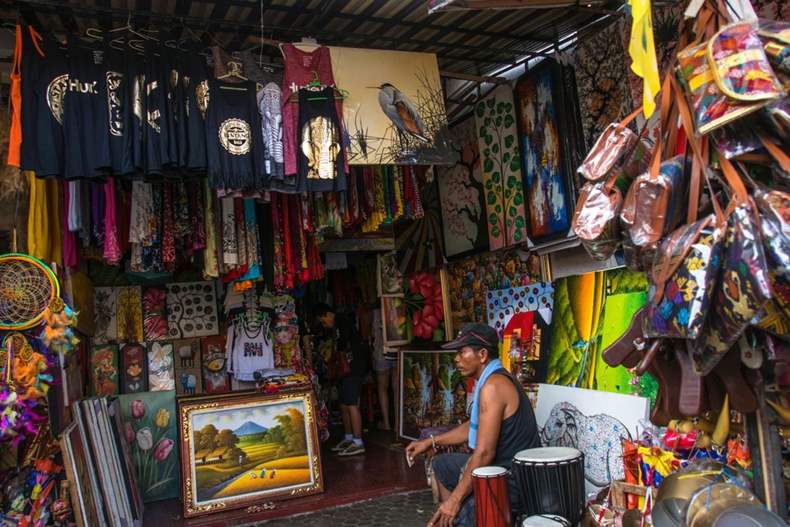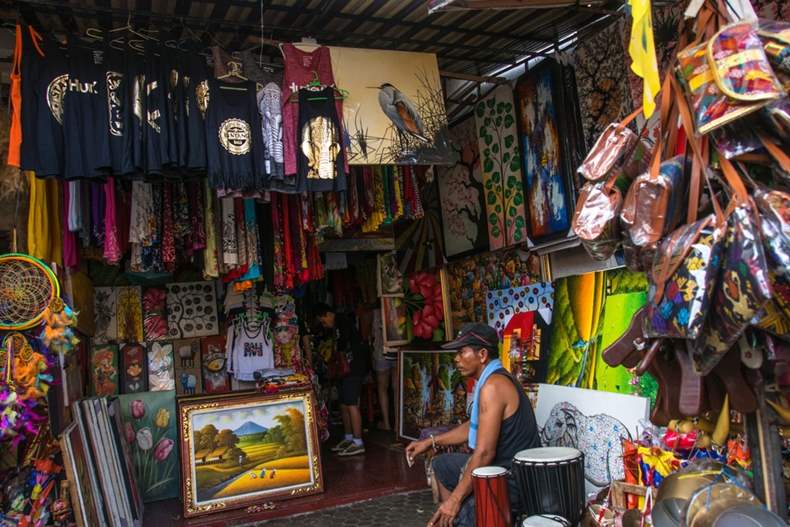 Shopping in Bali
Following are the best places to shop in Bali
The Ubud Art Market

Monkey Forest Road in Ubud

Kuta Beachwalk

Sukawati Art Market

Tegallalang Handicraft Centre
Tips For Shopping In Bali
Always carry cash since cards may not be accepted at many shops.

Check your country's customs and import regulations before making any purchase.
Bali Nightlife
Bali nightlife is most liveliest in Kuta, Seminyak and Legian. It's all about partying and dancing on live DJs and bands .
In the central part mainly Ubud , it's all about more relaxed evenings and easy going nights.
Things to Keep in Mind / What to Expect in Bali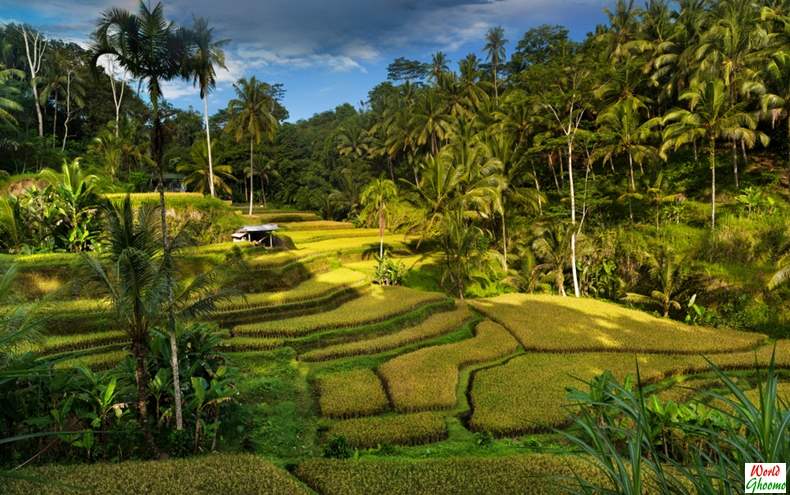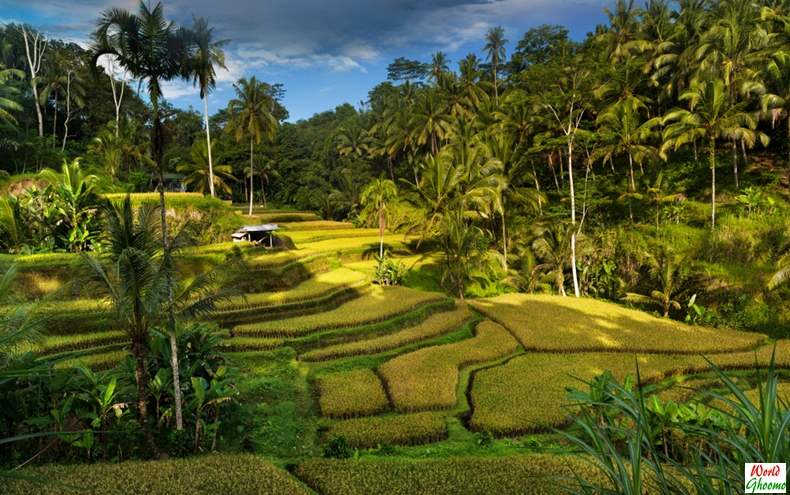 Bali Travel Tips
Bali is blessed with Mountains, Greenlands, Beaches, Waterfalls and a number of historical sites and temples spread acroos the island.

Black volcanic sand is the norm, but white sand beaches periodically dot the coast.

One cannot visit Bali without seeing Ubud – the Cultural hub of Bali where The island's rich culture thrives.

Respect local traditions & customs, especially when visiting temples.

Cover your legs with a sarong or wear full bottoms while visiting temples

Always carry some cash with you all the time.

Avoid stepping on the offerings in the streets, just walk around them.

Leave all important documents like passports and other papers in the safe of your hotel room.

On beach, do not attempt to swim beyond the designated areas. Look our for the red and yellow flags. Remember, the waves are very strong. So be alert.

Do not purchase illelagat items such as drugs or items made of shells and corals.

While purchasing bigger items such as statues, furnitures and other Check your country's customs and import regulations.

Carry your international driving licence if you intend to drive a bike in Bali.

Pack light and comfortable clothes to Bali. Prefer fibers like linen or cotton.

It's good to plan your travel itinerary on your own and in advance. This will help you maximize your time while in Bali and make the most out of the trip.
While this post/video gave you a glimpse into Bali culture along with some important things to know before traveling to Bali. In the next post/video, which is Bali Travel Guide Part 2, we are gonna help you plan out your ideal 10 days Bali Travel Itinerary and take you to the most beautiful places in Bali. Within 10 days you will be able to explore the most stunning locations in Bali. Make sure you don't miss watching it.
Hope you found the information useful. Subscribe our Travel Channel "World Ghoomo" and stay tuned for the next Bali Travel Guide Video.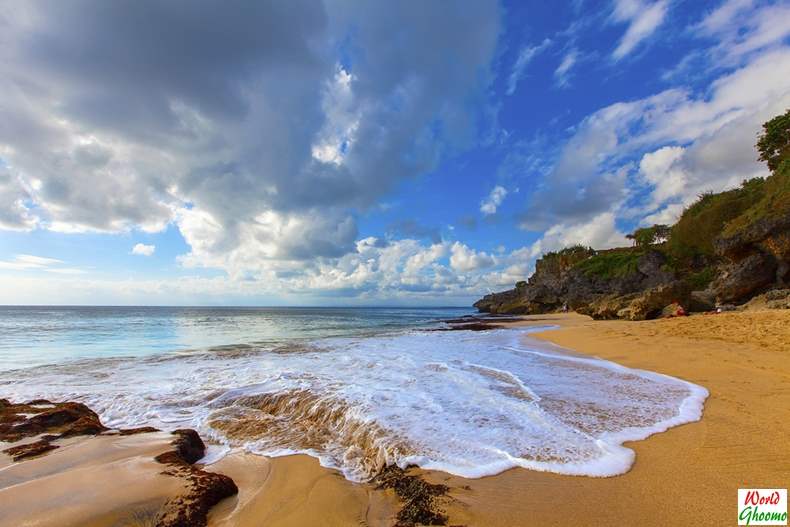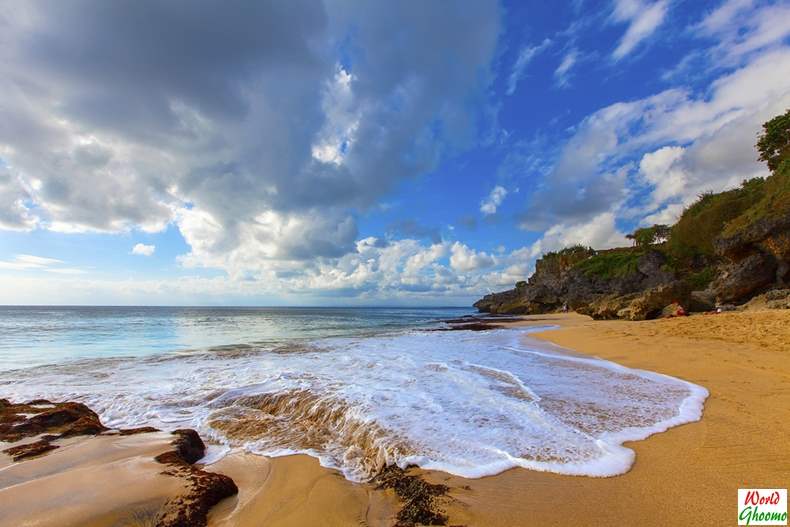 Bali Beaches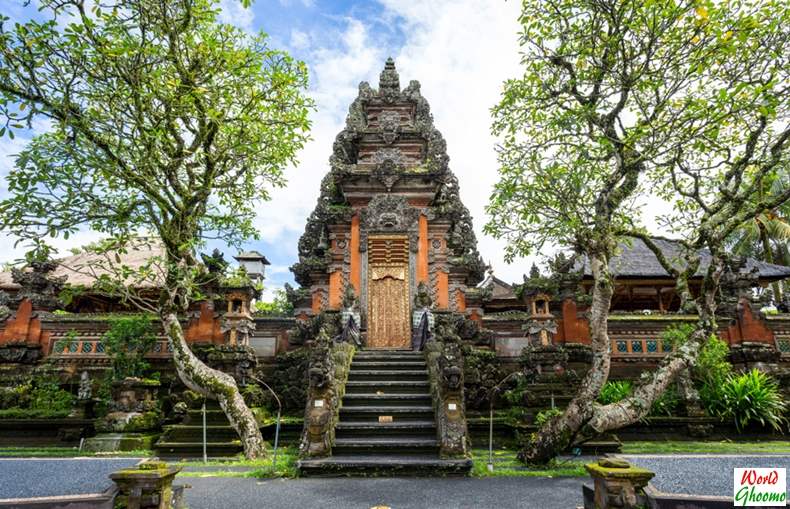 Bali Temples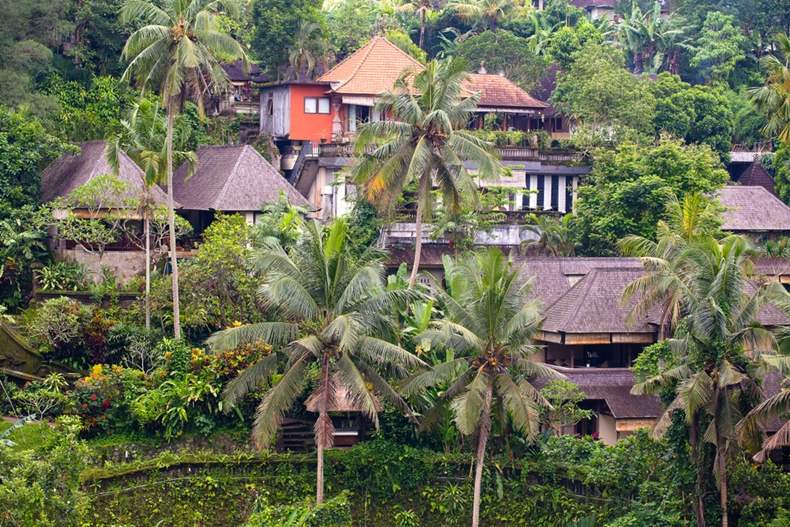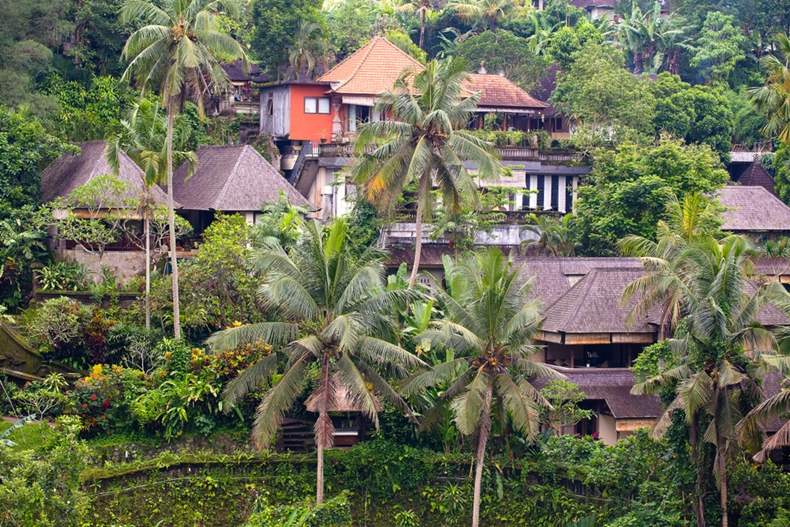 Bali Ubud Resorts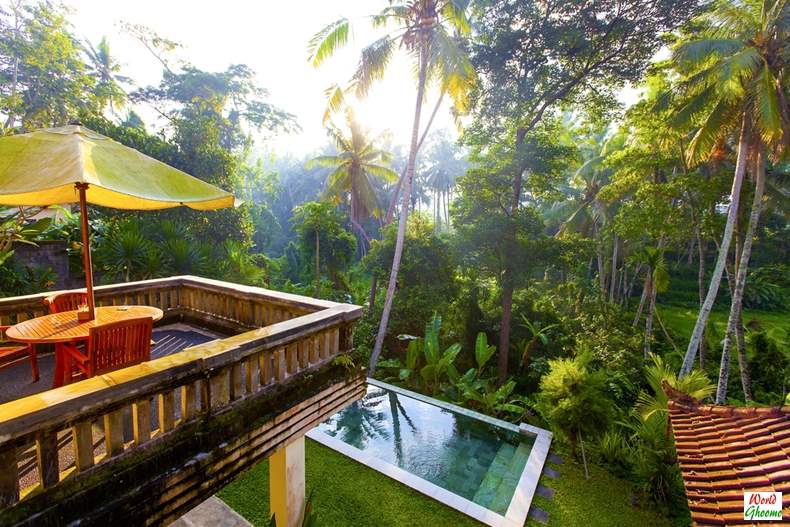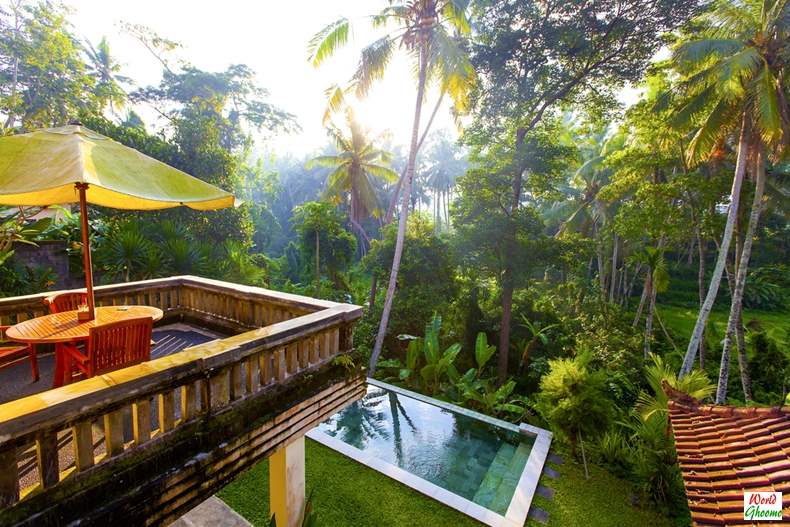 Bali Resorts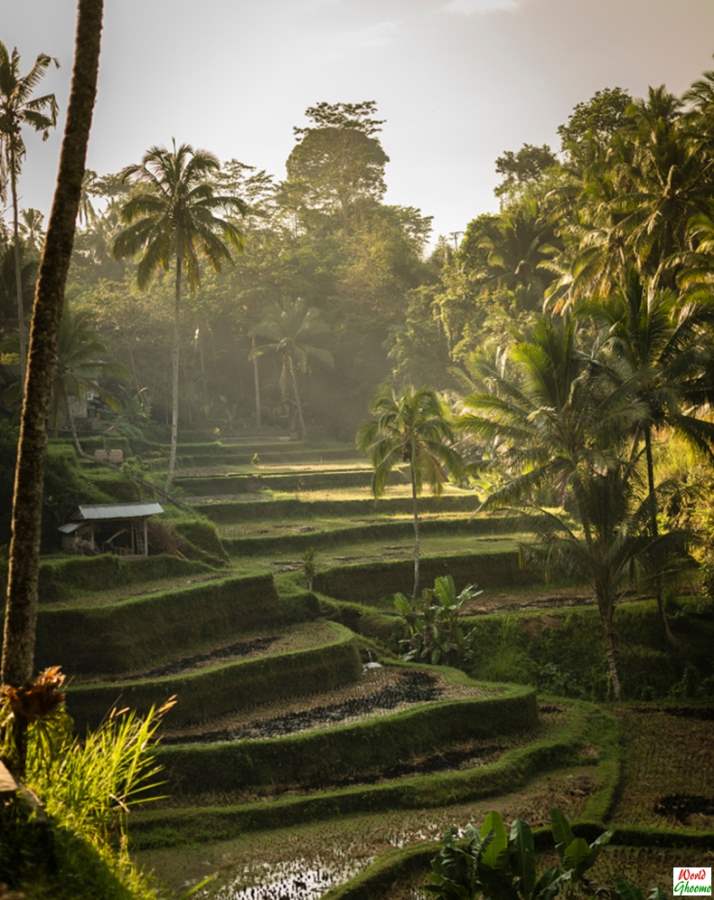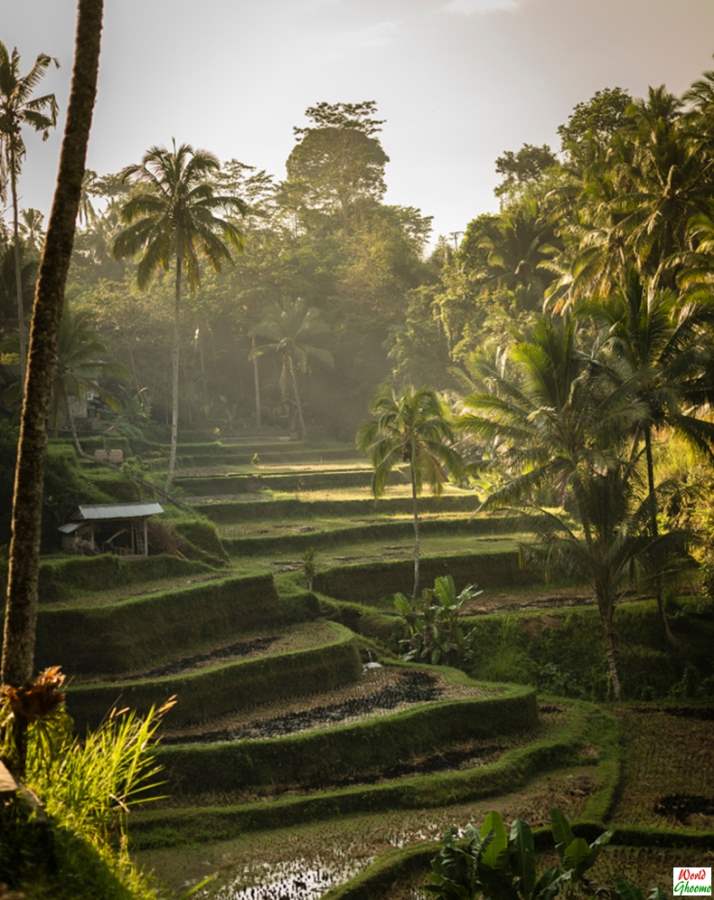 Bali Rice Terraces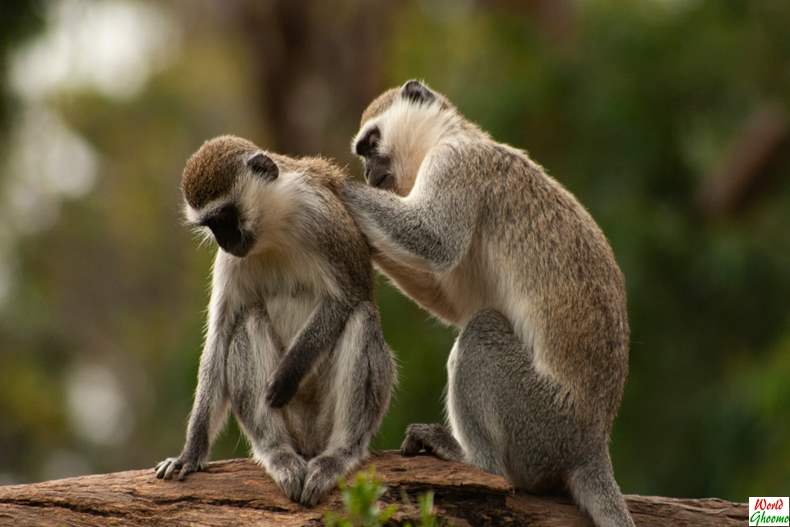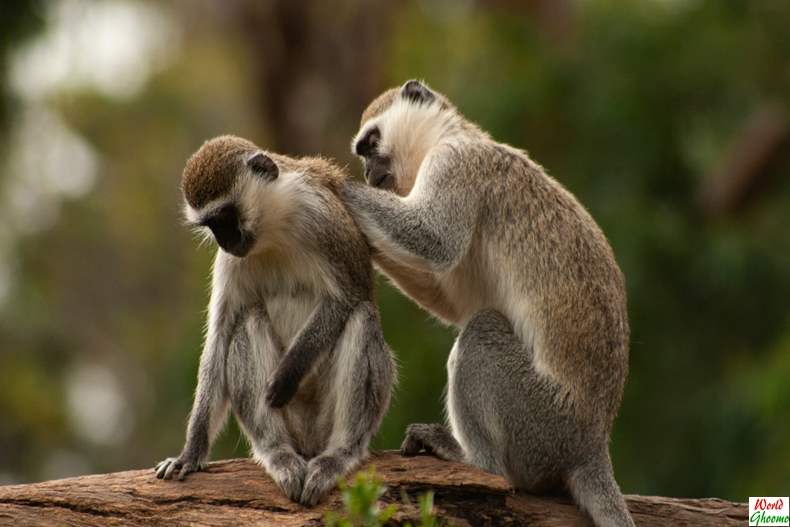 Bali Monkey Forest
Image: Shutterstock