From Pristine beaches and gleaming turquoise waters to fascinating caves and lush rainforests, Thailand has a lot to offer. Out of the many island hopping tours, the James Bond Island tour is a favorite among tourists.  In this post, we are going to share all the necessary information you would need to visit this iconic island.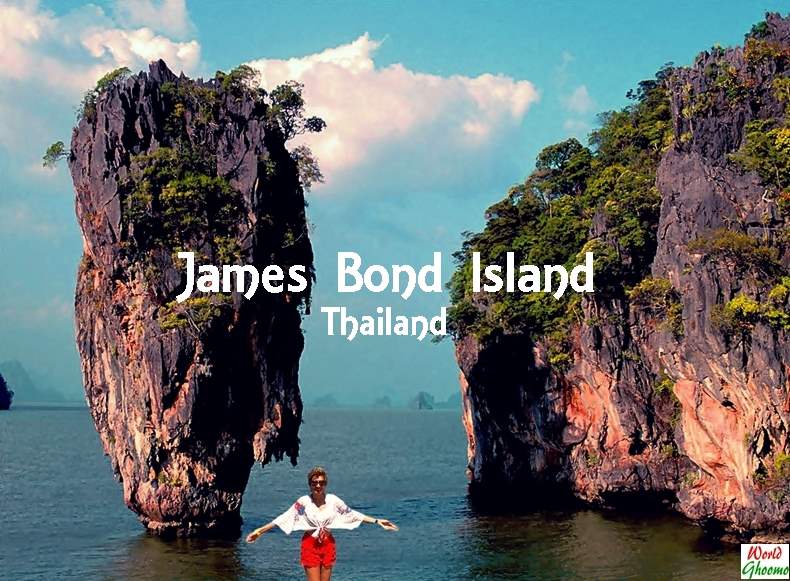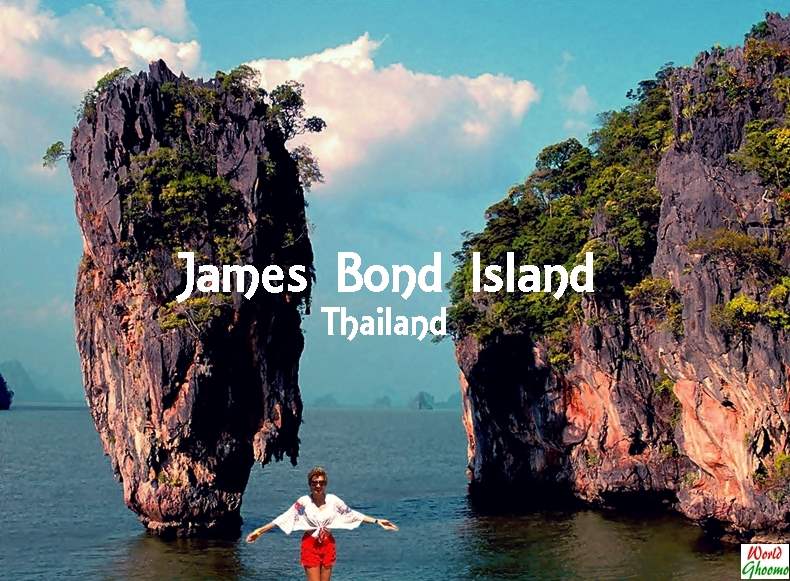 James Bond Island Tour Thailand
What is James Bond Island Tour?
Located on the Phang Nga Bay in Thailand, James Bond Island tour is a full-day hopping tour. The major attractions of the tour are:
1. A scenic cruise through Phang Nga Bay
2. Kayaking through Talu Caves
3. James Bond Island Hopping
4. Lunch at Koh Panyee fishing village
4. Buddhist Cave/Monkey Cave exploration 
5. Waterfall visit
James Bond Island Location
James Bond Island is a part of the Ao Phang Nga National Park, on Phang Nga Bay and lies to the northeast of Phuket.
How to Get to Phang Nga Bay for Island Hopping?
Most tour-operators offer a pick-up service from your hotel in Krabi or Phuket in a minibus, and drop you off to the pier in Phang Nga. From Krabi, it takes around 2 hours to get there, and if you are starting from Phuket, it shouldn't take you more than 1 hour 45 minutes to reach.
How to Book James Bond Island Tour?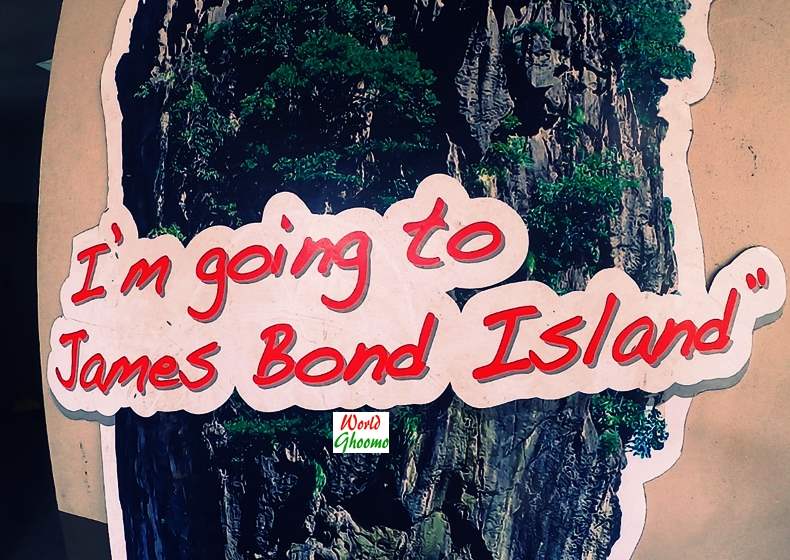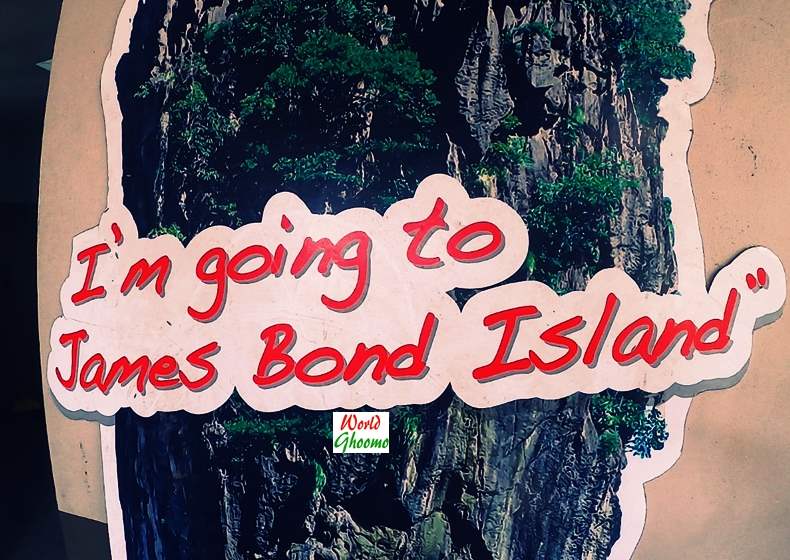 James Bond Island Tour
The tour package can be purchased from both Phuket and Krabi. Tour operations can be seen everywhere selling various island hopping tour packages. It's advised to book the package in advance.
Cost of James Bond Island Tour 
1,740 bahts per person. Prices may vary for different tour operators. We recommend checking with your hotels as well. It's quite likely that you will get a better deal.
Is there a National Park Entry Fee?
Yes. The package includes Koh Panyee National Park Fee. Still, make sure to inquire about it at the time of booking.
Tour Duration
• 08:00 hrs. – 17:00 hrs.
• Daily Operated 
What is Included in the James Bond Island Tour Package?
The boat tour package usually includes:
1. Hotel Pickup and Drop-off 
2. Koh Panyee National Park Fee
3. Tour guide
4. Insurance
5. Life Jacket
6. Lunch, Tea/Coffee
7. Soft Drinks/ Water Bottles
8. Seasonal Fruits

James Bond Island Tour Experience
The journey starts by boarding a minibus that takes you to the pier at the Phang Nga Bay. The drive takes around 2 hours. From there, begins the adventure, with a picturesque cruise.
1. Scenic cruise through Phang Nga Bay
Duration: 20 mins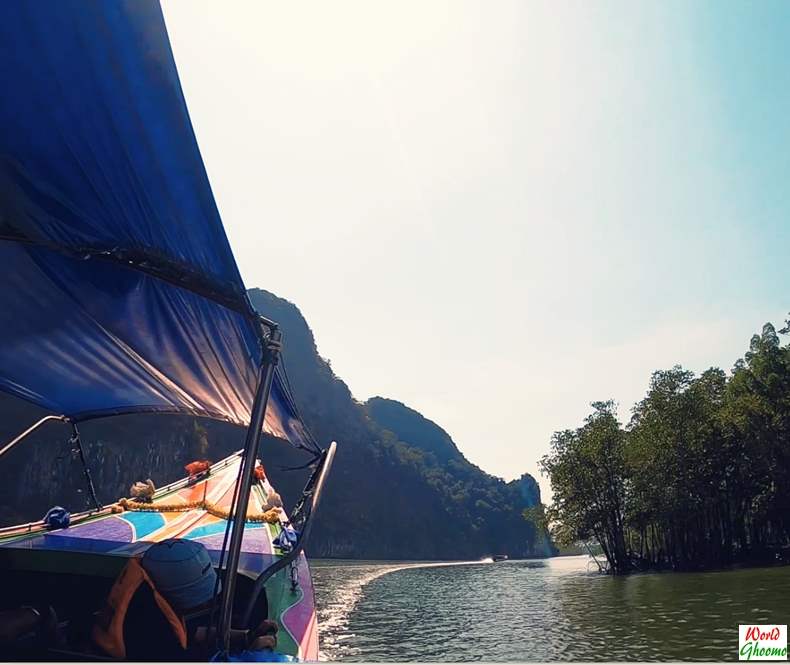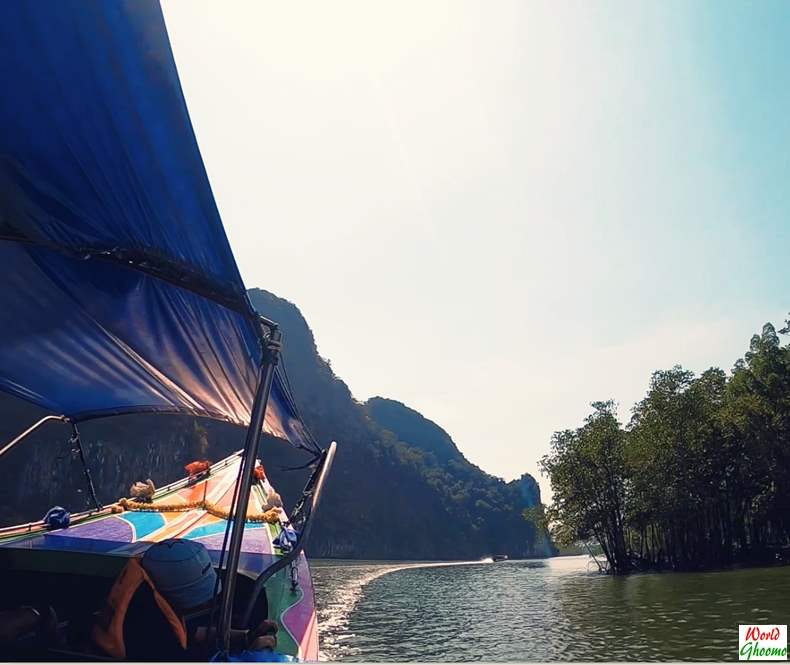 Cruise through Phang Nga Bay
The tour begins with a lovely cruise through the Phang Nga Bay in a long-tail boat. Cruising through thick mangroves forests, surrounded by rocky cliffs rising from the waters is an excellent way to explore the bay.
2. Canoeing through Talu Caves
Duration: 40 mins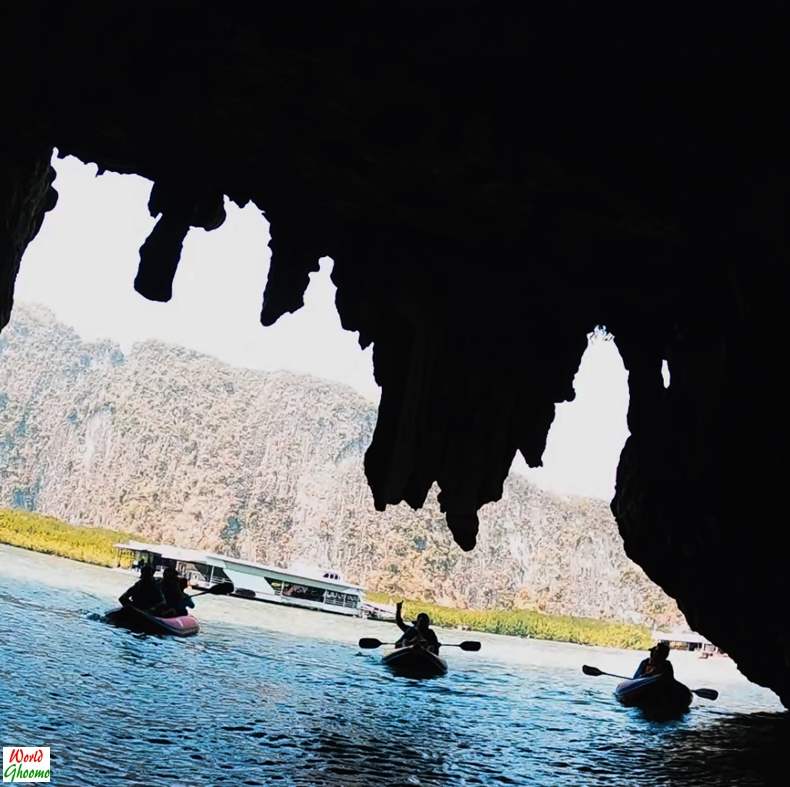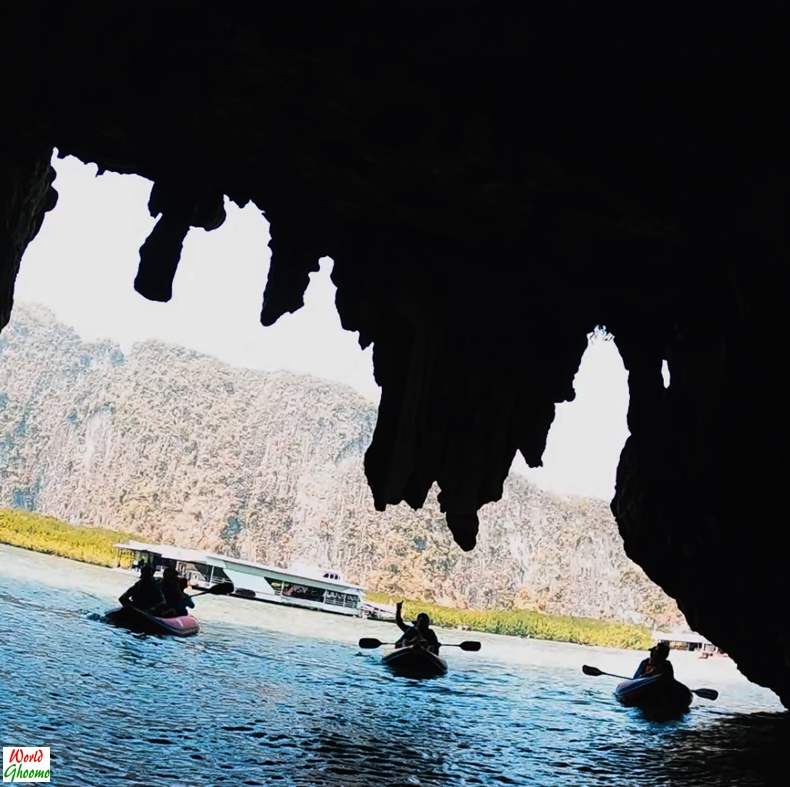 Canoeing through Talu Caves
A 20-minute boat ride takes you to your first stop, the Talu Island. Tourists get an excellent chance to soak in the breathtaking beauty of cliffs cuddled in lush greenery. Here, you'll hop into a canoe with a guide. One of the main highlights of canoeing in this region is you get a unique chance to discover the limestone caves while your guide paddles under the gorgeous limestone caves, the Talu Caves. Crossing the narrow gaps of these caves will be a truly exhilarating experience. 
3. James Bond Island Hopping
Stay Duration: 40 mins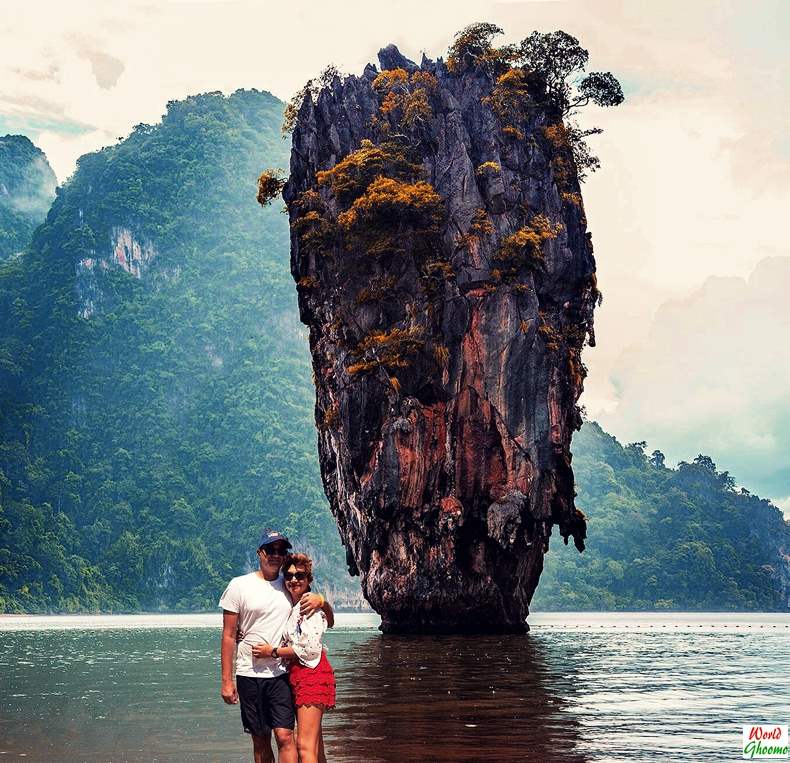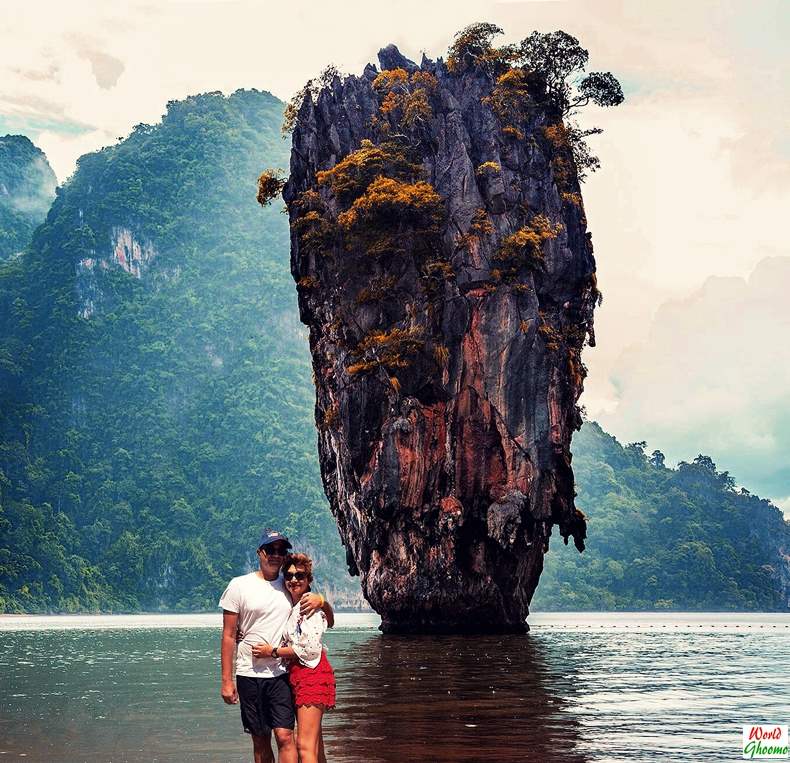 James Bond Island
Next on the list is the famous James Bond Island, and it takes 15-minute from Talu Island to get there. The island got its peculiar name after it was shown in
the 1974 James Bond film The Man with the Golden Gun. The isle welcomes you with an incredible view of an iconic limestone cliff, located right in the center, in front of the blue-green water. Apart from the iconic cliff, the island also houses some stunning caves, offering visitors a unique chance to walk and explore. There are also many souvenir shops here from where you can buy pearls, seashells and other items. Before heading to the next stop, you'll get to spend about 40 minutes here.
4. Lunch at Koh Panyee fishing village
Stay Duration: 40 mins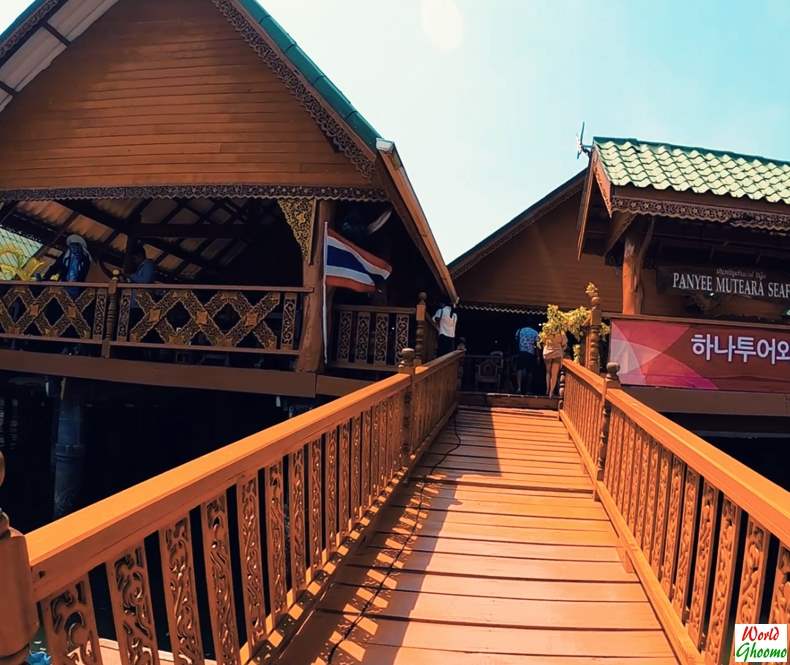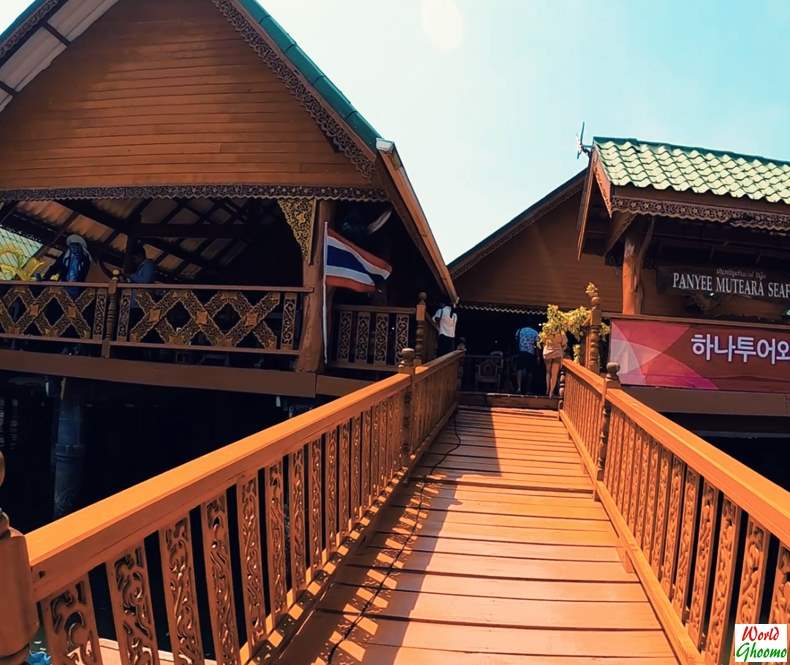 Koh Panyee fishing village
You'll surely be famished by the time you finish exploring the James Bond island, and Koh Panyee fishing village will serve as an ideal place to have lunch. Koh Panyee is a small island community with around 1,600 people from 360 families making this island their home. The homes, numerous restaurants and other structures are built on stilts over the surrounding shallow sea. In order to boost the economy, the fishing community started to invite tourists to the village. Often serving as a lunch stop, the village has become one of the top attractions of Phang Nga Bay tours from Phuket and Krabi. 
After enjoying a delicious meal here, you'll sail back to Phang Nga pier.
5. Buddhist cave/Monkey Cave exploration
Duration: 30 mins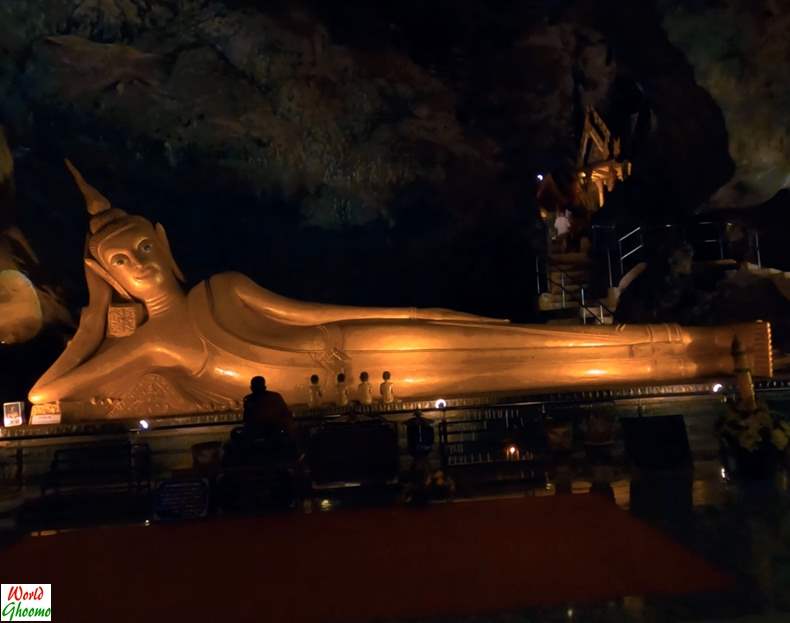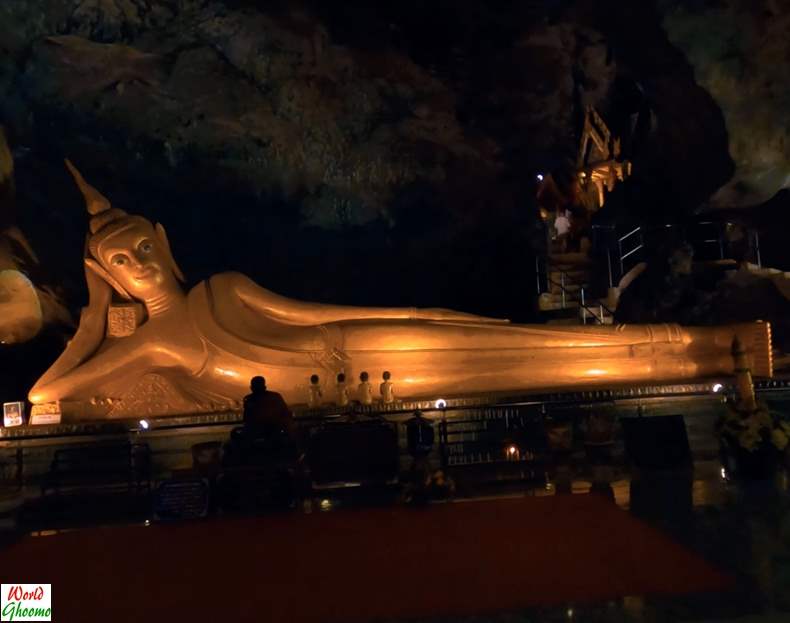 Suwan Kuha Buddhist Cave Temple
From Phang Nga dock, you'll reach the renowned Buddhist cave temple of Suwan Kuha in 15 minutes via a boat. The cave serves as a functioning and revered place of worship for locals and also as a tourist destination. The temple houses an iconic reclining statue of Buddha, which measures 45 feet in length. There is also a Buddhist stupa and other small statues along the sides. You'll also find many monkeys here, hence the name monkey cave. Be careful while feeding them and just make sure not to get too close to them to avoid getting injured.
6. Waterfall visit
Duration: 30 mins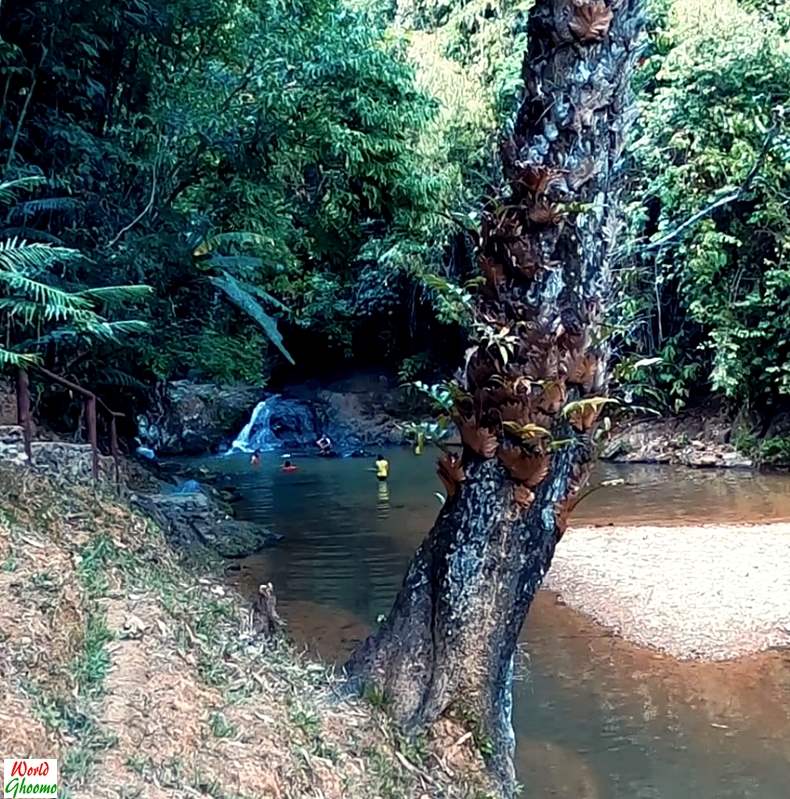 Waterfall in Phang Nga
The last stop is a gushing waterfall, located inside a forest. It has many levels and it can take around an hour to visit them all. The waterfall serves as a perfect spot to unwind, just before ending the trip.
Verdict: James Bond Island Tour is an ideal way to spend a full-day in Thailand exploring mangroves and caves.
What to Bring
Wear comfortable breezy clothes
Water shoes
Sunglasses
Hat
SunTan Lotion
A set of extra clothes
Beach towel & Swimming suite
Camera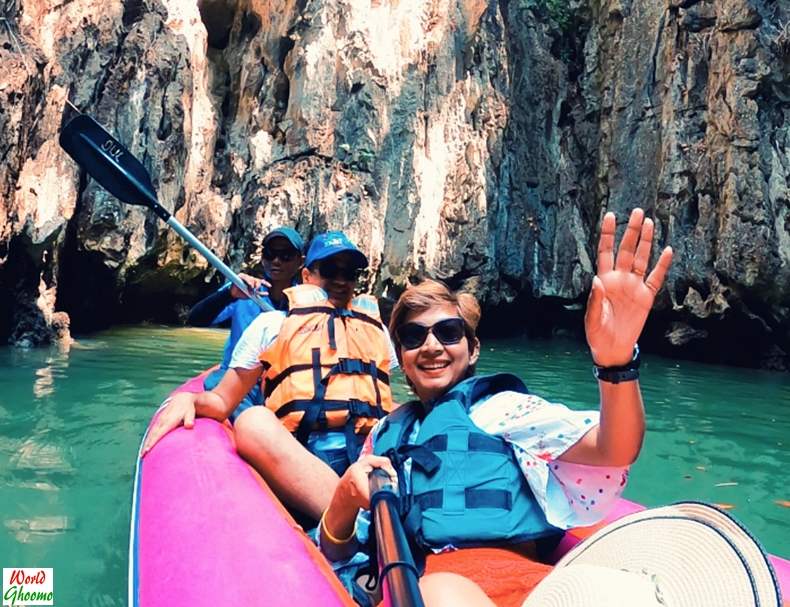 James Bond Island Tour Guide