Bangalore can get hectic, so you can't really fault hubby and me for wanting to get away from it whenever we can. Fortunately, there are plenty of places we can escape to just around the city. We sought out one of these little havens toward the end of May 2015.
The Galibore Nature Camp is a rustic getaway with modern facilities deep in the heart of the forest. And so close to horrific Bangalore traffic (just 100 km) that you almost can't believe it. Not only are you bang in the middle of deciduous trees, you also have the Cauvery River close by and the windy Galibore hill in the backdrop.
It's located quite close to Sangam, near Mekedattu. The drive takes only two hours, and calling the route scenic is an understatement. The further you get from Bangalore, the thicker the greenery gets and there comes a point at which you forget that concrete buildings and nausea-inducing pollution even exist.
Traveled – 23rd May 2015
Duration of stay – 1 night
Watch the VIDEO REVIEW
Day 1
We left from Bangalore at 9:00 am and reached at around 11:15 am.
As you enter Galibore Nature Camp, you are submerged in silence and greenery. Instead of a concierge or bell boy, monkeys and a variety of birds welcome you. Apart from the wildlife, the only sound you hear is the gushing waters of the River Cauvery.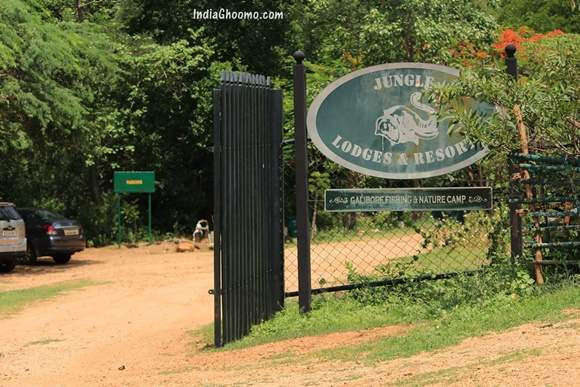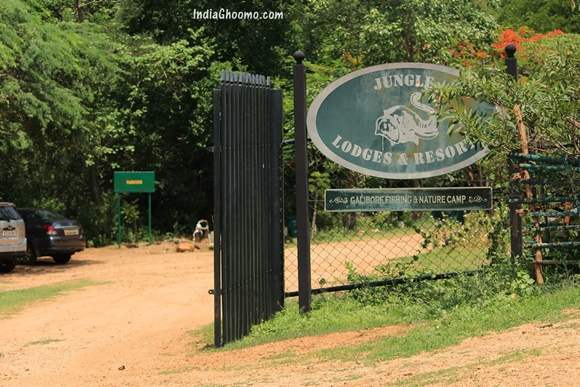 Galibore Nature Camp – Jungle Lodges
It's a very calm and serene place, nestled in the lap of nature. Even though we knew Bangalore was so close by, we felt like we were in the middle of nowhere.
Check -In
We checked in and were escorted to our tent near the dining area. There are around 10 tents in the camp, all of which face the River Cauvery. Each one if spacious and neat, and like the rest of the camp, very beautiful. Outside each tent is a hammock that faces the river.
After we had unpacked at the tent, we had cup of tea and freshened up. Then we wandered around the property for a while.
The layout of this camp is typical of a Jungle Lodge property. Since it's so deep within the forest, there is no mobile reception, which means no distraction, and you are truly away from the hustle and bustle of the city.
Despite being summer, this place was far from warm thanks to the Cauvery river and the dense trees spread across the property.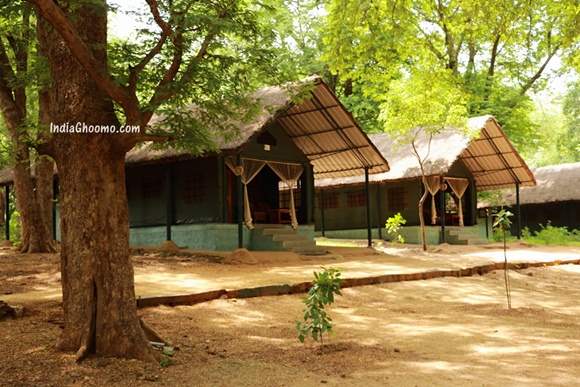 Galibore Nature Camp at Jungle Lodges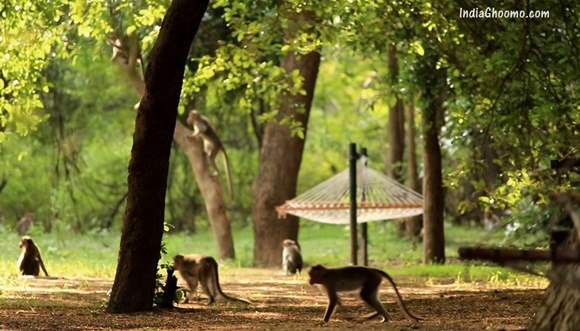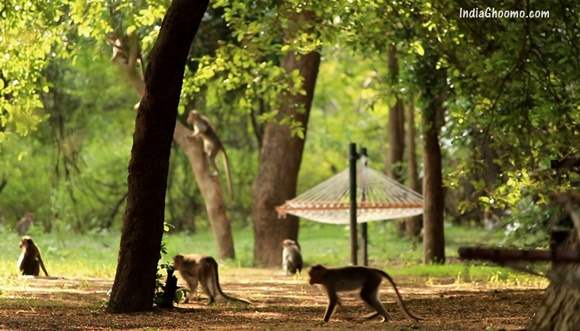 Galibore Nature Camp Jungle Lodges and Resorts
Lunch
At 1:30 pm, lunch was served in Gol-Ghar – the trademark dining area of the Jungle Lodges group. It was set up in a gazebo that had green netting surrounding it on all sides to keep animals at bay. No walls mean that we had a 360 degree view of the forest while we ate. The dining area is quite spacious and the tables are set far enough apart so that even if the place is full of people you still have your privacy. The menu was satisfying with plenty of dishes to choose from and everything we tried was delicious.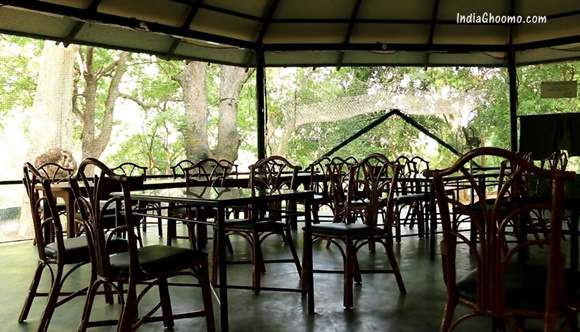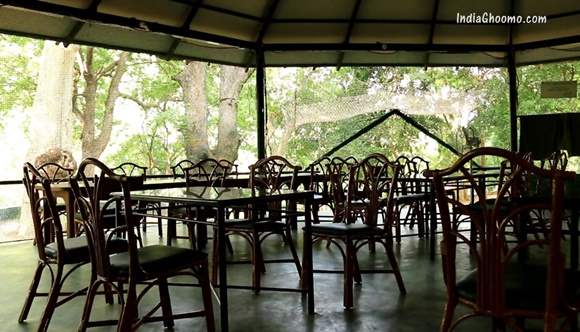 Galibore Nature Camp Jungle Lodges Resorts
After lunch, we just relaxed for a while on the hammock and spent some time appreciating the place from our tent, resting up a bit for the activities planned for later in the day.
In the evening, we went on a 3-kn long coracle ride on the river. It's a long ride that goes really slow, giving you the space and time you need to unwind. We spotted many birds and crocodiles, and where there weren't any animals there was a mountainous view to enjoy.
The coracle ride ended at quite some distance from the tents, and although there was a jeep to take us back we chose to walk it. Whatever last bits of stress there may have been left simply dissolved as we strolled through the forest.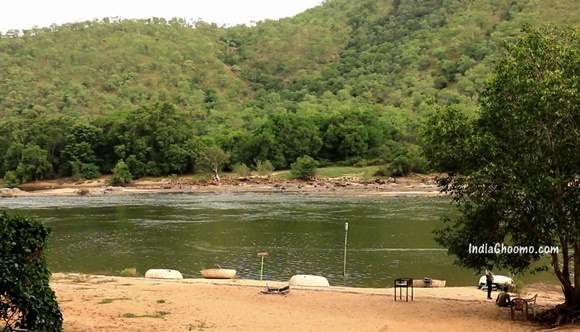 Jungle Lodges Resorts Galibore Nature Camp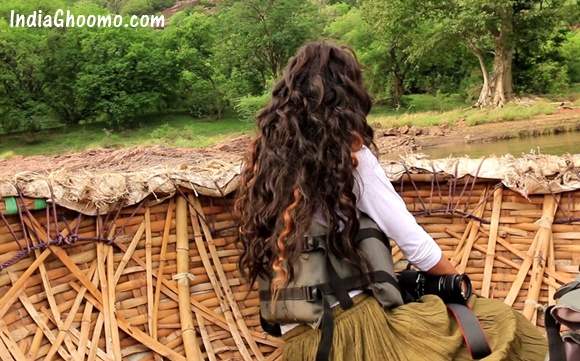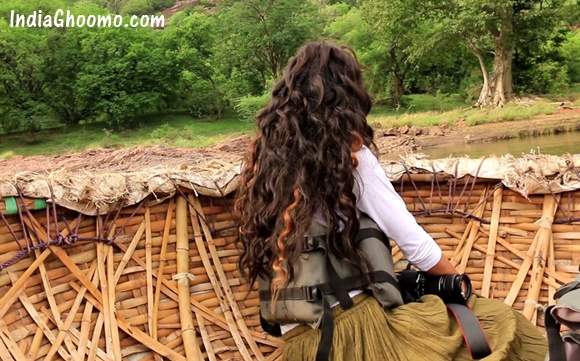 Jungle Lodges Resorts Galibore Nature Camp pics
On our return, a camp fire and barbeque were organized on the banks of the river. Tea and snacks were served – it was an altogether unique experience sipping tea while walking along the river side.
It turned dark soon. If the camp seemed impossibly serene in the day time, at night you just felt like you had entered a different world. Dinner was served at Gol Ghar at 8:30 pm after which we turned in for the night.
Day 2
We awoke bright and early to the sound of chirping birds, freshened up and had tea, and then headed out to enjoy the forest some more. The camp had arranged an early morning trek above the river bank which was an awesome experience as we got a bird's eye view of the flowing waters.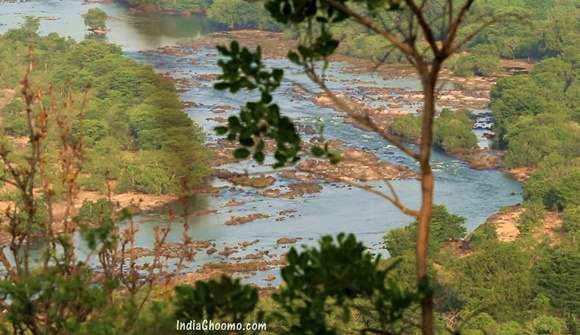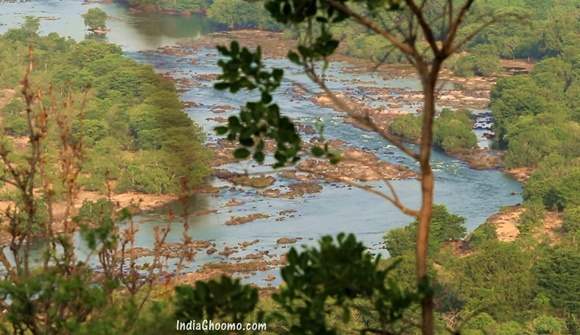 Galibore Nature Camp pics
While we could have stayed there all day, we were leaving in a few hours so we headed back to the resort where a sumptuous breakfast awaited us. After breakfast, we simply lay in the hammock and cherished our last few moments there. Relaxed and refreshed, we made our way back to Bangalore at 12:30 pm.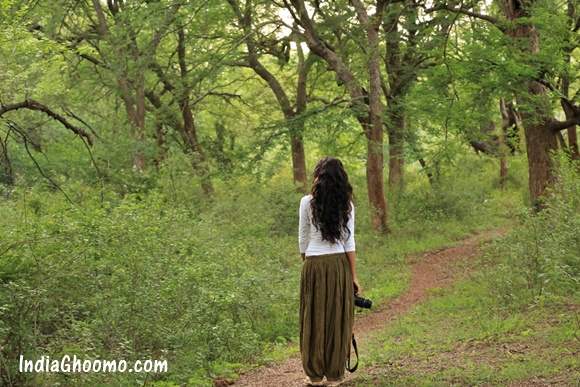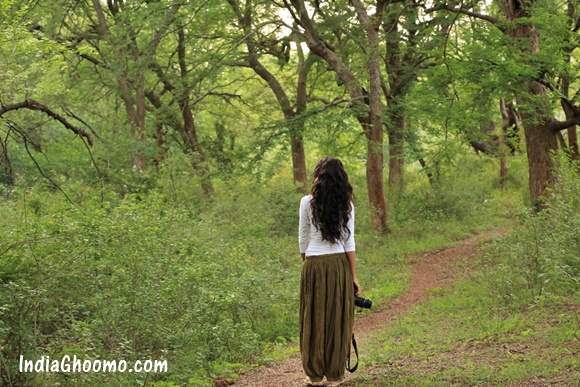 Galibore Nature Camp Pictures
VERDICT
If you are a true nature lover, then Galibore Nature Camp promises to provide a true nature experience. It's the perfect place to take a break from the monotony and stress of city life. The great things about it are:
courteous staff
amazing hospitality
delicious food
The camp is the perfect package for those who can't get enough of everything that nature has to offer.
Travel Tips
Wear earthy tones and nature-friendly colors and prints.
Make sure your footwear is made for walking and long-wear comfort.
Carry sunscreen, a hat and sun glasses to protect from sun burn since you are guaranteed to spend more time outdoors than in.
Also carry a torch, mosquito repellant and a personal first aid kit.