When we've got a weekend to spare, we generally turn to the Jungle Lodges & Resorts group for a short trip. They offer, as I'm sure you've guessed from the name, a range of jungle resorts which give us everything we want – a little fun and plenty of relaxation at some of the most scenic locations in Karnataka. And since we always have a good time, we tend to pick them for special occassions as well. Like the long weekend that clubbed both my birthday and our 7th wedding anniversary from January 24th to January 26th, 2015.
Instead of re-visiting some of our old favourites, we picked one of their newest resorts – the Sharavathi Adventure Camp in Kargal, Karnataka – which had only been open for seven months at the time of our stay.
Watch the VIDEO :
Day – 1
Since the resort is about 380 Kms from Bangalore, we started early at 6 am. Here's the route we took – Tumkur-Shimoga-Sagar-Talaguppa-JogFalls-Talakalale Reservior. We arrived at around 11:30 am and checked in at noon.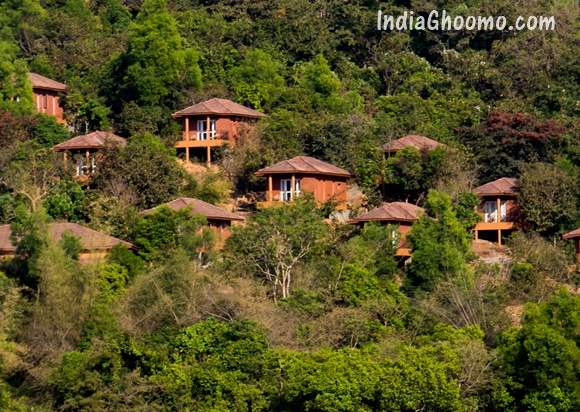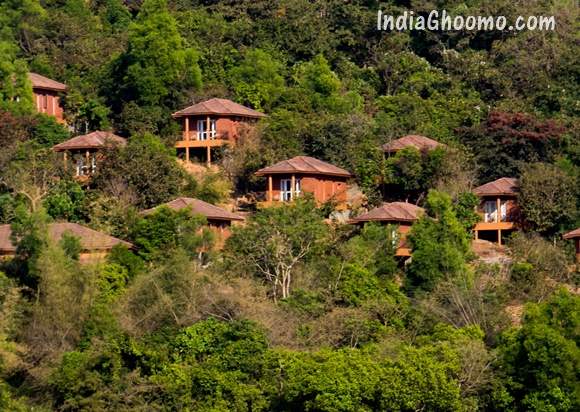 Sharavathi Adventure Camp – Jungle Lodges Resorts Karnataka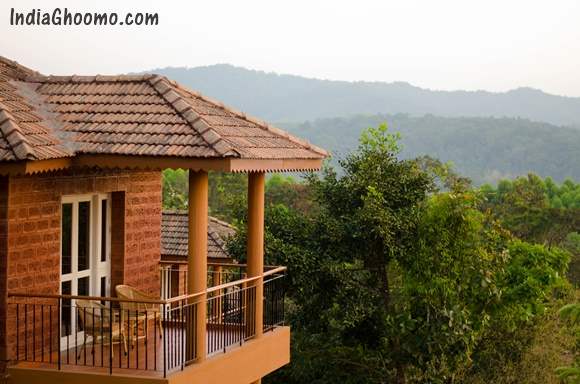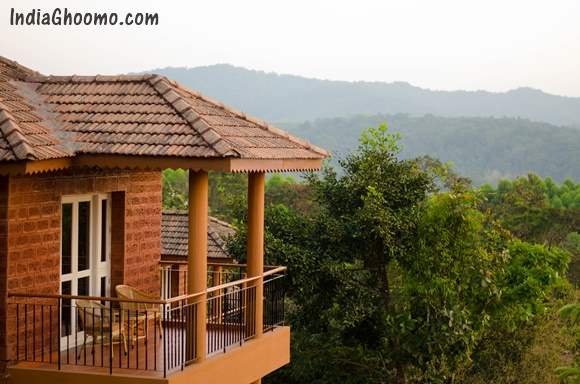 Sharavathi Adventure Camp Cottages at Jungle Lodges and Resorts
The resort has 20 cottages in all. They are all spacious, neat and very comfortable. But the best part is that they all overlook the Talakalale Reservior. The wall of our cottage that faced the reservoir had French windows which allowed us a view of the scenery even when we were indoors. The French windows led out to a cozy balcony that just begged for some lolling around.
We were suitably impressed and quickly took showers so we could go check out the rest of the property.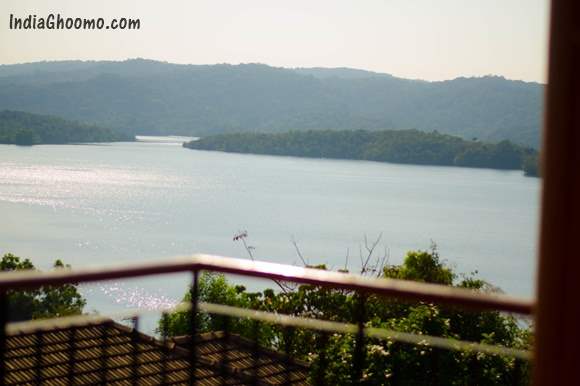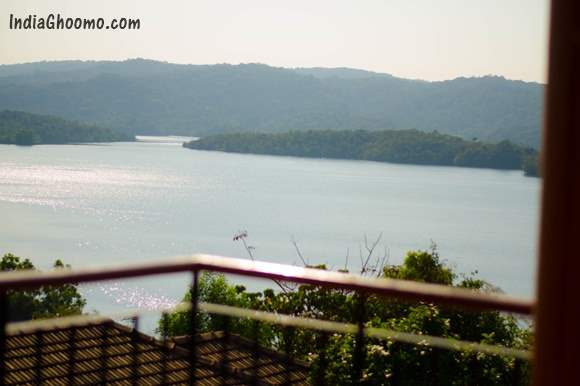 Jungle Lodges Resorts Sharavathi Adventure Camp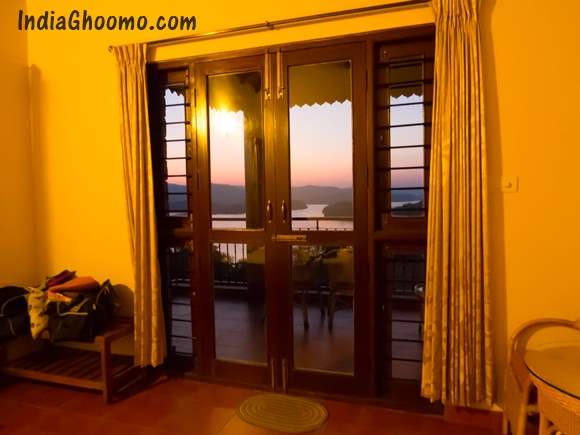 Sharavathi Adventure Camp – Rooms
Food & Dining Area
Ravenous, we headed towards the dining area called Gol Ghar for a delicious lunch. The drive had wiped us out so we decided to postpone our exploration and returned to the cottage for a splendid 2-hour nap which was a different kind of delicious!
Evening Boat Ride and Kayaking
Evening brought a welcome cup of tea. Refreshed, we then headed out to the reservoir for some water activities that were a part of our package. First, there was a gentle boat ride for half an hour that brought home exactly how beautiful the scenery was.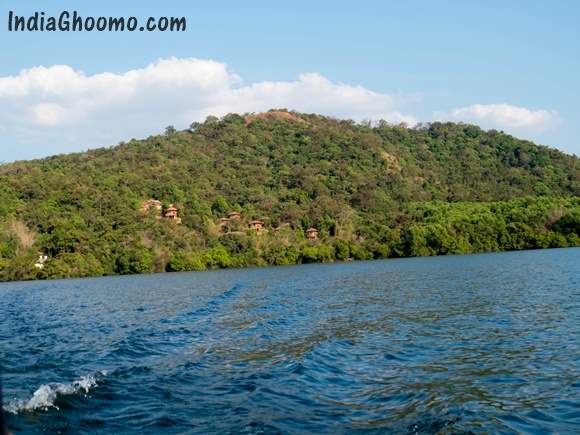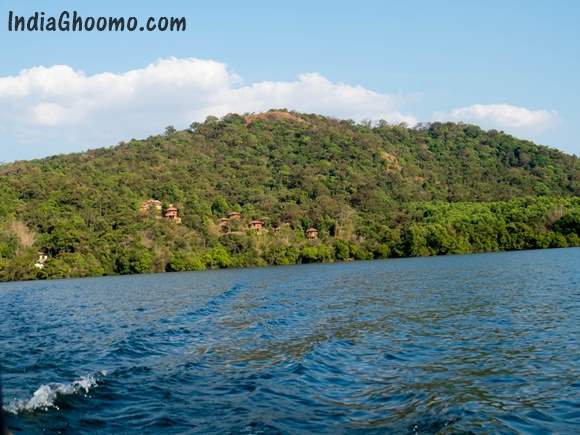 Sharavathi Adventure Camp Kargal Karnataka
The boating was followed by our favourite water activity – kayaking! Something that both hubby and I had been looking forward to. We indulged ourselves for around 2 hours and it was one of the high points of our trip.
The Talakalale reservoir is a lovely place to kayak. The water is crystal clear and blue – which is so rare nowadays. Being on the river allowed us a spectacular view of the banks and the cottages nestled midst abundant greenery. It was like going through through the Grand Canyon, if the Grand Canyon was made up of hills of trees instead of bare rocks.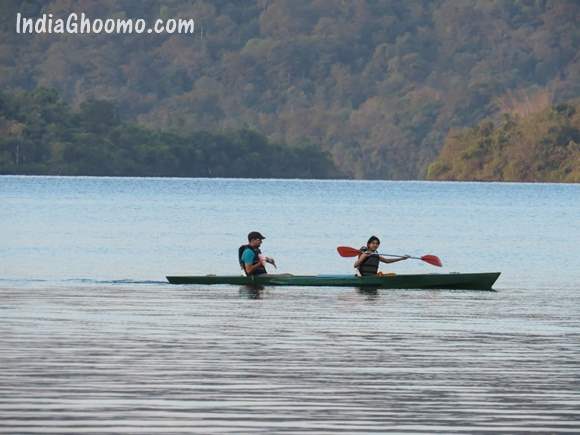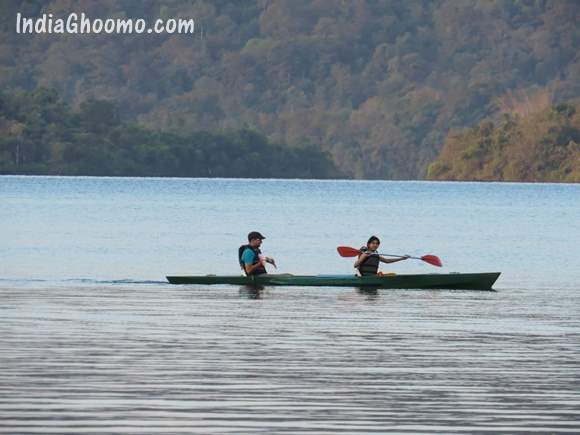 Sharavathi Adventure Camp – Kayaking
We were also able to spot a variety of birds including brahmini kites and egrets. I managed to get a few photographs but they were just a fraction of what nature had on display.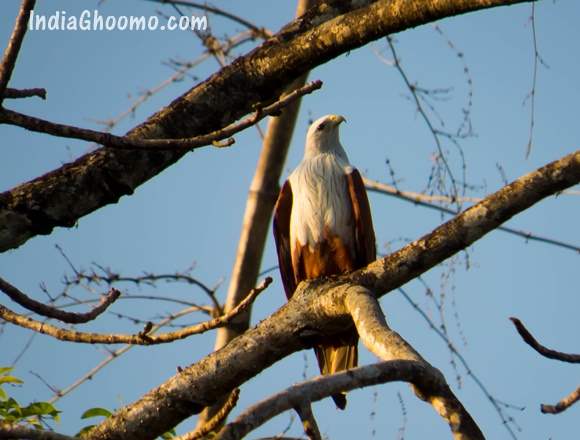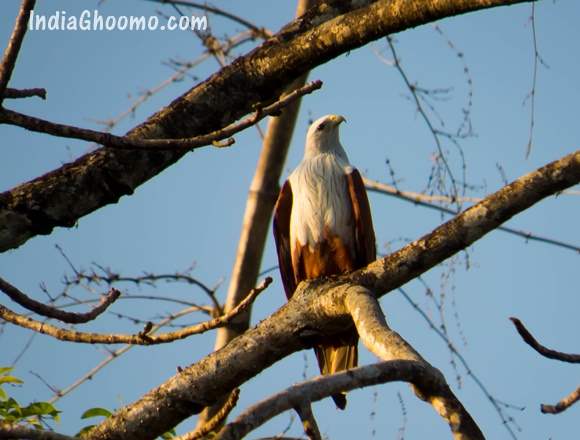 Sharavathi Adventure Camp – Birds spotted during  Kayaking
Snacks, Dinner and a Wildlife Film
On our return to shore, we decided to go back to out cottage and enjoy the sunset from the balcony. It was serene, breathtaking and romantic. The exercise on the water had gotten us hungry again so we were were grateful for the soup, pakoras and tea the resort offered soon after while screening a wildlife film. That was followed by an early dinner at 8:30 pm as the next day too had plenty in store.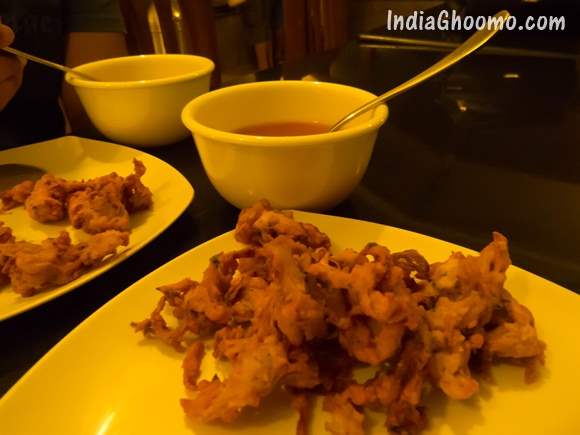 Sharavathi Adventure Camp – Snacks at Jungle Lodges and Resorts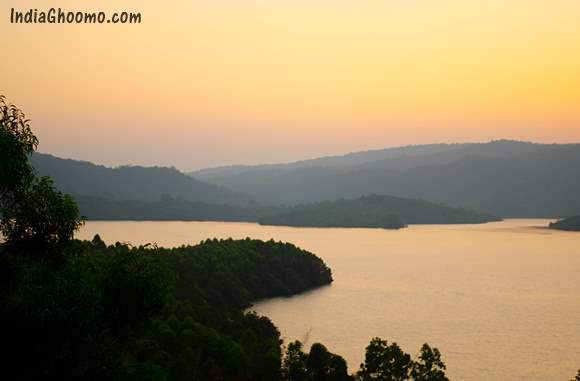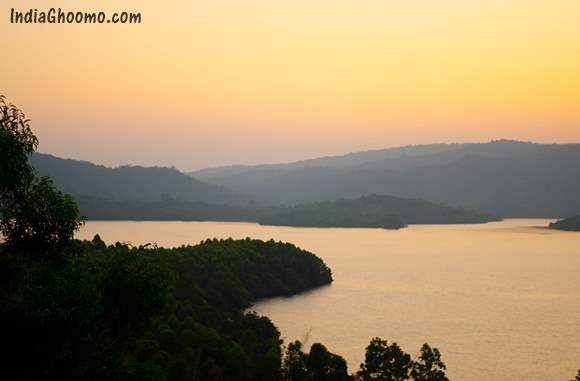 Sharavathi Adventure Camp – Jungle Lodges and Resorts pics
Day 2
Early Morning Visit To Jog Falls
We were woken up quite early the next morning, and after a quick bath and a cup of tea we made our way to Jog Falls which is only 6 km from the resort.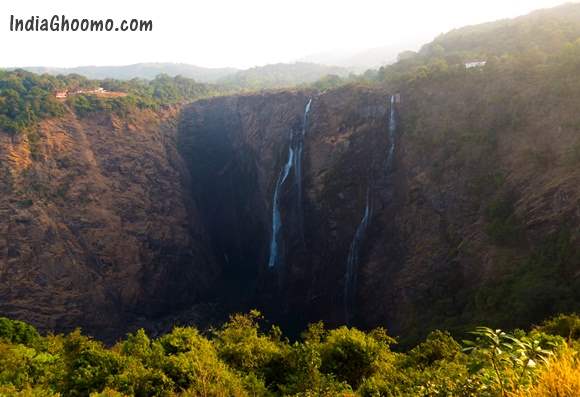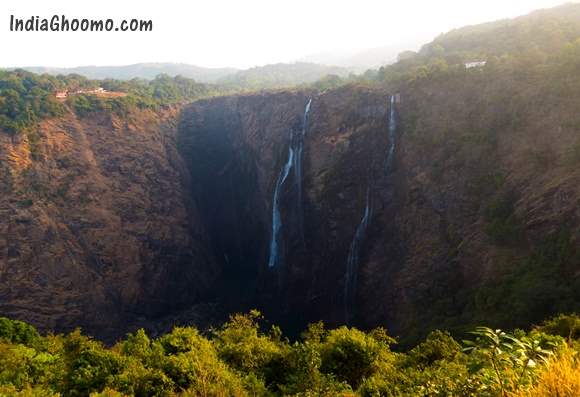 Jog Falls Karnataka
Located right on the border of Uttara Kannada and Shimoga, Jog Falls is a major tourist attraction since it is the second highest in the country. The Falls are immense, broken up into four parts that have been dubbed Raja, Roarer, Rocket and Rani. You have to walk 1400 steps to get to a point opposite the base of the Falls. According to our guide, morning is the best time to visit as that is when the view is most stunning. He wasn't wrong.
It's an awe-inspiring sight, powerful enough to keep you rooted to the spot and gaping for hours. But we were on a schedule so we returned to the resort after just one hour.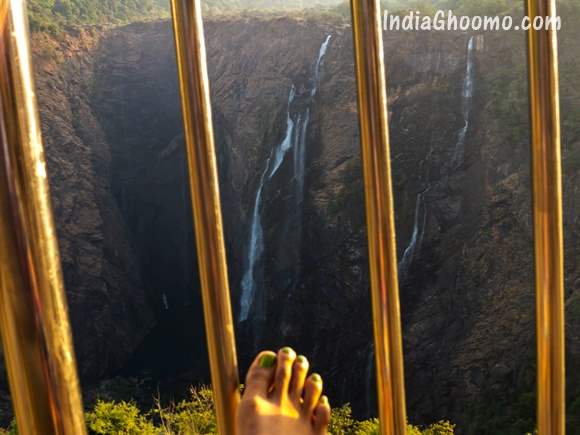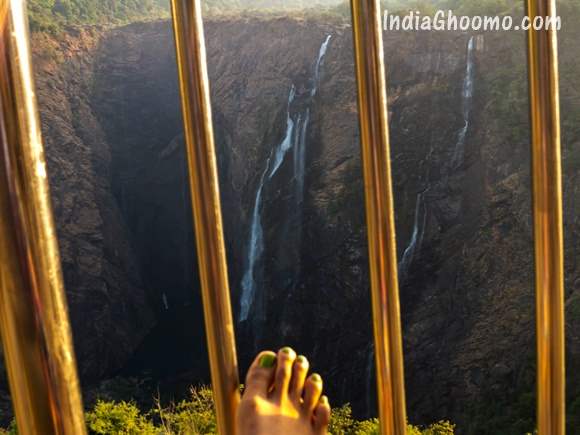 Jog Falls in Karnataka
A Low-Key Rest of the Day
There was nothing else planned till evening, so after breakfast we finally started to explore the property and take pictures. These unplanned wanderings can be quite relaxing and very rewarding because we can pretend for awhile that we actually live there.
We had an early lunch and it was back to our cottage for a nice, long nap. I swear my naps are more satisfying when I'm on vacay.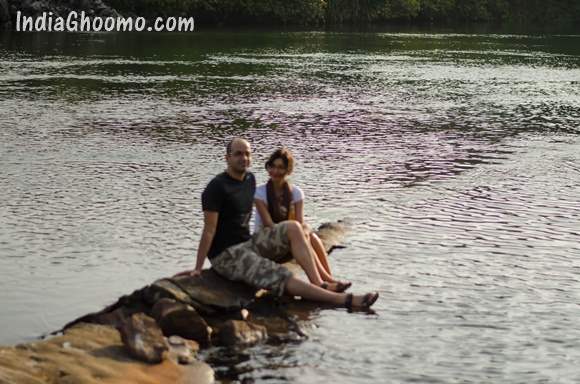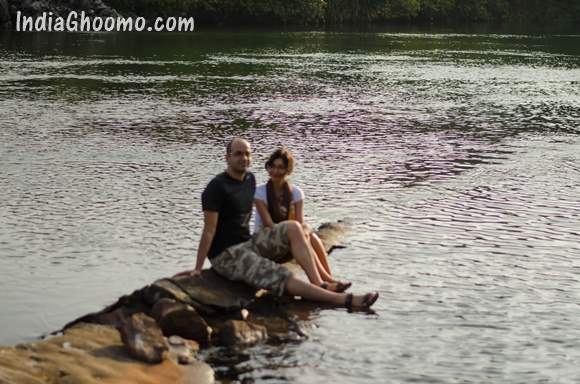 Sharavathi Adventure Camp – Jungle Lodges
The evening was a quiet one. A nature walk was organised along the river Sharavathi where we did some casual bird watching and just chilled out. Then back to the resort for snacks, tea and another wildlife documentary followed by dinner.
Day 3
We woke up early the next day – around 5:30 am. It was the 26th of January, my birthday and our 7th wedding anniversary. I believe in doing something you love on special days, so we started our day with another 2-hour kayaking session. It was so incredibly gorgeous and so, so peaceful that we both just wanted time to stop!
On our return, a short flag-hosting ceremony was held at the resort since 26th January is also India's Republic day.
After breakfast, we packed our bags and checked out of at 11:00 am, bidding the resort goodbye as we headed to our next destination – the Murudeshwar Temple to seek the blessings of Lord Shiv and Maa Parvati.
VERDICT
The Sharavathi Adventure Camp does not disappoint on any front.
We both loved the water activities especially the kayaking.
The staff was polite and responsive. The food was tantalising. The cottages were lovely, I wish I had one like them in Bangalore.
The resort is one of the best places to sit back, relax and do absolutely nothing if you are so inclined. If you're looking for a quiet getaway that makes you leave your troubles behind by sheer dint of natural beauty and good vibes, I highly recommend this place.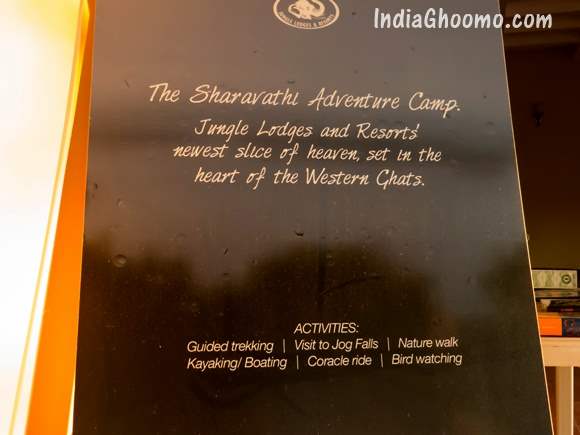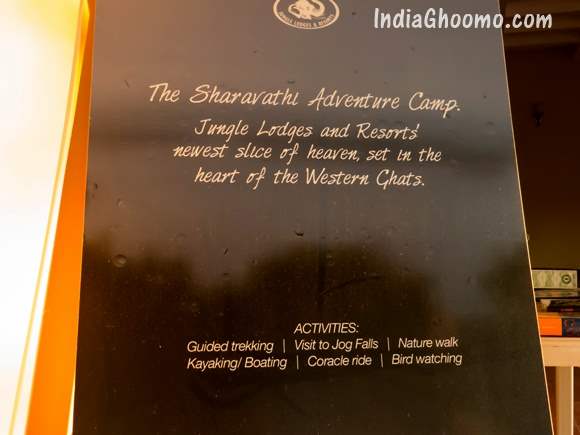 Sharavathi Adventure Camp  Jungle Lodges and Resorts – Karnataka
PICTURES of  Sharavathi Adventure Camp