Video – Misty Woods Coorg
My wanderlust is never satisfied. And thank God I'm married to a man who feels the same way. We're always in the moment when we travel, but the minute we get home we can't wait to get away again. If where we go is truly exceptional, then it manages to tide us over for some time and that conversation may be postponed for a few days. Our most recent trip to Coorg definitely falls into this category.
It was a journey we'd been looking forward to making for awhile. We picked the end of June 2014 to finally do it. The trip took two days and was one of the most memorable of our lives.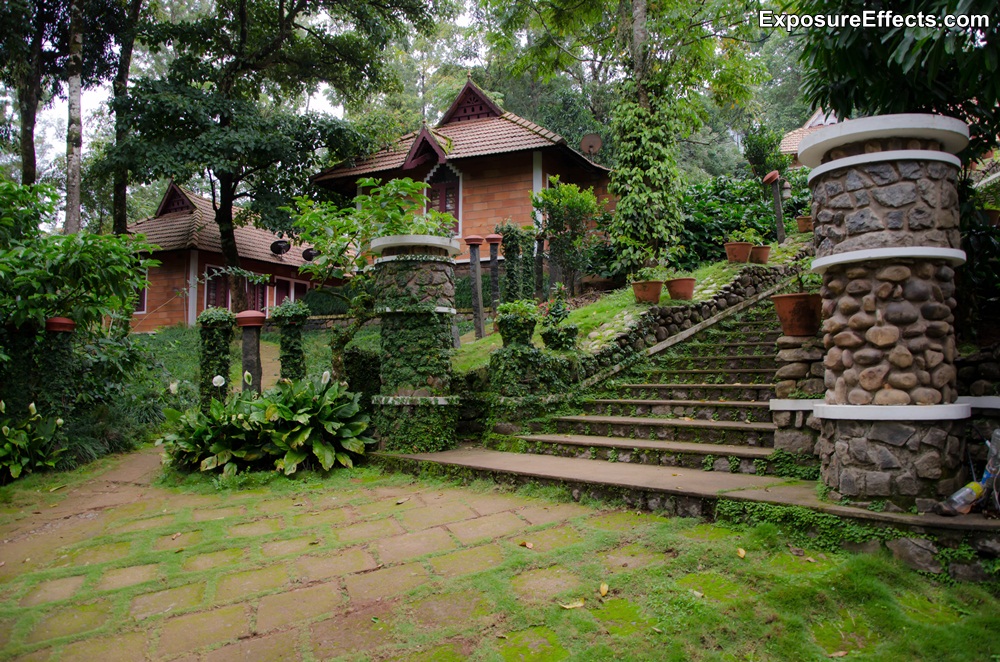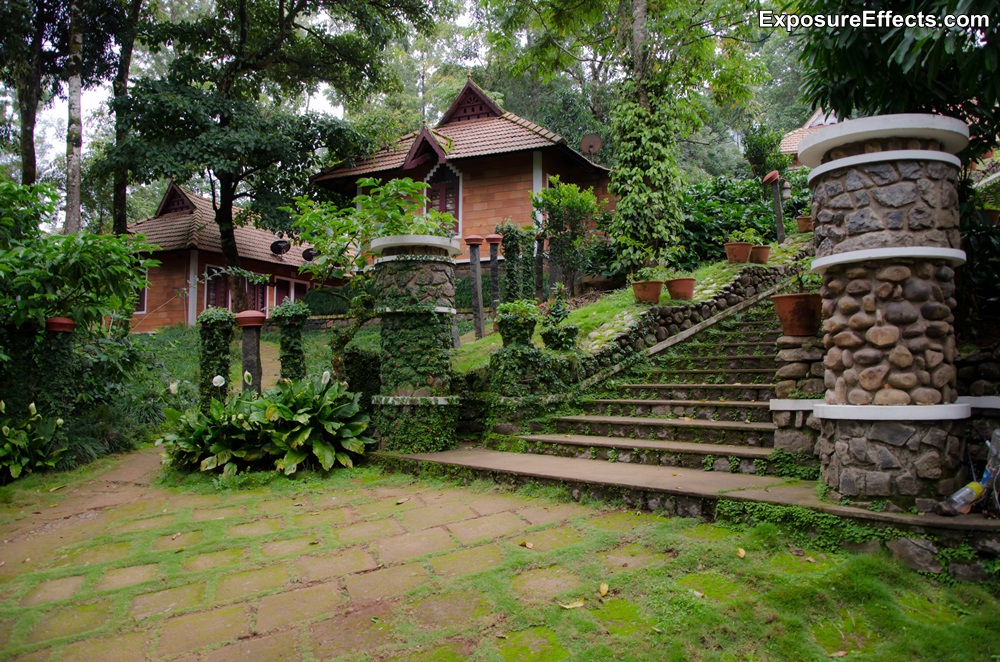 Misty Woods Coorg Resorts Karnataka India
Getting There
We chose to drive our own car there, preferring the autonomy it gave us. On the 28th of June, we set out at 6:30 in the morning, taking the Bangalore-Tumkur road which took us to the Bangalore-Mangalore highway. The road then took us towards Mandikeri and Kakkabe, finally delivering us to Misty Woods Resort in Coorg at about 12:30 pm. We didn't do the whole journey in one go, taking a couple of coffee breaks here and there to stretch our legs.
To say the drive was scenic is an understatement. There is nothing but incredible beauty all the way. OK, not the first half of the drive because that's just highway. But about midway, it's like we went through an invisible portal and emerged into Shangri-la because it was all hills, trees and heaven. The resort we were headed to is right in the middle of all that, on the hills themselves. The climbing altitude is a prime motion sickness trigger as we learned the hard way.
The Resort and Room
Nothing I say will convey the beauty of Misty Woods but I'll make a feeble attempt anyway. The resort grounds are spacious, peaceful and refreshing. Lush greenery abounds everywhere the eye can see so you get this feel of an exotic tropical rainforest.
Misty Woods is a farm resort, as evidenced by the coffee and pineapple plantations around it. Because it's wilderness all around, expect to be greeted by the sweet cacophony of birds and insects. You can also expect to be viewed as food by some of the latter.
Imagine all this drenched in the consistent drizzle that rained down up on us all day, it being just the beginning of monsoon when we went. We were immediately overwhelmed, but in an excellent way!
Reception Area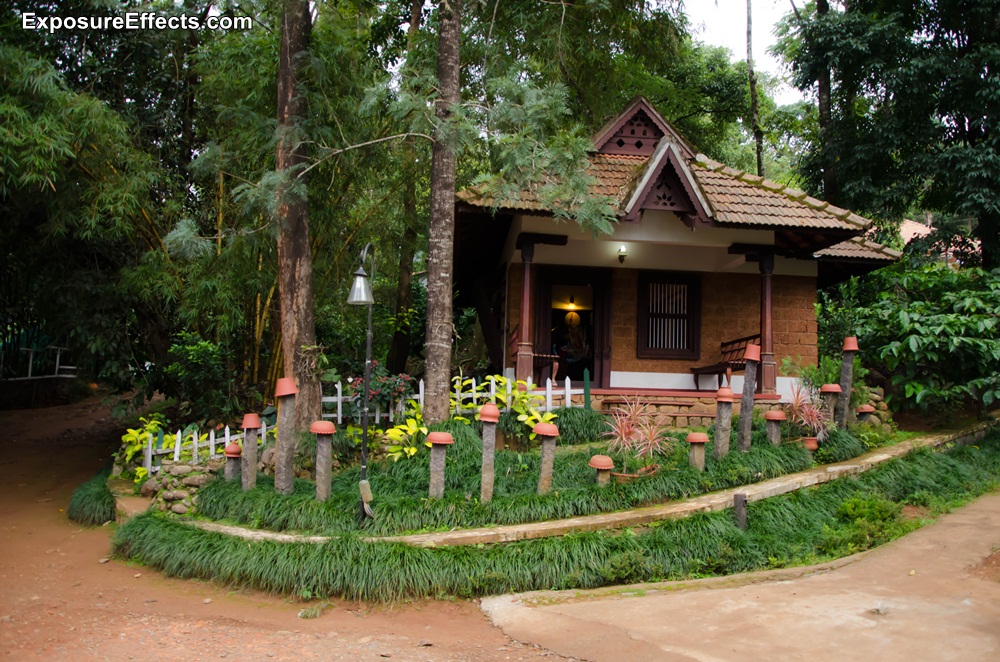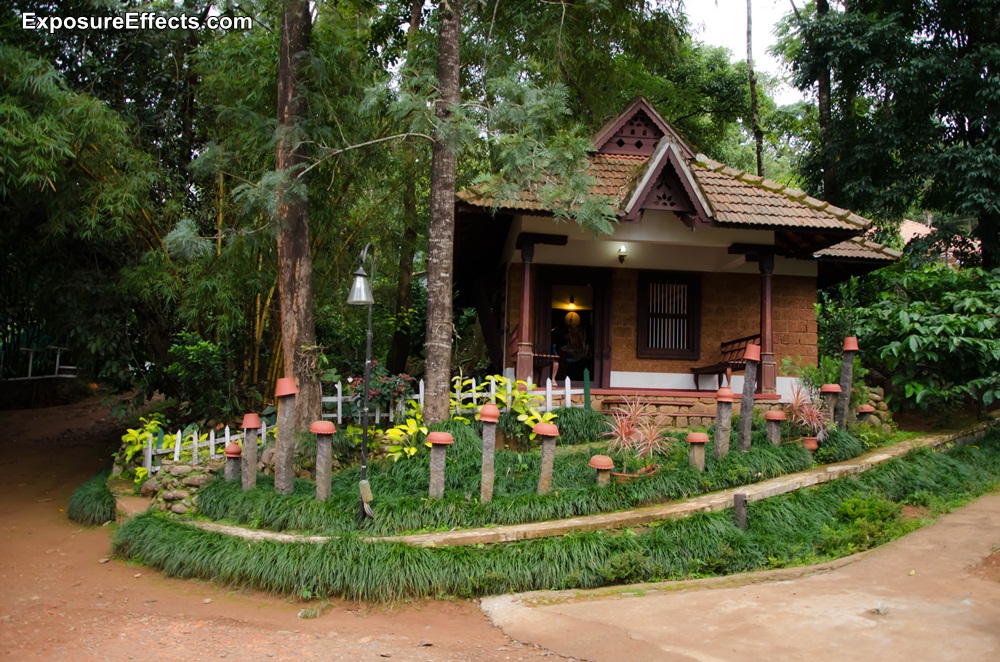 Misty Woods Coorg Resorts Karnataka India – Reception Area
Towards Cottages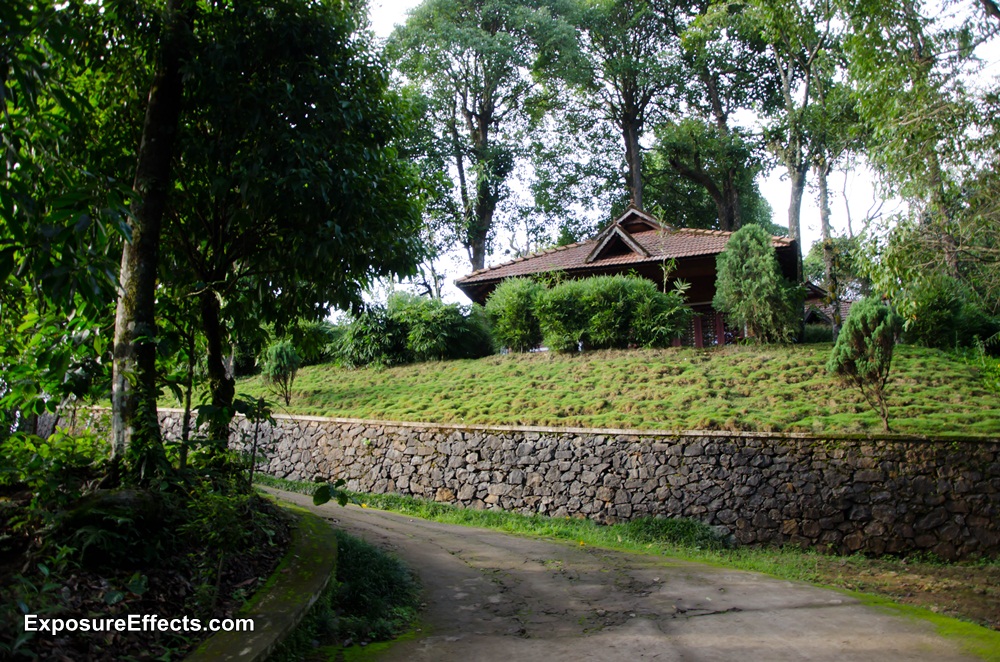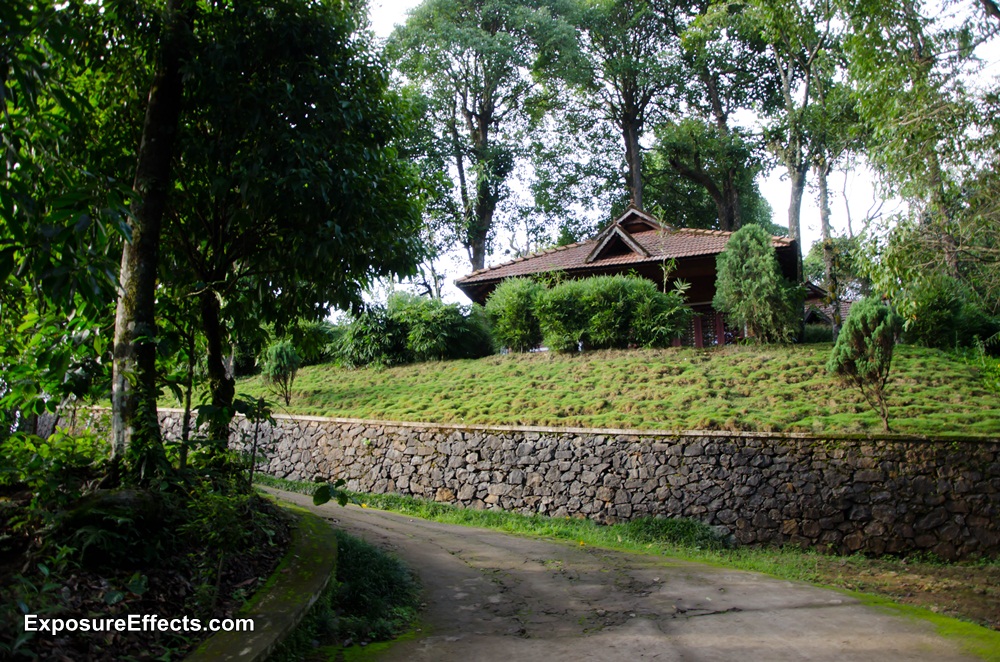 Misty Woods Coorg Resorts Pictures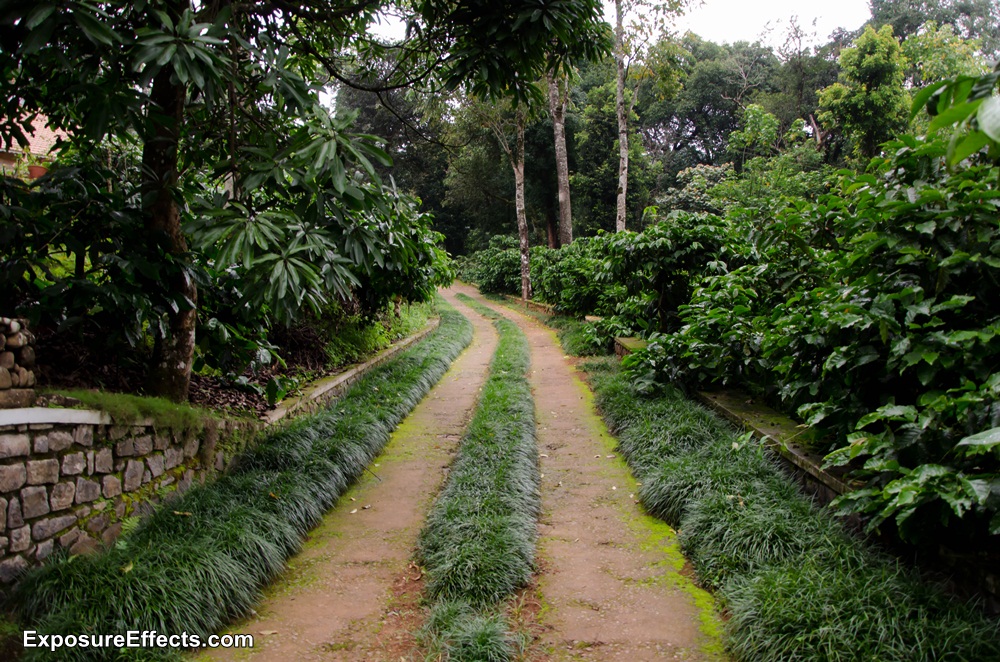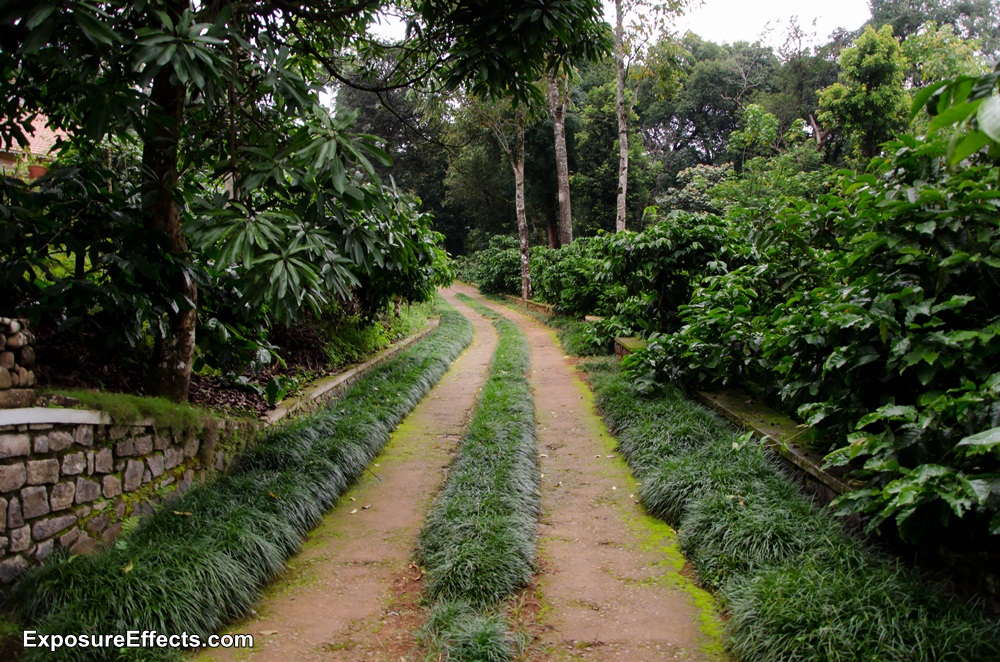 Misty Woods Coorg Resorts Pictures Passage to Cottages
Cottages
We checked in at around 1 pm by a very cordial staff and were shown to our room. We had booked one of the Vernacular Cottages – a simple, spacious, independent structure with a porch facing even more lush greenery.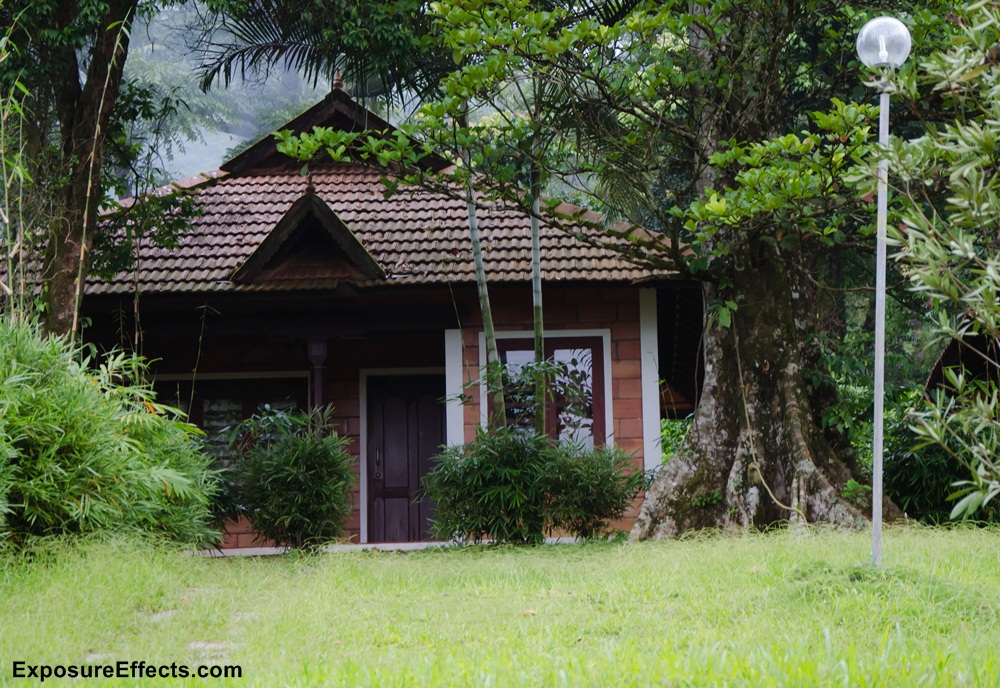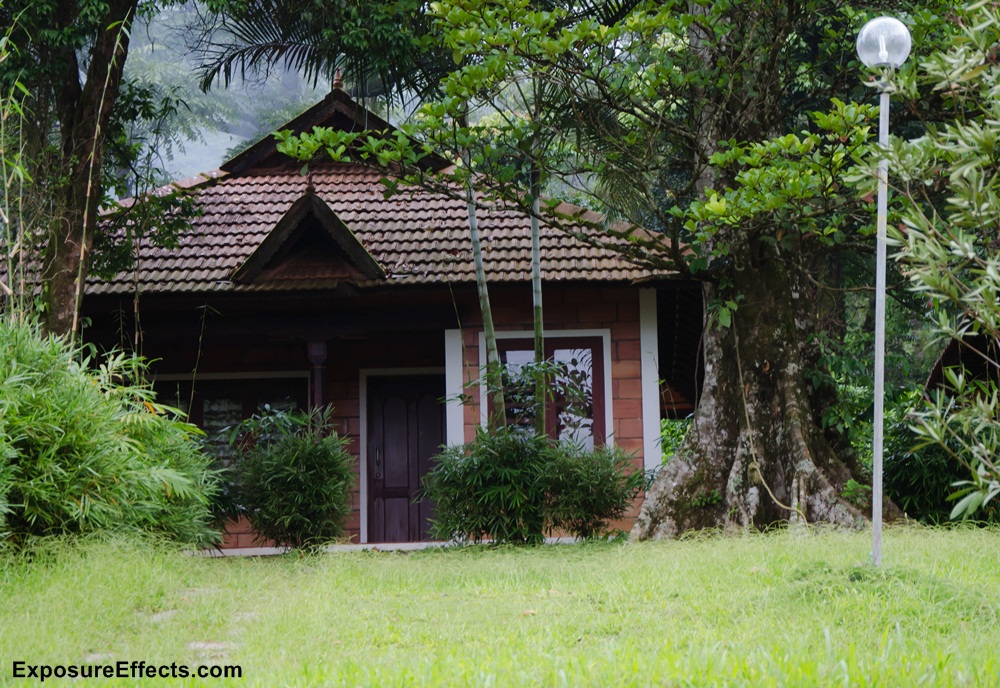 Misty Woods Coorg Resorts Cottages
Food and Dining Area
A bath took off the dust and weariness of travel and we then headed towards the dining area to have our lunch. The dining space reflected the same theme as the rest of the resort – spacious, beautiful and clean.
There were plenty of wonderful dishes to choose from but the prices were a little on the steeper side. And mind you, you won't even know how much anything costs till you're presented with a bigger check than you planned for because there is no menu, no prices are written anywhere and they won't tell you what something costs unless you ask. I'd suggest going for a travel package with an inclusive meal plan because it turns out more economical that way, and then being careful about any snacks or items you order outside the package.
After lunch, we wandered around the property for a while clicking pictures and admiring the beauty. We would have kept on if we weren't a little weary from our journey, so we thought it better to take a nap and continue admiring and adventuring later.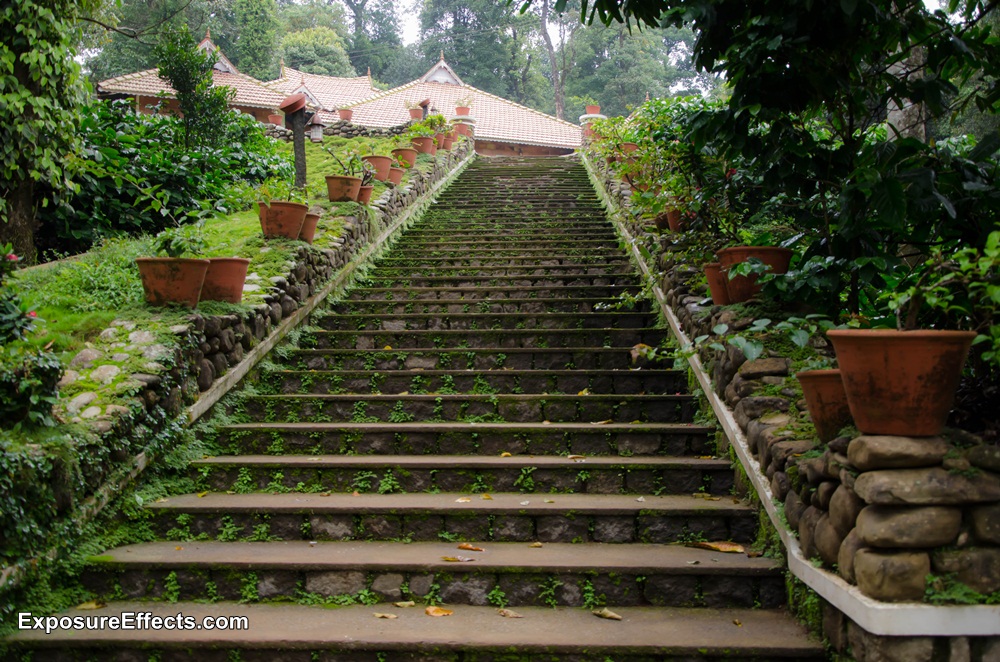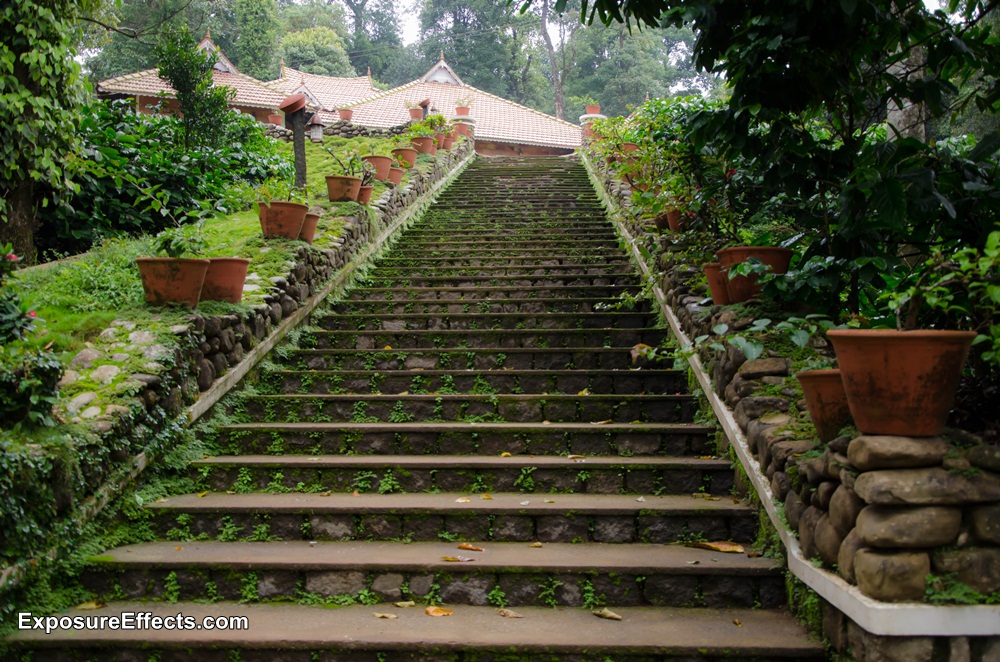 Misty Woods Coorg Resorts – Towards the dining area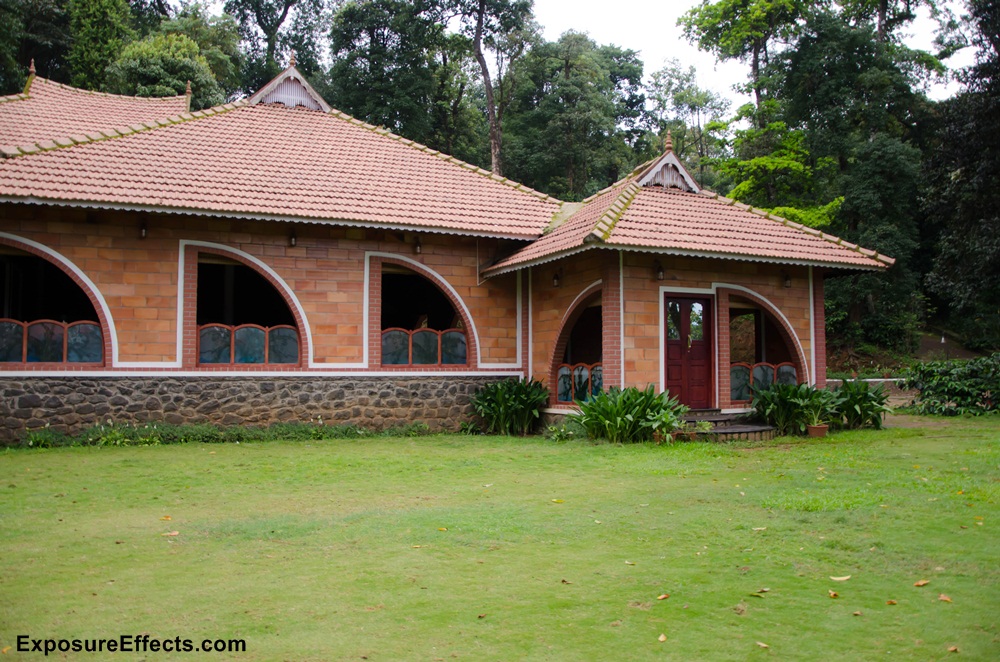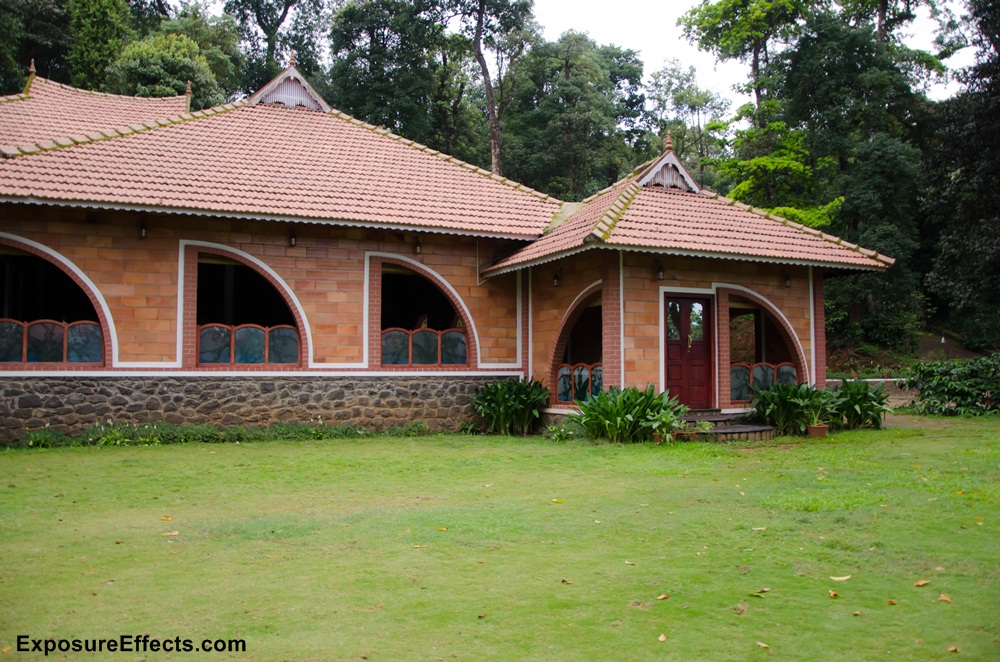 Misty Woods Coorg Resorts dining area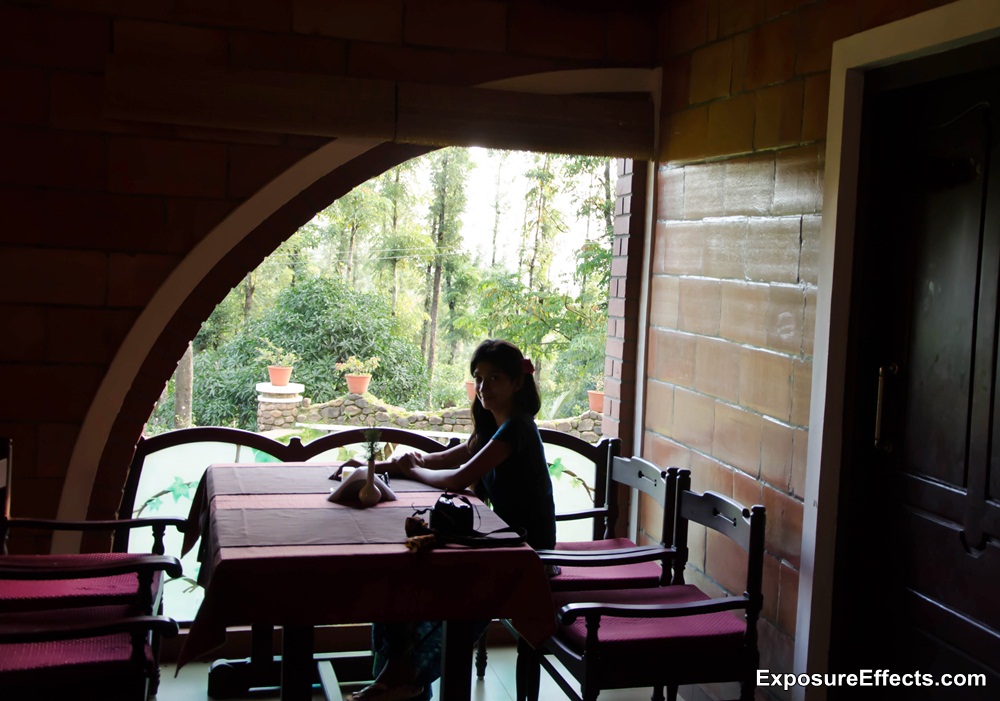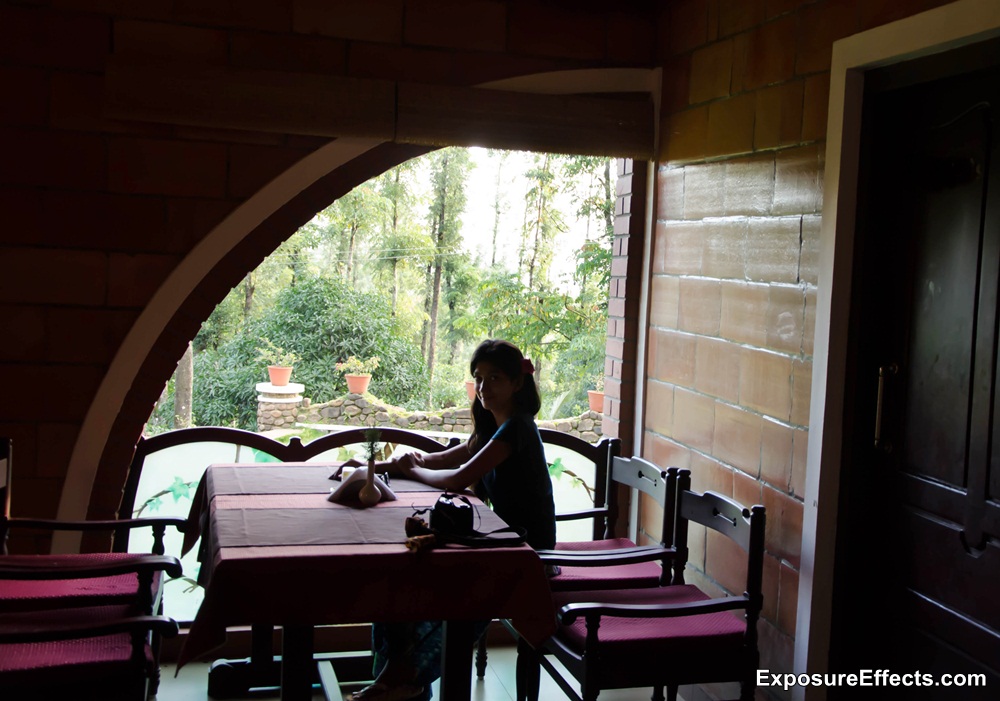 Misty Woods Coorg Resorts dining area Pictures
Waterfall within the Estate
At around 4:30 pm, we decided to check out the waterfall that is within 300 meters of the resort, again midst profound greenery. A narrow trail leads to the waterfall and there are a number of orange and mango trees on the way. We caught sight of a number of leeches, snails and other insects. A real delight to watch! Check out on of my better close-ups of a gorgeous snail.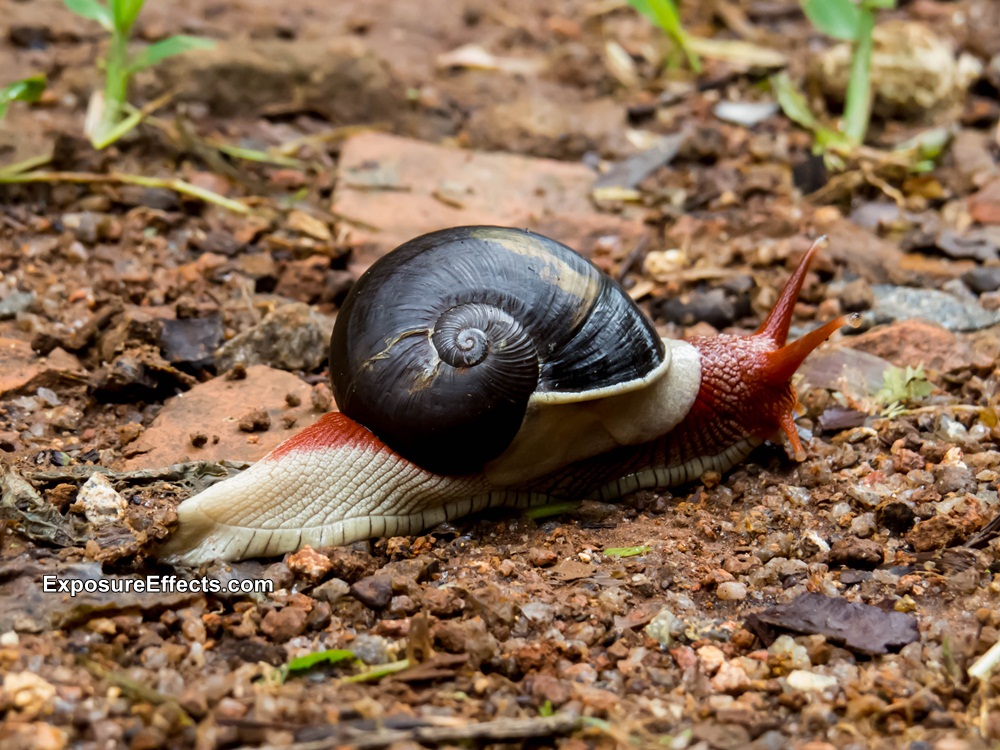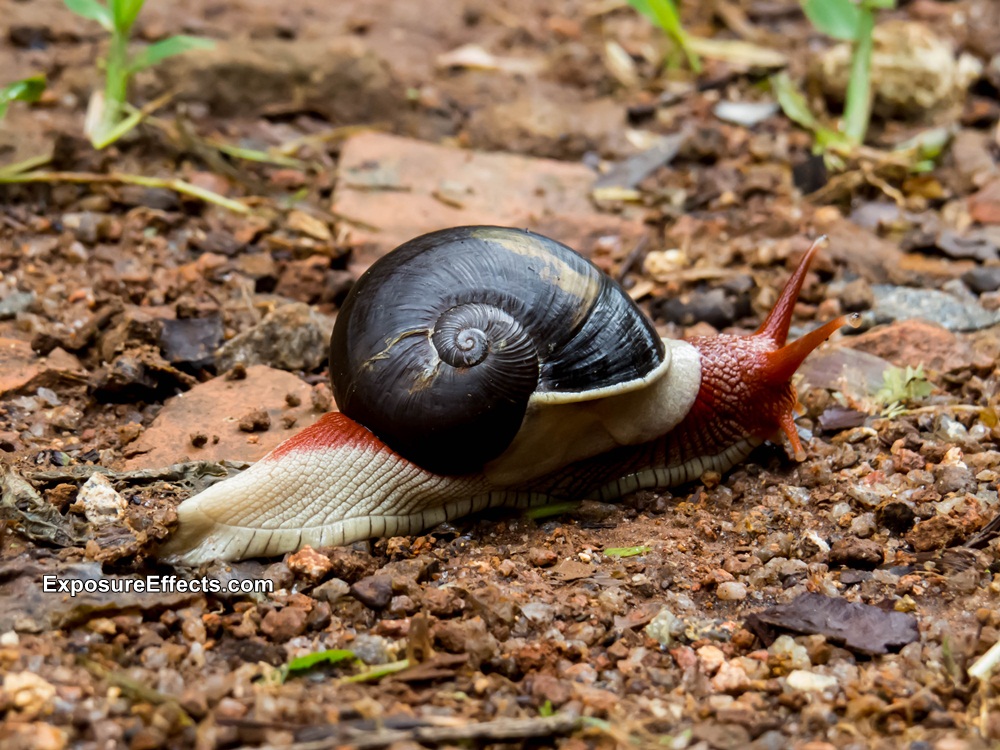 Since the waterfall is within the confines of the resort, there was no one else when we got there. Which is just how we liked it! There were no sounds of civilization. The proximity to the water lifted soul weights we didn't know we were carrying. The sound of the gushing waterfall combined with the insects and birds of the forest was mind-blowing!
We stayed for two hours. And time both sped up and slowed down simultaneously. It was easy to imagine being there forever. If only! Light was fading so after clicking a few last photos we made our way back to the resort at around 7 pm where tea and snacks were followed soon after by dinner. We hadn't had our fill of the outdoors yet so we spent some time after dinner on one of the benches liberally peppered across the resort absorbing the forest sounds and smog-free breeze.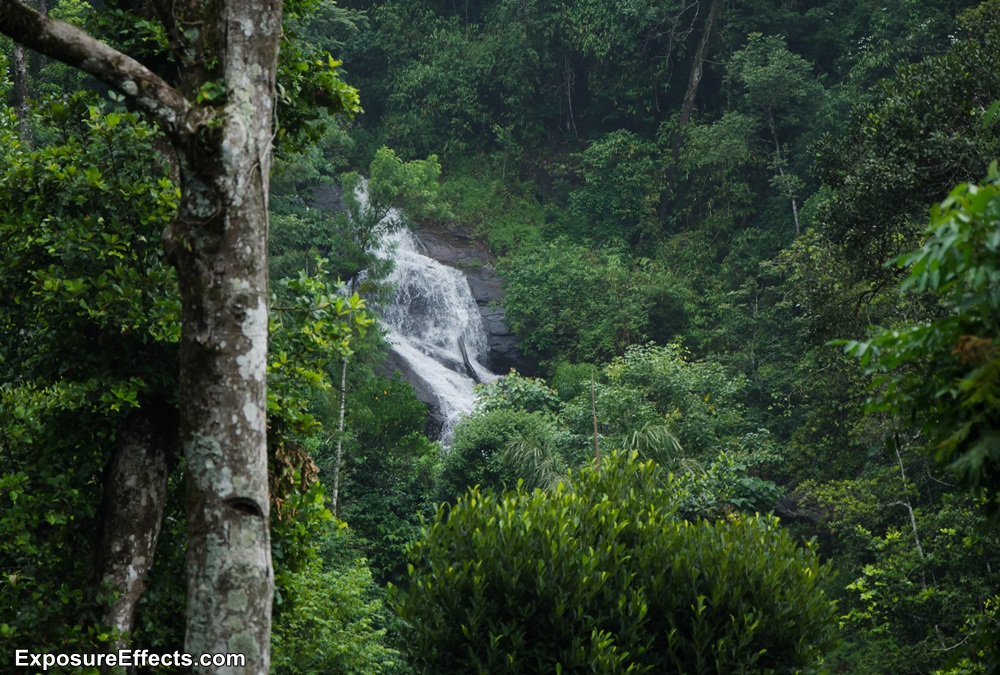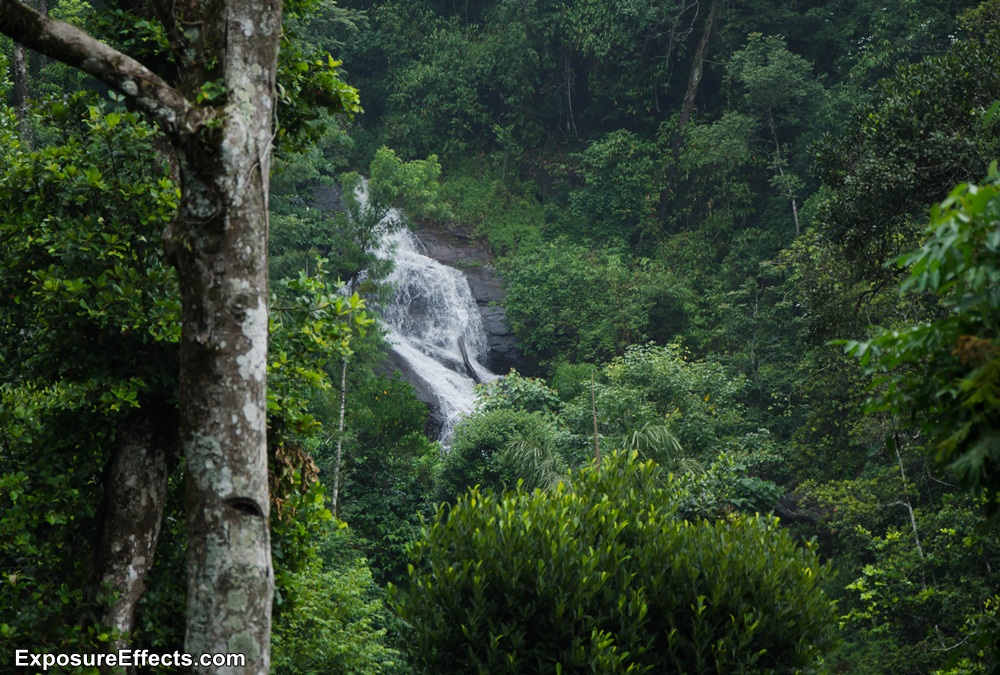 Misty Woods Coorg Resorts Waterfall within the Property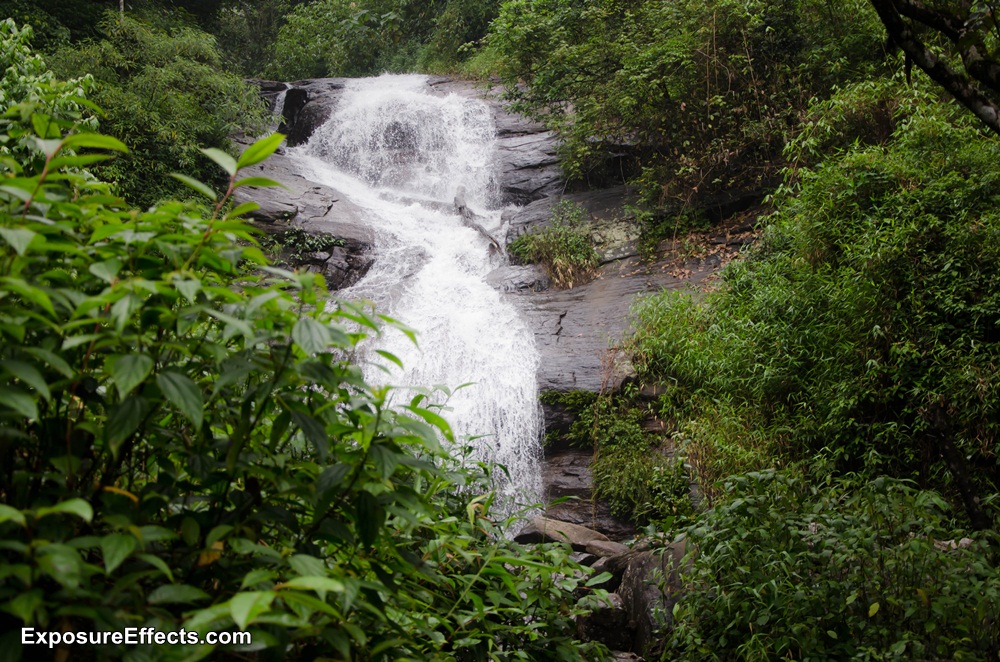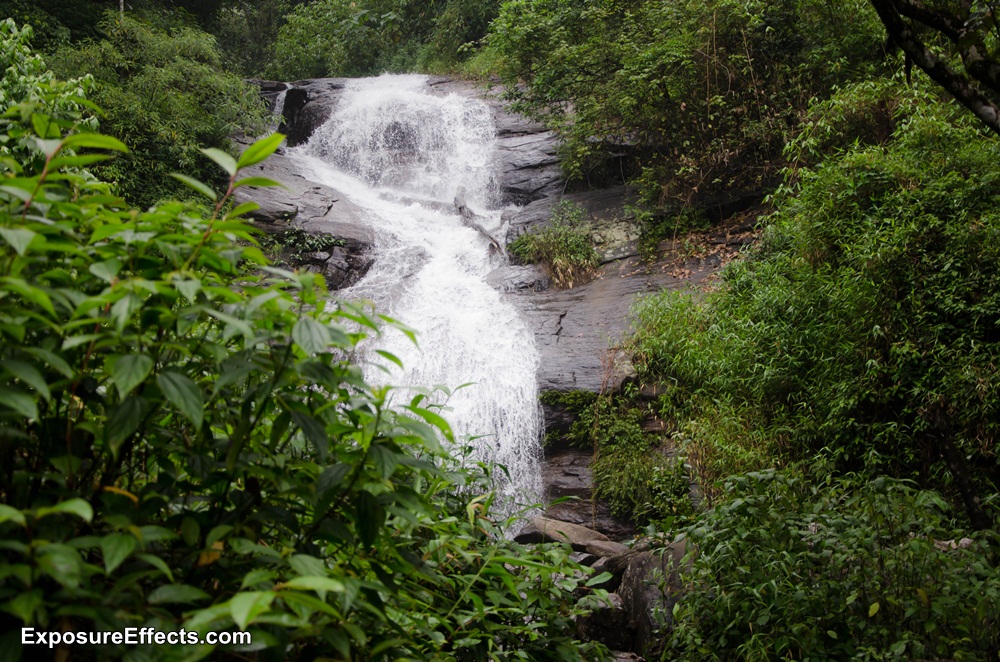 Misty Woods Coorg Resorts Waterfall within the Estate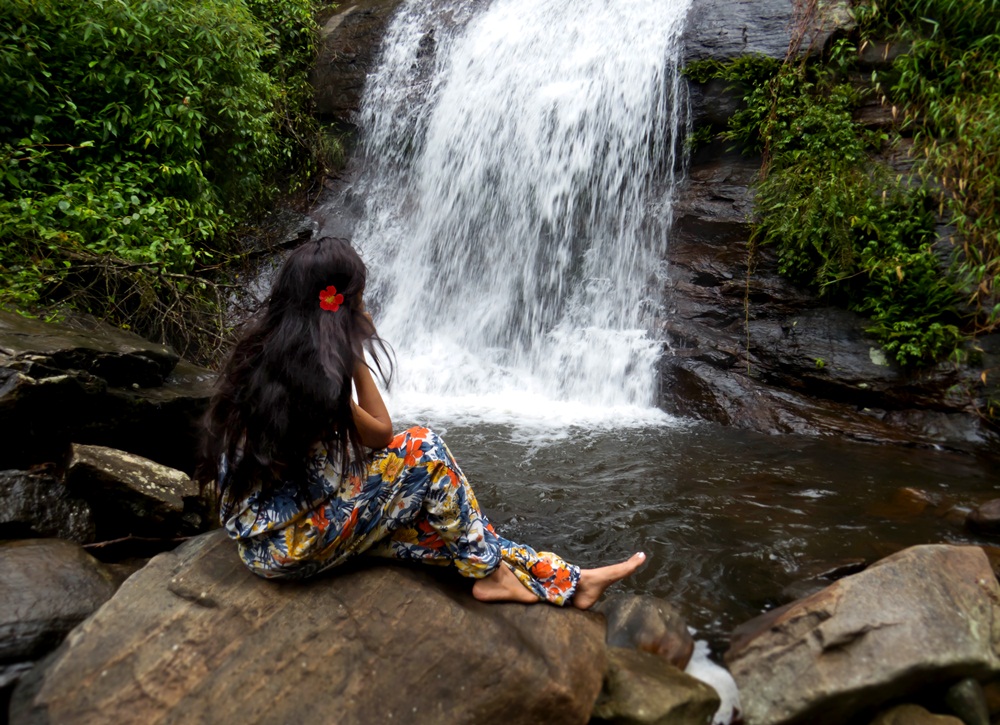 Misty Woods Coorg Waterfall within the Estate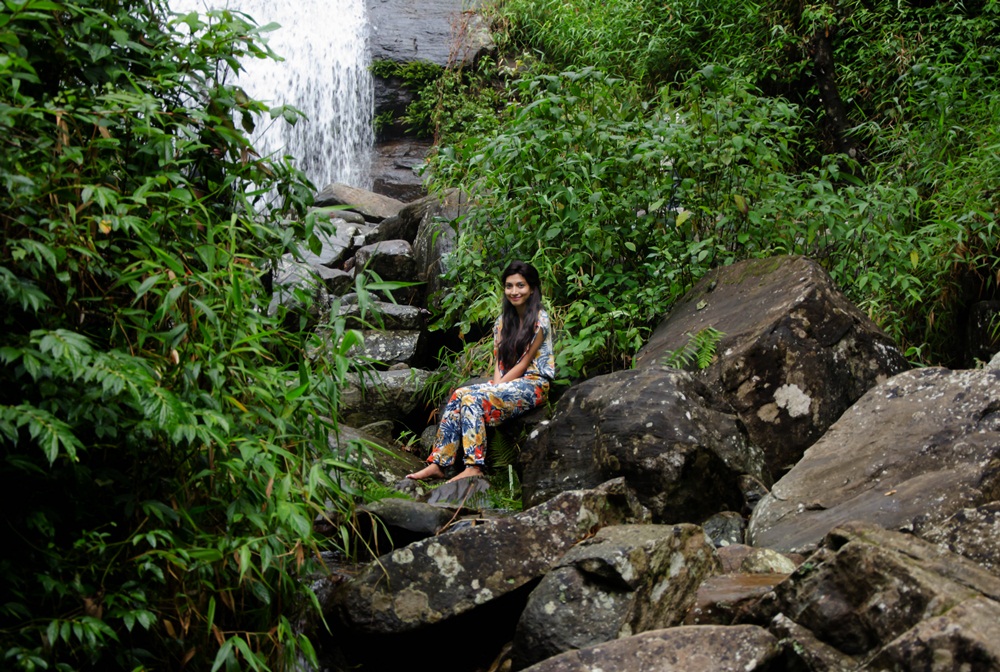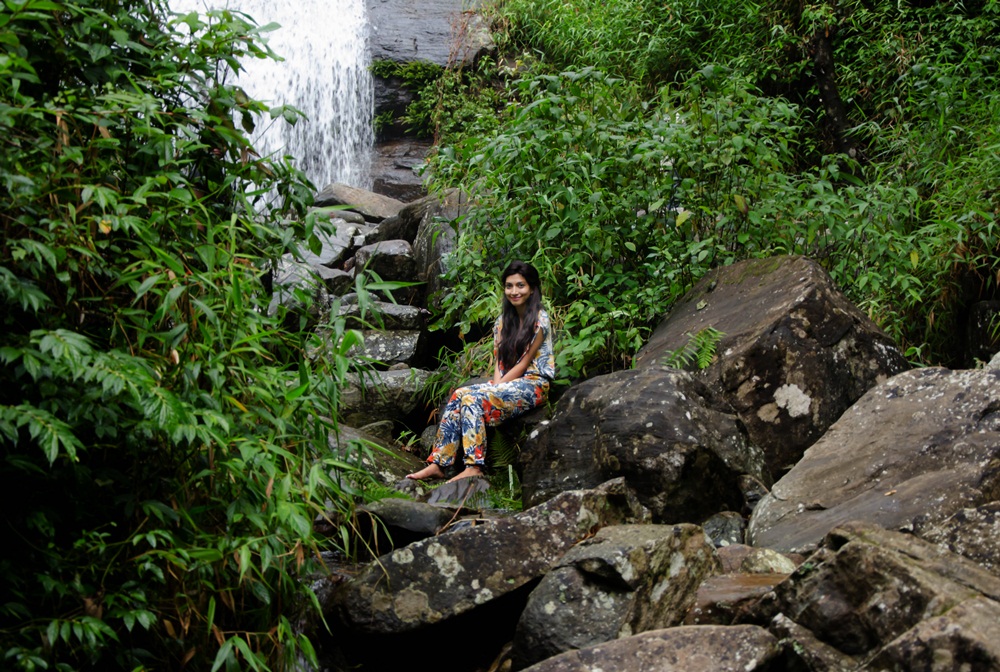 Misty Woods Coorg Waterfall Pictures
The Last Few Hours
We had a long drive home ahead of us but we didn't want to miss out on the little time we had left at the resort so we were up at the crack of dawn, took a quick bath, watched the sunrise, had some tea and then made our way back to the waterfall. Once again, it was just the two of us and it was so, so easy to lose ourselves in the ambience and each other. We spent a little less than two hours there and then returned to our room to pack up.
We checked out at 11 am and were on the road soon after. We took a slightly different route from the one we'd taken getting there so as to avoid the nausea-inducing zig-zag road through the hills. So we went from Kakkabe to Mandekeri and were back on the Mysore-Bangalore Highway. We were back home by 5:30 pm.
Both hubby and I are unanimous in our verdict. Misty Woods was simply awesome and we'd head back there at the first hint of a free weekend.
Travel Tips
Misty Woods is a must-visit for all city haters. But if you want to be around nature, you have to be prepared for the life that comes with it.
There are bugs and insects  everywhere. If you have sweet blood and creepy crawlies tend to have a fondness for you, make sure you carry mosquito repellents or you'll feel like a buffet spread for the insect kingdom.
Carry warm clothing no matter what time of the year you go. Summer, winter or monsoon – it's a hill station so expect nippy temperature even if the rest of the country is frying.
If you get nauseated easily or know you get motion sickness, carry medicine so you can continue enjoying your trip.
More Pictures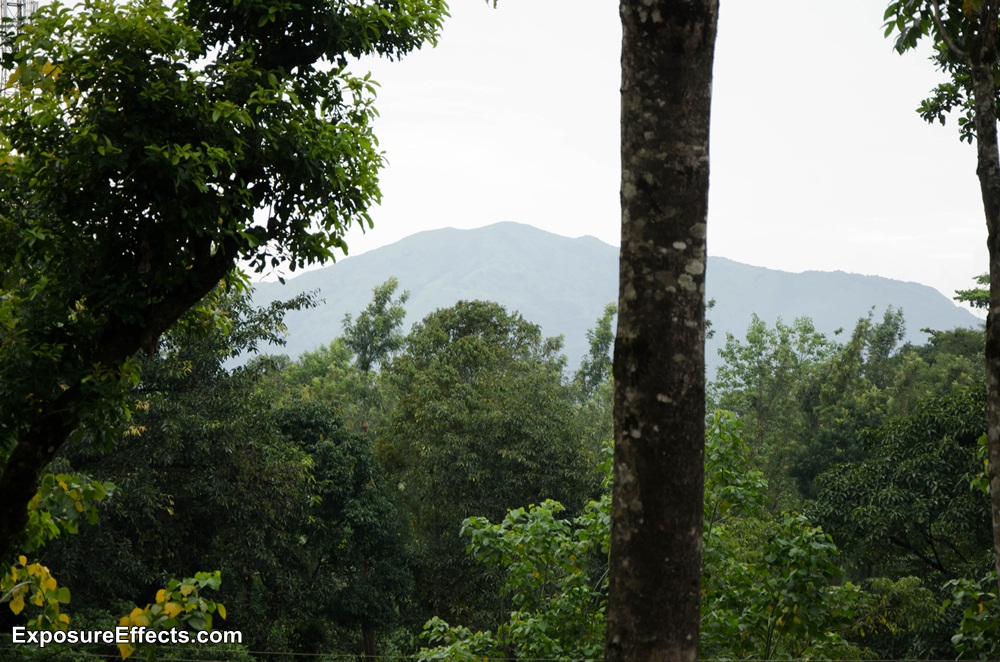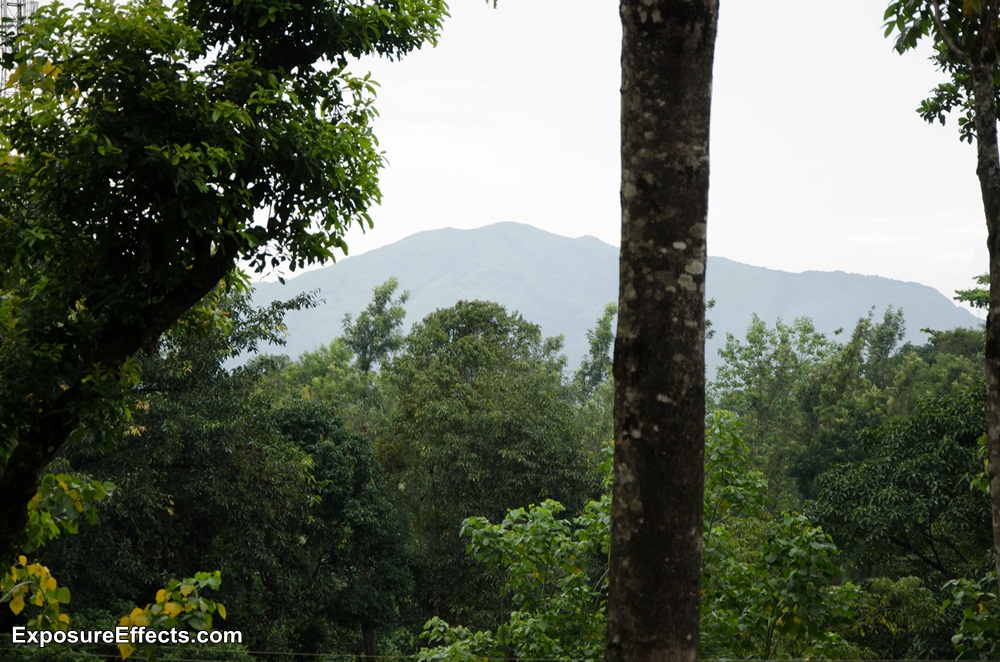 Misty Woods Coorg Pictures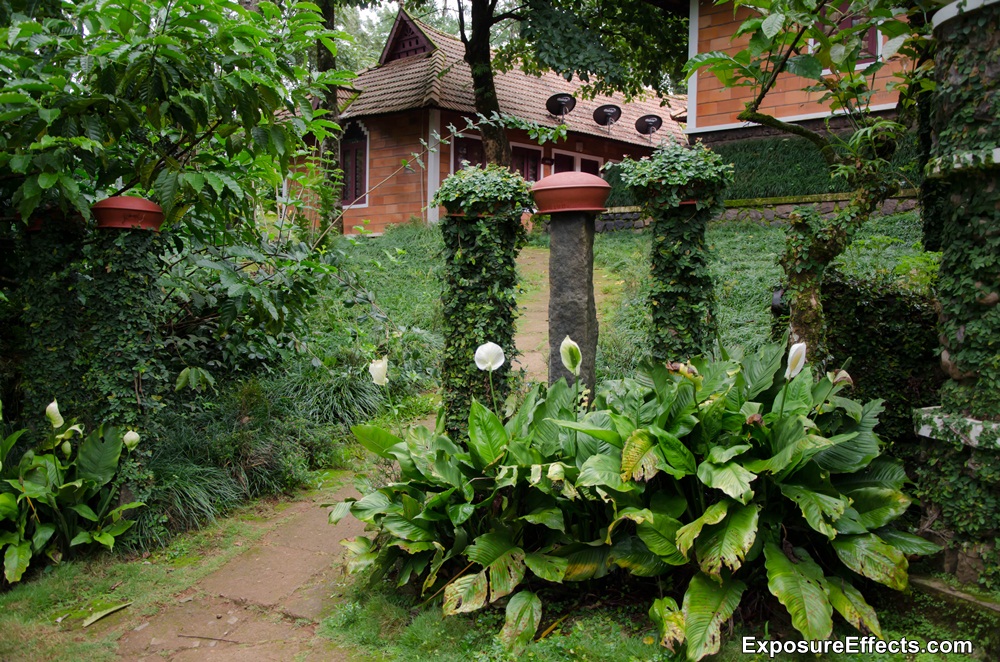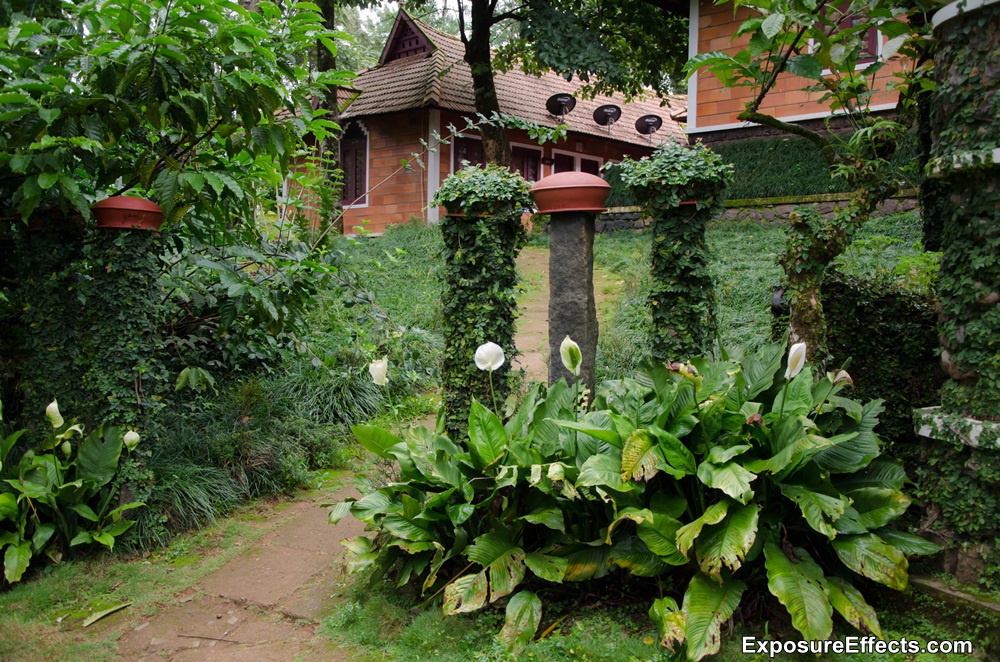 Misty Woods Coorg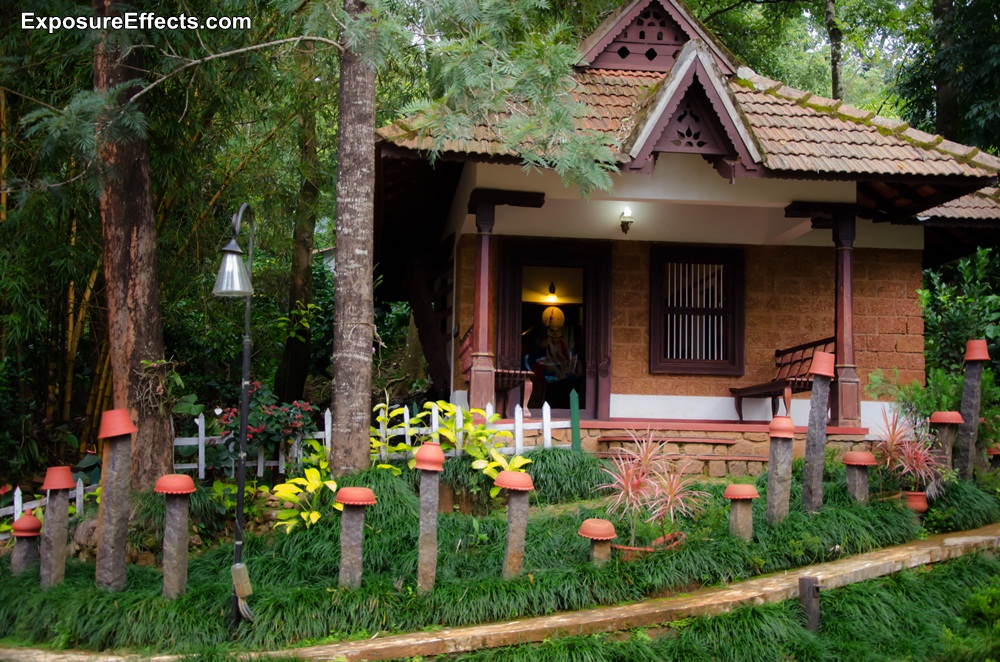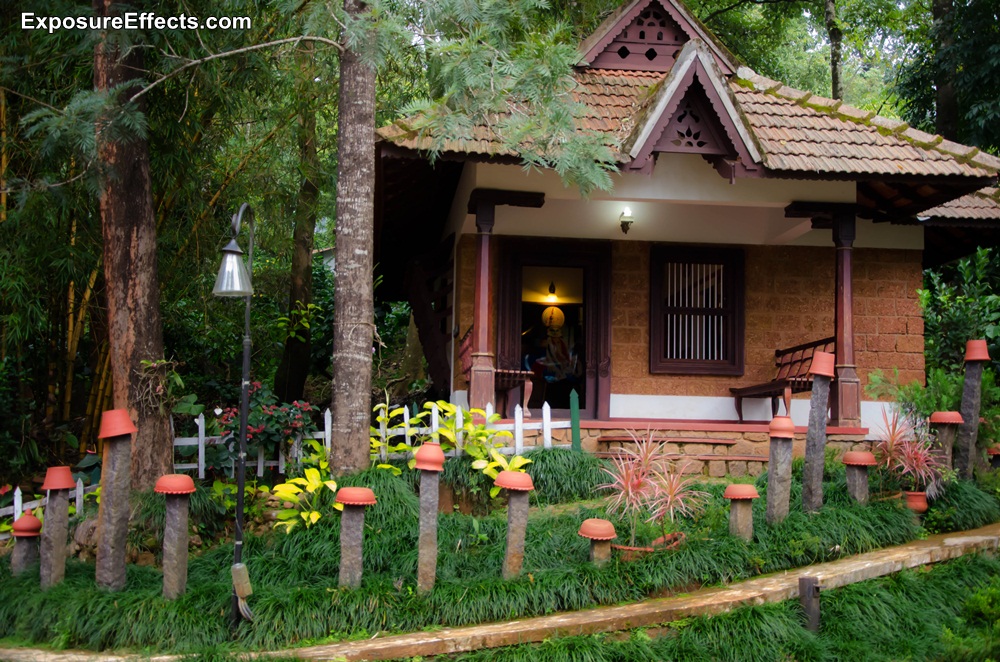 Coorg Resorts Misty Woods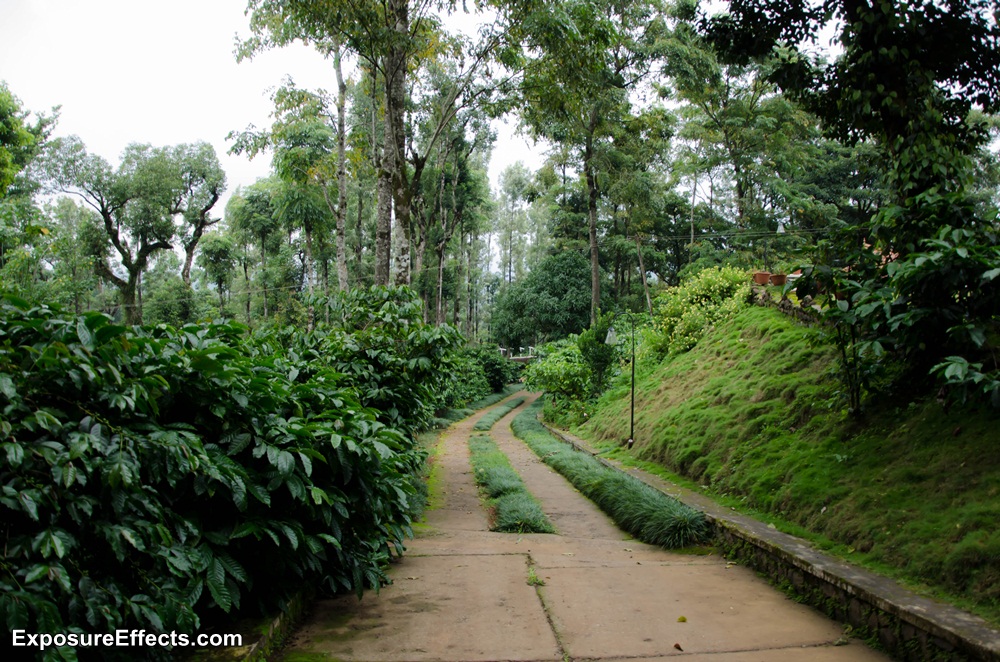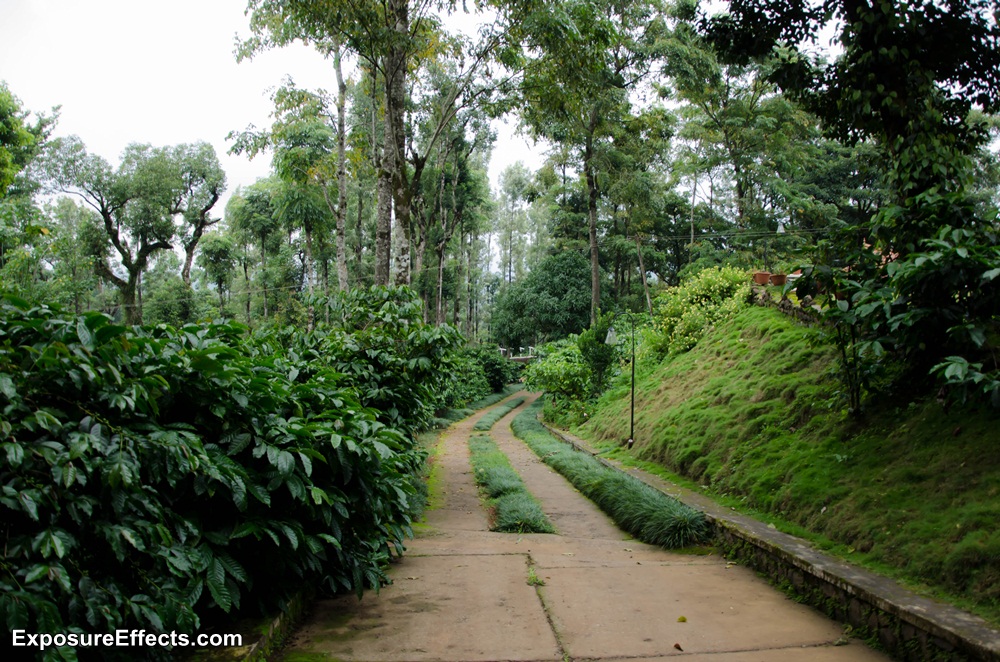 Coorg Resorts Misty Woods Pictures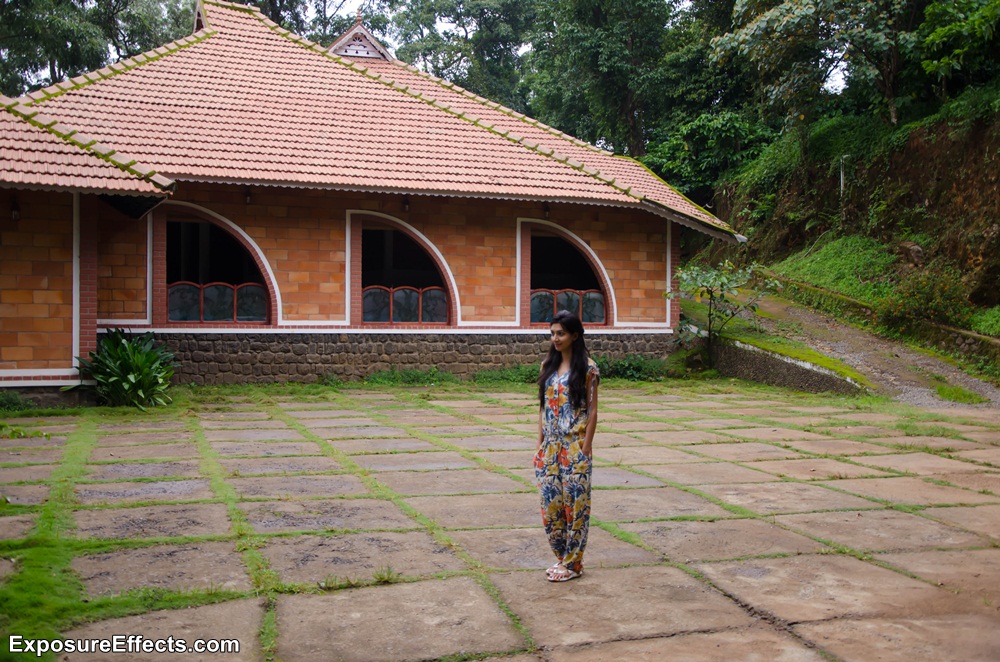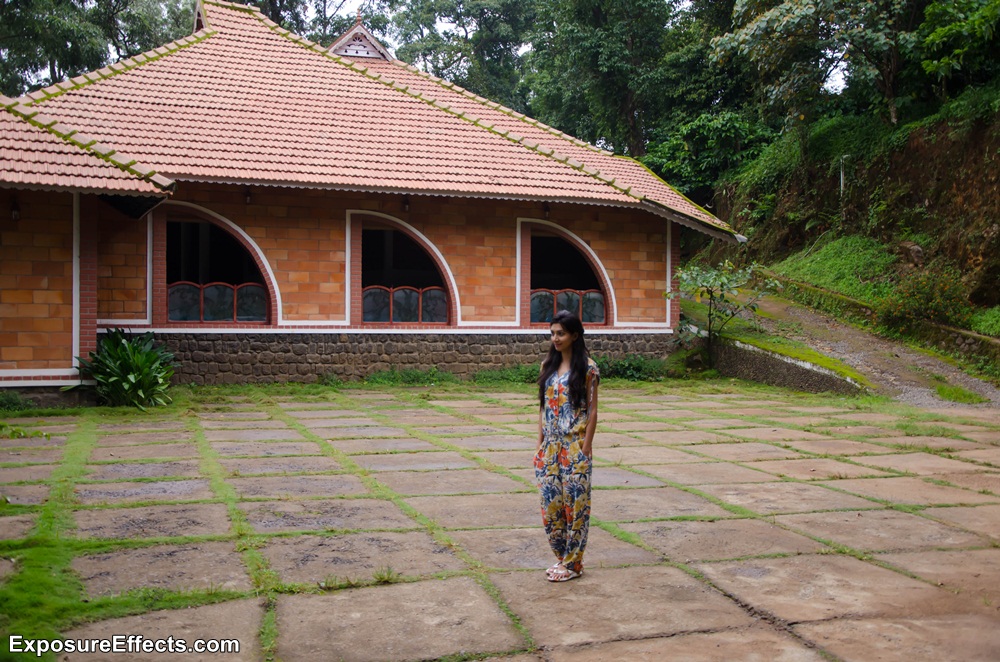 Coorg Resorts Misty Woods Pics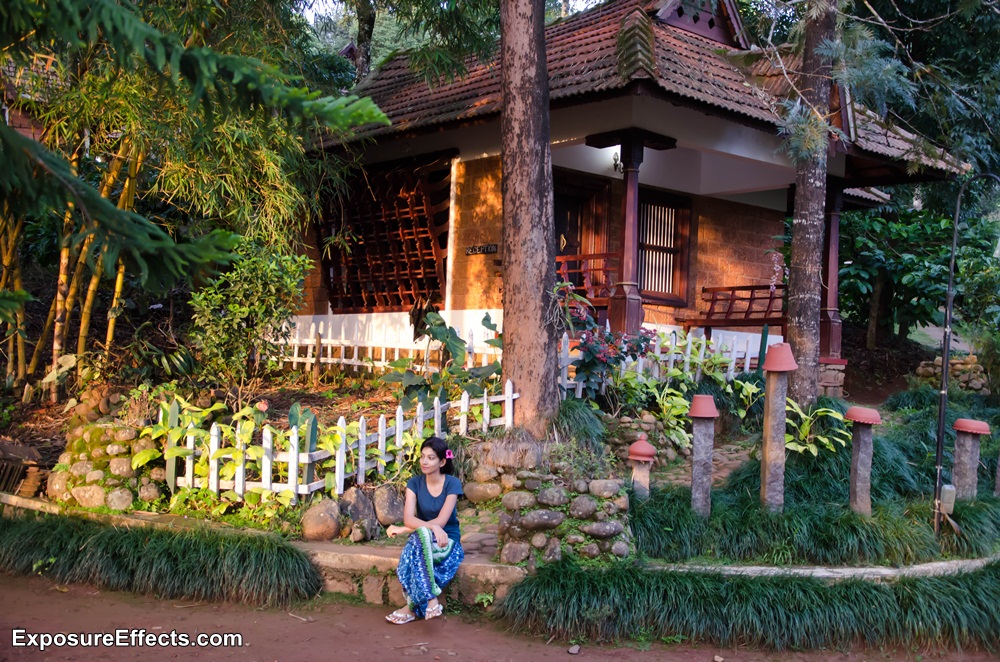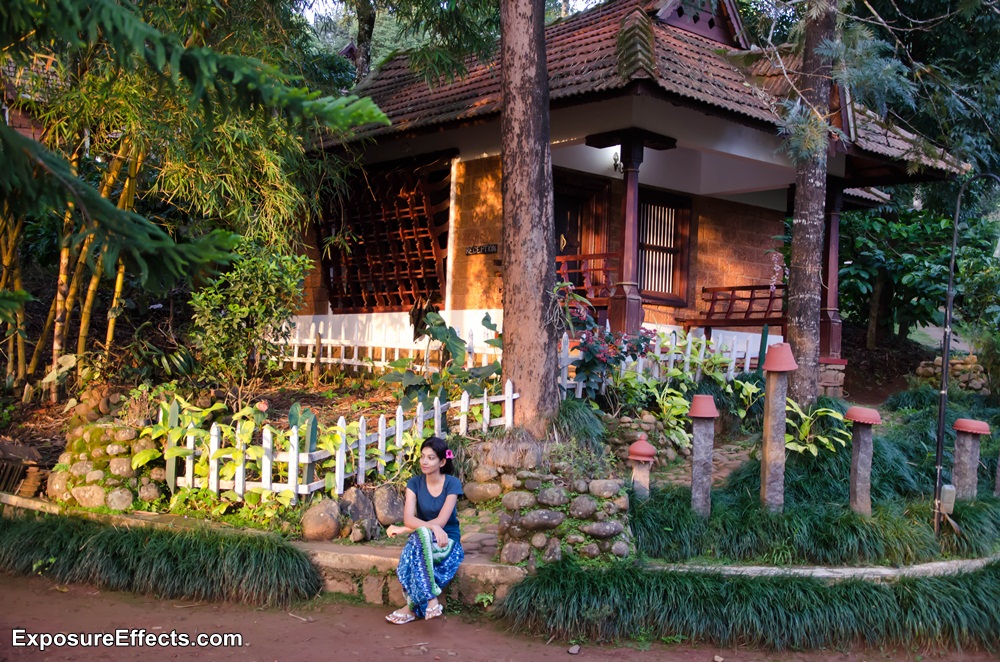 Misty Woods Coorg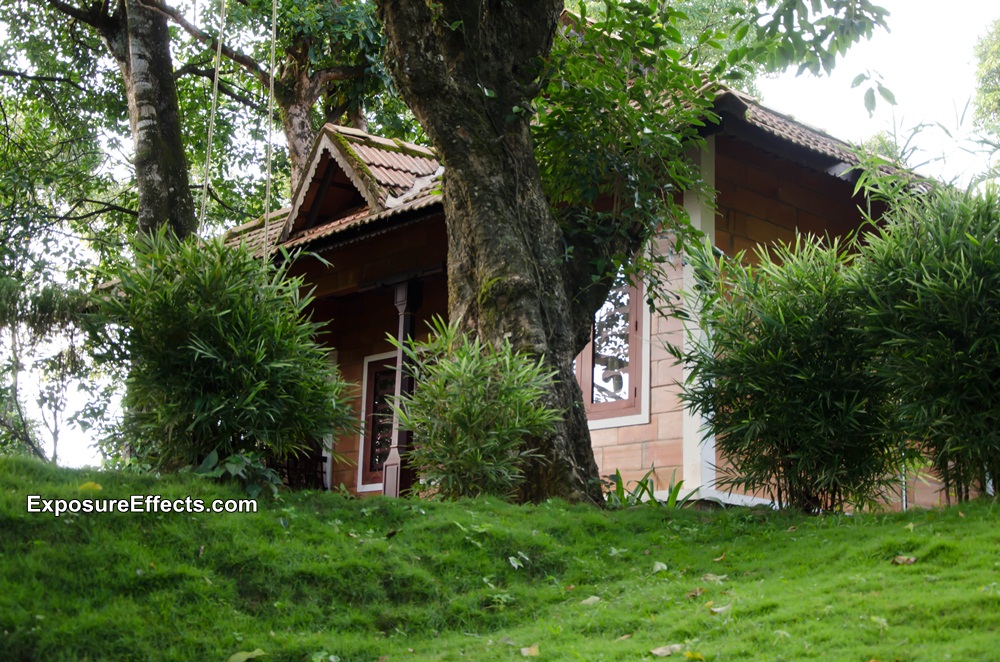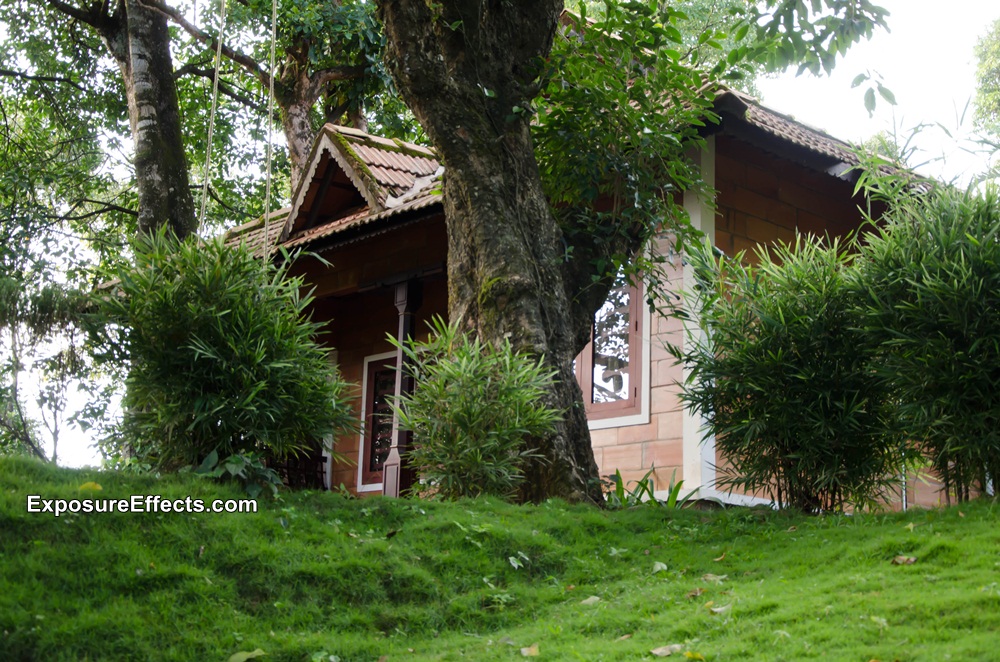 Misty Woods Coorg Pics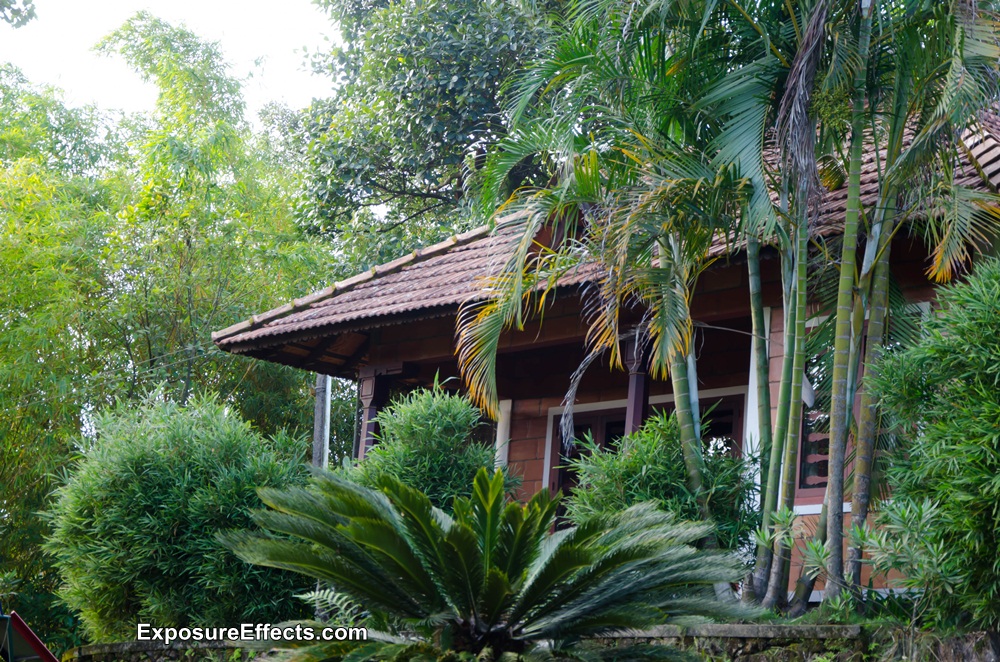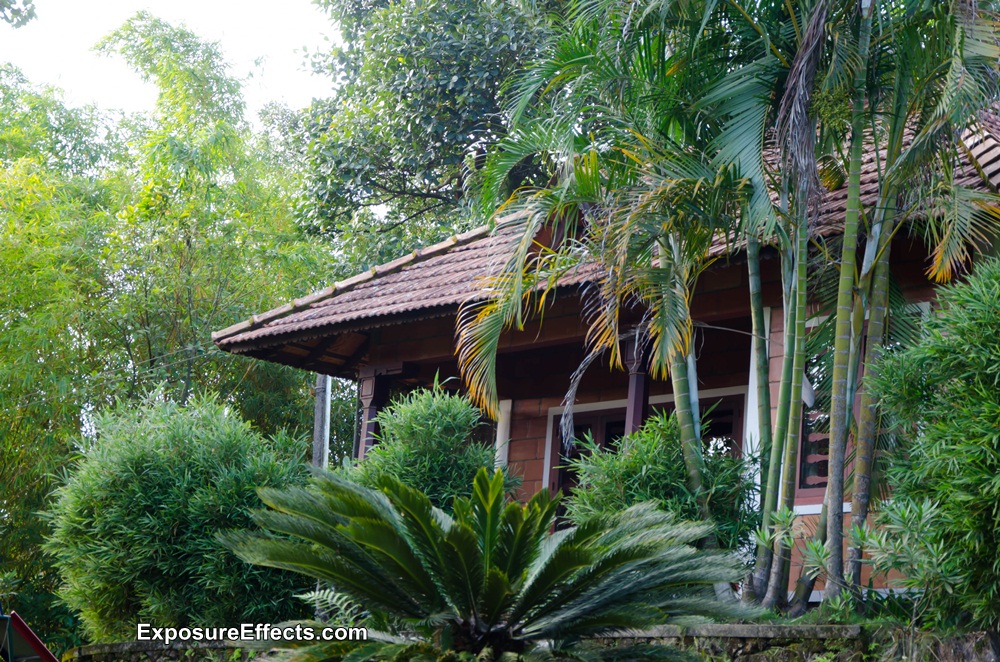 Misty Woods Coorg Resort Pics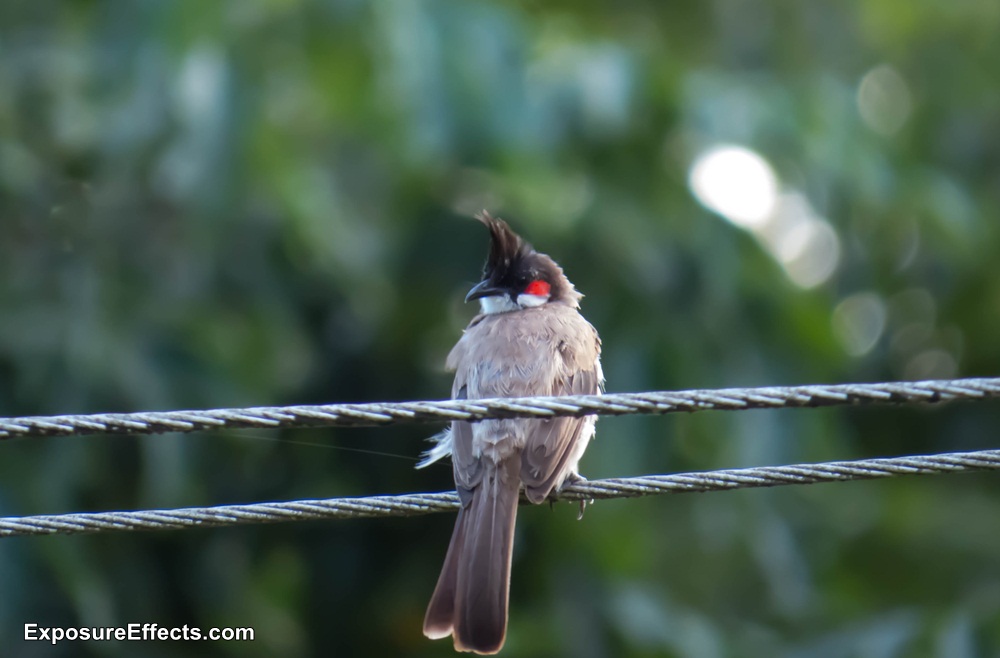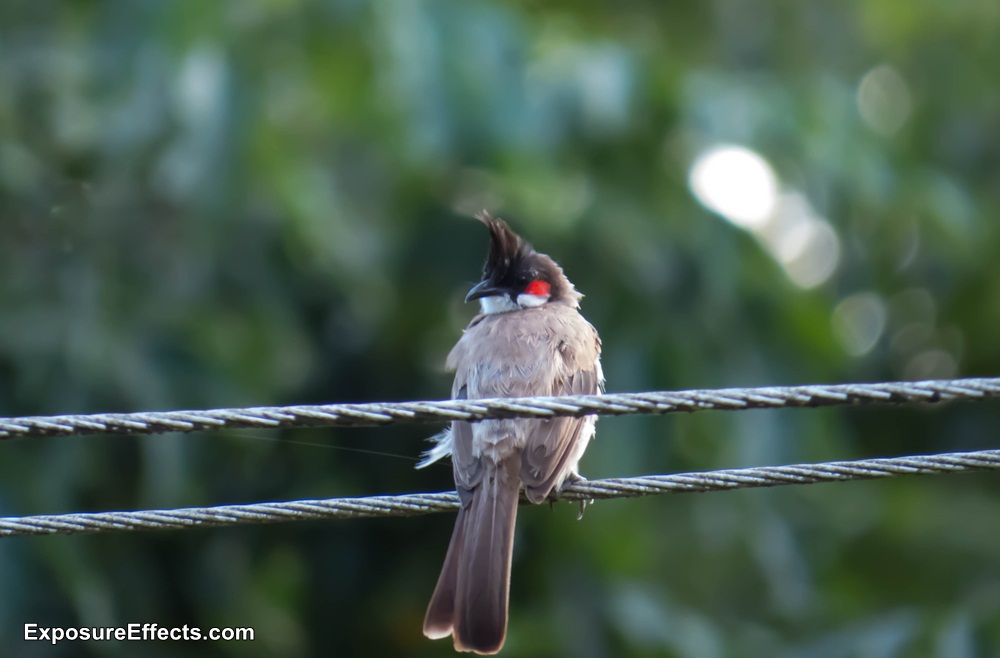 Misty Woods Coorg Resort Birds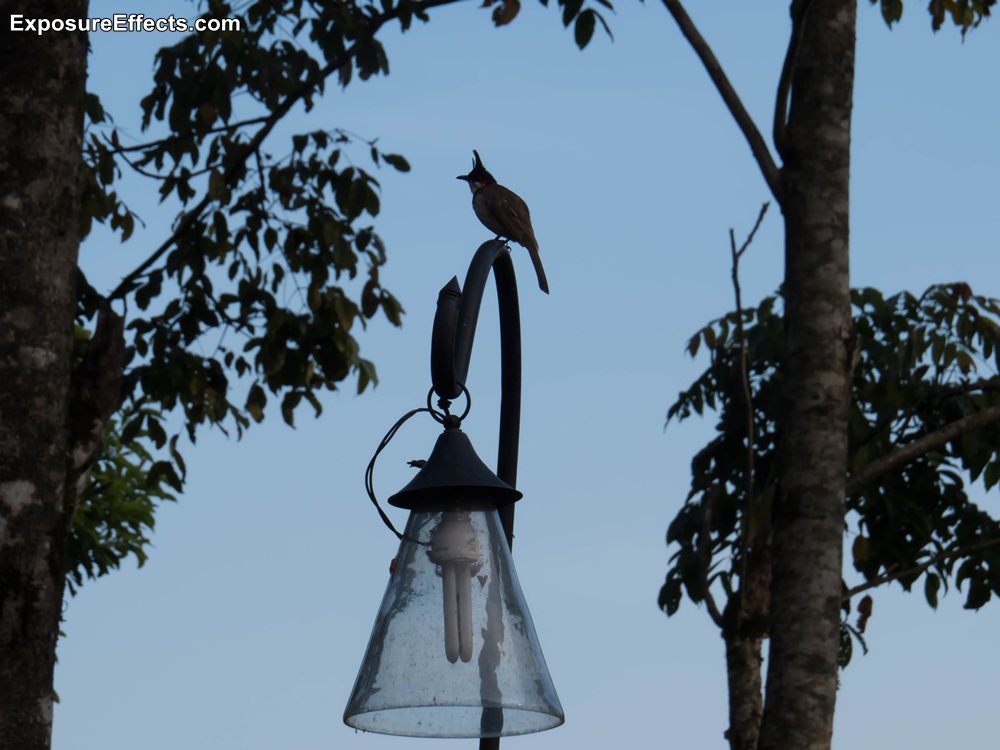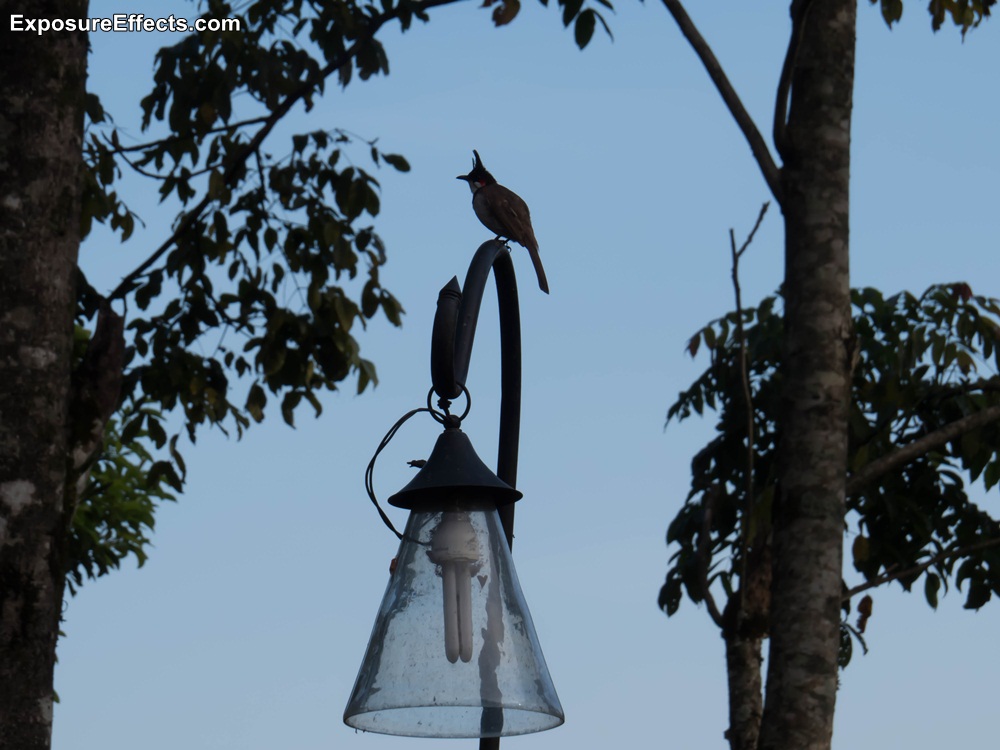 Resort India Misty Woods Coorg Karnataka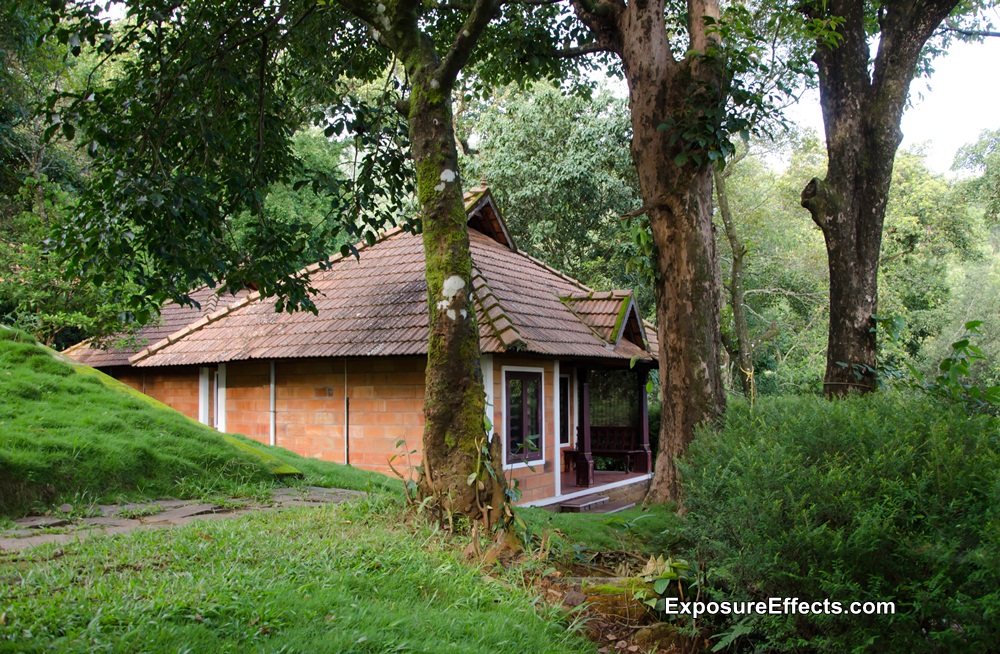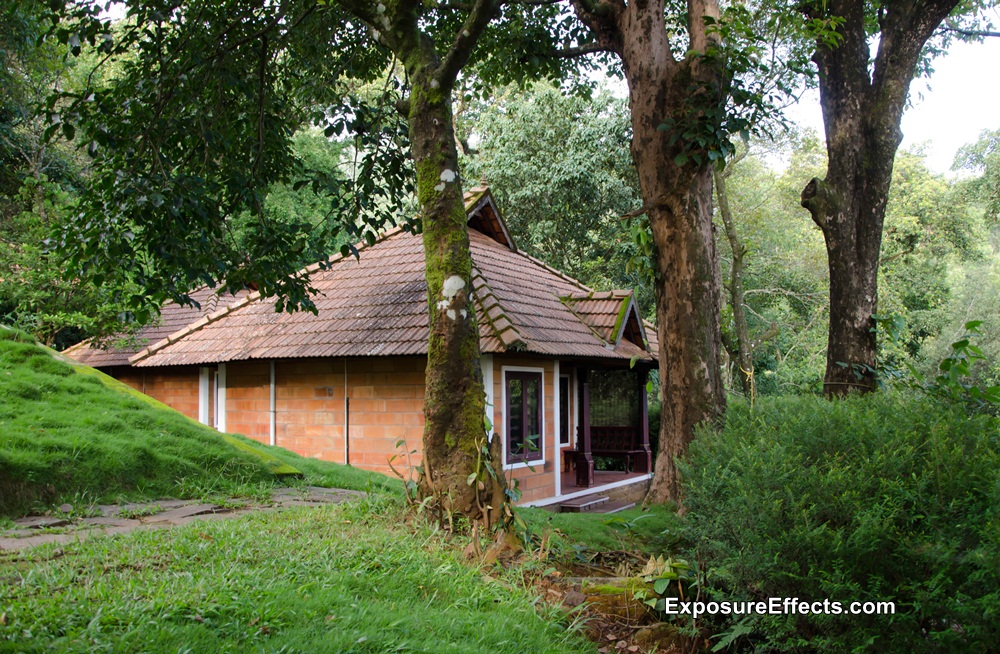 Misty Woods Coorg Karnataka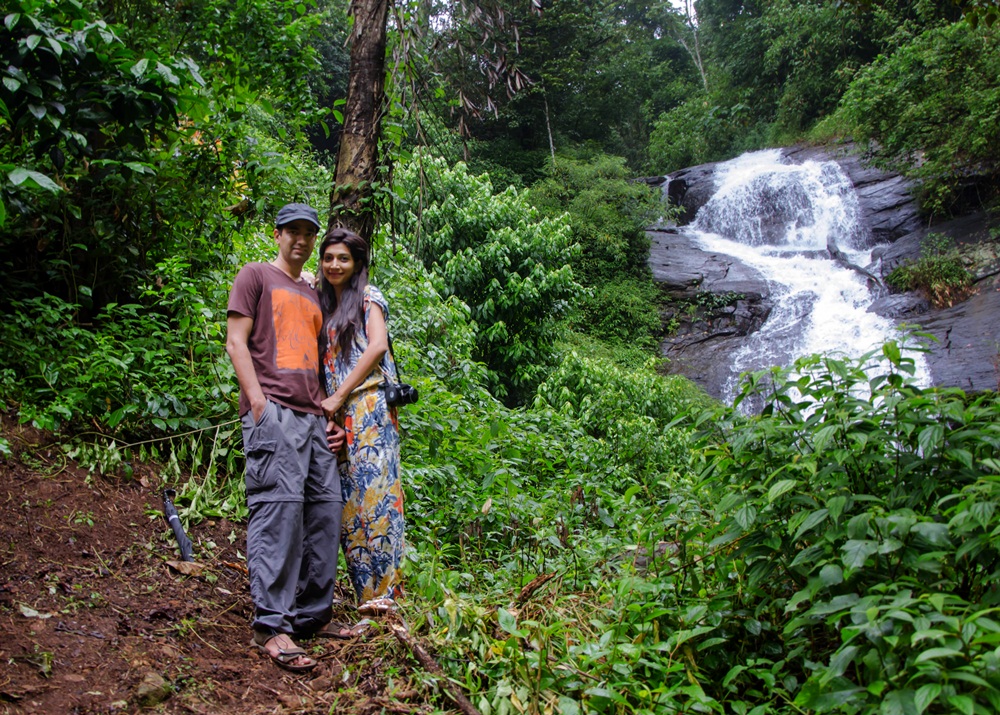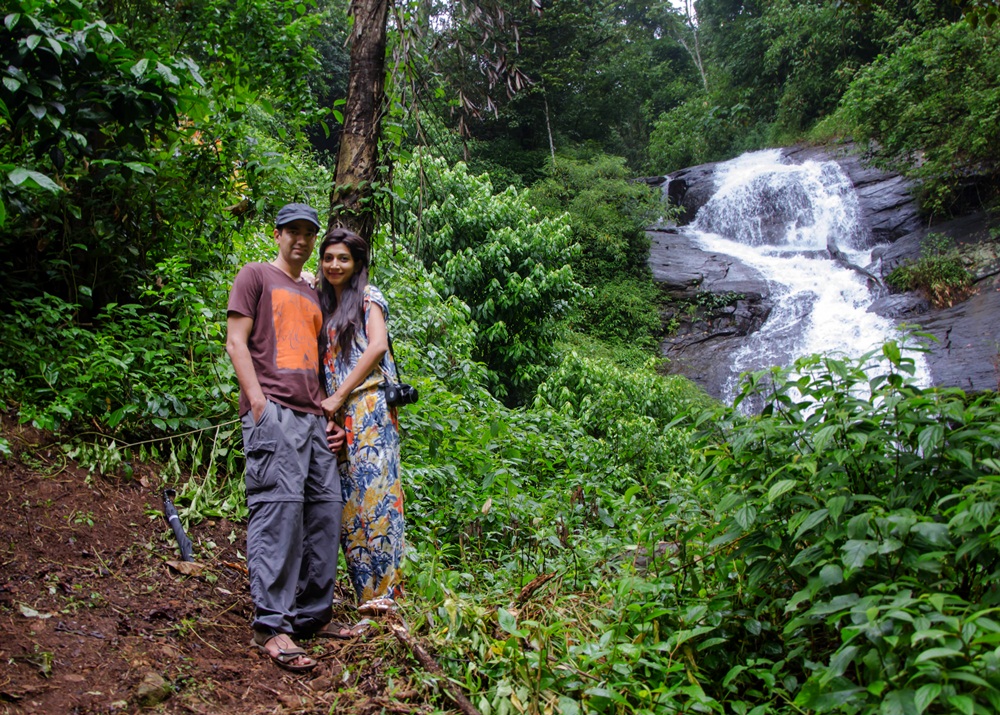 Misty Woods Coorg Karnataka Pictures