If you've seen my last video, then you know that I recently took a trip to the jungle and had a fabulous time. My adventures didn't stop there. After the jungle holiday, hubby and I decided to continue exploring Karnataka by making a trip to Chikmagalur – known for its multiple hill stations and more than that, its coffee. Although I love a good cup of java, I was more interested in the scenic views that Chikmagalur has to offer and a couple of temples that I'd heard of. Fortunately for me, the temples and hills went hand in hand.
Watch the VIDEO :
The Journey
We started the drive to Chikmagalur at dawn. We arrived in the city at 11 am but our first destination – the Sharadamba Temple at Sringeri – was still two hours away. At around lunch time, we drove up to the lodge we'd booked rooms at. It was very close to the temple, the two sites within walking distance of each other.
Although we were keen to see the temple, the long drive had taken its toll. So we had a quick lunch and then just crashed, blissfully dead to the world for a couple of hours. A few hours later, we awoke refreshed in spirit. We took a bath to wash away the dust of the journey and finally set out to the temple.
My Temple Outfit
I had taken great care to put together a temple-visit outfit that was respectful but also reflected my personal style. I chose a white kurta to go with orange pleated pants, the top bringing the modesty required for the temple and the pants bringing the comfort for me. I did want to amp up the style of the look a bit so I added an ocean green stole with a print of multi-coloured flowers.
As for my hair, I had just washed it. The sun would set soon and I didn't want to spend time styling my hair and losing day light, so I just left it as is and tied it into a ponytail when it dried.
At Sharadamba Temple at Sringeri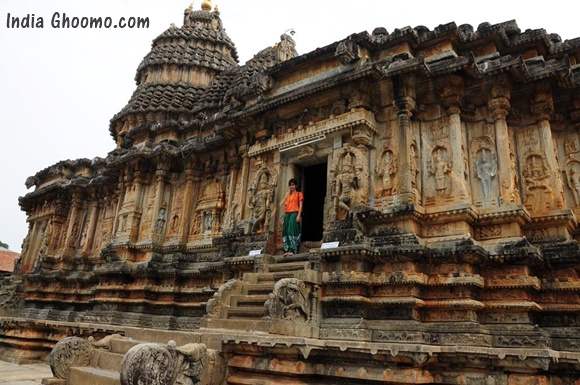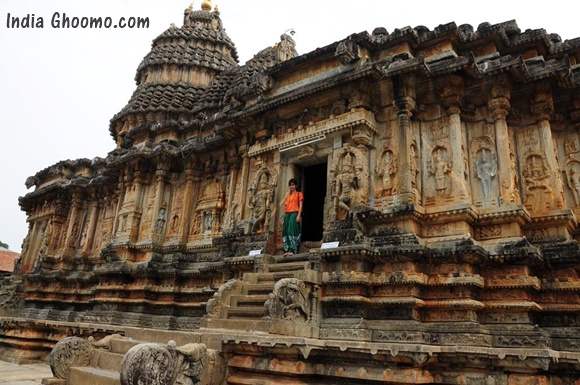 At Sharadamba Temple Sringeri
We spent the next 3 hours at the temple and were lucky enough to arrive just when an aarti was starting. If you've ever participated in a religious or spiritual ritual in the lap of nature, then you'll believe me when I say the experience was absolute Bliss! I may have very well gotten a glimpse of Nirvana at some point, if just for a moment.
We returned to the temple very early the next morning because we wanted to spend some time there before going ahead with other plans later in the day. This time, I paired a plain orange T-shirt with dark green pleated harem pants featuring a white print that looked like embroidery from a distance. I thought I'd add a little temple mood touch to my look with a tulsi beaded necklace.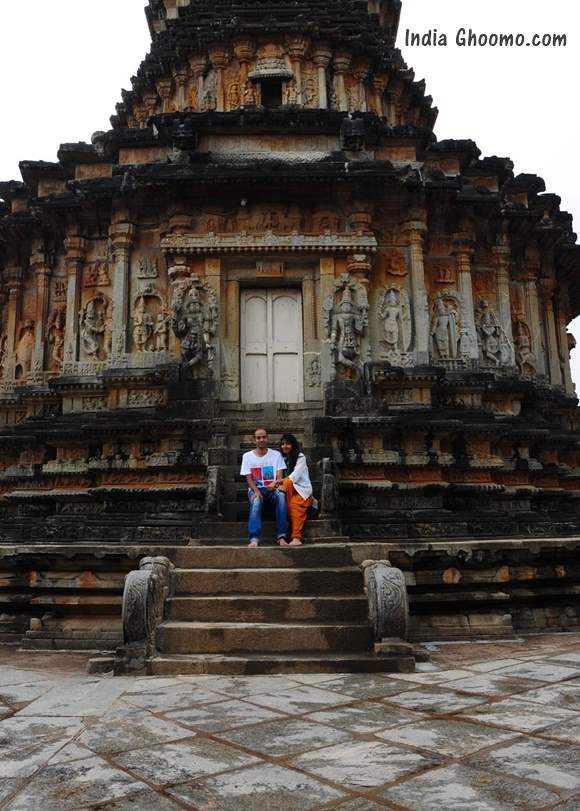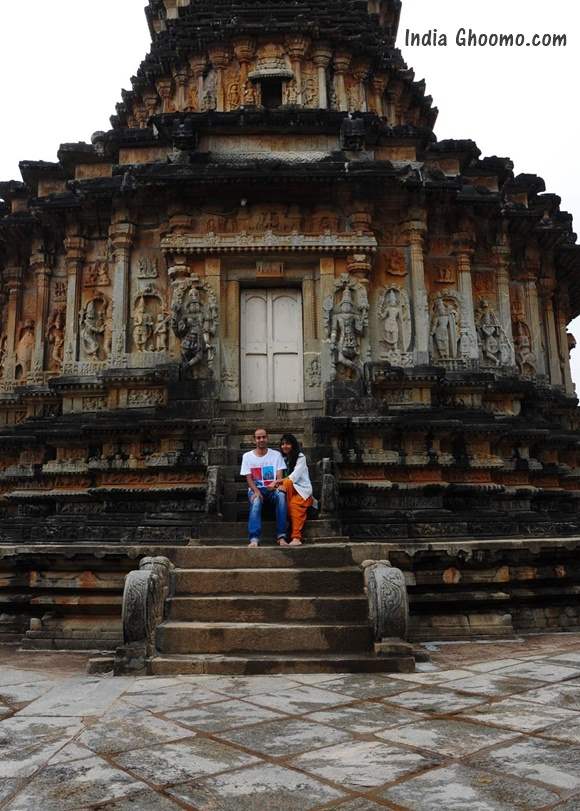 Sharadamba Temple at Sringeri
Once more, the scene captivated us and we spent a few hours there before checking out of the lodge and heading out to the next destination on our humble travel itinerary – Mullayangiri, the highest peak in Karnataka.
PICTURES- Sharadamba Temple at Sringeri – Chikmagalur