Hello everyone, It's Sarita & Kamal. Welcome to Bali Travel series on our blog and youtube channel World Ghoomo. We are back from our 11 days trip to Bali in 2018. It was an amazing holiday as we got to visit a number of scenic locations.The countryside landscape is all about vast rice terraces adorning the hills and mountains offering tourists the most spectacular panoramas. 
We got to witness one of the  most captivating sights at Jatiluwih Rice Terraces.  
In this post/video we are gonna give you an overview of Jatiluwih Rice Terraces, Top things to do while there and other useful information. 
WATCH THE VIDEO – 
Bali Rice Terraces
Rice terraces are synonymous with Bali and can be found almost everywhere. Balinese farmers have harvested rice for over 2000 years! The rice terraces were created using primitive tools to carve the hillsides in order to support traditional-subak agriculture. The outcome is the stunning vast terraced landscapes that charm Bali.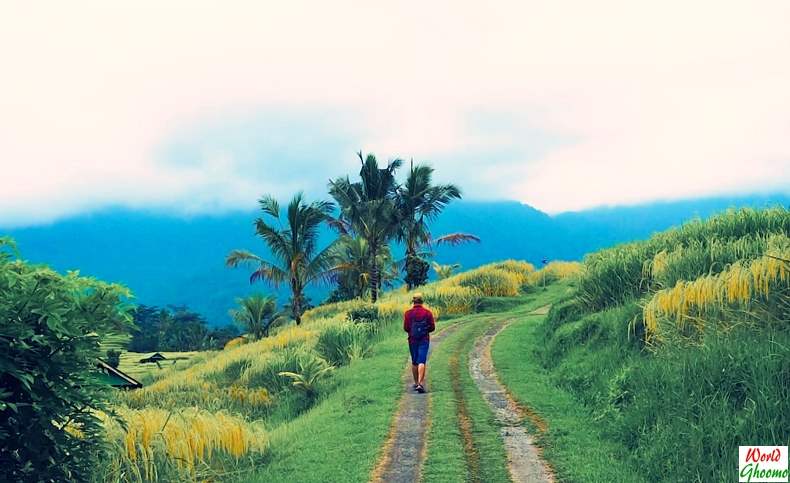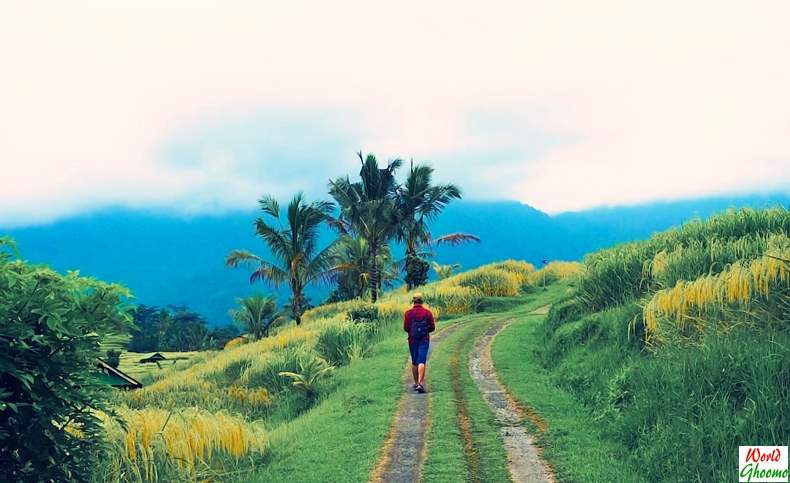 Jatiluwih Rice Terraces in BALI
Jatiluwih – UNESCO World Heritage Site  
Jatiluwih was awarded the title of a UNESCO World Heritage Site in June 2012 due to its impressive traditional Subak irrigation system the farmers continue to follow till date.
What is a Subak ?
A subak is a collective of farmers who share the same water source such as a canal or a dam.Bali has around 1200 subaks and within each, the farmers work together to distribute water fairly into each field.The largest subak is Jatiluwih with 562 members working together. 
Water flows along small canals,  distributing it fairly in each paddy even the ones furthest down the stream.    
Jatiluwih Rice Terrace Location 
Located 700m above sea level, the locations of Jatiluwih Rice Terraces  makes for stunning views of vast rolling rice terraces & mountains  
Distance from Ubud – 40 kms.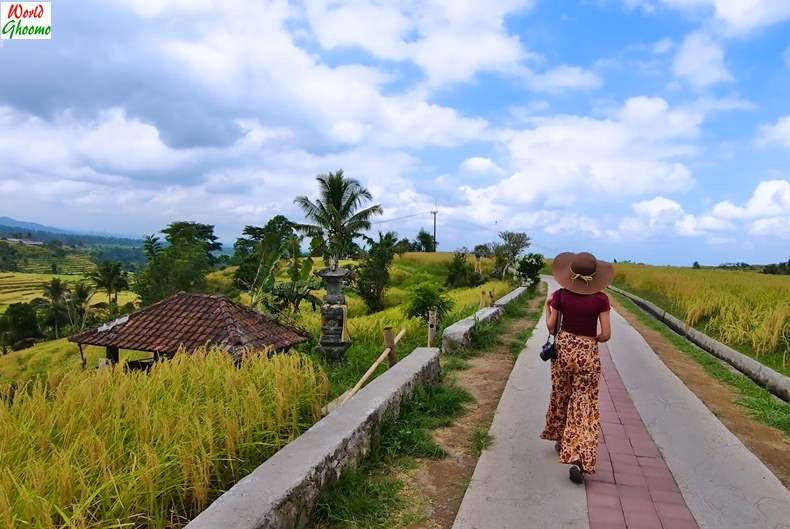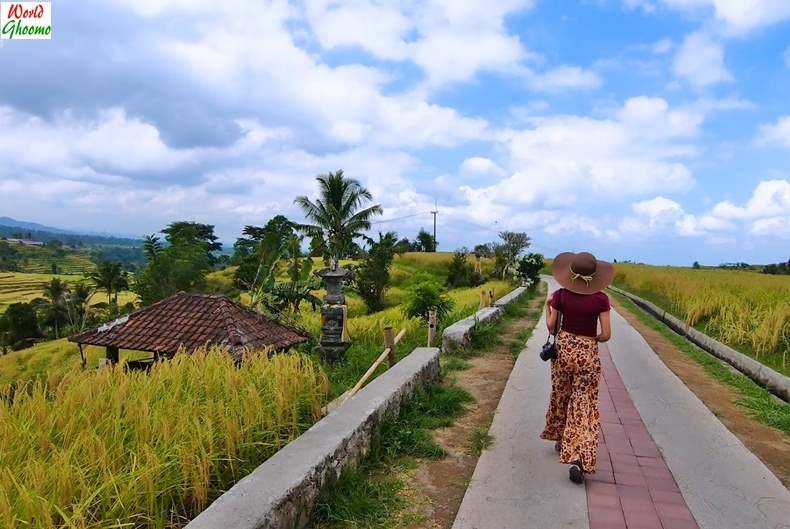 Jatiluwih Rice Terraces BALI
How to Reach Jatiluwih Rice Terraces
Jatiluwih Rice Terraces represent countryside Bali at its best.  It is a lot harder to get to to this place and requires time & effort to explore the region. With no tourist buses or even regular public buses commuting here, this inaccessibility is what keeps away the crowd.  The only way to get here is by renting out a taxi or self driving a scooty or a bike.  
Ubud to Jatiluwih Route 
40 kms from Ubud town, situated at a height of around 700 meters above sea level, the route to Jatiluwih takes you to the most stunning rice field terraces on the island. The cool breeze and the  the wonderful rural ambience will make your ride a memorable one.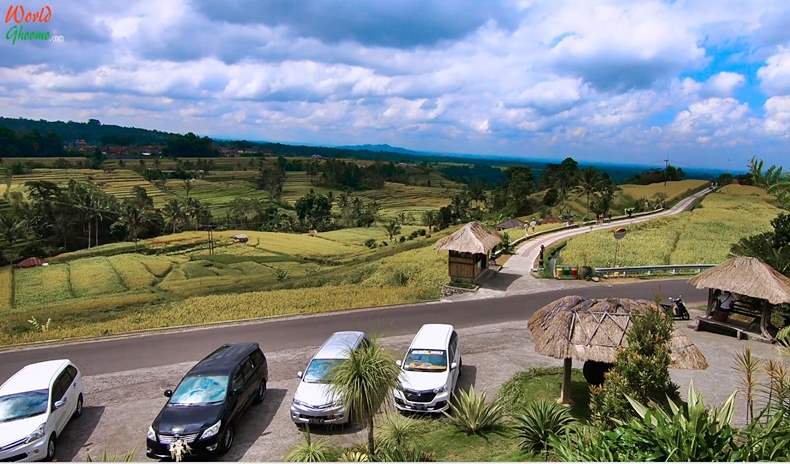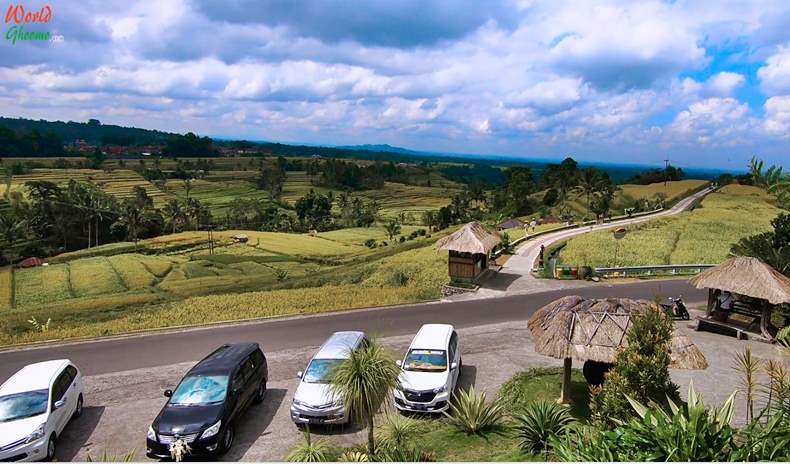 How to rach Jatiluwih Rice Terraces BALI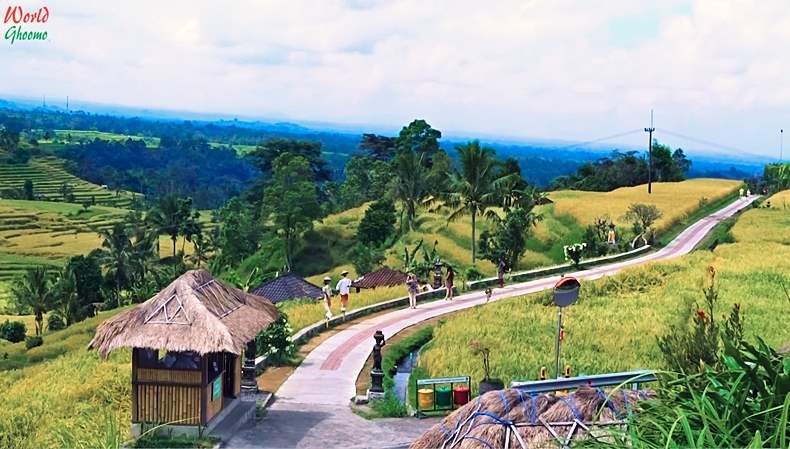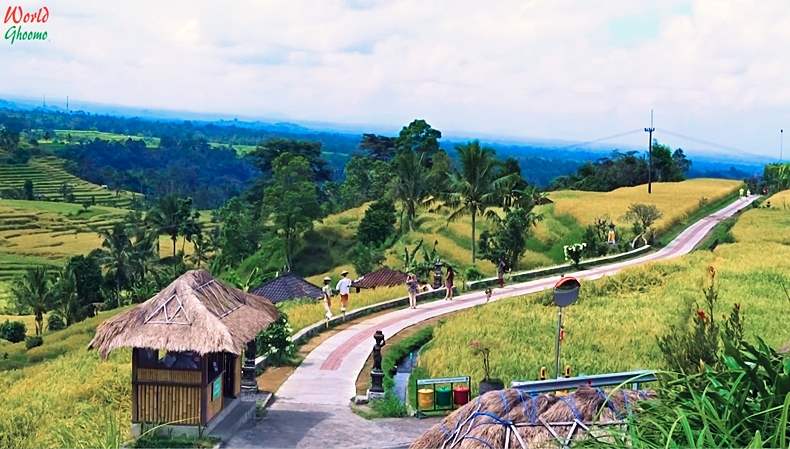 Jatiluwih Rice Terraces Bali Trekking
Entrance Ticket 
The entrance ticket to the Jatiluwih  Rice terraces is  IDR 40,000 / person.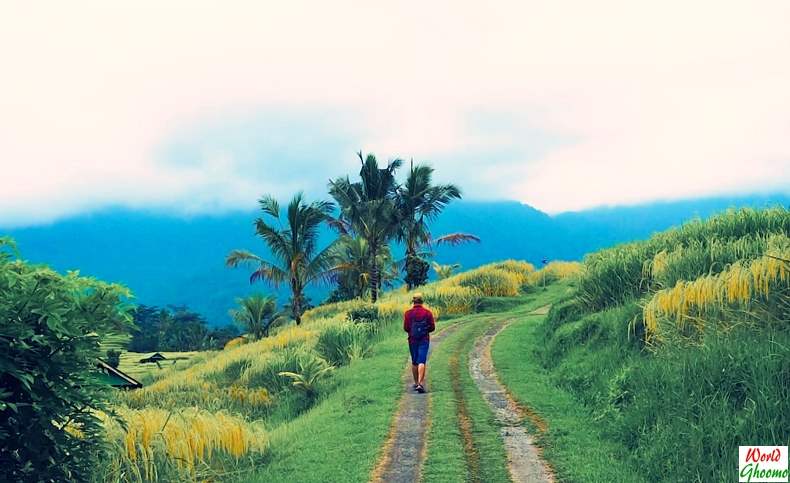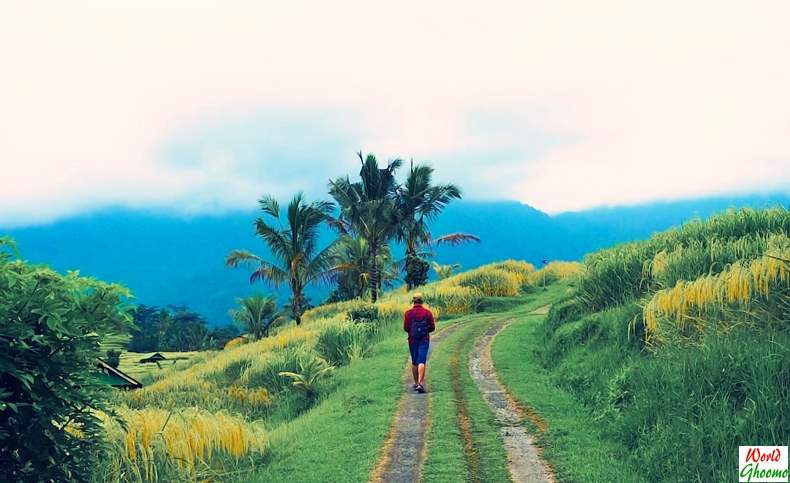 For Indonesian citizen, its IDR 15,000 / person. 
Jatiluwih Rice Terrace 
Jatiluwih is derived from two words. Jati means "real" and Luwih means "good" or "beautiful". Jatiluwih lives by its name. 
The moment you reach the place you will be amazed by the never ending expanse of rice terraces. Spread across  16,000 hectares of land, the stunning views of rolling rice terraces with Mount Batukaru in the distance further enhances the already breathtaking view.  Balinese believe that Dewi Sri, the Goddess of rice, must be honoured.  There are shrines set up in every field to honour her.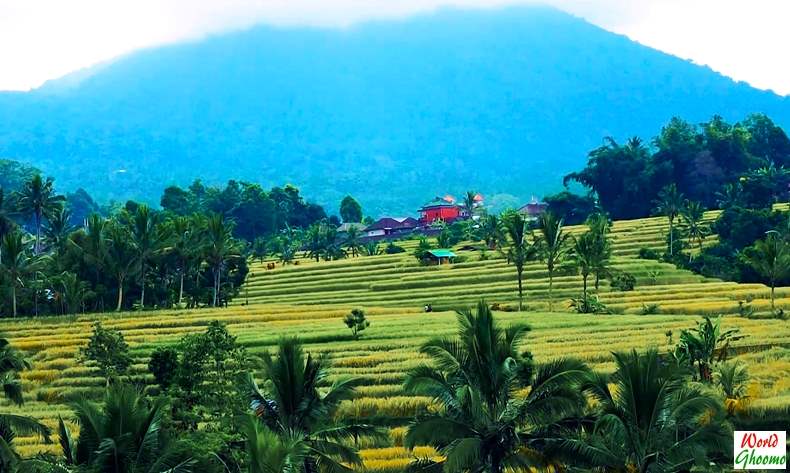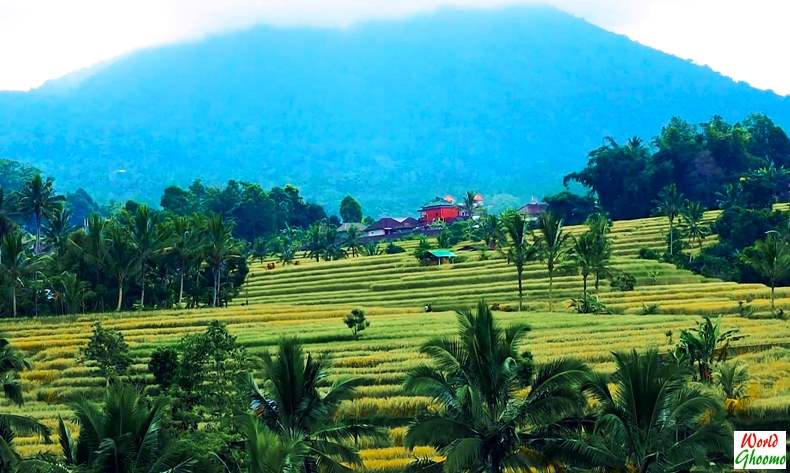 Bali Jatiluwih Rice Terraces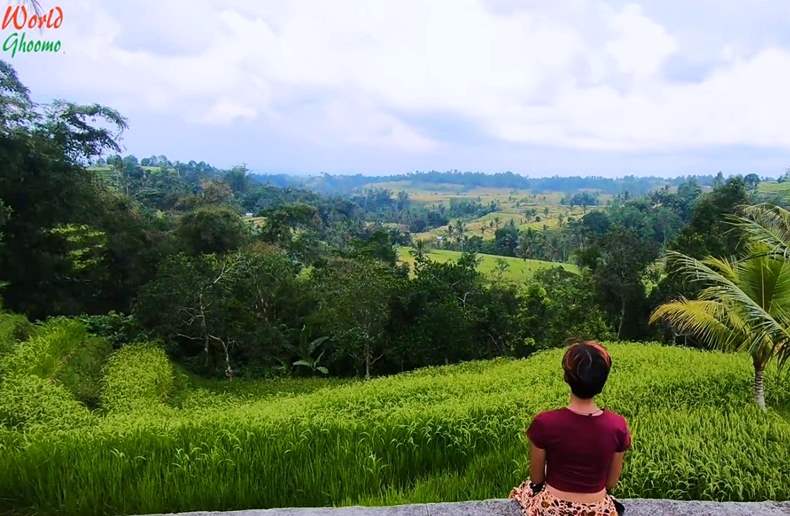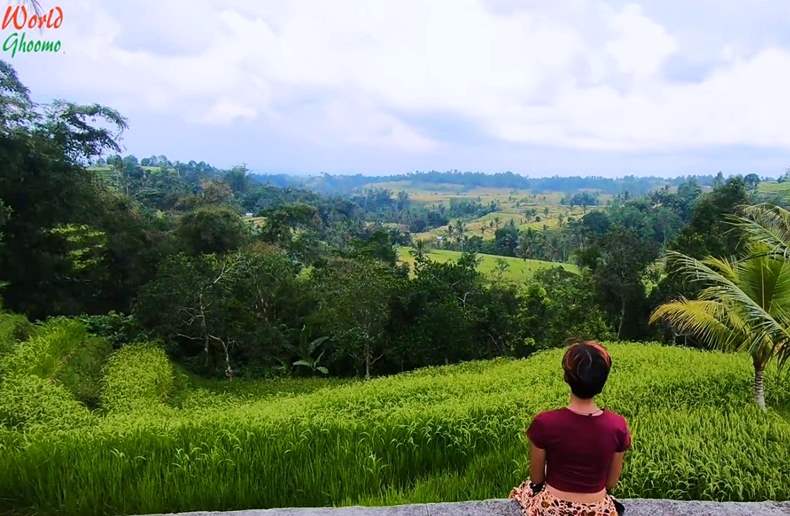 Bali Jatiluwih Rice Terraces view
Top Things to Do in  Jatiluwih Green Land 
Her are the top things you can do while at Jatiluwih Rice Terraces
Rice field trekking & Interaction with Farmers
Rice field trekking is the main activity to indulge in .
Choose one of the color coded trails and walk through the rice terraces. The treks ranging from easy to difficult level allows tourists to get an up close views of the rice fields and an opportunity to interact with the farmers working in the fields.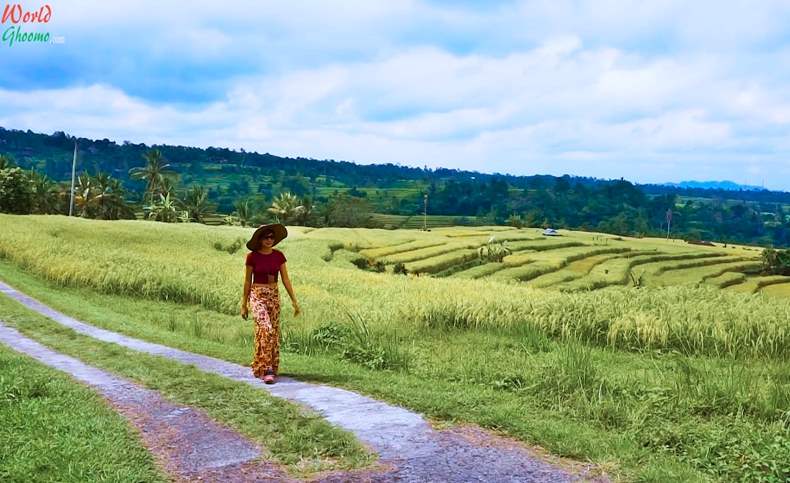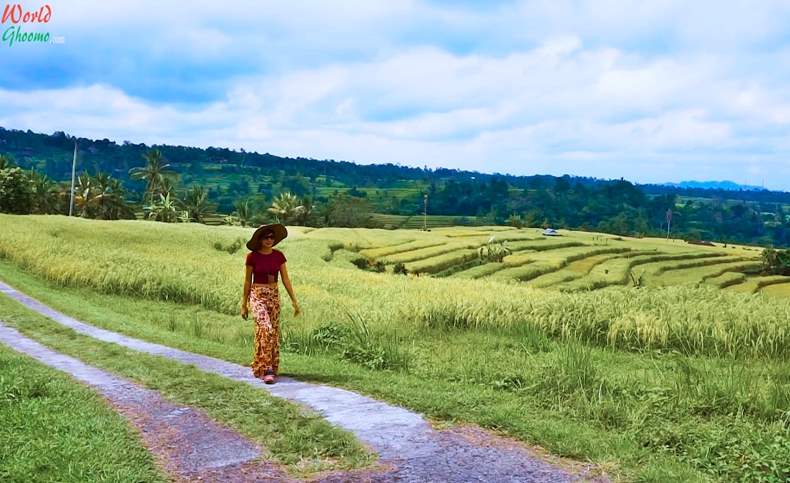 Bali Jatiluwih Rice Terraces Trekking
And while you take in the breathtaking panoramic views of the Jatiluwih Rice Terraces enjoy the melodious sound of the local music played by the artists which blends in with the calm and serene ambiance of the place. 
Jatiluwih Rice Paddy Cycling Tour
Besides trekking one can also opt for a Jatiluwih rice paddy cycling tour.  
 Lunch with a View
The area is very rural with nothing but farming communities and a few high-end mountain resorts and eateries lined along the main road. 
After exploring the rice terraces, enjoy a hearty lunch at one of the restaurants with spectacular rice terrace panoramic view right in front. The restaurants 

serve typical local dishes with special red rice grown in Jatiluwih itself.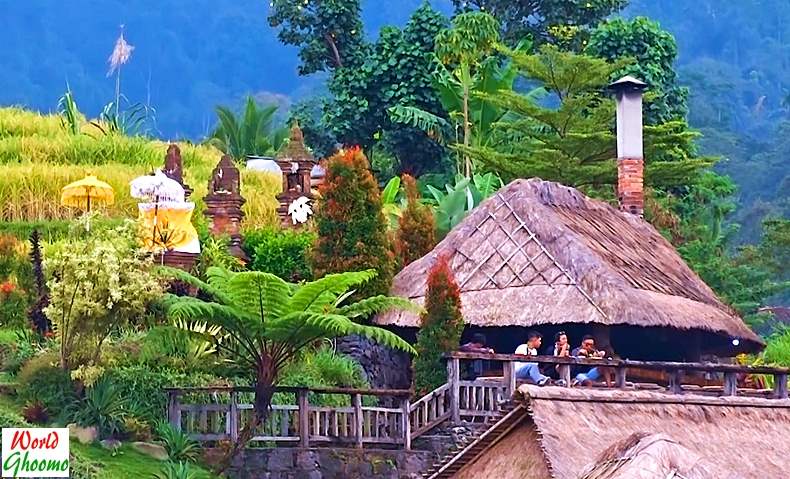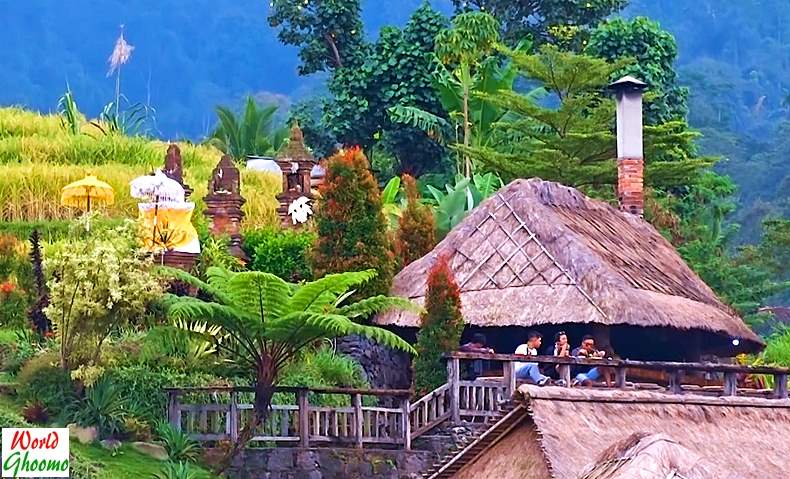 Bali Jatiluwih Rice Terraces Restaurants
Time Required 
A day trip to Jatiluwih rice terraces will allow you to enjoy the best this place has to offer. If you are a trekking freak, then you would like to try hiking on the different trails which will require some time. However, if you are travelling on a tight schedule you can still have the feel of the place. In that case, keep at least 2 hrs to explore the region. 
Nearby Accommodations 
There are a couple of hotels in the region where you can easily spend a day or 2. The best advantage is you can easily walk down to the rice terraces anytime you want and can spend as many hours as you wish.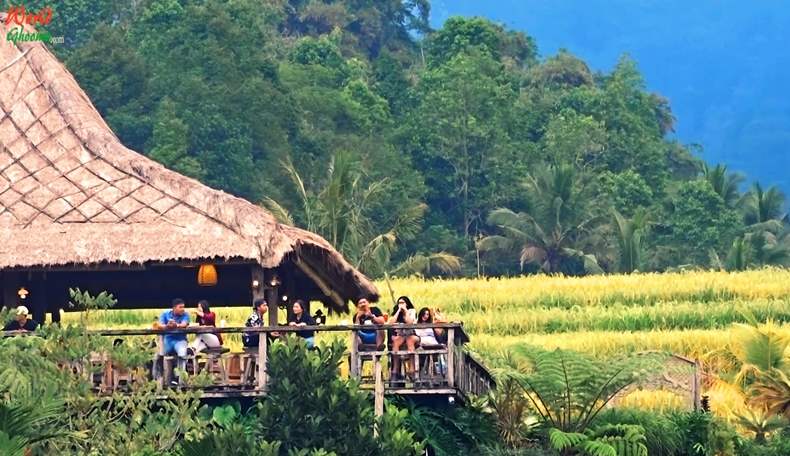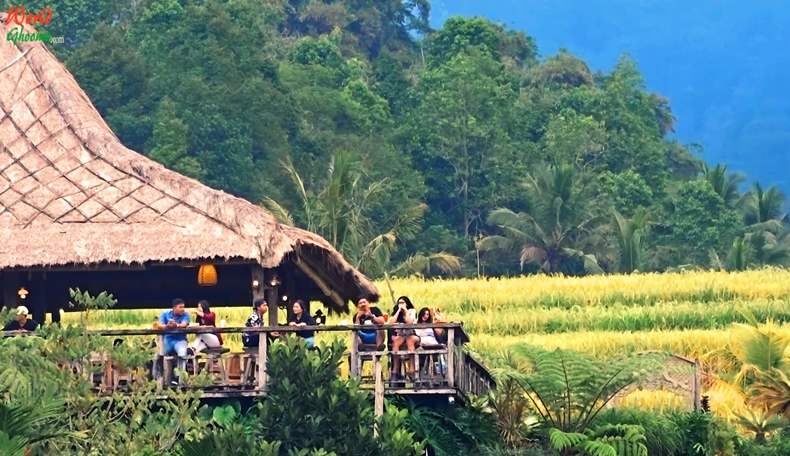 Bali Jatiluwih Rice Terraces Hotels
Things to Keep in Mind   
Flowing are a couple of things one needs to keep in mind while visiting Jatiluwih Rice Terraces: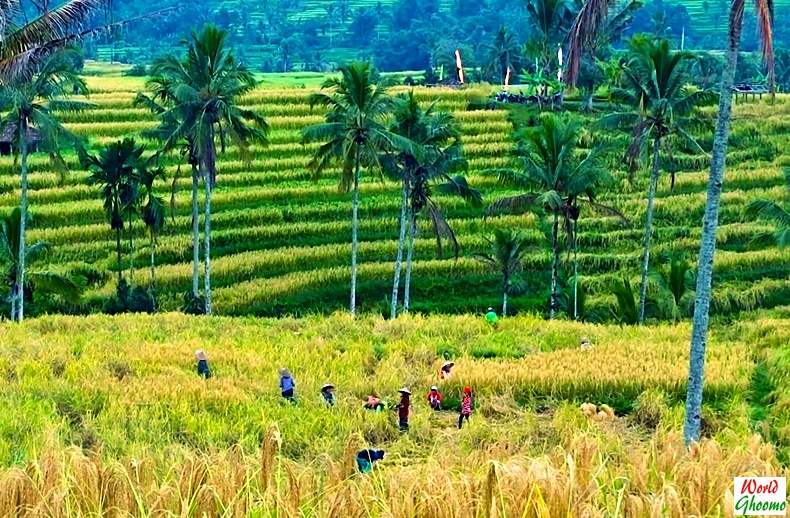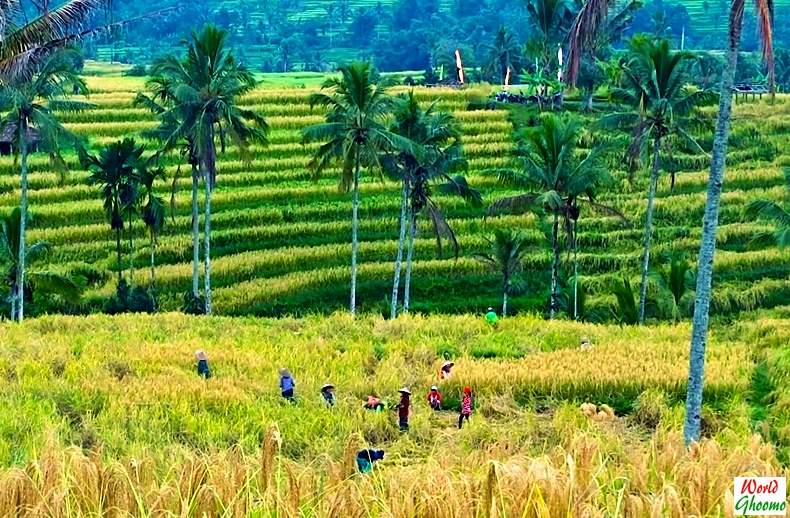 Jatiluwih Rice Terraces bali 
panorama
1- Wear appropriate footwear that offers a comfortable fit and good sole grip.
2- While on the trails, you can sit down to enjoy some light snacks – just make sure to not litter the place.
3- Do not pluck the rice.
4- Walk only on the trails and don't enter the rice fields.
5- Click lots of pictures and enjoy the amazing views.
Other places you can visit the same day
You can visit Jatiluwih Rice Terraces, Lake Bratan temple and Banyumala waterfalls same day. We will cover each in the coming videos. Also stay tuned for Bali Travel Guide coming up next.
Hope you enjoyed  watching this video and found the post useful. Stay tuned for more amazing post/videos on Bali coming up soon. Subscribe our Youtube Travel channel "World Ghoomo" and we will catch you soon in our next post/video. Until then, take care bye.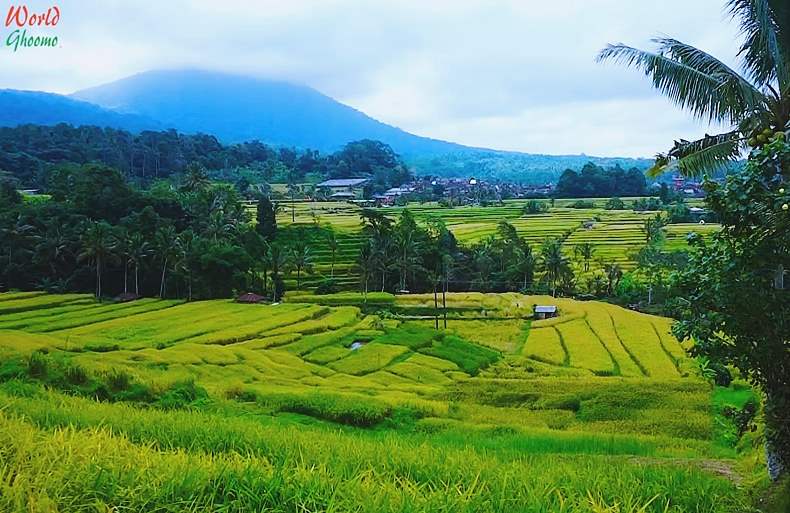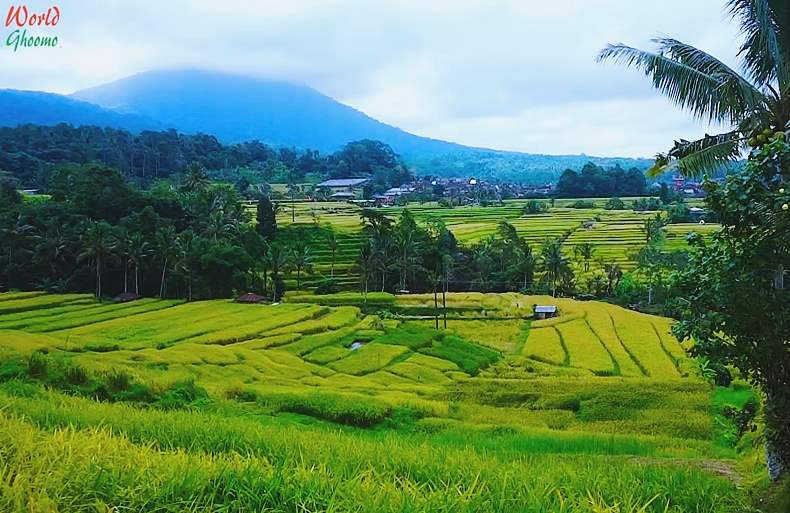 Jatiluwih Rice Terraces bali rice fields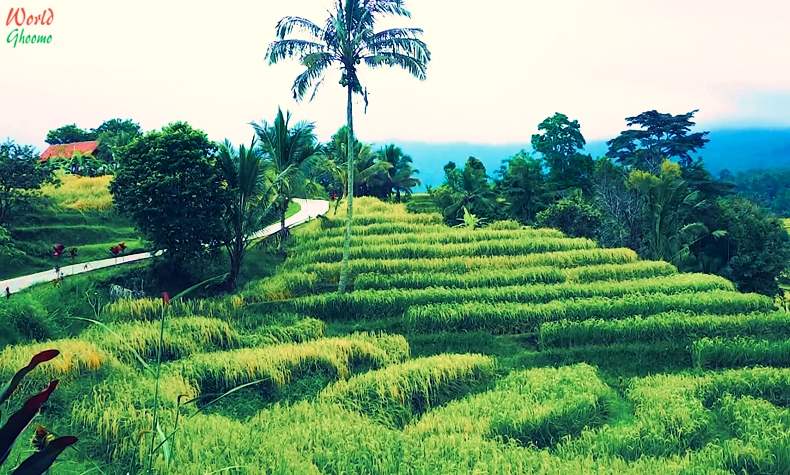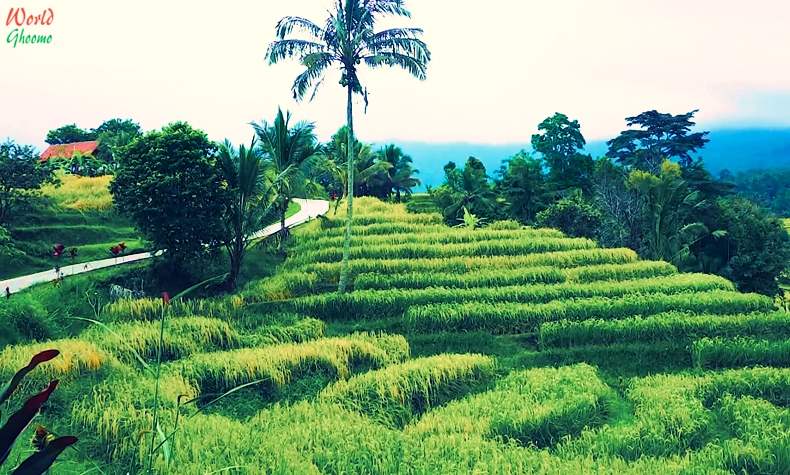 Bali Rice Terraces Jatiluwih Rice Terraces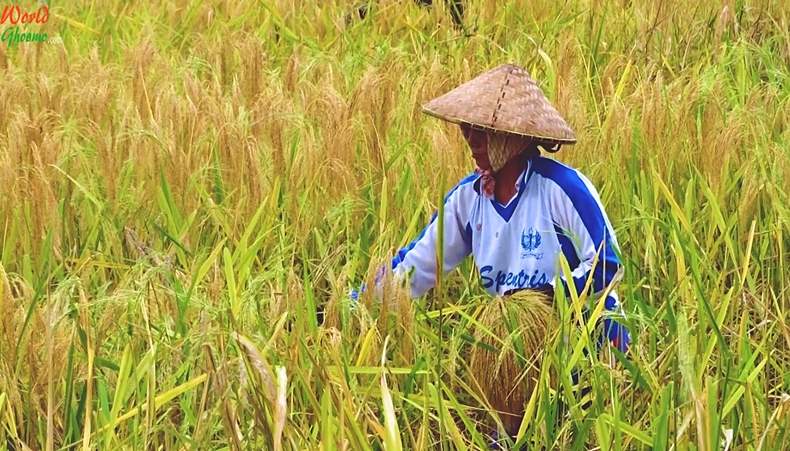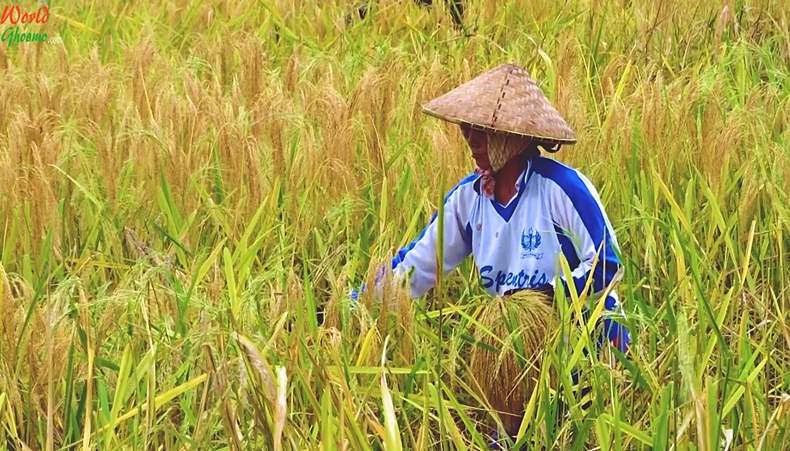 Balinese farmers at Jatiluwih Rice Terraces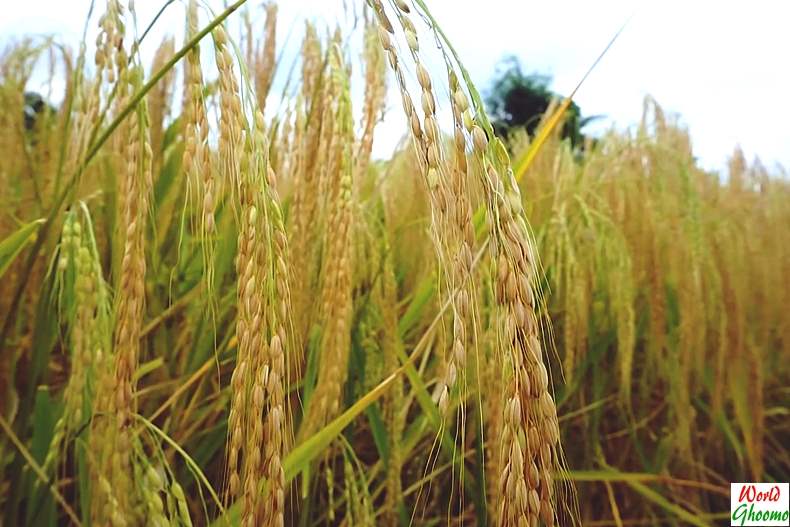 Bali rice farms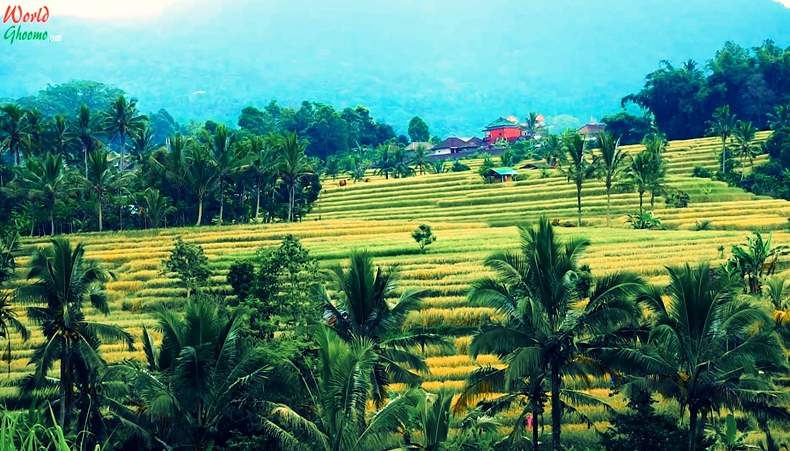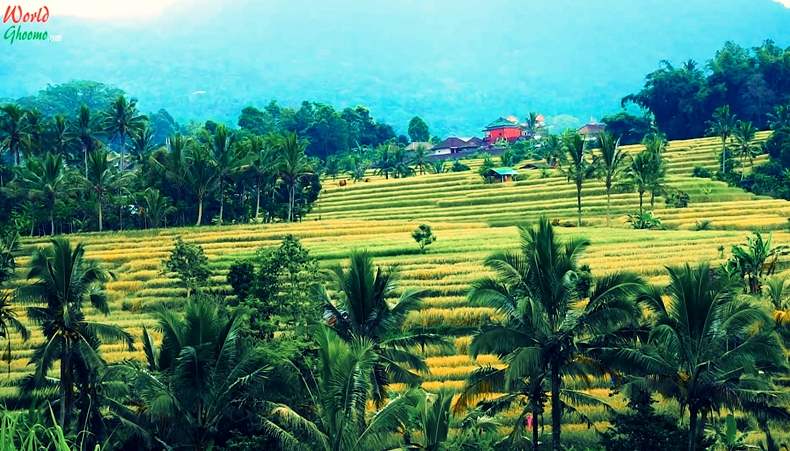 Bali Rice Terraces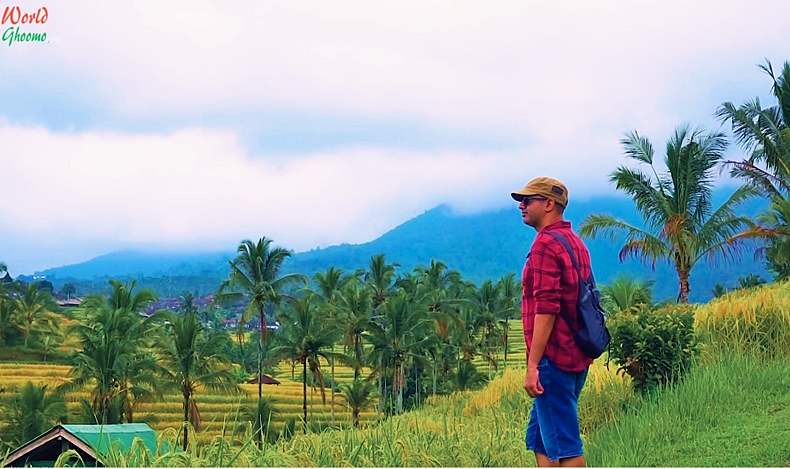 Bali Rice Terraces views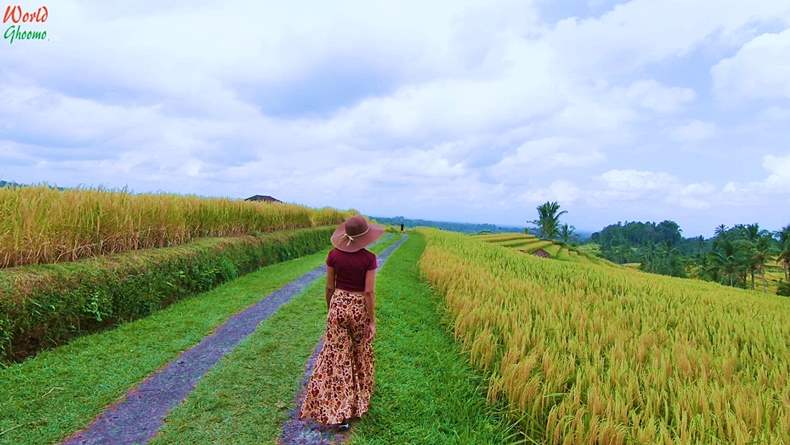 Bali Rice Terraces Jatiluwih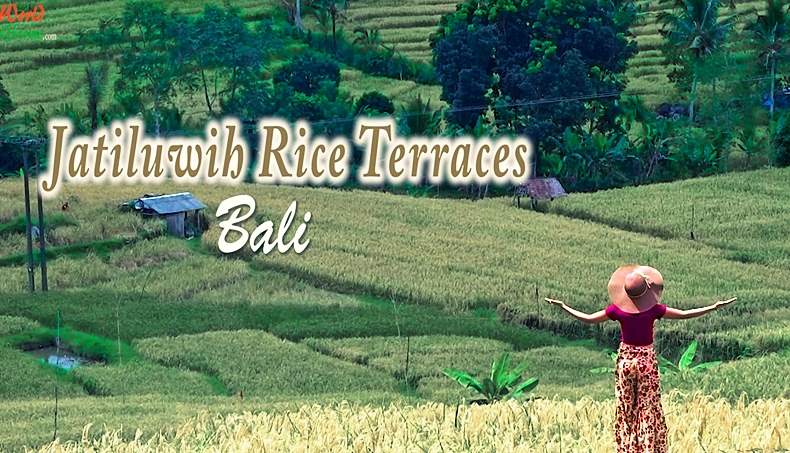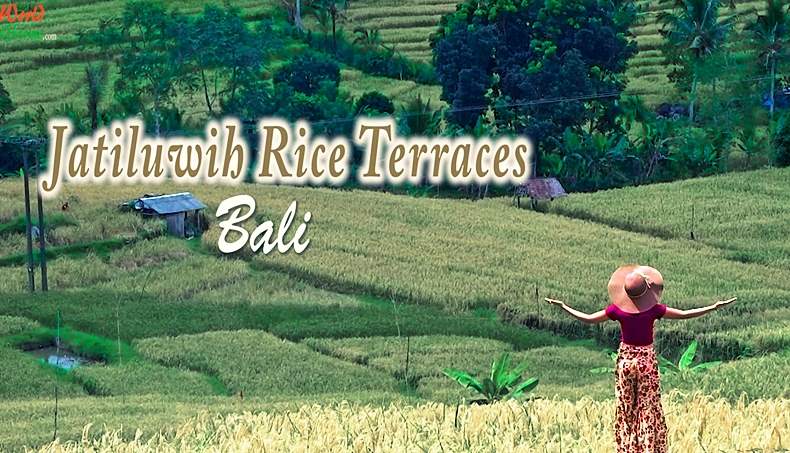 Jatiluwih Rice Terraces Bali UNESCO