Surreal & mesmerizing are the two words that best describe Hampi. Once that was the largest & richest cities in the World -The ruins of Hampi, as it's known today, is a huge open museum of architecture, history and religion on display.
Recognized as a UNESCO World Heritage Site – Hampi is a village and temple town in northern Karnataka. Due to the excellent Location- WITH Tungabhadra river on one side and hills on the other 3 sides, Hampi in the 14th Century, was the safest place to be declared as the capital of the glorious Vijayanagar empire.
However, a six-month Muslim attack in the second half of the sixteenth century destroyed this Beautiful Hindu capital. Spread over an area more than 25 square kilometers, Hampi ruins is packed with huge boulder laden hills, ancient temples and monuments, fortifications and stone-carved structures dotted with paddy fields & banana plantations. Hampi ruins will leave you spellbound the moment you lay your eyes on it and will transport to the the old days making you visualize how things would have been, in those days.
Hampi's Archaeological, religious and historic significance makes it perfect tourist spot. In Hampi at every turn there is a surprise and every monument hides more than what it reveals. In this Hampi tourism part-1 video we will give you an overview of Hampi.
So gear up as we take you along with us to this incredible journey.
WATCH the VIDEO
Hampi Tourism – Part 1 ( Hampi Overview)
Hampi Location
Hampi is located in Northern Karnataka and It's about 350 kilometers from Bangalore, the state capital.
How to Reach Hampi
Hampi can be reached by road, rail or air. However, Road is the most preferred option. Hospet, a small town located about 12 kilometers from Hampi is the nearest railway station and has a bus stop too. It's an overnight journey from Bangalore, Goa & Hyderabad and can be reached by car, bus or train.
From Hospet hire an auto-rickshaw or catch the local bus and in about 30 minutes you would be at the centre of Hampi.
Hampi Accommodations
Since, exploring Hampi requires a considerable time, tourists usually stay for a number of days. For stay, there are these 4 options offering different kinds of accommodations. You can pick whichever suits your preferences/budget.
At Hospet– you get good hotels like Hotel Krishna, Royal Orchid & more… One negative point of choosing Hospet as your base is its distance from Hampi. Everytime you will have to travel about 13 kilometers to reach Hampi for sight-seeing. Also, Hospet lacks the charm that Hampi has.
At Kamlapura– You get decent and comfortable accommodation and it's just 3 Kms from Hampi. A state run Hotel called Mayura Bhiuvneshwari offers decent stay. A Jungle lodges & Resorts property named- Hampi Heritage & Wilderness Resort offers a lovely comfortable stay.
At Hampi bus stand & Village – You get budget accommodation. Located on the narrow streets around the Virupaksha Temple, every other house here is a guest house. The households use it as their homes and rent out a couple of extra rooms to the tourists.
At Virupapur Gadde – On the other side of the river Tungabhadra is what is called Hippie Island. Here, you can rent huts, small cottages and rooms. All of these mostly located either facing paddy fields with mountains in the backdrop or next to the riverbank. You can stay here on those days when you don't wish to visit the Hampi ruins and just want to laze around.
Hampi Climate & Best time to visit
Hampi is generally dry & hot. The colder and most pleasant season of the year is from November to February which is also the The most popular tourist season. Irrespective of climate, Hampi is open for visitors all round the year.
How to tour Hampi?
You can hire mopeds and bicycles to cover a wider area, The local three wheeled taxi (Auto-rickshaw) or car is also available for hire at the site.
Hampi Maps
You can find a number of guides and local people selling Hampi Maps almost everywhere. It's recommended to get one.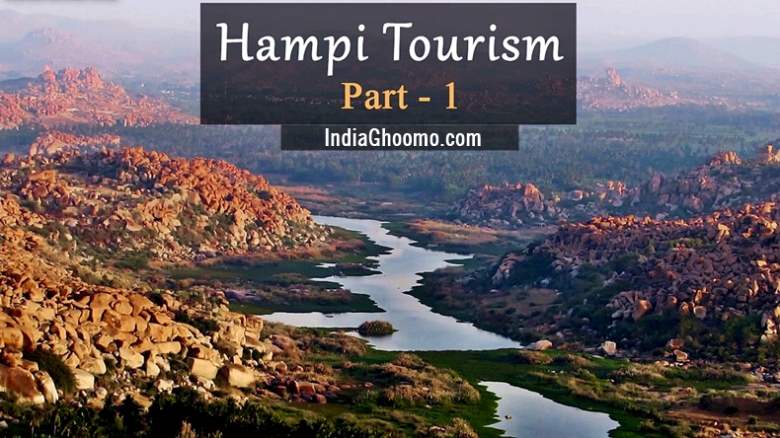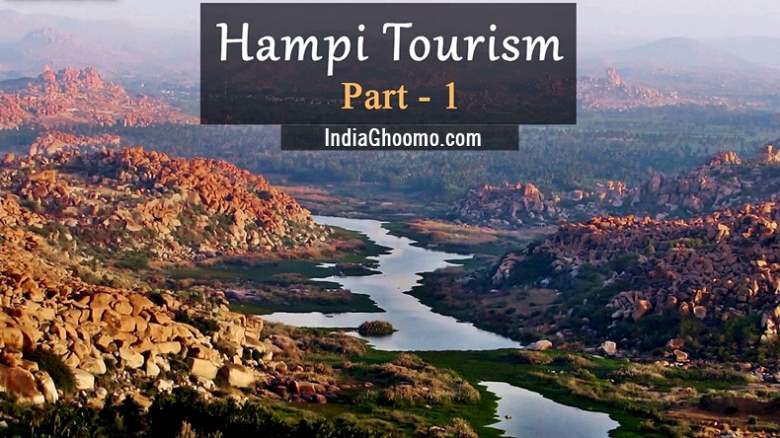 Hampi Tourism – Overview | India Ghoomo
Exploring Hampi – The 2 sides
1) Hampi centre/Kamalapur
2) Anegondi/Hippie Island (Hampi on the other side of the river Tungabhadra)
Kamalapur
A number of Hampi's major sites stands here. The ruins of Hampi are split into two sections – Sacred Centre and Royal Centre. Most of the temples and other religiously significant sites are located in Sacred Centre. Whereas, The Royal Centre is where the Vijayanagara king and his private households stayed and conducted businessn government & ceremonies.
For the sake of convenience , We have categorized Hampi attractions in total 6 groups based on its proximity and each requires about 2 hours to explore.
Group 1,2,3 & 4 covers the Sacred Centre & Group 5 & 6 covers the Royal Centre.
SACRED CENTRE
Group 1
Malyavanth Hill,
RaghuNath Temple
Badavi Linga,
Ugra Narsimha
Uddana Veerabhadra Temple
Krishna Temple
Group 2
Sasivekalu Ganapathi,
Kadlekalu Ganapathi,
Hemakuta hill,
Virupaksh Temple,
Hampi Bazaar,
Monolithic Nandi ( way to Achutaraya temple)
Group 3
Achyutaraya Temple
Courtesan's Street
Kodanda Rama Temple
Chakratheertha (Riverside Ruins /coracle ride)
Sugreeva's Cave
Group 4
Purandaradra Mantapa ( WATER AREA)
Ruined Bridge ( old bridge)
King's Balance
Vittal Temple
Vittala Bazaar
ROYAL CENTRE
Group 5
Lotus Mahal
Watch Tower
Elephant Stable
Guards Quarters
Underground temple
Group 6
Queens Bath
Mahanavami Dibba
Pushkarni
Secret Chamber
King Audience Hall
Hazara Rama Temple
We will cover each group in our upcoming Hampi Tourism videos. So stay tuned. Hope you like watching this video and found it useful. Give this video a big thumbs up and subscribe India Ghoomo on Youtube to get notified of our future video uploads. Thanks 🙂