Bali in Indonesia, attracts a large number of tourist from around the World. Despite being a considerably small island, the great thing about Bali is that it truly has something for everyone. From stunning waterfalls, pristine lakes, rolling rice terraces, impressive volcanoes, beaches and wildlife to water parks, food, shopping and nightlife – you can find everything here!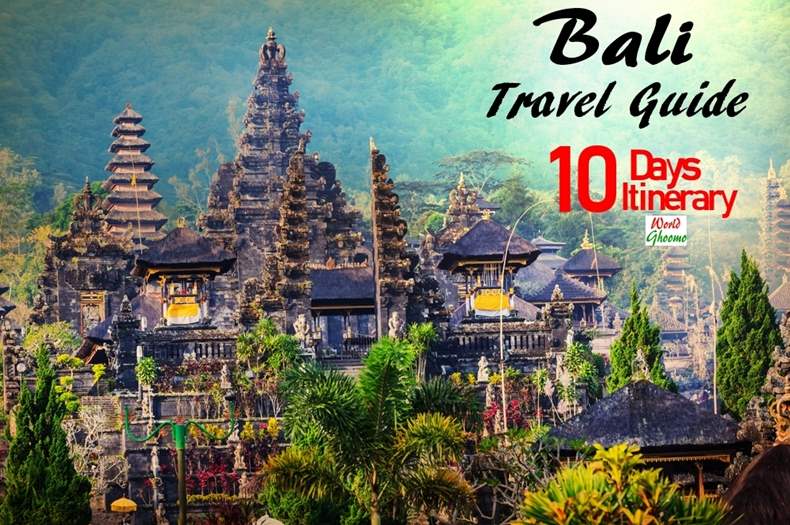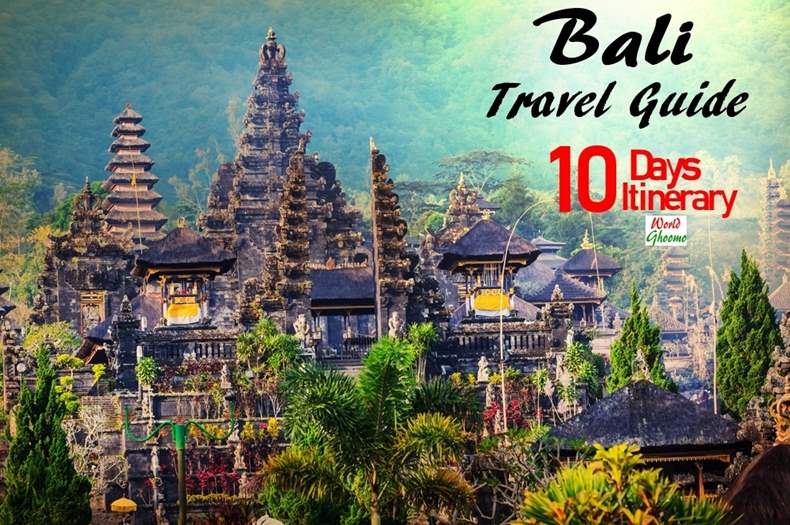 Bali Itinerary
Days Required to Explore Bali ?
Bali is packed with countless natural attractions that you might not be able to explore all within the span of a single visit. 
You will actually need to spend a whole month or at-least 2 weeks in Bali, to explore the countless gems spread across the island. 
Where should you Stay in Bali ?
We recommend choosing two destinations and splitting your days between them.
In this itinerary, we have picked Ubud (Central Bali) for first 7 days and South Bali Beaches for the last 2 days. 
You can make changes to this itinerary as per your convenience.
How Far are the Attraction from Each Other ?
Here is the Good Part. In Bali, most of the popular tourist attractions are very close to each other. The maximum distance between 2 locations will be around 45 kms which can be covered within 2 hrs, depending on traffic conditions. 
The roads are pretty awesome in Bali except for the ones that run through secluded regions. Overall, driving will be a lot of fun.
How to Plan Itinerary?
Covering the attractions region-wise would be the best way. It can take anywhere around 3-7 days to cover each region depending on how relaxed you want your trip to be.
How to Tour around Bali ?
There are 2 ways you can tour around bali – By booking a cab or by self driving a bike. 
Book a Cab – Most resorts in Bali will arrange for a cab with a pre-planned itinerary split into half-day trips and Full-day trips. From our very own personal experience, we suggest you to not follow their itinerary and ditch their cabs as well, if possible. 
Sad part of our trip was we wasted almost 2 precious days figuring out how to reach the places we wanted to. The hotel suggested us to go ahead with a cab, which we did, only to discover that the cab driver kept fooling us by taking us to random places, in spite of asking him not to. He was only interested in minting more money within less time not caring about the tourist requirements.
So please be cautious. Since, Bali is a very popular tourist destination, you might get fooled in a similar manner. 
We soon realized that renting a bike would be the Best Option. Many tourist agencies throughout Bali rent out scooters at a very small charge per day. We finally got our hands on one and only then we got to experience the real fun of being in Bali.
Bali – 10 Days Travel Itinerary
Bali has too many scenic attractions to be covered within 10 days. We have still tried to cover as much as we could, keeping in mind that we enjoyed our vacation along the way and created this itinerary that will help you make the most out of the trip.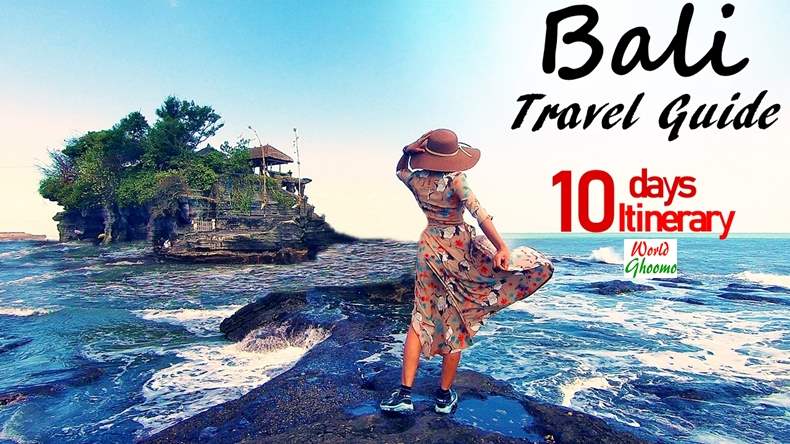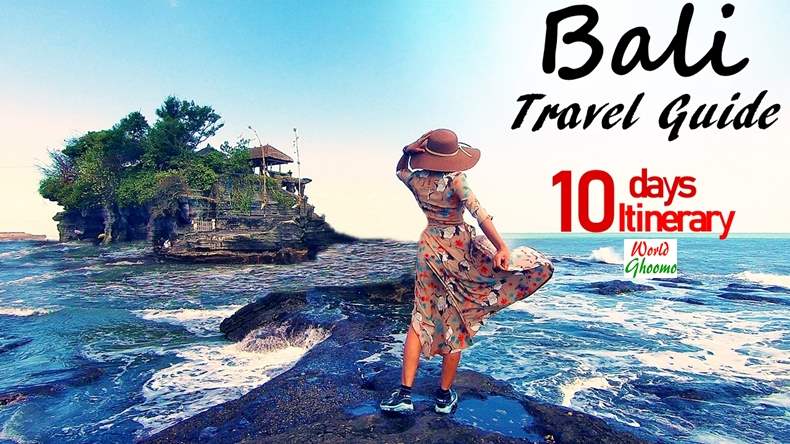 Bali Itinerary 10 days
From Mountains and Waterfalls, to Rice Fields and Temples. From Beaches and Lakes to Wildlife and Adventure. This 10 days Bali Travel Itinerary will give you a glimpse into what all Bali has to offer.  Let's Begin!
Day 1 (Ubud)
Arrival

Hotel check-in & 

Local Market Tour
Welcome to Bali, land of scenic landscapes. You are most likely to land at the Denpasar International Airport (Southern Bali). From Denpasar head towards Ubud (Central Bali) Check-in to your hotel room, relax, unwind & enjoy the countryside landscape.
Evening – Head out to explore the  Balineses Art & Craft at Ubud Art Market. 
Ubud Art Market
Ubud is the cultural hub of Bali. There are countless shops along the roadside displaying exquisite Balinese art & craft.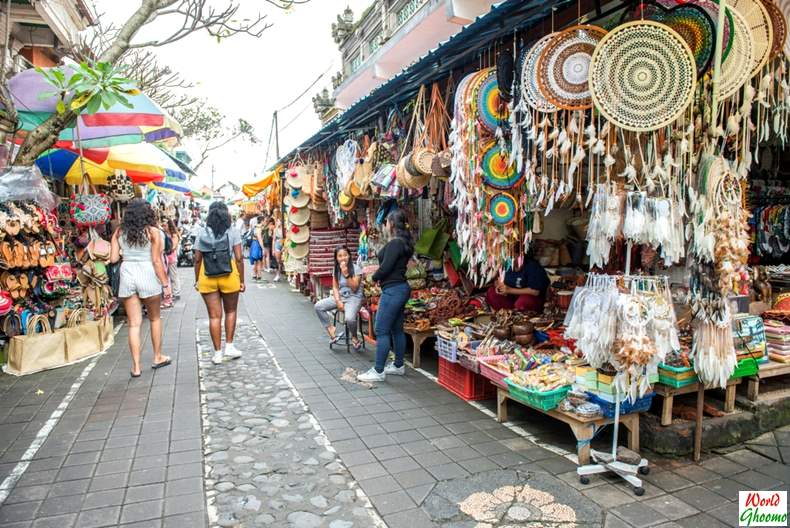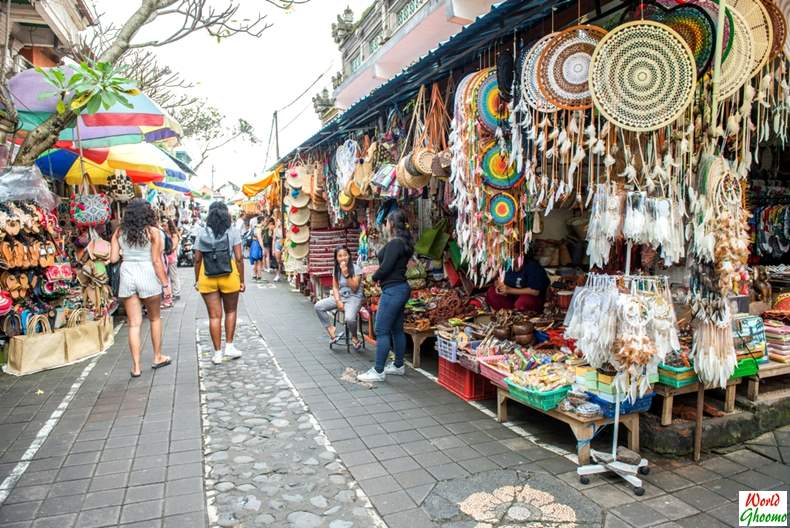 From amazing wooden art pieces to home decor items, from intricate glassware to colorful clothes and accessories – there are shops everywhere. It would be a great idea to walk along the lanes to get a glimpse into the Balinese art, craft & culture.
Day 2 (Ubud)
Goa Gajah Cave 

Monkey Forest

Ubud Market

Tegenungan Waterfall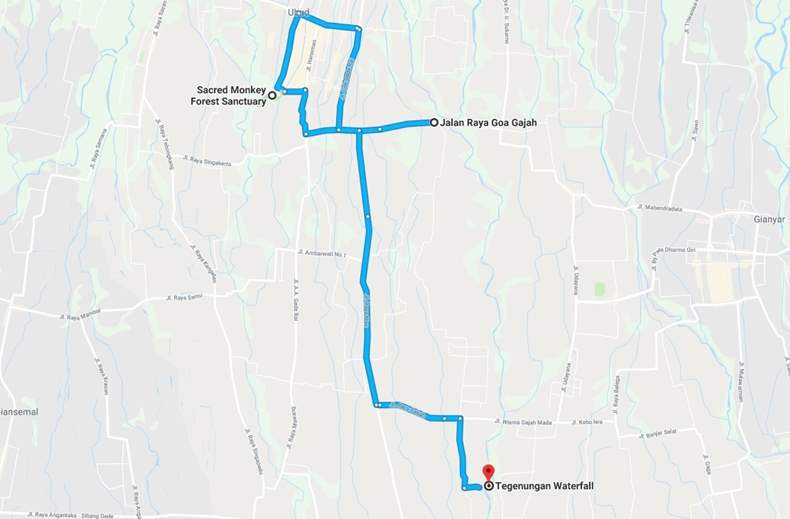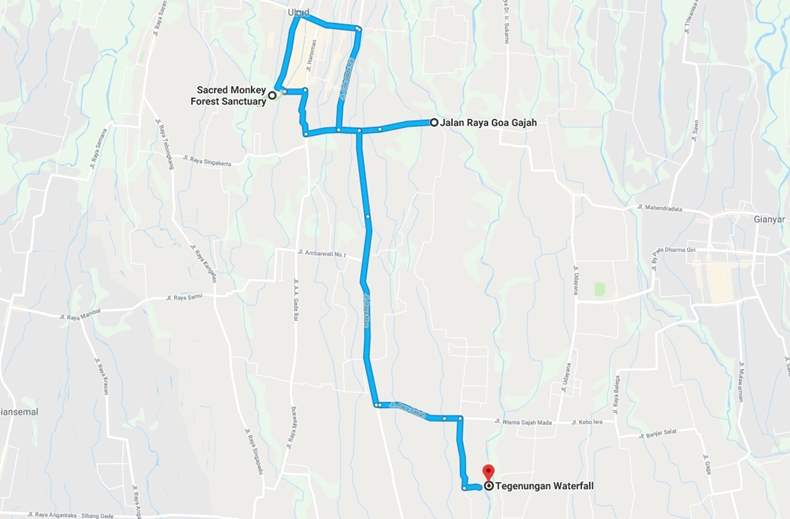 Bali Map Ubud – Goa Gajah Cave, Monkey Forest, Tegenungan Waterfall
Goa Gajah Cave
What better way to start your Bali adventures by first visiting the Goa Gajah Temple.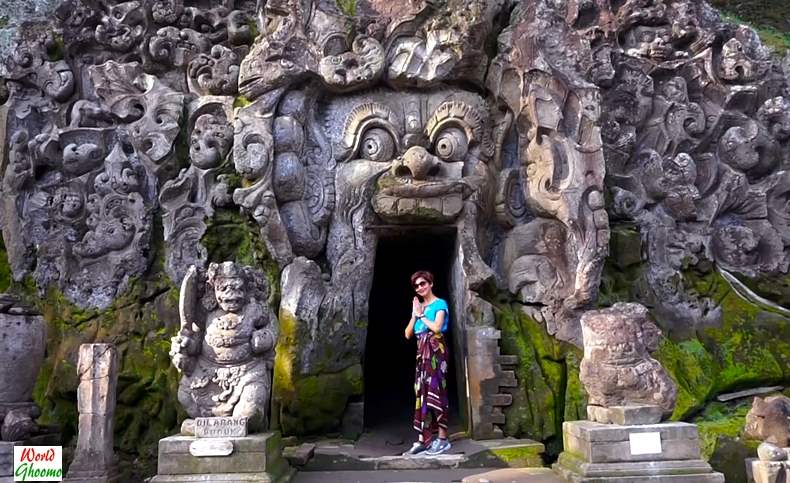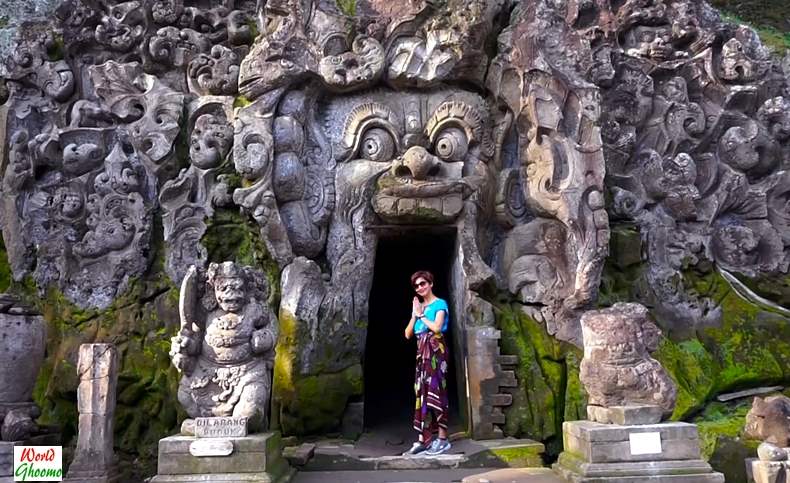 Just minutes from central Ubud, Elephant Cave Temple (known locally as Goa Gajah) is a historically significant archaeological site and a popular tourist attraction. The complex has temples, ponds and fountains.
The Goa Gajah cave itself is actually quite shallow, yet inside on the left you will find a idol of lord Ganpati and on the right 3 lingams representing Lord Shiv and Shakti.  
Time Required –  Less than 20 minutes
Vehicle Parking – Free
Entrance Fee – IDR. 15,000/ Per Person
Compulsory – Wear a sarong
Monkey Forest
A very popular tourist attraction in Ubud, the Sacred Monkey Forest is a dense rain forest full of banyan trees, flowing streams, ponds and Monkeys.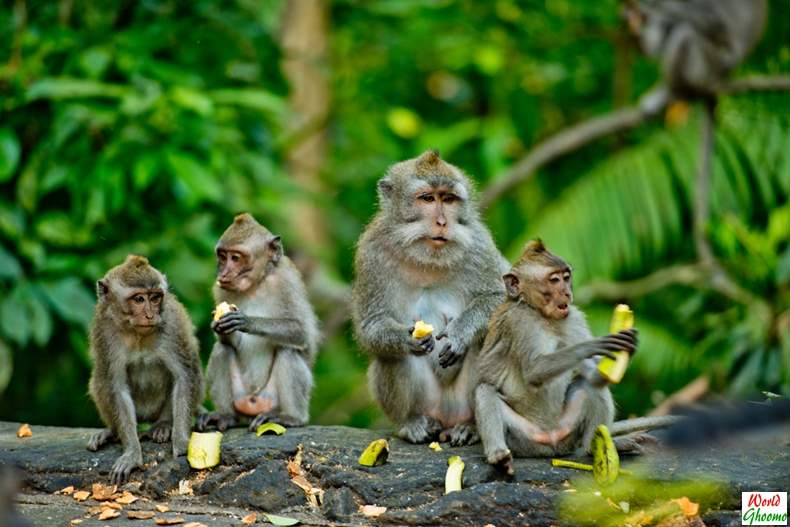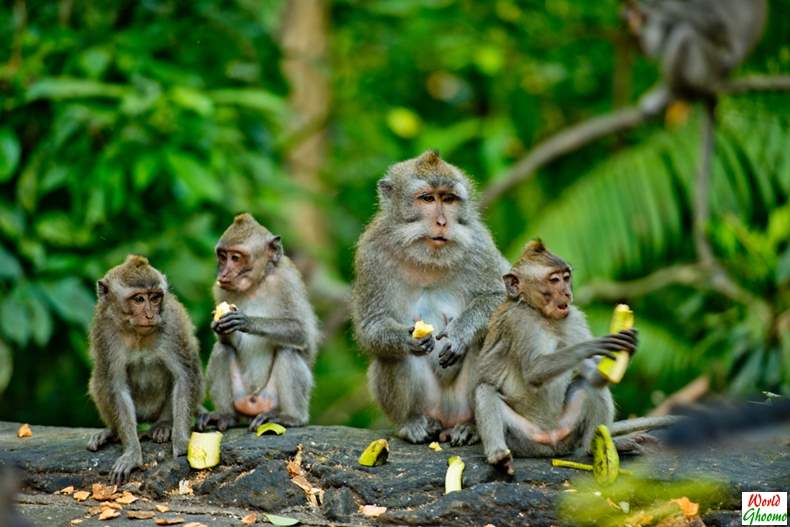 Ubud Sacred Monkey Forest
There are more than 500 monkeys and over 115 species of plants inside the forest. It's important to pay attention to the rules If you don't want to get yourself into any trouble. 
Time Required –   Around 2 hours
Vehicle Parking – Free
Entrance Fee –  IDR. 15,000/ Per Person
Compulsory – Wear a sarong if you wish to enter the temple.
Treat the plants, animals and other structures within the forest with great respect. 
Don't feed the monkeys on your own and be careful about your belongings.
Better don't get your infants and toddlers to Monkey Forest.
Ubud Market (Monkey Forest Road)
Just opposite to the Monkey Forest in the famous Ubud Market where you get to see and purchase exclusive Balinese handicrafts, clothes, jewelries and other items. A great stop for picking some exclusive souvenirs. Besides, there are some cafes where you can enjoy a coffee break. 
Tegenungan Waterfall
Situated 12 Kms away from The Sacred Monkey Forest, the Tegenungan waterfall is one of the few waterfalls in Bali that is not situated in mountainous territory.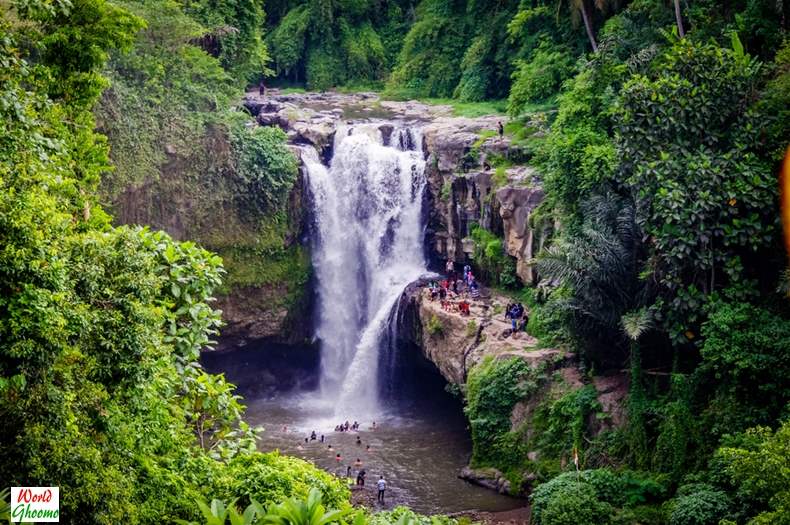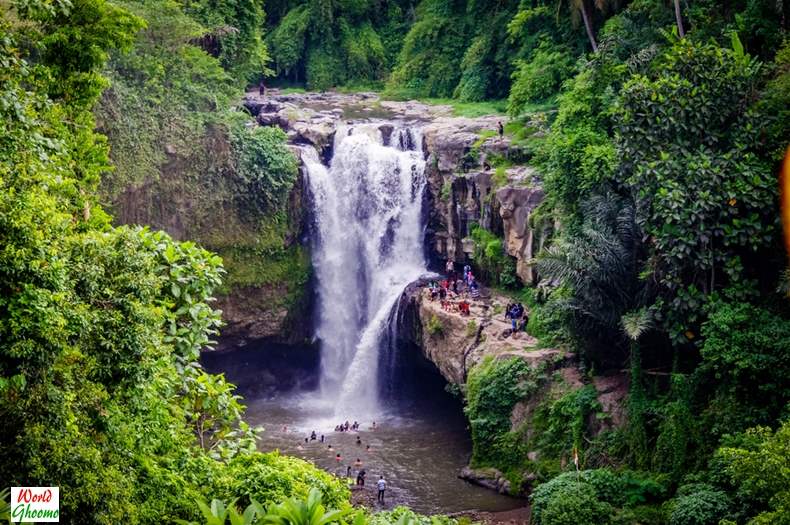 Tegenungan Waterfall Bali Ubud
However, reaching the foot of the falls can be a bit strenuous. The waterfall is generally very crowded due to it close proximity to Ubud town. A very beautiful waterfall you can't afford to miss!
Time Required –  Around 1 hour
Vehicle Parking – Free
Entrance Fee – IDR. 15,000/ Per Person
Day 3 (Ubud)
Pura Taman Saraswati Temple

Tegallalang Rice Terraces

Campuhan Ridge Walk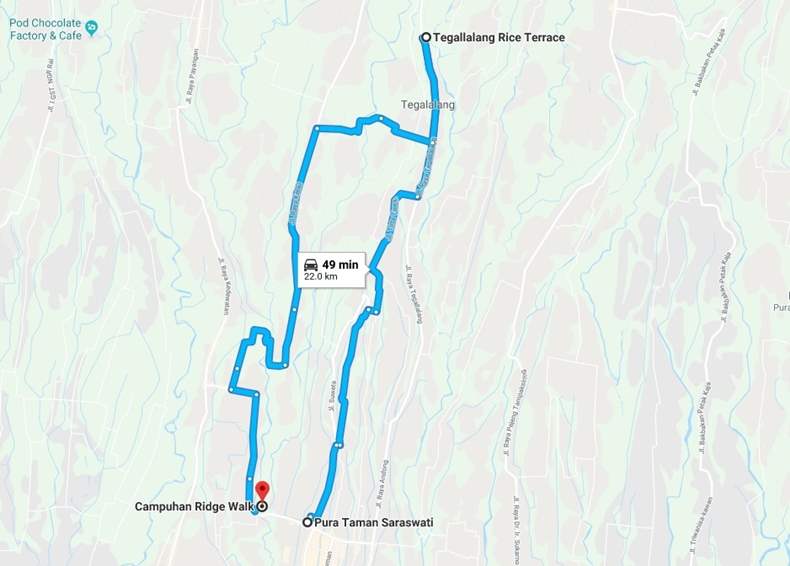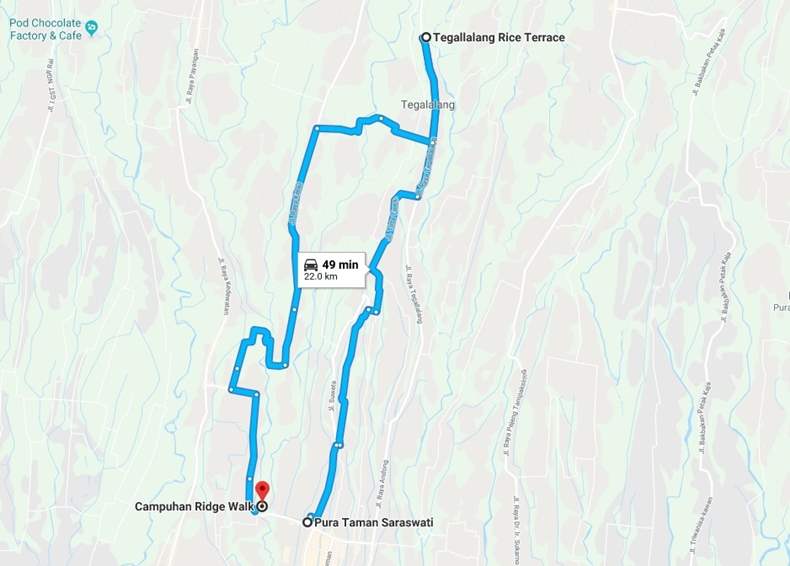 Bali Map Ubud – Saraswati Temple, Tegallalang Rice Terrace, Campuhan ridge walk
Pura Taman Saraswati Temple
Located in Central Ubud, The 
Pura Taman Saraswati Temple 
is adorned with a beautiful lotus pond at the entrance.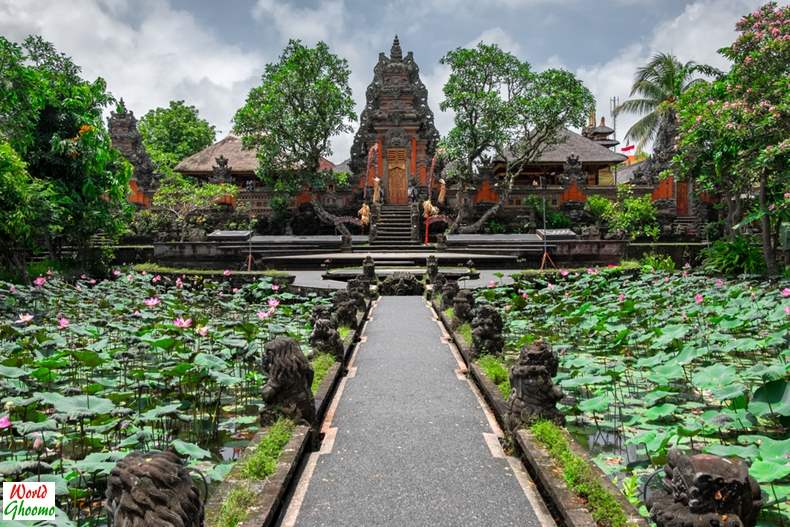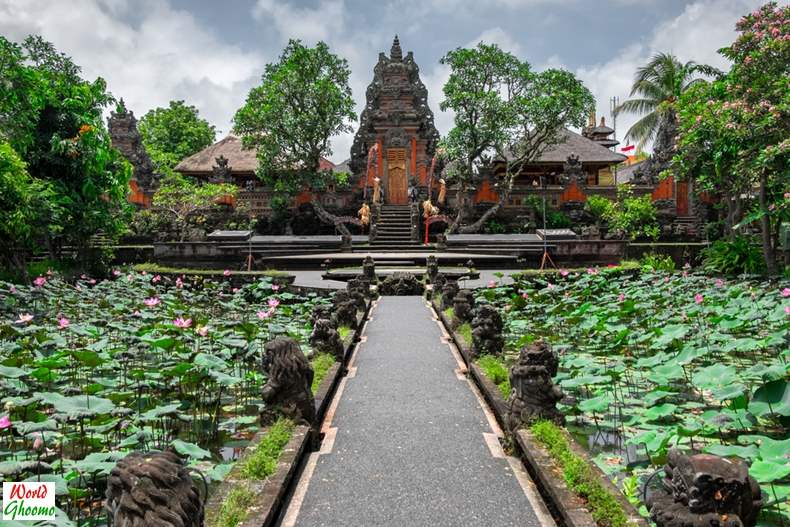 Pura Taman Saraswati Temple Ubud Bali
This Balinese Hindu temple is dedicated to the goddess Saraswati and is one of the most important landmarks in Ubud. 
Visit this temple to admire the classical Balinese architecture and the beautiful ponds filled with blooming pink lotuses.
From Café Lotus that faces the temple, you will get the best view of the pond and the temple's open stage where traditional dance performances are held in the evenings.
Time Required – 10- 15 minutes
Vehicle Parking – Free
Entrance Fee – Free
Tegallalang Rice Terraces 
10.4 kms from 
Pura Taman Saraswati Temple is the famous Tegallalang Rice Terraces.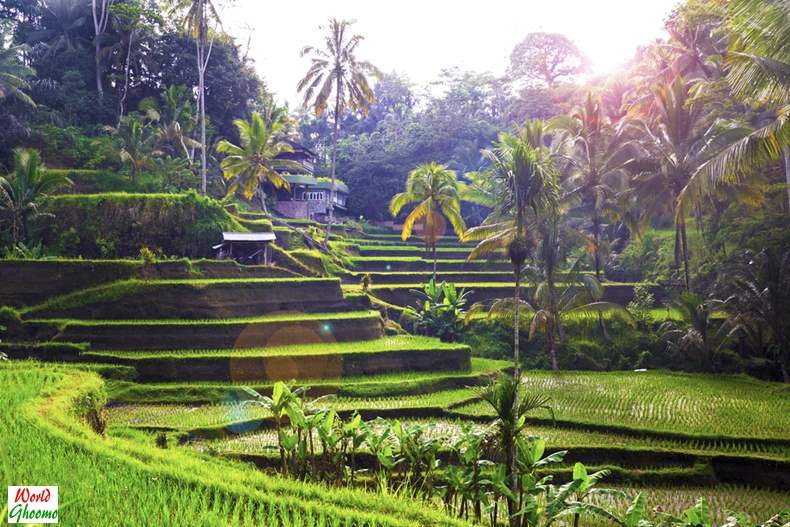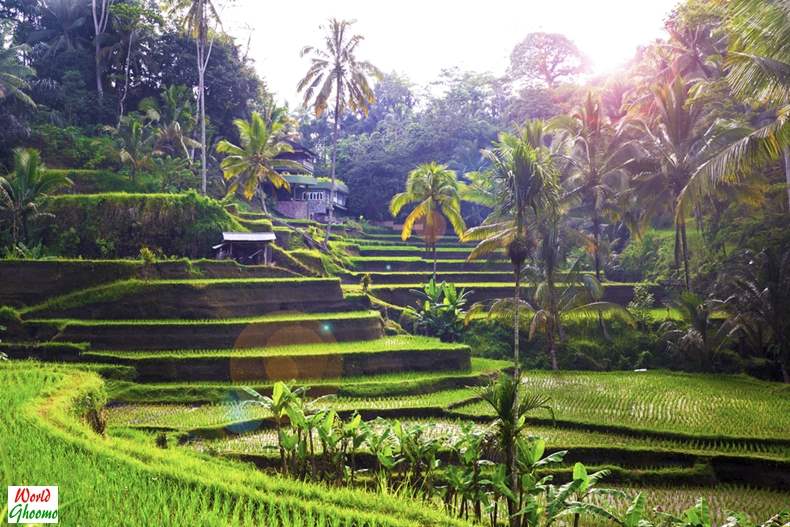 Tegallalang Rice Terraces Ubud Bali
To enter the rice terraces one needs to descend down quite a number of steep steps. You will also come across some small cafes along the way. Expect a lot of crowd. Rice field trekking is one the most popular activity you are most likely to get indulged into. There are a number of stalls lined along the roadside selling handicrafts from where you can purchase souvenir.
*We personally didn't find this place worth visiting mainly because of the crowd and the restricted views of the rice terraces. We'd rather suggest the Jatiluwih rice terraces over Tegallalang. 
Time Required –   You won't like to spend more than 15-20 minutes.
Vehicle Parking – Free
Entrance Fee – IDR. 20,000/ Per Person
Campuhan Ridge Walk 
Evening should be the best time to go for Campuhan Ridge Walk when it is not as warm as it is during the day time. Plus you will have sufficient time to take in the views while enjoying the walk.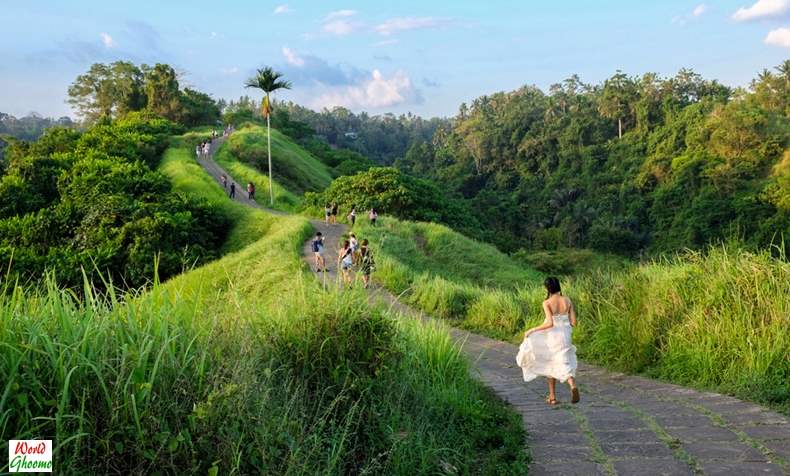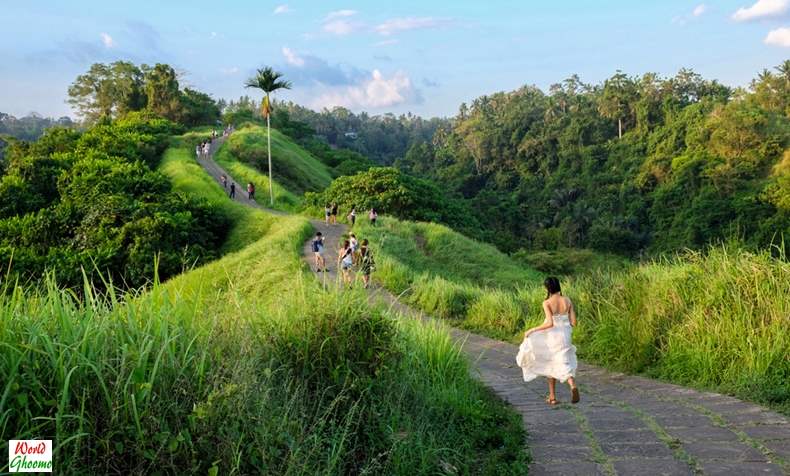 Campuhan Ridge Walk Ubud Bali
The Campuhan Ridge walk is a beautiful paved walk along the Campuhan ridge displaying the natural countryside of Ubud at it's best. The walk is a 2 km easy hike one-way. You can go for the complete walk or return back from half-way. Just make sure you enjoy the beauty of the place without straining yourself.
Time Required –  To do the complete walk you will require at-least 2 and half hours which includes frequent picture breaks. 
Vehicle Parking – Free
Entrance Fee – Free
Day 4
Bratan Temple

Banyumala Waterfall

Jatiluwih Rice Terraces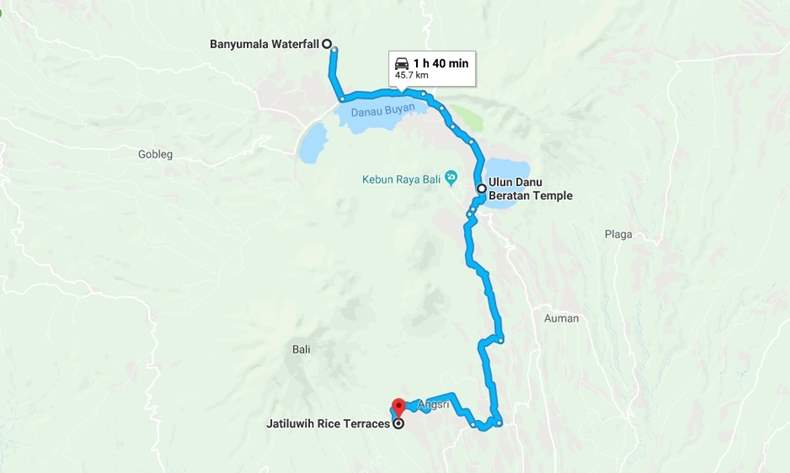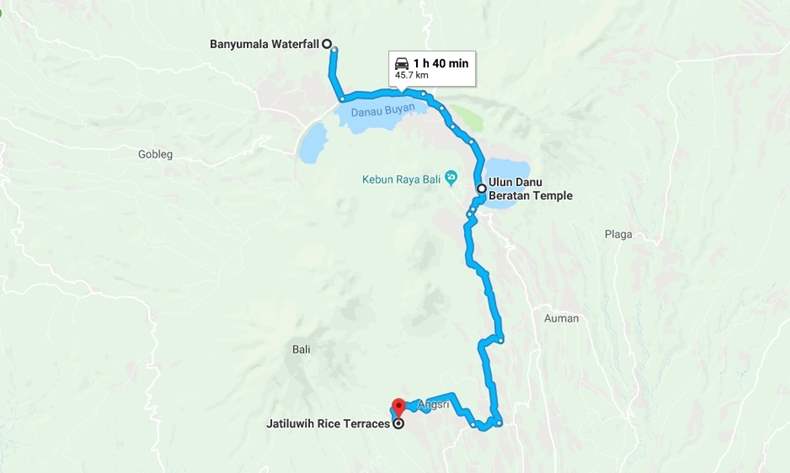 Bali Map – Bratan Temple, Banyumala Waterfall, Jatiluwih Rice Terraces
Ulun Danu Bratan Temple 
Located 1200 m above sea level, the Ulun Danu Bratan Temple is 44 Kms from Central Ubud and takes around 1 and half hrs to reach.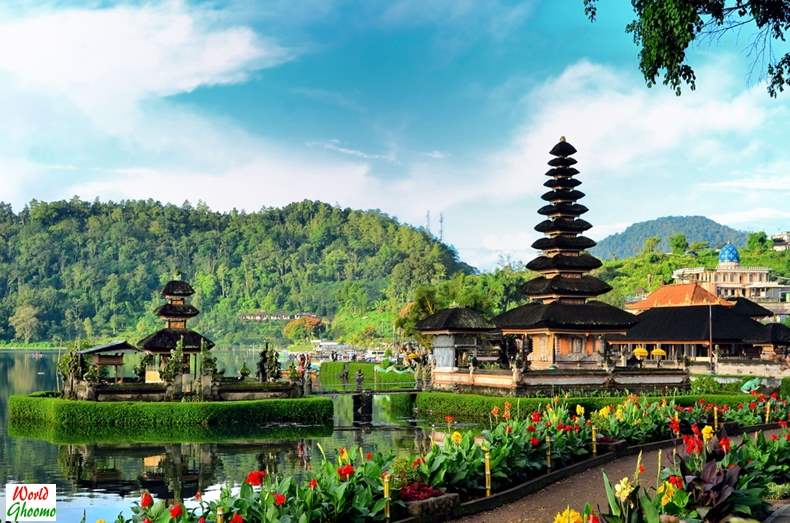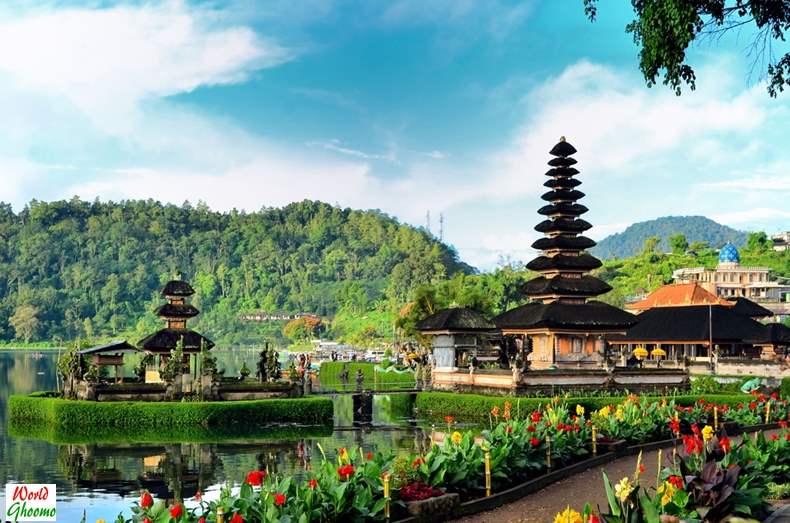 Ulun Danu Bratan Temple Bali
Located on the shores of Lake Bratan in the mountains, the complex is dedicated to Lord Shiva and Maa Parvati. The mountain range of the Bedugul region encircling the lake provides the temple with a scenic backdrop. A very beautiful place you should not miss visiting.
Time Required –   Around 1 hour
Vehicle Parking –  Free
Entrance Fee – 7,500 IDR
Banyumala Waterfall 
12 kms North-West of Beratan Temple, lies one of the most beautiful waterfalls in Bali – The Banyumala Twin Waterfalls.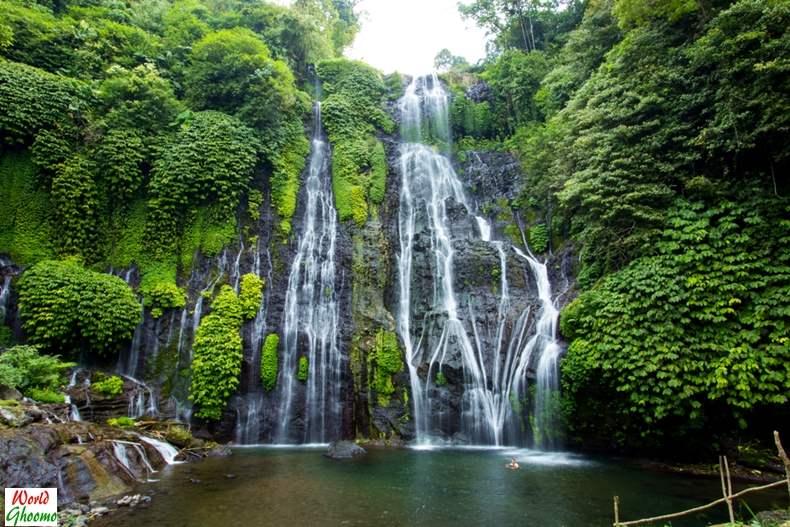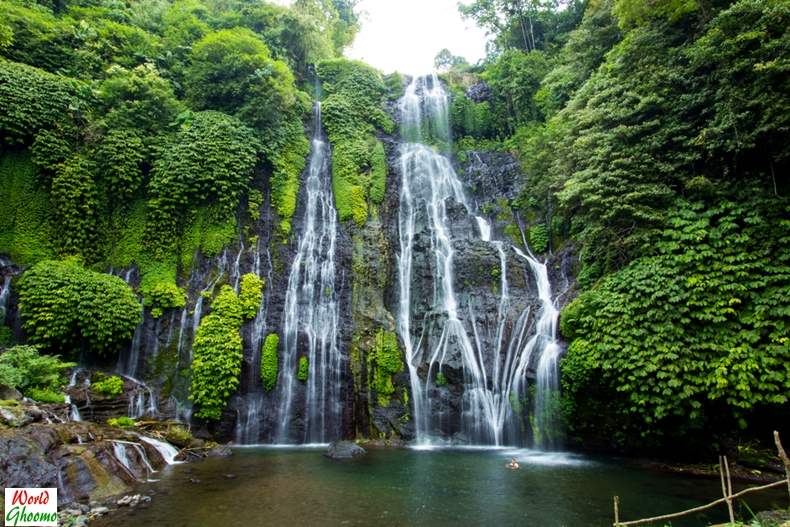 Banyumala Waterfall Bali
If you love waterfalls and don't mind driving on a bumpy road followed by trekking down on uneven rocky and muddy paths, then Banyumala is waiting for you.
Flanked by greenery, the breathtaking sight of the uninterrupted cascade will take away your heart.
Time Required –  You can easily spend around an hour
Vehicle Parking –  Free
Entrance Fee  –

IDR. 15,000/ Per Person
Caution – Reaching the waterfall is not easy. The approach road is in a bad condition and the hike is not easy either. 
Avoid the waterfall if you have toddlers or senior citizens traveling with you.
Jatiluwih Rice Terraces
34 kms South-West of Banyumala Waterfall is a UNESCO World Heritage Site –  The Jatiluwih Rice Terraces.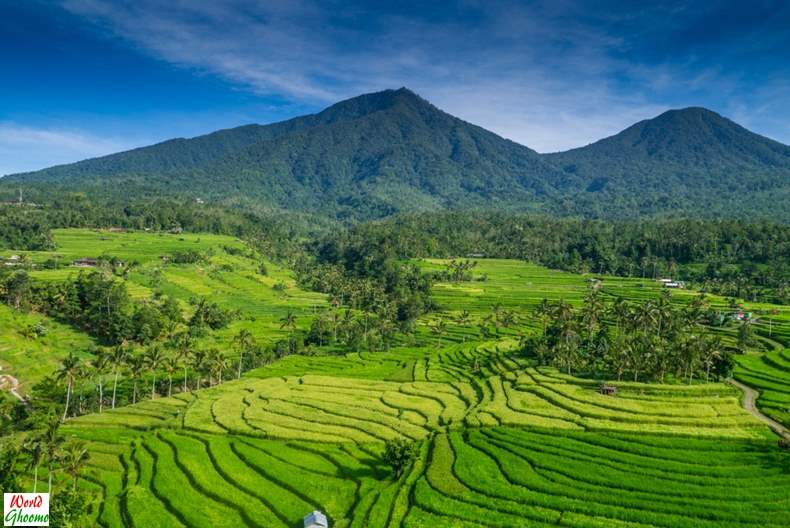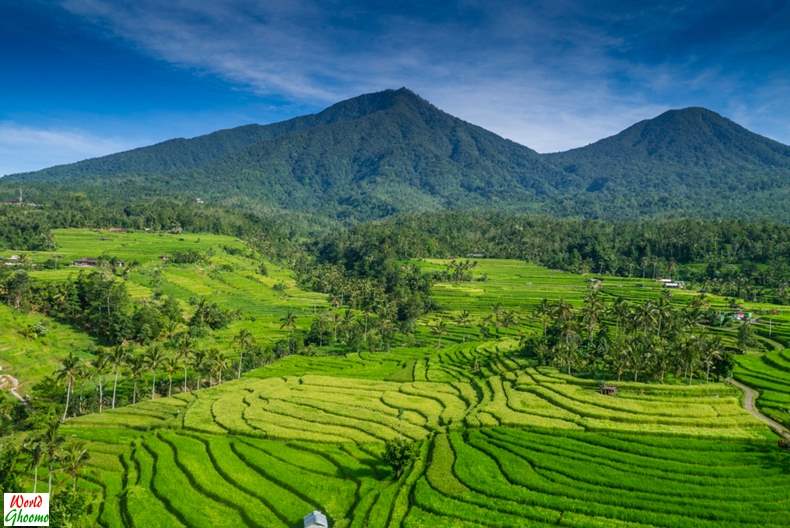 Jatiluwih Rice Terraces Bali
Located 700m above sea level, the location of Jatiluwih Rice Terraces makes for stunning uninterrupted views of vast rolling rice terraces & mountains. Spread across 16,000 hectares of land, the stunning views of rolling rice terraces with Mount Batukaru in the distance further enhances the already breathtaking view.   
Go for Rice field trekking, Interact with farmers and later enjoy food and beverages at one of the restaurants that offers stunning panoramic views of the rice terraces.
Time Required –   minimum 2 hours
Vehicle Parking –  Free
Entrance Fee –   IDR 40,000 / person. 
Note – Prefer Jatiluwih over Tegalalang, if you don't have enough time to cover both.
Day 5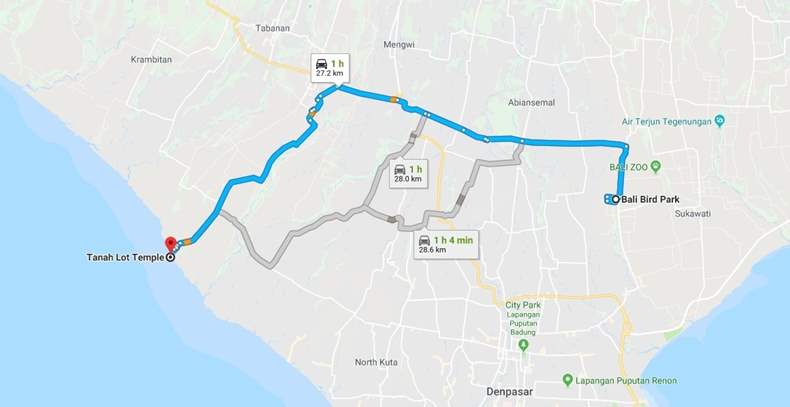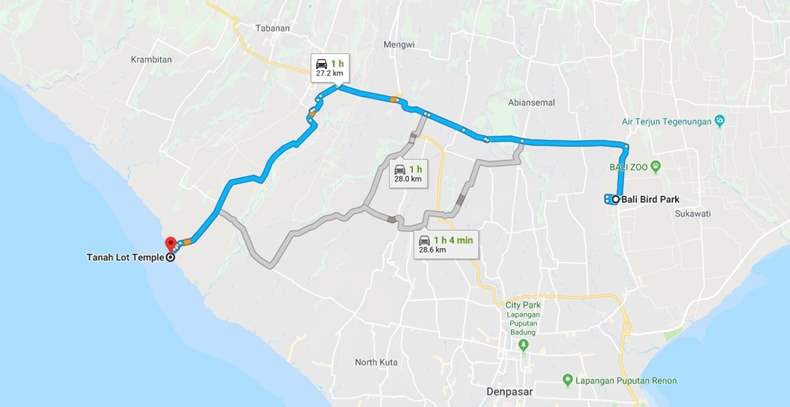 Bali Map Bird Park Tanah Lot
If you are a bird lover or if you are traveling with kids, then this the place you should not miss visiting.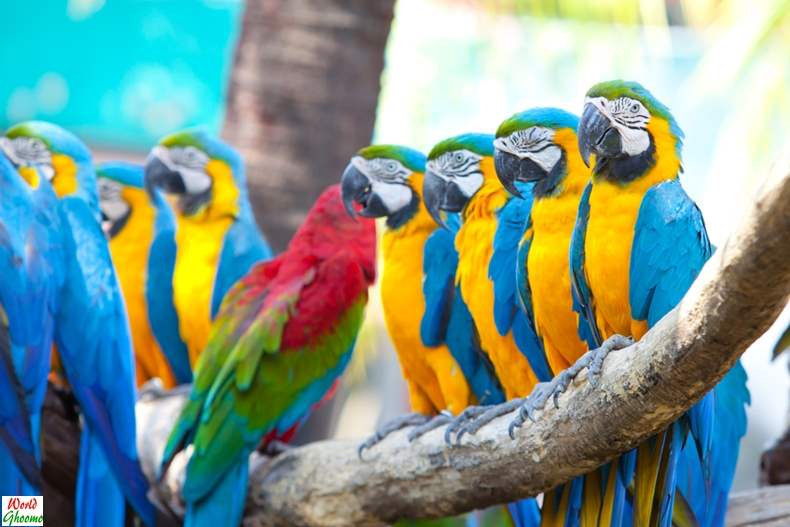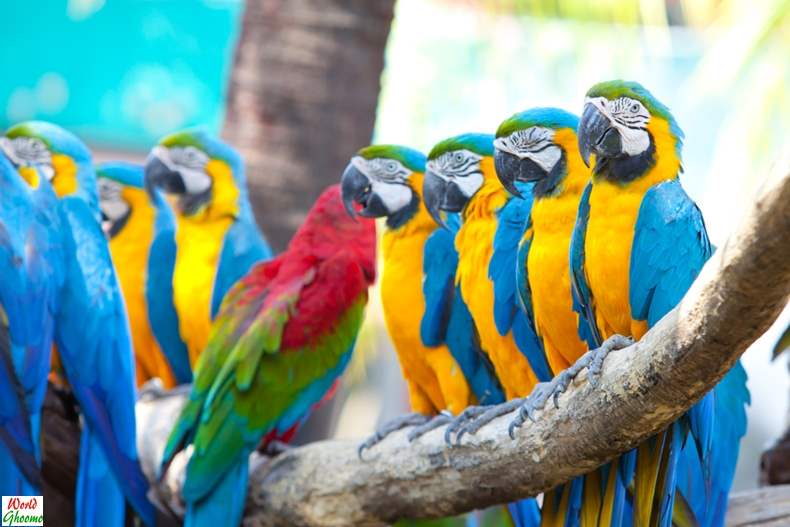 13 Kms away from the Goa Gajah Temple, the Bali Bird Park houses more than 1000 birds representing more than 250 species in an enclosed aviary. The park is very well maintained.  
Morning is the best time to visit the park since it's not much crowded and one gets an opportunity to watch their morning grooming session. You can also feed the birds and later watch the Bird Basic Instinct Show.
The park offers plenty of photo opportunities, which allow visitors to hold various exotic birds such as coloured parrots, hornbills and many other birds.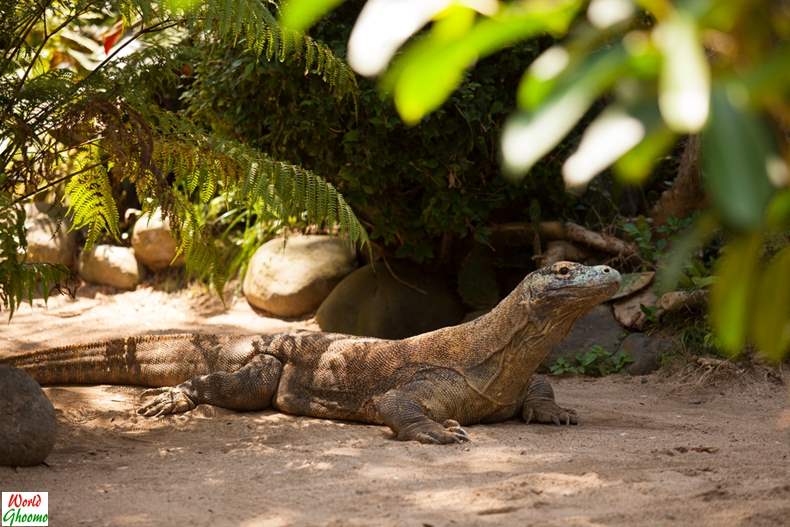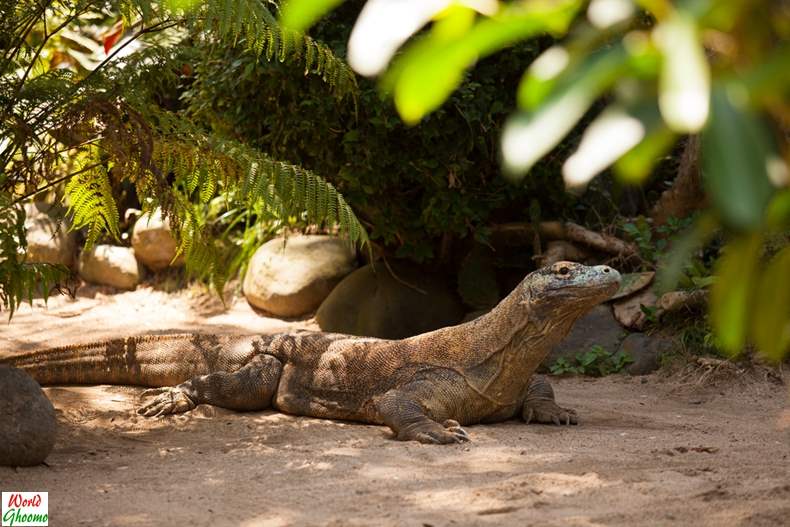 Bali Reptile Park
The Reptile Park – that's just next to the bird park, has a collection of various reptiles such as snakes, lizards and alligators on beautifully landscaped tropical grounds.  You can also hold iguanas and tortoise under the supervision of attendants.
Time Required–   2 hours
Vehicle Parking–  IDR
Entrance Fee – IDR. 250,000/ Per Person
Tanah Lot
Located in the Southern region of Bali, the Tanah Lot is just 26 kms from Bali Bird Park.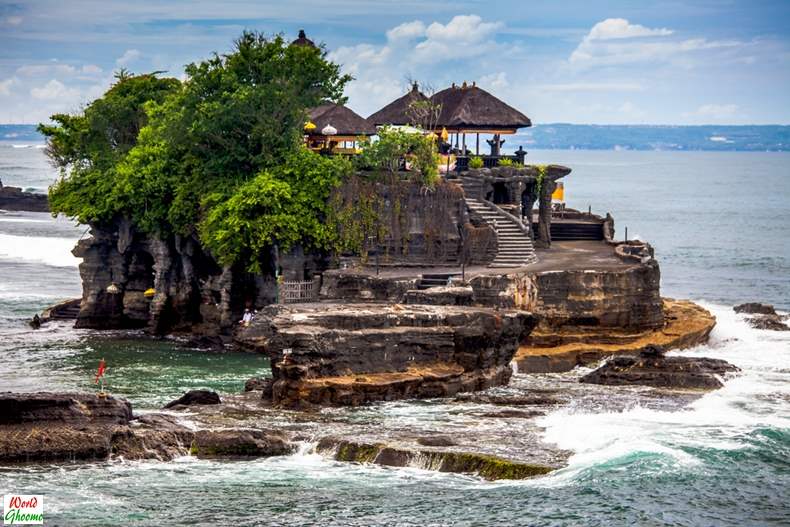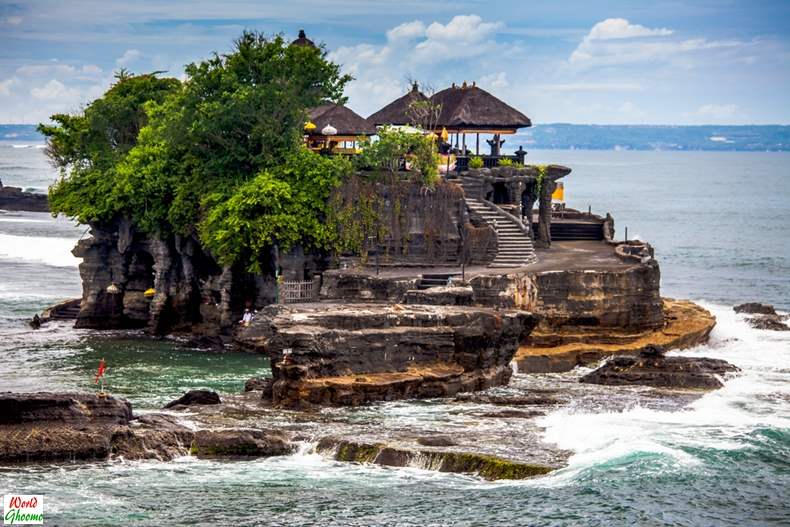 Tanah Lot Bali
Tanah Lot Temple is one of Bali's most important landmarks, popular for its unique offshore setting. An ancient Hindu temple is perched on top of a large offshore rock but nobody is allowed to climb up to the top. The temple is one of seven sea temples around the Balinese coast.
The onshore site is comprises of smaller shrines, souvenir shops, restaurants and a cultural park. 
You can spend your afternoon taking in the sights and the cool breeze from one of the benches that face the temple. If you wish you can stay a little longer to watch the sunset and then head back to your resort in Ubud.
Time Required –   anywhere between 2-4 hrs (depending on how much you want to spend)
Vehicle Parking – don't remember…
Entrance Fee –   IDR. 60,000/ Per Person
Day 6
Kintamani & Mount Batur viewing point

Besakih Temple

Tibumana Waterfall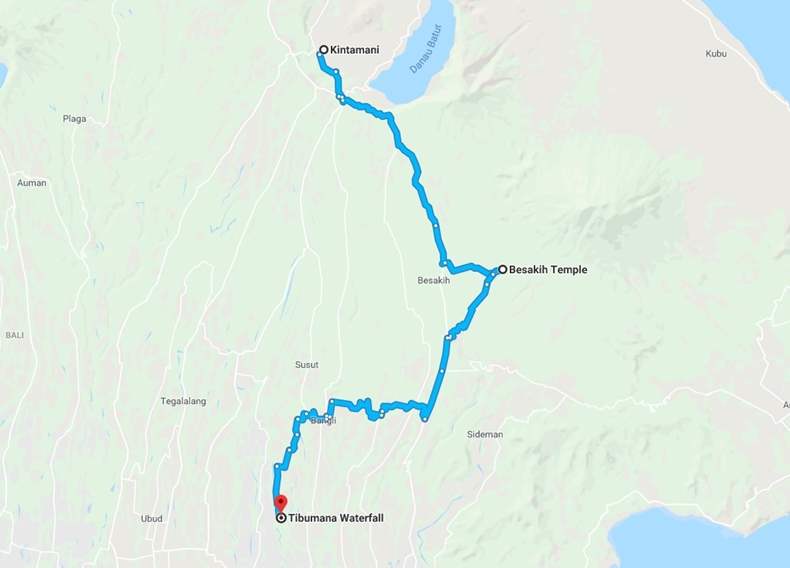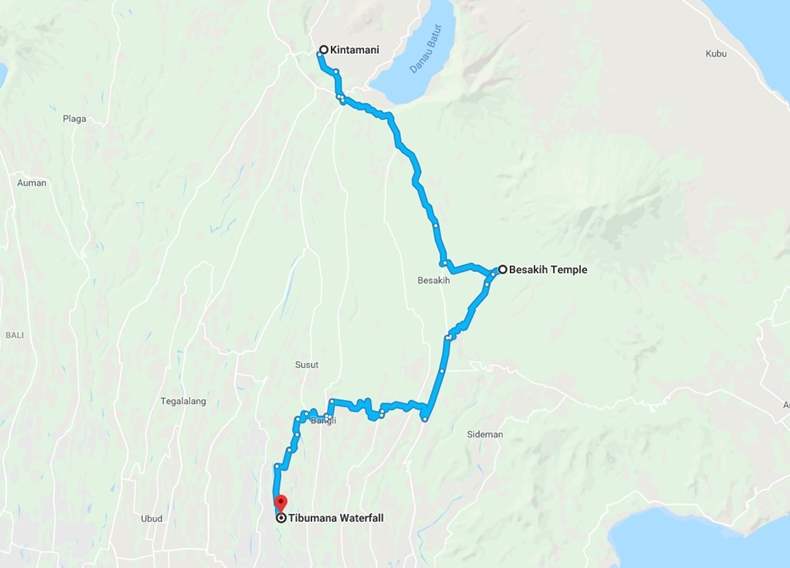 Bali Map Kintamani Mount Batur
Start off your 6th day by visiting a local nearby coffee plantation to learn about Balinese coffee production and sample some famous 'Kopi Luwak' coffee made from coffee fruit that has been eaten and passed by the civet cat.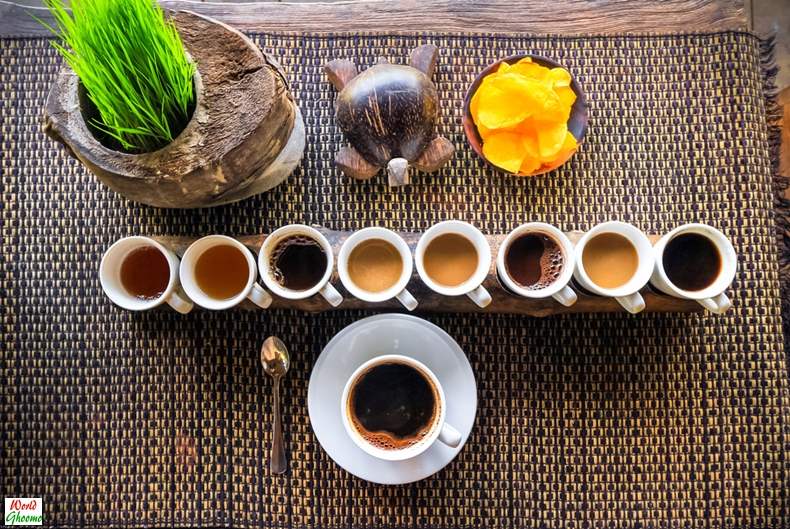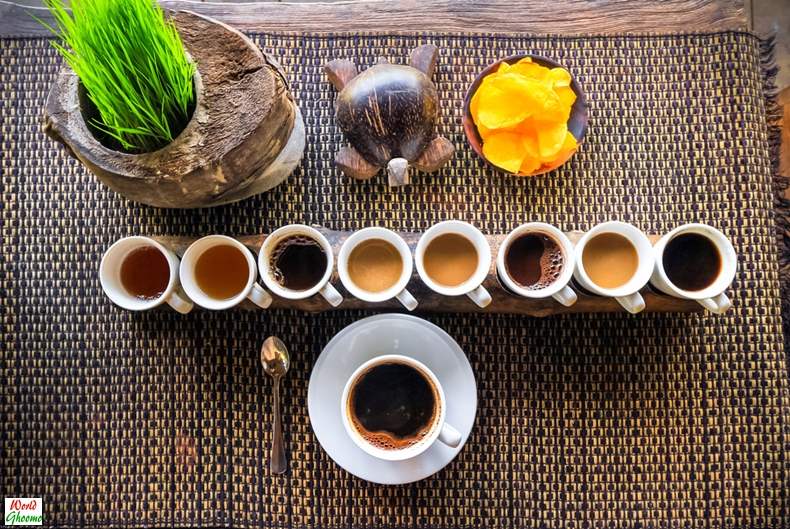 Enjoy the ambiance and fill your lungs with a deep aroma of coffee. After the refreshing cup of coffee head towards village Kintamani to watch the Volcano – Mount Batur and Batur lake that flows next to it.
Kintamani & Mount Batur viewing point
Reach Kintamani village and watch Mount Batur from the viewing point.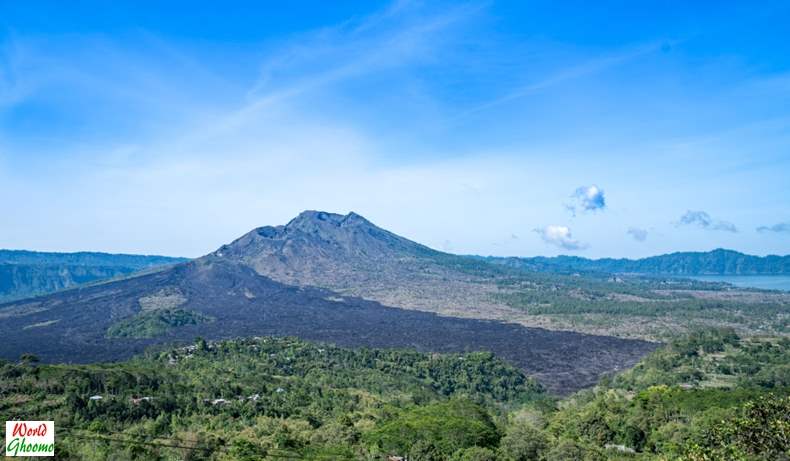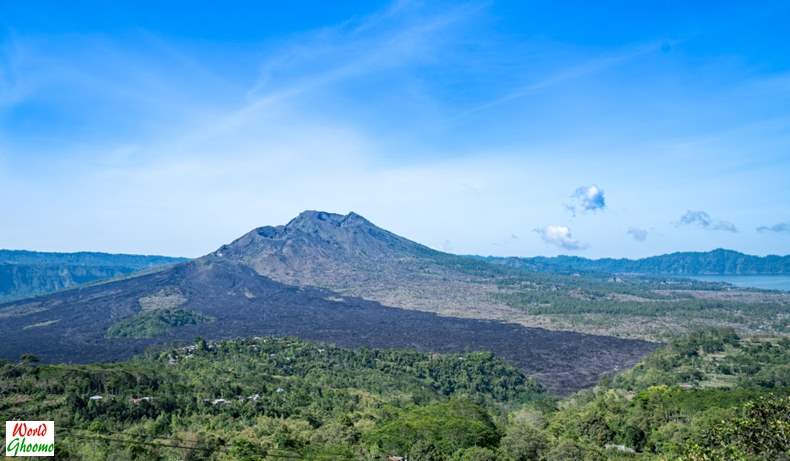 Kintamani Mount Batur viewing point
The  Kintamani mount batur viewing point is located at the western edge of Mount Batur and is 35 kms from Goa Gajah in Ubud. Mount Batur is an active volcano that draws tourists in for its scenic landscape and cool climate. 
If you aren't into hiking to Mount Batur, Kintamani Mount Batur viewpoint is the best place to enjoy breathtaking views of Mount Batur and Lake Batur.  
There are a number of mountain & lake facing restaurants right on the main road where you can enjoy a cup of coffee or dig into some light food while taking in the stunning views. 
Time Required –  30 minutes – 1 hour
Vehicle Parking – Free
Entrance Fee –  Free
Note –  Be prepared for local people who will constantly run after you to sell their products. Be polite, move ahead and enjoy the views.
Besakih Temple 
From Kintamani head towards the famous Besakih Temple which is just 22 Kms away.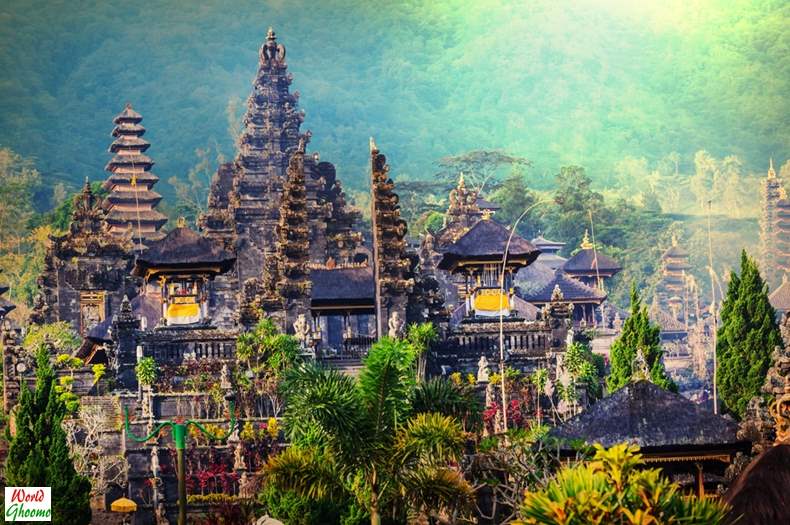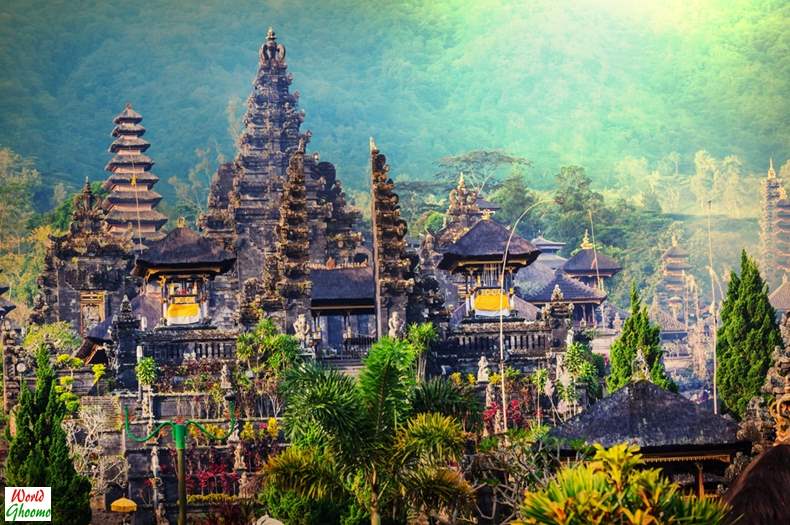 Besakih Temple Bali
On the slopes of Mount Agung in eastern Bali, is the most important, the largest and holiest temple – the Pura Besakih. The very first sight of the temple will leave you mesmerized. The temple is an artistic and unique complex that comprises at least 23 separate but related temples built on six levels terraced up the slope.
Known as Bali's 'Mother Temple' for over 1,000 years, this is a must visit place for those who love architecture and nature. The Mount Agung in the backdrop gives a mystical charm to this place that will leave you awestruck.
Time Required –  1 hr 
Vehicle Parking – Free
Entrance Fee – IDR. 60,000/ Per Person
Note – wear a sarong and hire an official guide.
Tibumana Waterfall  
Just 10 kms away from The Goa Gajah, is the hidden Tibumana waterfall, almost secluded.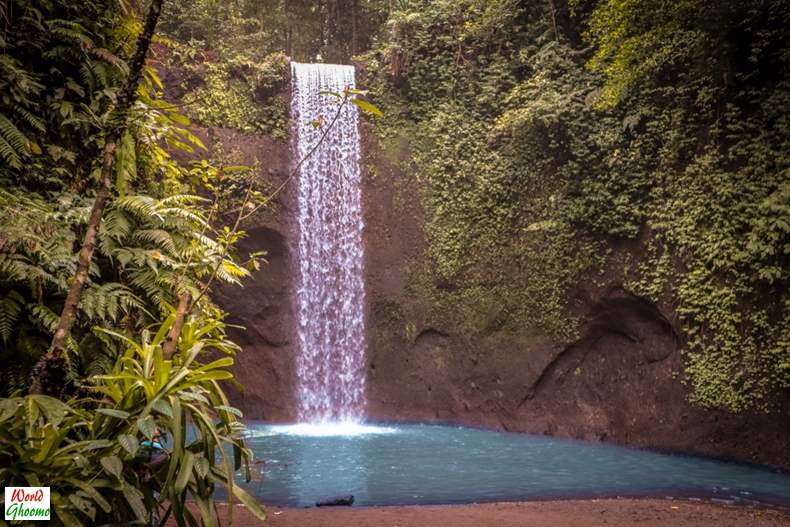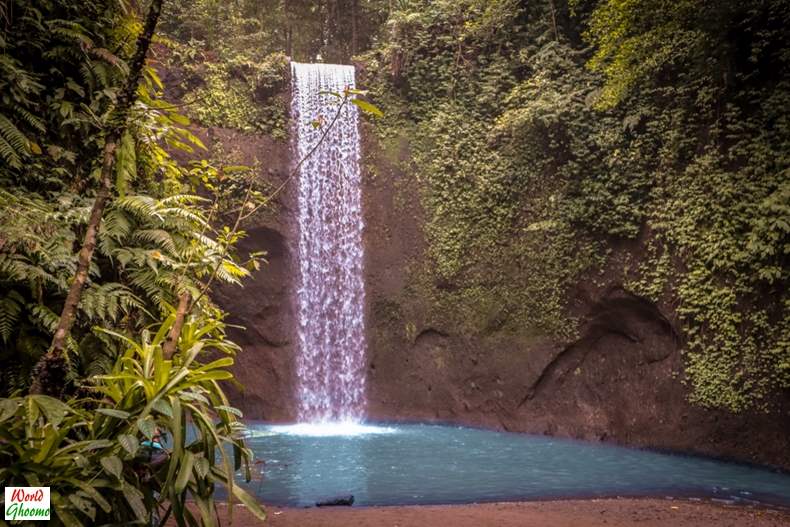 Tibumana Waterfall Ubud Bali
The approach road is pretty decent. A couple of steep steps, well-paved path and a small bridge leads you down to the foot of the waterfall. The waterfall is almost like a stream cascading down from the cliff forming a small pool at the foot. Surrounded by greenery the place offers a relaxing atmosphere. A perfect place in Bali to relax and experience peace and serenity.
Time Required –  1 hr 
Vehicle Parking – Nill 
Entrance Fee – IDR. 10,000/ Per Person
Note – Carry swimsuit
Day 7
Nungnung waterfall

Sidemen & Relax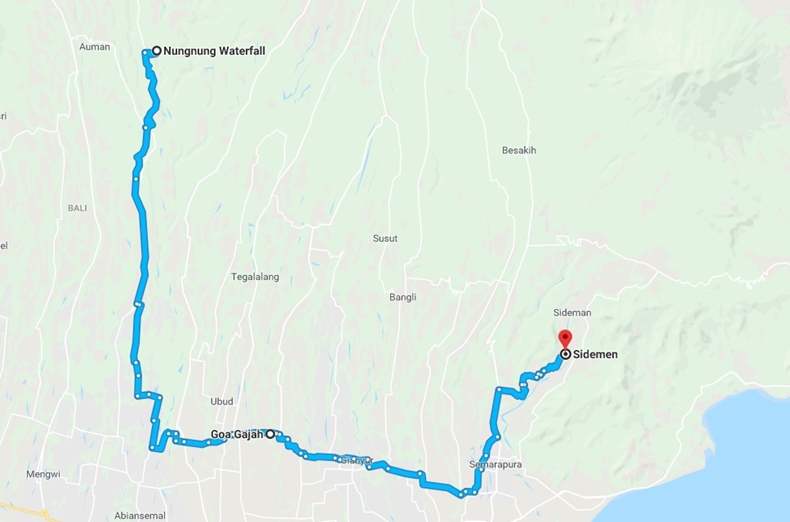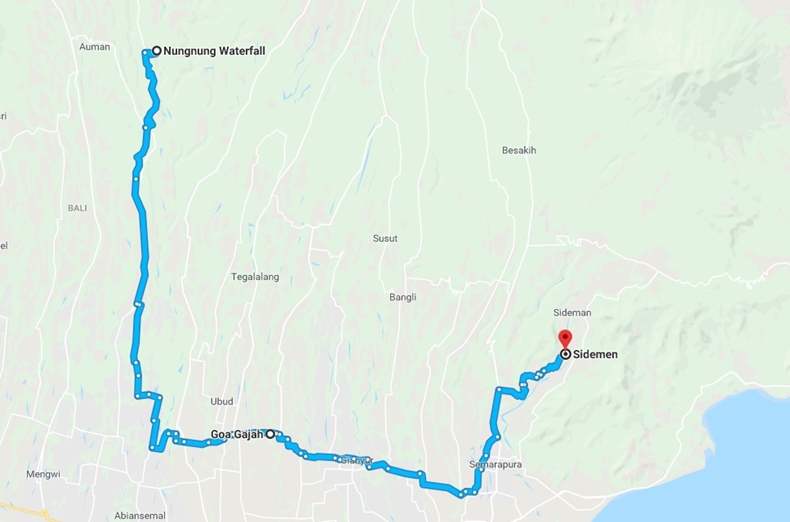 Bali Map Nungnung Waterfall
Nungnung Waterfall
At a height of 900 meters above sea level, the Nungnung waterfall lies 40 kms North of Goa Gajah in Ubud.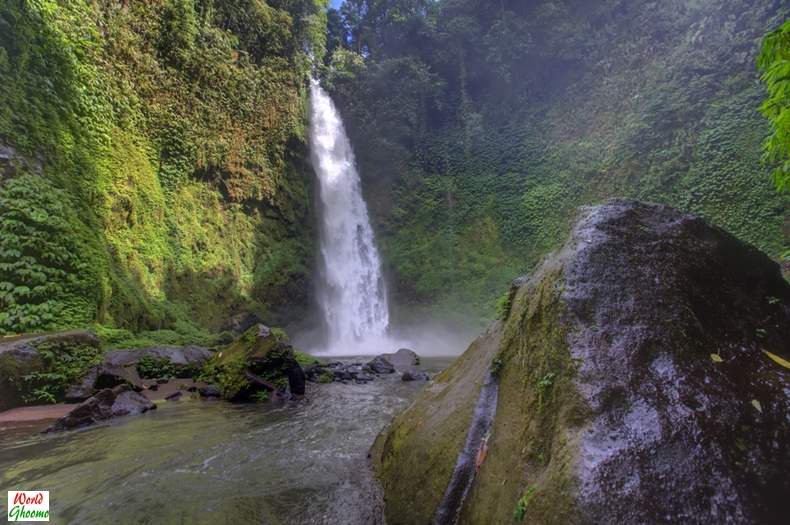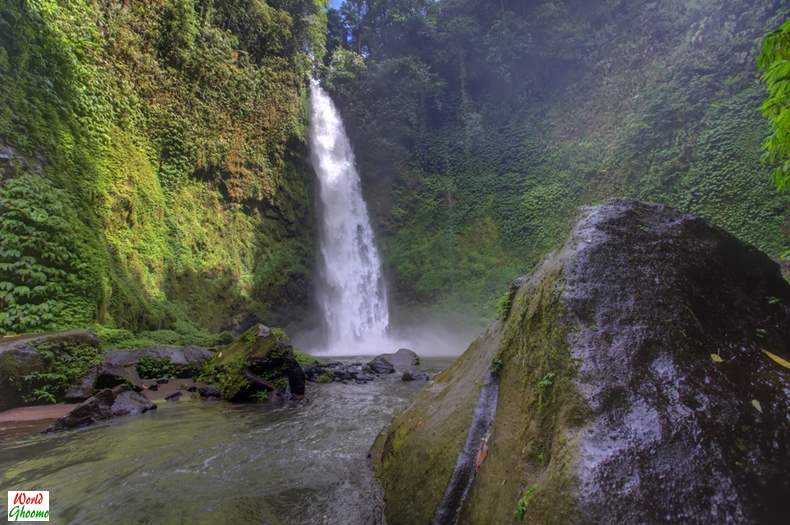 It is one of the most powerful waterfalls in Bali. The waterfall is so powerful that it seems like a rainstorm with water droplets forming a dense fog. Enjoy the sights of the waterfall and the dense greenery that surrounds it and then head back to Ubud.
Time Required –  1 hr 
Vehicle Parking – IDR. 2,000/ Per Person
Entrance Fee –  IDR. 20,000/ Per Person
Note – Requires a bumpy road drive & climbing down 509 steep steps
Not for the faint of heart /pregnant women, toddlers
The Sidemen Valley
The Sidemen is one of the greenest regions in Bali with less tourist crowd. Sidemen's rice fields provide beautiful hiking possibilities.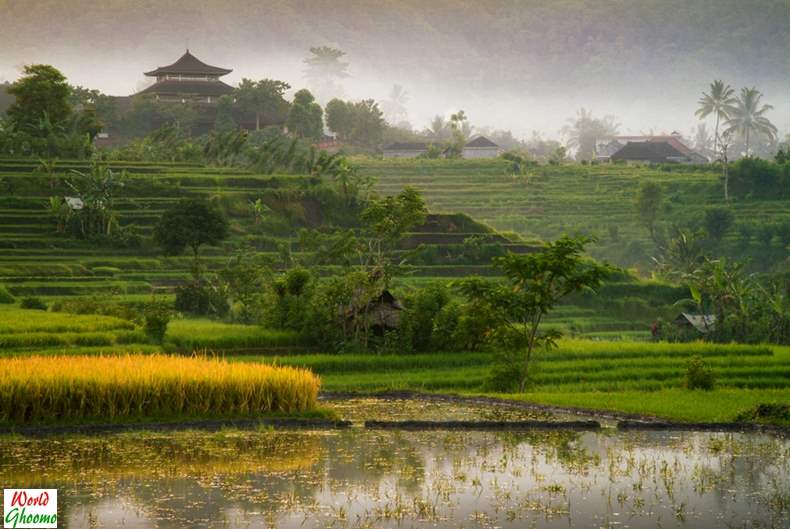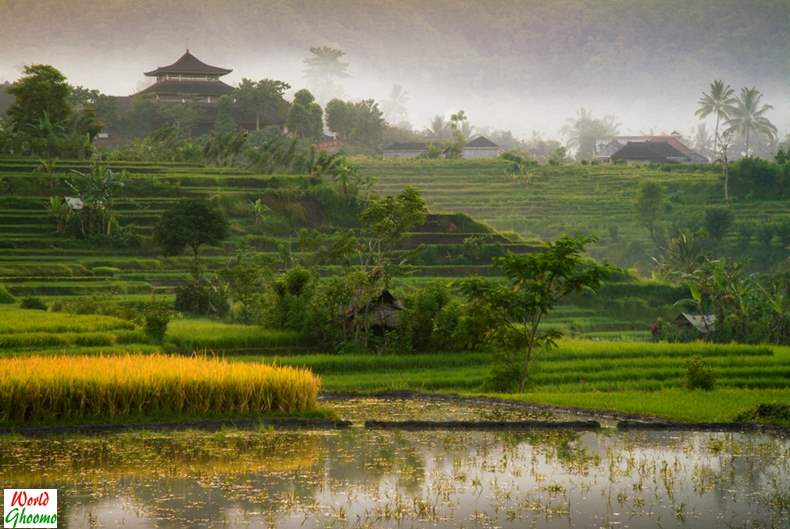 Besides hiking, you can easily spend hours casually walking around the rice fields, stopping by the restaurants to dig into some food and beverages  while gazing at the lush greenery that surrounds the place. There is a lot more to this enchanting green village, making it pretty easy to spend a day or 2. It's one of the most beautiful regions in Bali to relax and rejuvenate.
Day 8 & 9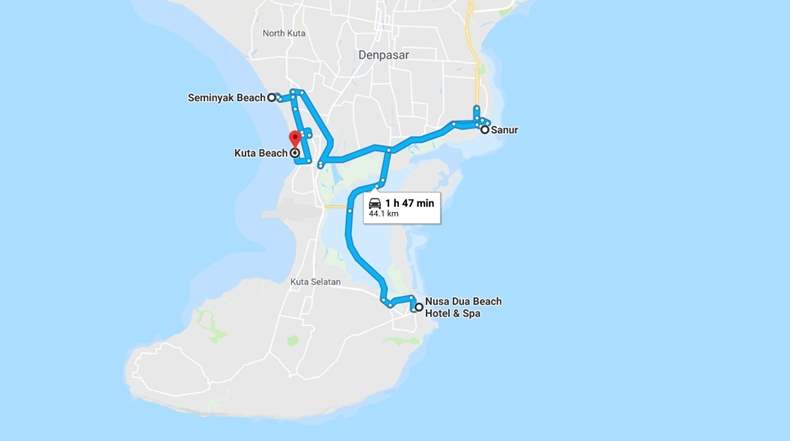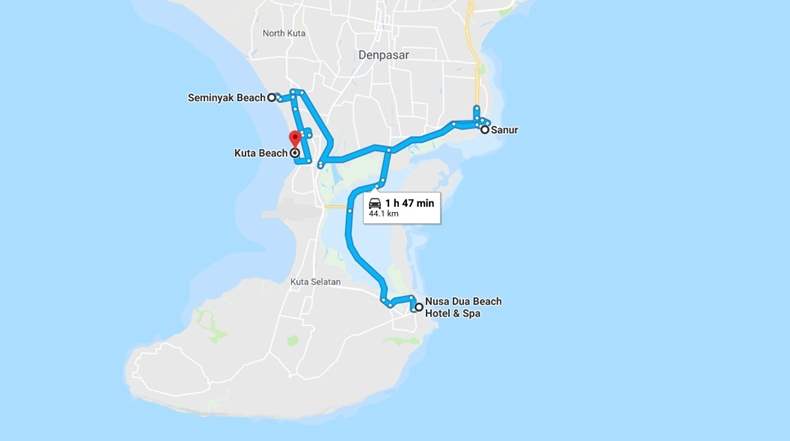 Bali Map South Bali Beaches
If you wish, you can spend 2 days of your trip in South Bali exploring the various beaches. You can pick either Nusa Dua, Kuta , Seminyak or Sanur for your beach stay. From Sanur, you can go for a day trip to Nusa Penida islands.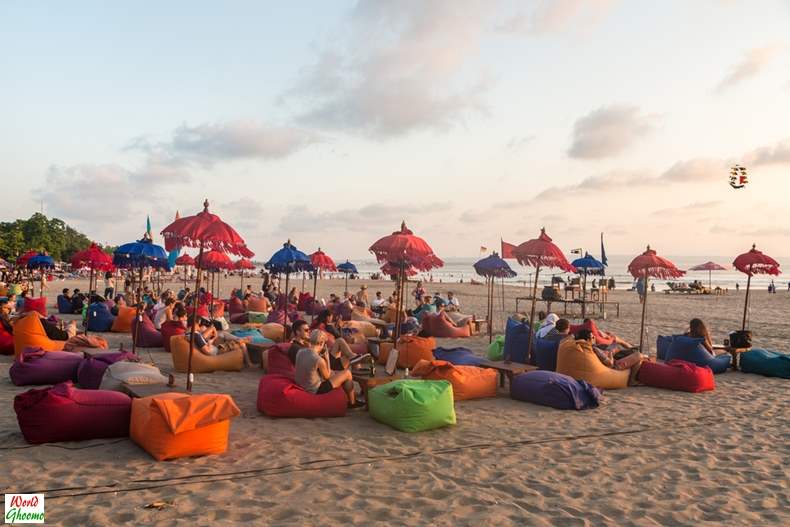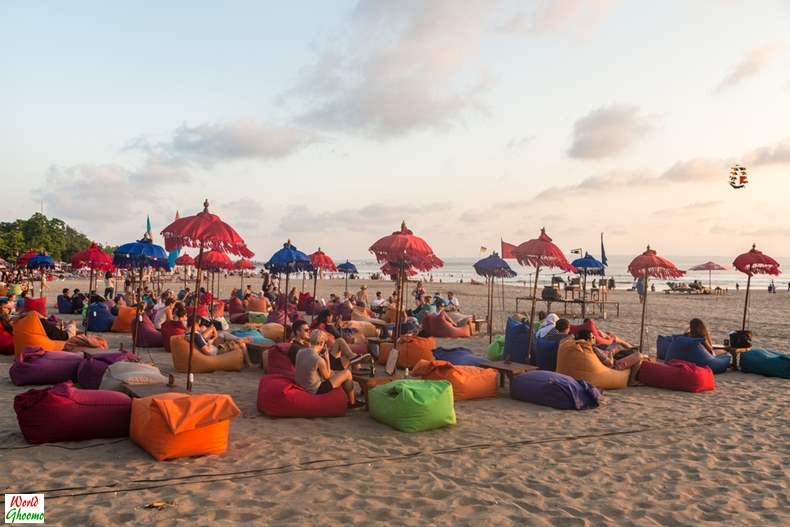 Bali beaches are usually very crowded and comprise mostly brown and black volcanic sand. Grey sand beaches periodically dot the coast. 
If you are looking for a beach holiday, then we suggest to pick a country famous for clean sandy beaches, because in Bali, there are too many other fun and interesting things to do that you will never forget.
Leave Bali with countless beautiful memories. On reaching you country, start planning your next vacation, Coz travelling should never stop! 
Hope you found the information useful. Stay tuned for more travel posts!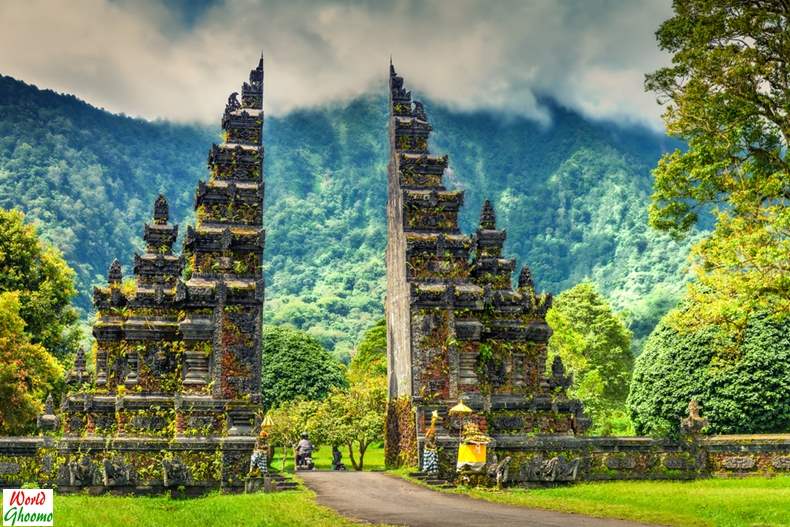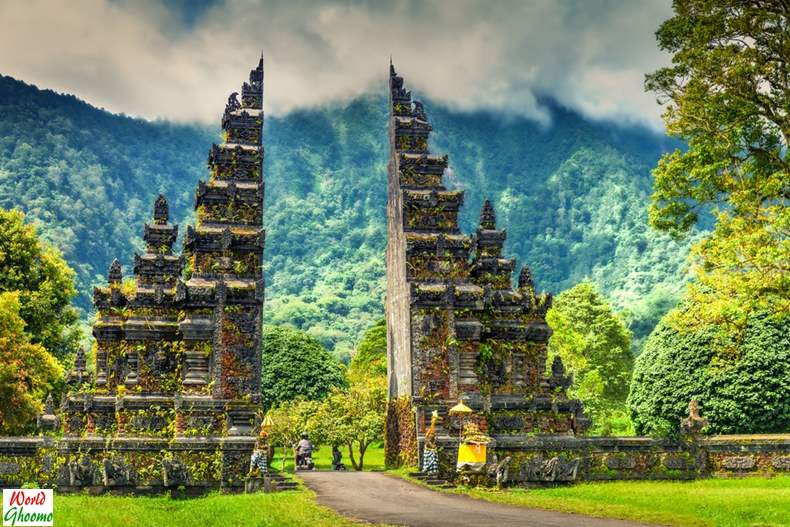 Bali Travel Guide 10 days Itinerary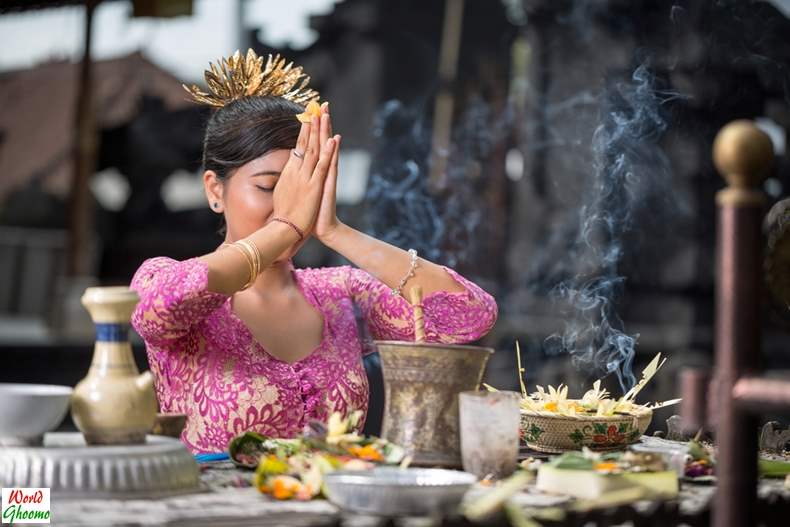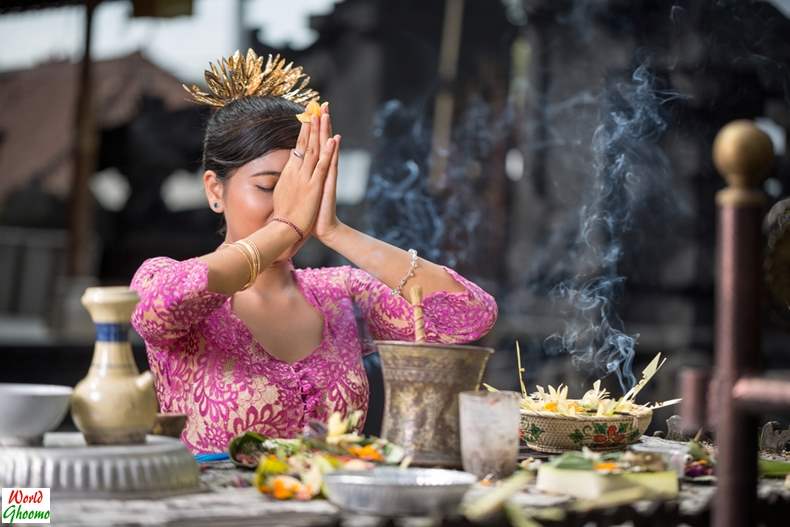 Bali Travel Guide Itinerary