With its turquoise sky, rugged terrains and snow-capped mountain peaks, Nubra valley is one of the most stunning places in Ladakh. The valley is blessed with dramatic landscapes of soaring mountains, vast stretches of sand dunes and green valley beds with vibrant flowers.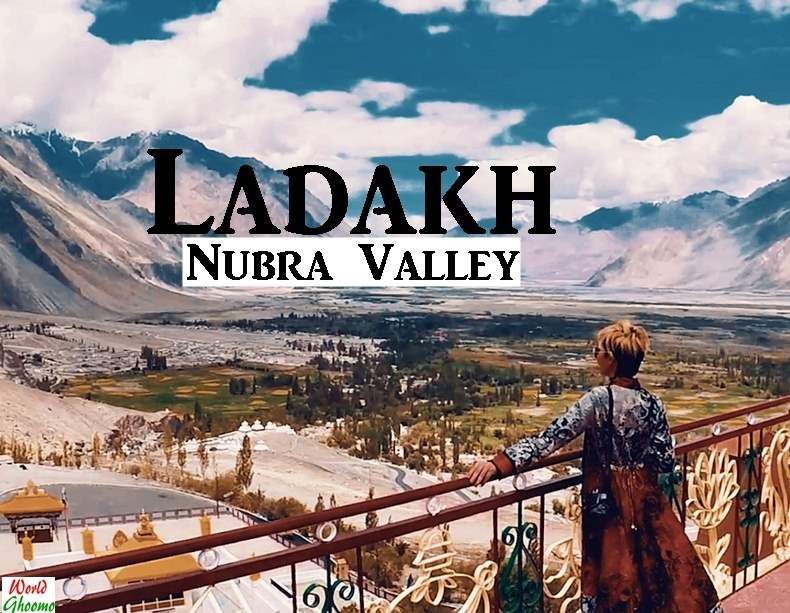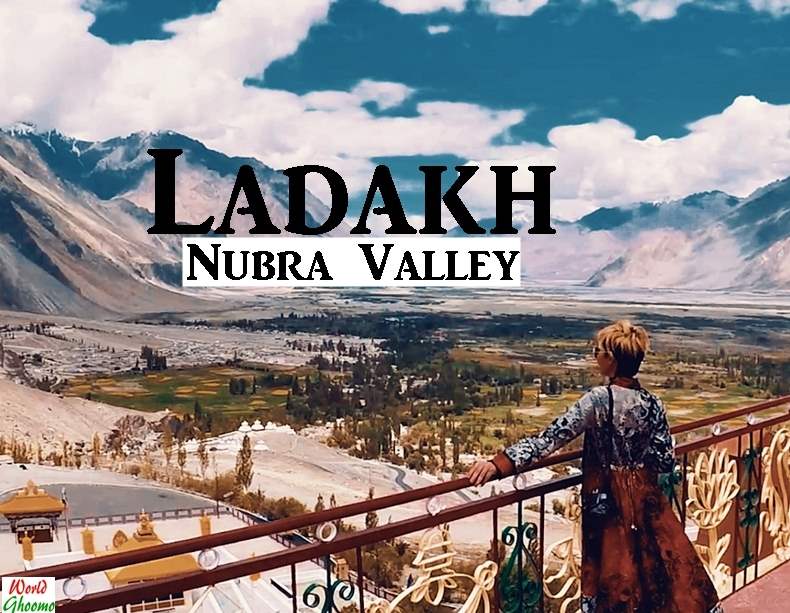 Nubra Valley Travel Guide
What makes this sight even more pleasing is the smooth flow of the dual rivers of Nubra and Shyok curving through it. A haven for hikers and explorers, no wonder it is one of the top places to visit in Ladakh.
Nubra Valley Location
Standing at 3048 m above the sea level, Nubra lies around 155 km north of Leh. It is a high altitude cold desert with little vegetation. The valley is located at over 10,000 feet above sea level and Siachen Glacier lies to its north. From Leh, a thrilling drive via the Khardung La Pass takes you to Khalsar, from where the road forks into two- one leading towards the Shyok river and the other towards Nubra river. The Y-shaped valley lies at the intersection of these 2 rivers.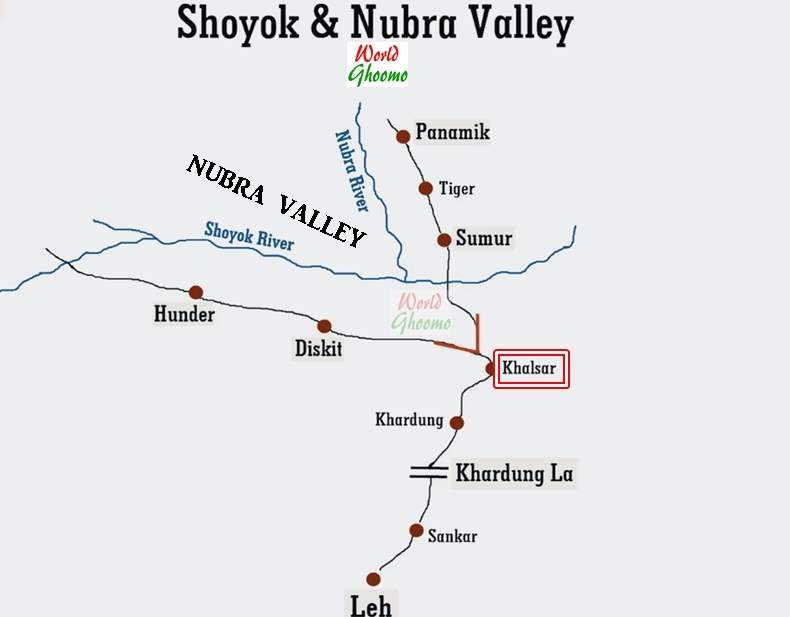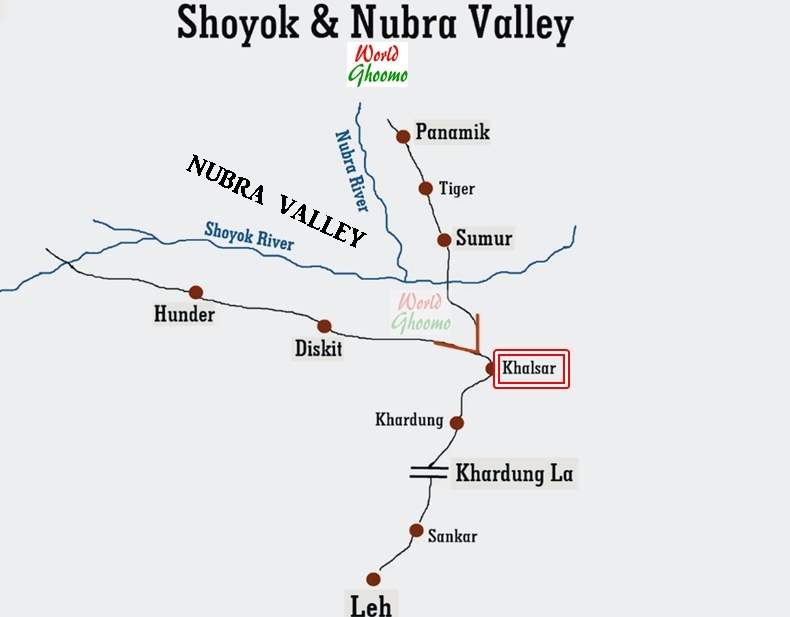 Nubra Valley Location map
Places to Visit in Nubra Valley
Along the Nubra River:
Along the Shyok River
Places on the Route:
How to Reach Nubra Valley from Leh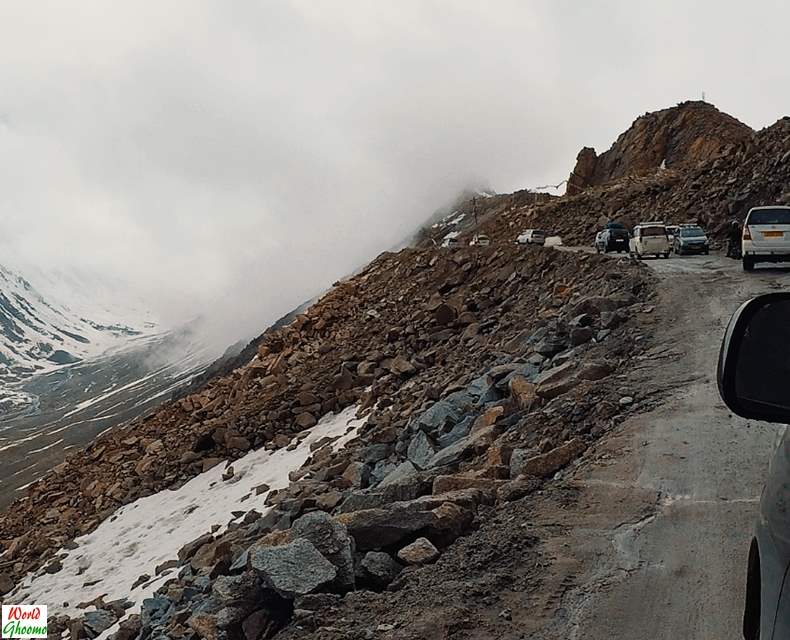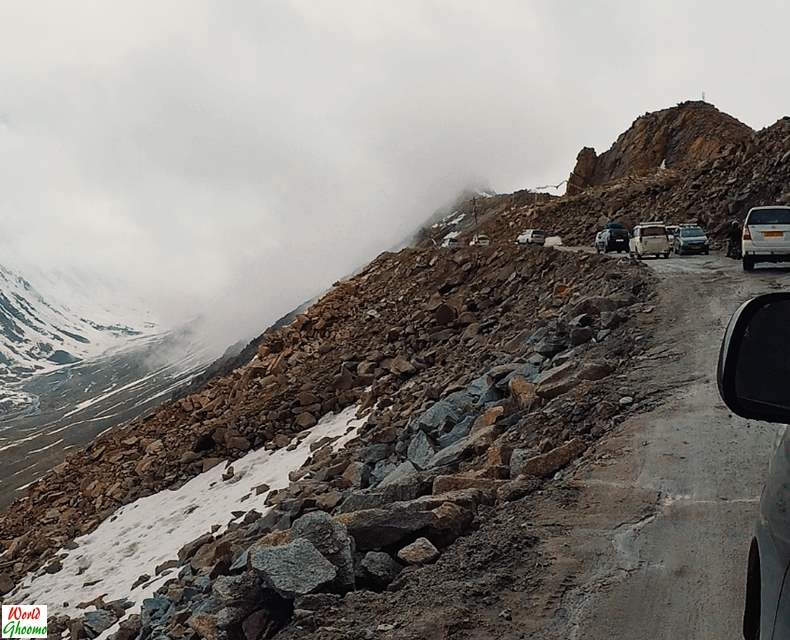 Nubra Valley from Leh
An ideal way to reach Nubra from Leh is to rent a car or and an SUV. If looking for more adventure, go for a heavy-duty bike like a Royal Enfield. Although the ride can get a little bumpy, given the condition of the road, what makes the journey truly remarkable is the sight of jaw-dropping views of rocky mountains, clear sky and deep valleys with every turn.
Time Required to Reach Nubra Valley from Leh
Nubra Valley By Car
It takes about 6 hours to get there from Leh. However, if the weather is bad or there is too much traffic, it can take anywhere between 8-10 hours.
Nubra Valley By Bike
Expect a further addition of 2 hours to your travel time if riding via a bike.
Preparation for Nubra Valley
1. Acclimatize Well
The air pressure and oxygen level drops significantly at the Khardung La Pass, so, it is highly recommended that you acclimatize for at least 2-3 days in Leh before heading towards Nubra Valley.
2. Prepare for Khardung La Pass
You must arrange for Khardungla pass beforehand. The passes can be purchased from Leh town. Be informed, that without the pass, you won't be able to reach Nubra Valley. Considered as one of the highest motor-able passes in the world, Khardung La lies at 5,359 m and tests both your physical and mental strength. No wonder you feel exhilarated after crossing it. Khardung La holds historical importance as it falls on the silk route from Leh to Central Asia. While today it serves as an entryway to Shyok and Nubra valleys, in the past, tens of thousands of camels and horses used to cross it to facilitate trade.
3. Things to Carry before starting off the journey
Since it is going to be a long ride from Leh with hardly any shops on the way, it is best to carry the following:
A good stock of snacks and water.
Don't forget to bring warm clothes and an additional blanket to avoid getting cold.
If riding by bike, make sure to carry a couple of gallons of petrol with you.
Nubra Valley Accommodation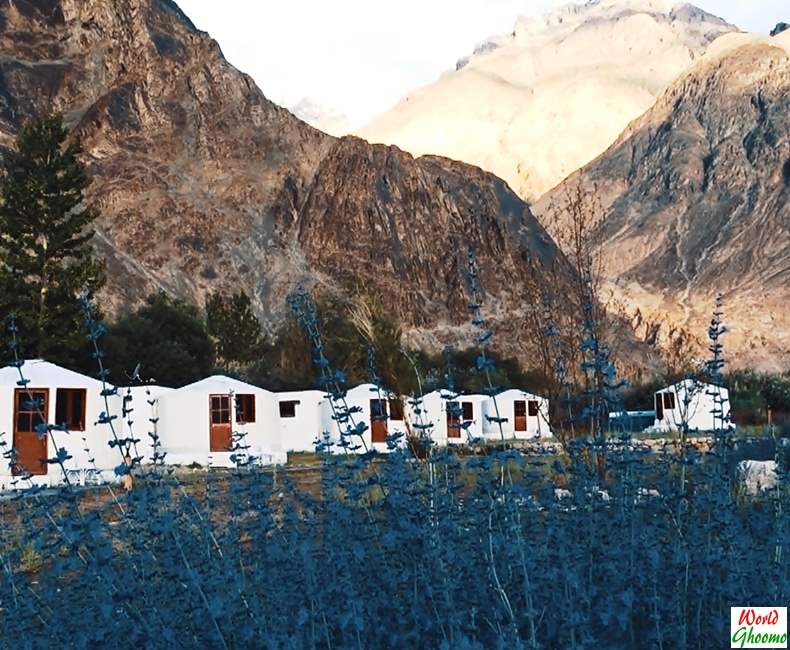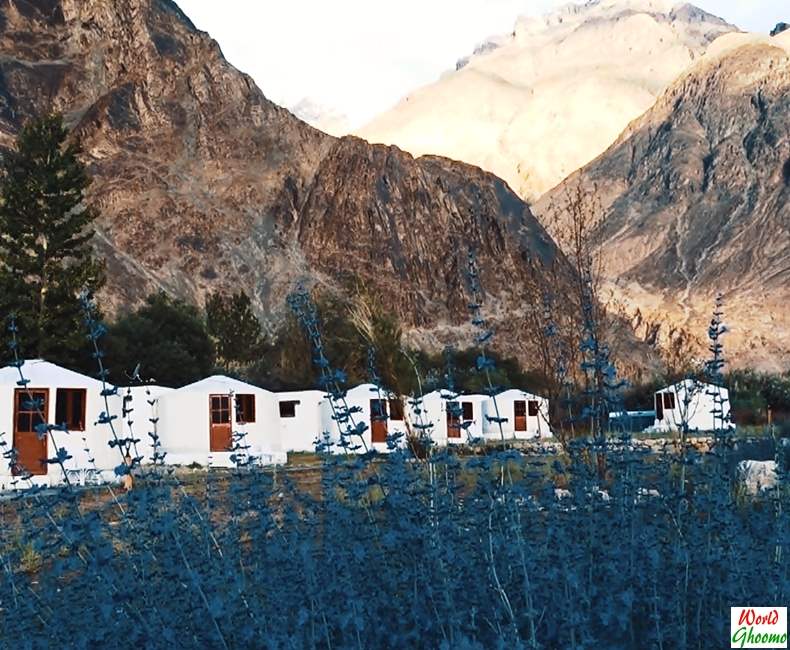 Nubra Valley Accommodation
You can find a few budget as well as mid-range hotels alongside both Nubra and Shyok Rivers. There are also a few guesthouses or homestays at Diskit, Hunder and Surmur. Hunder also offers some camping options, right at the foothills of the mountains.
Nubra Valley Top Things to Do & Places to Visit
What makes the Nubra valley magical is not just the sight of majestic mountains but also fruits trees like walnuts, almonds and apricots. Although Nubra is known as the valley of flowers, there are a lot more things to do in Nubra than just admiring flowers. Take a look below:
1. Go for an ATV Ride at Khalsar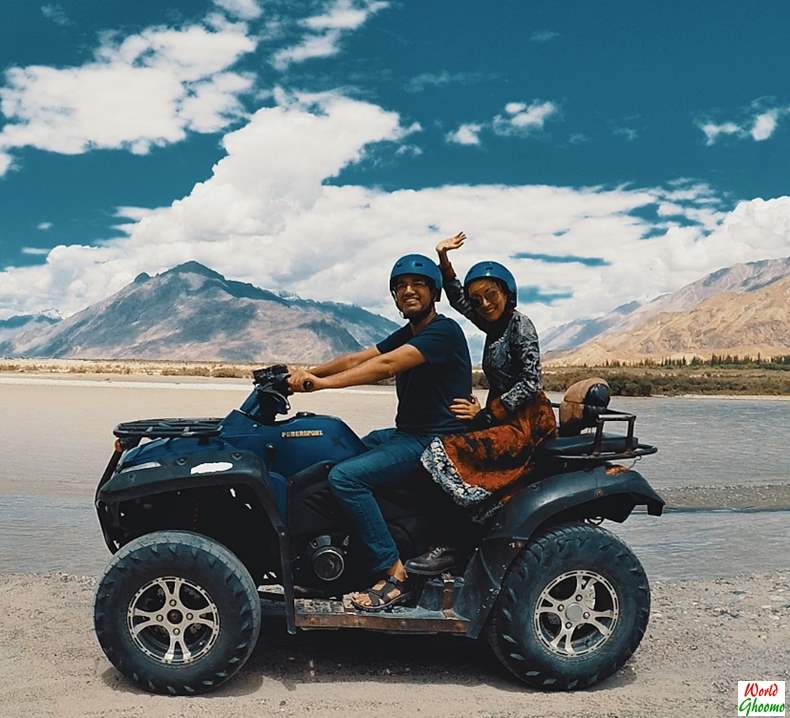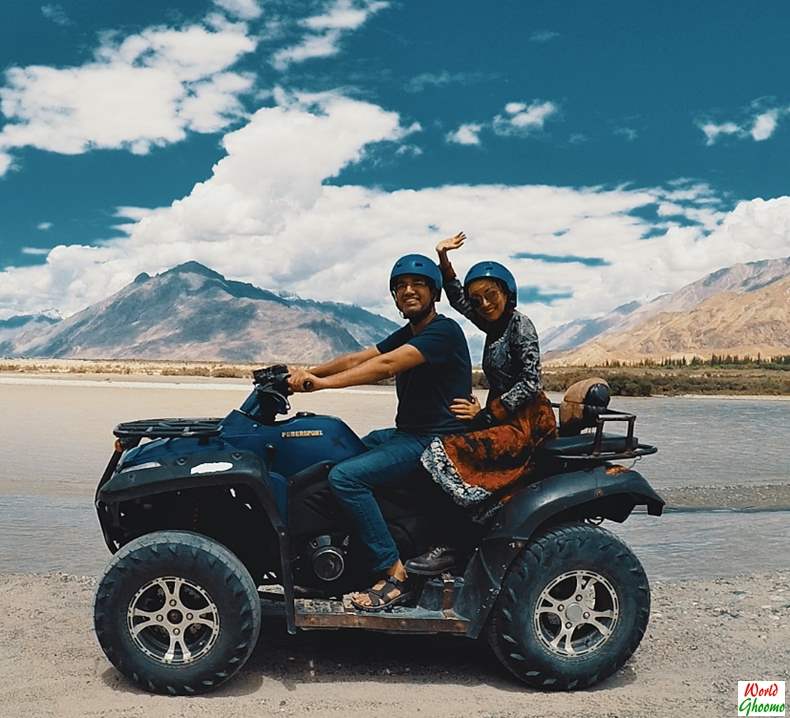 ATV Ride at Khalsar Nubra Valley
The adventure begins right at Khalsar, before you even reach the Nubra valley. The 15-minute ATV ride takes you on white sand dunes, right till the shore of the
Shyok river and offers panoramic views of the high mountains.
Price: Rs. 1200 per ride
Attractions Along Shyok River
A left turn from Khalsar takes you to these places:
2. Diskit Monastery at Diskit Village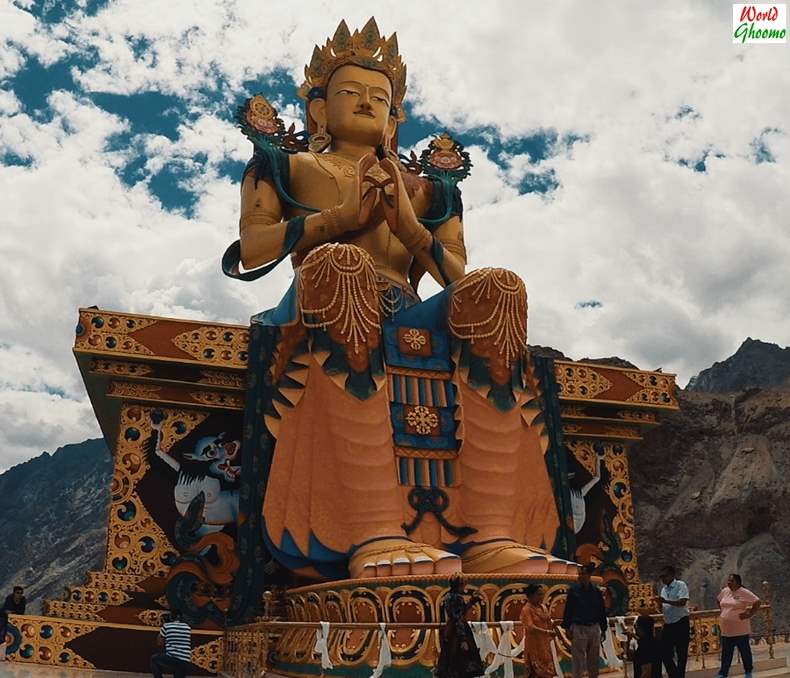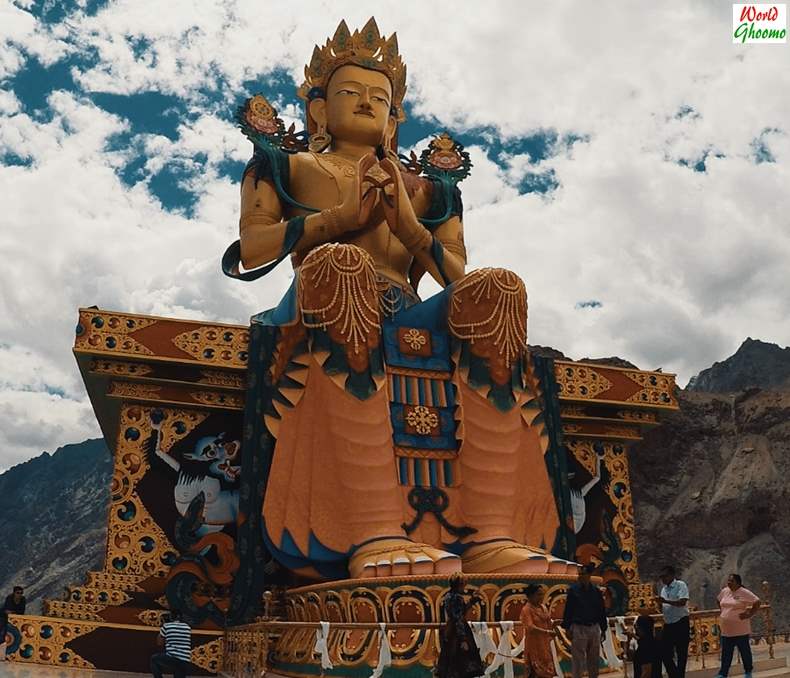 Diskit Monastery Nubra Valley
Famous for its towering statue of Maitre Buddha, Diskit monastery is truly a wonder to visit. It lies in Diskit village which is also known as the 'orchard of Ladakh' given its fertile land and green valley beds. The road to the monastery is lined with colorful flags and once you reach, a short climb takes you to the top of the Gompa. The monastery is 350 years old and houses the magnificent 32 m tall statue of Buddha in an open courtyard from where you can also enjoy 360 degree views of the scenic Nubra valley.
3. Lachung Temple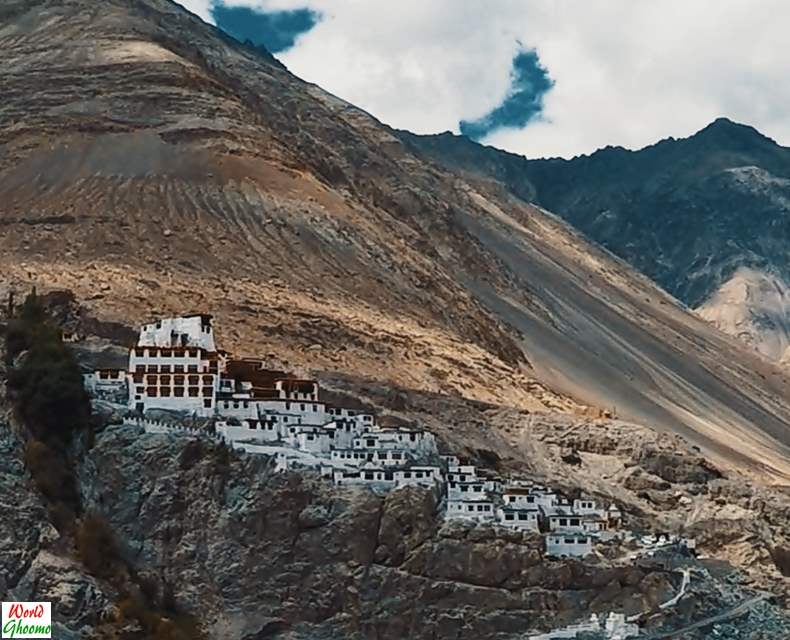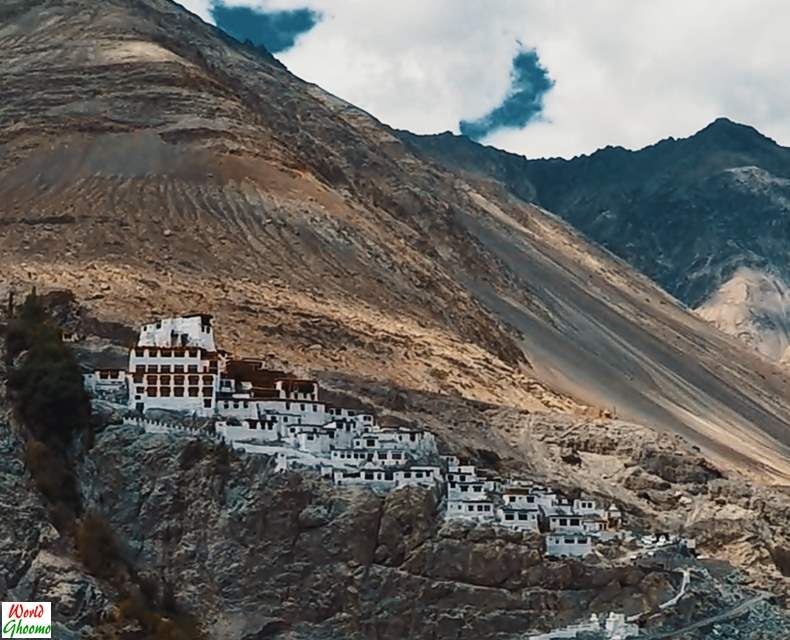 Lachung Temple Nubra Valley
Situated just above the Diskit monastery, the Lachung temple is one of the oldest temples in the valley. The temple holds a huge statue of Tsong Khapa, who was the founder of the Gelugpa clan.
4. Go for a Camel Safari in Hunder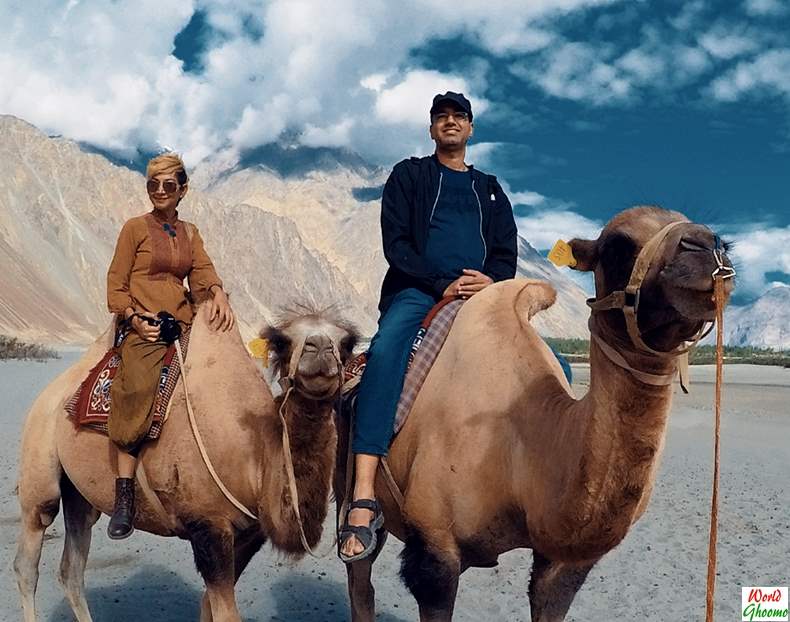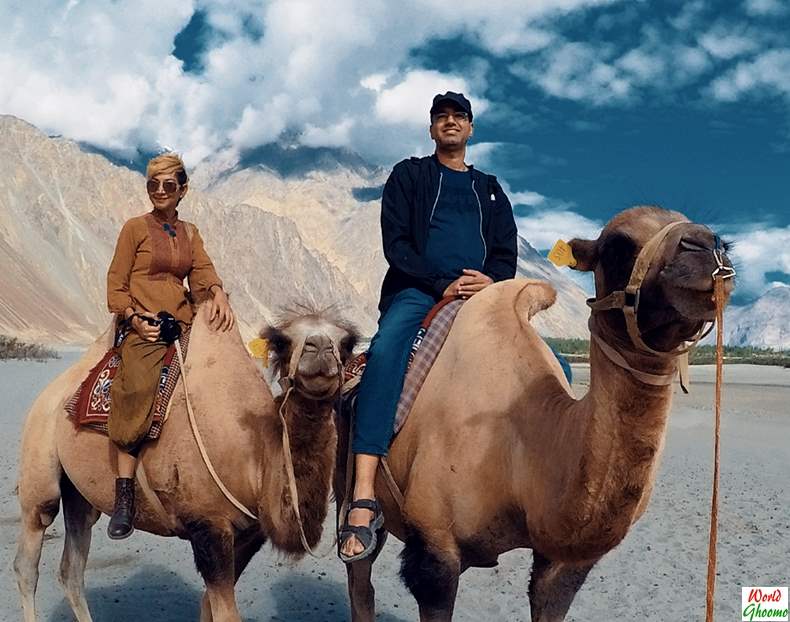 Camel Safari in Hunder Nubra Valley
Known for its captivating white desert, Hunder is one place that cannot be missed. It lies 8 km north of Diskit and offers an extraordinary landscape of sand-dunes and mountains in one frame. The village is home to the double-humped Bactrian camels and an ideal way to enjoy the day is to go for a camel safari. The owners take good care of the camels and opting for a ride is a good way to support the locals.
Price: Rs. 200
Attractions Along the Nubra River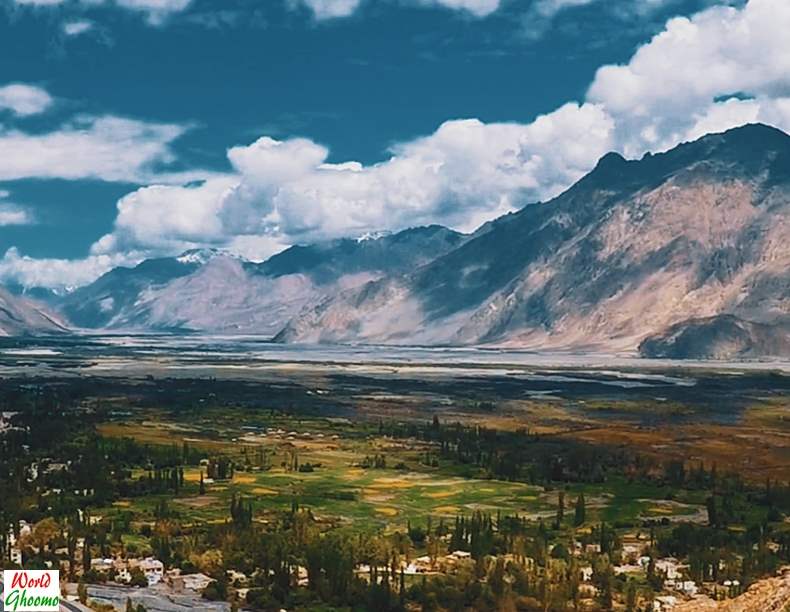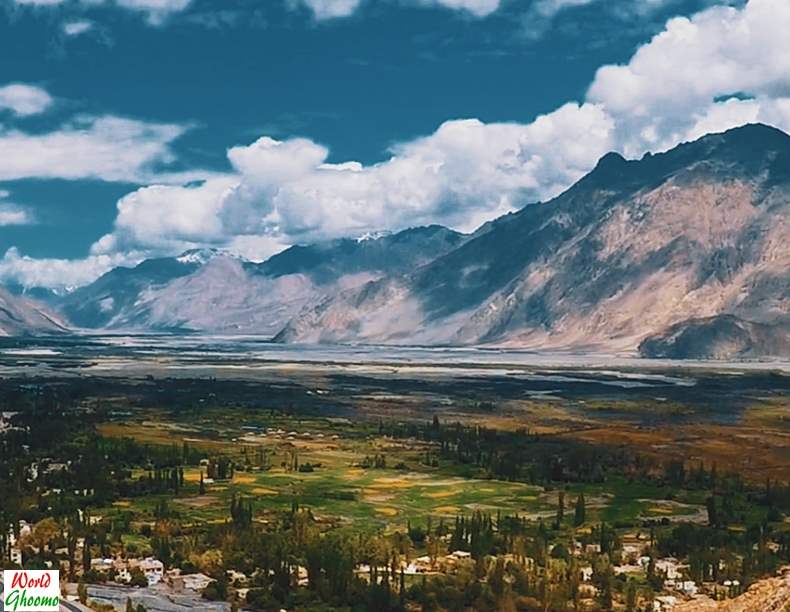 Nubra Valley Attractions
And, in case you take a right turn (from Khalsar), you'll head towards the northeast of Nubra valley, where you'll find the villages of Sumur and Panamik. Make sure to visit the following places here:
5. Visit the Samstanling Monastery
Colorful prayer flags and clear blue sky will welcome you on the road to Samstanling Monastery. Located at Sumur, the monastery was established in the 18 th century. Boasting of beautiful architecture and walls with large murals, the monastery is definitely a must-visit place.
6. Halt at Zamskhang palace in Tiger village
The Royal palace of Zamskhang is the highlight of the small Tiger village. The palace belonged to the King of Nubra, in the 19 th century and is well preserved even till today.
7. Take a dip at the hot springs at Panamik Village
Panamik is the last accessible village of Nubra and is known for its hot sulfur springs. So, make sure you take a relaxing dip in the healing waters before heading forward. The village also serves as a base camp for Ensa Gompa and you might also spot a few pashmina goats here.
8. Yarab Tso Lake
Drive a few km ahead of Panamik to see the spectacular Yarab Tso Lake.
Days required to Explore Nubra Valley
To make the most out of your trip to Nubra Valley you must spend Minimum 3 days. Check out this 3 days Nubra Travel Itinerary.
Additional Tips & Information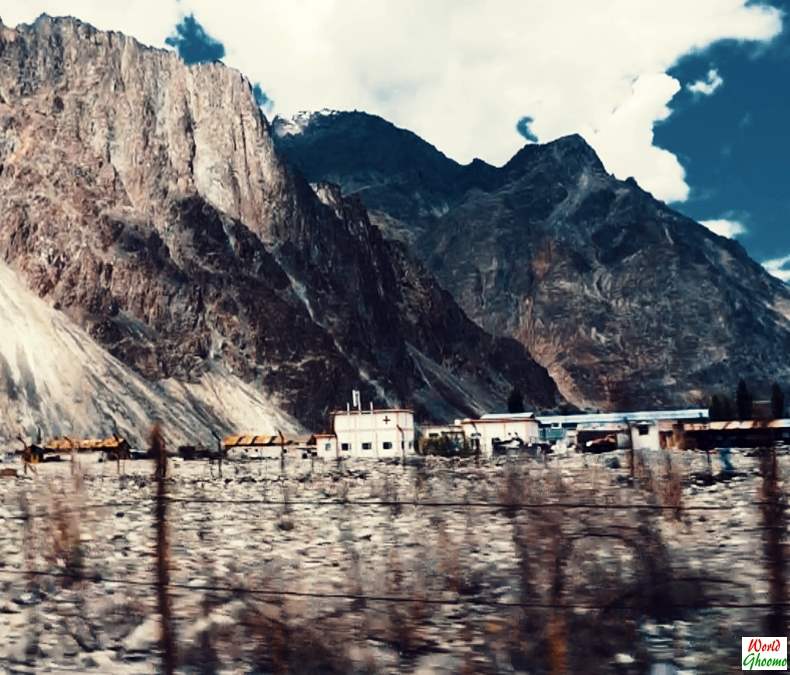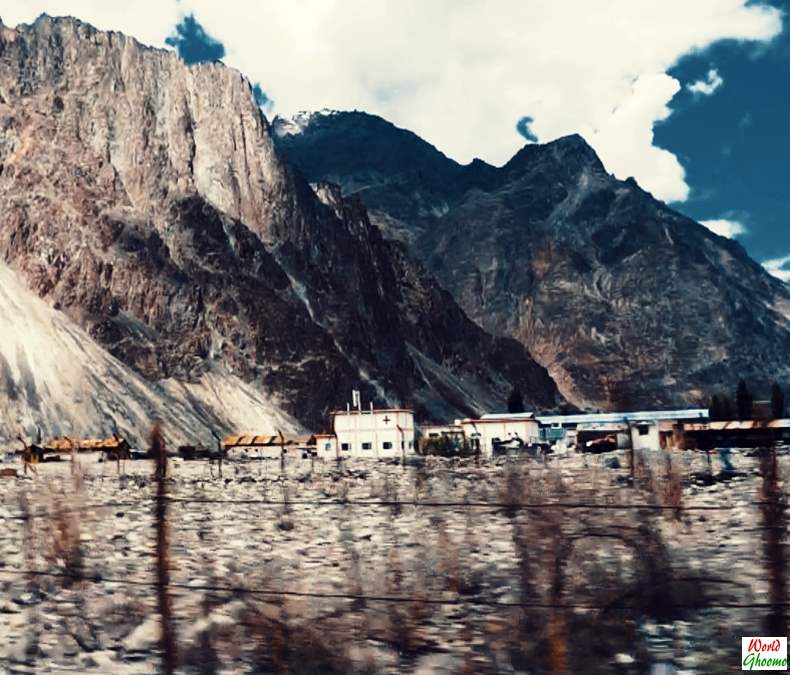 Hunder Army Medical Camp
Hunder Army Medical Camp
We hope that you never have to visit this facility, but it is good to know that Hunder has an army medical camp where you can go if you feel any uneasiness. Also, make sure to carry layered clothing, a warm cap, gloves and sturdy yet comfortable shoes to make the most of your trip. You sure will remember Nubra valley all your life!