Things You Should Know – (update)
1 – Not recommended for honeymoon or if you are expecting luxury.
2 – Keep in mind that this island is for offbeat travel experience.
3 – Very limited food options & food timings is fixed.
4 – Facility wise there is nothing much.
5 – The tents are very basic and washrooms are small.
6 – Water smells because of the sulphur content. Travellers might not like the smell. So, bathing might be a problem.
7 – Alcohol is Not served on any of the islands.
8 – Since there is limited staff, you may not get chance for Water sports if resort is full of guests.
9 – Parli Island has become very dirty because local fishermen started staying there for fishing purpose. Plastic can be seen everywhere & the management seems least interested in maintaining the islands.
Go to this island only for the Sun, Sand & Water.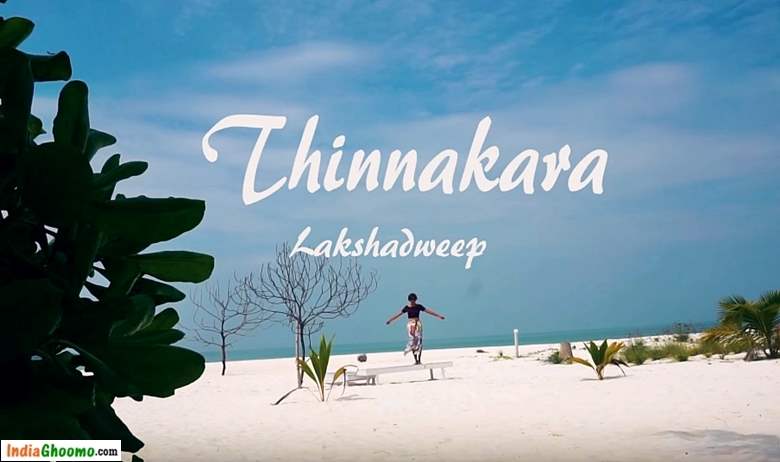 Lakshadweep – Thinnakara Island Activities and Accommodation
Thinnakara island in Lakshadweep is like a honest painting that we used to draw as children with an uninhabited island, blue lagoon surrounded with a bed of coral reefs, white sand, clear skies and dash of green from the lineup of coconut and palm trees along with rustic tents.
In this post/video, we will give you an overview of this heavenly island, things to do and other useful information.
WATCH Lakshadweep Thinnakara Island VIDEO
Thinnakara Island Location –
Thinnakara is an atoll in the Union Territory of Lakshadweep, India. Thinnakara is a tiny teardrop shaped island which lies 8 km northeast from Agatti airport. The island is just opposite side of Bangaram island sharing the same lagoon and is a 15 minutes boat ride from there.Thinnakara island is uninhabited, clean, beautiful and is popular for its serene setting.
How to Reach Thinnakara Island in Lakshadweep ?
To reach Thinnakara Island, you will first have to reach the Agatti Airport (Lakshadweep) and from here, a speed boat will take you to the island. It takes 45 minutes from Agatti to reach Thinnakara island.
Reaching Agatti By Flight – You can easily get regular flights to Agatti Island from other major cities of the country.
Reaching Agatti Via Ferry – Ship services from Cochin are available. This route takes around 14-20 hrs.
Best Season to visit Thinnakara Island in Lakshadweep
The best time to visit Lakshadweep is from October to March. During this time the sea is calmer and the weather is pleasant. All water sports can be enjoyed in this season.
Number of Days Required to Explore Thinnakara Island
3 days and 4 nights should be ideal duration for a vacation at Thinnakara Island to relax, unwind and rejuvenate. You can indulge in all the water sports and spend quality time amidst nature.
Accommodation at Thinnakara Island
The island has 10 beach facing bamboo tents built under a thatched roof structure to keep away the sun. There are cane chairs and tables in front of each tent and a couple of hammocks strung on palm trees.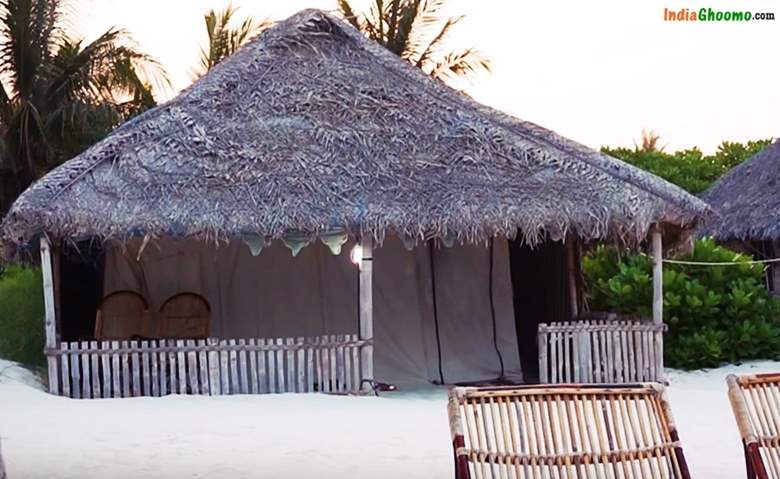 Lakshadweep – Thinnakara Island Accommodation
Tents are spacious, clean and very basic. These tents are equipped with a decent bedding, fans, a dresser & basic toiletries. Bathrooms are small and a little compact. Water is bit smelly because of sulphur compound, it is recommended to leave water in the bucket for 15 minutes before using. The management plans to renovate the accommodation by replacing the tents with cottages similar to the ones at Bangaram. But, seriously, who cares about the room when you have such a breathtaking view of the white sand and blue lagoons all round you. No luxury in the world can beat the beauty, peace and tranquility of this island. This place is all about enjoying Nature and being one with it.
Other Facilities at Thinnakara Island
Apart from the cottages, the island also houses
-A Dining Area
-A water sports centre
Experiences & Things to Do at Thinnakara Island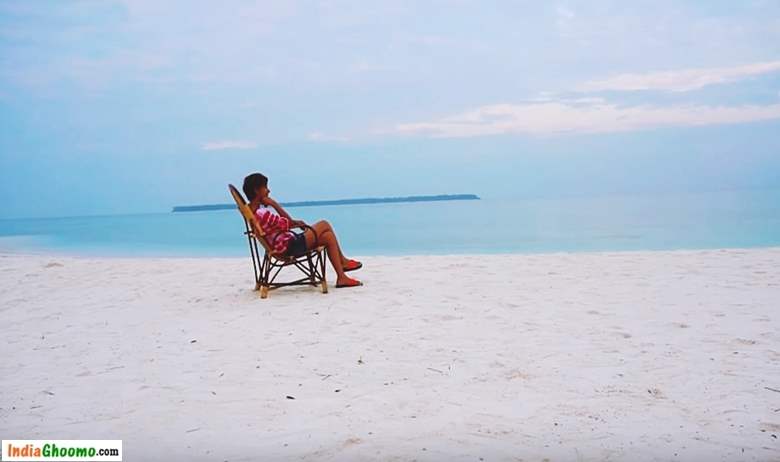 Lakshadweep – Thinnakara Island Things to Do
Enjoy the Boat Ride from Agatti to Thinnakara
The 45 minutes boat ride from Agatti airport towards the Thinnakara island is an experience in itself – a journey you will remember. All along the way from Agatti to Thinnakara – you will enjoy watching the ever changing colors of crystal clear water from emerald to turquoise blue and also get a sneak peek into the rich coral reefs underneath that holds your attention and keeps you engaged & thrilled.
As you approach Thinnakara island, the lagoon gets more and more mesmerizing and you can see the silver white sand with huts waiting to accommodate you.
Pristine Soft White Coral Sand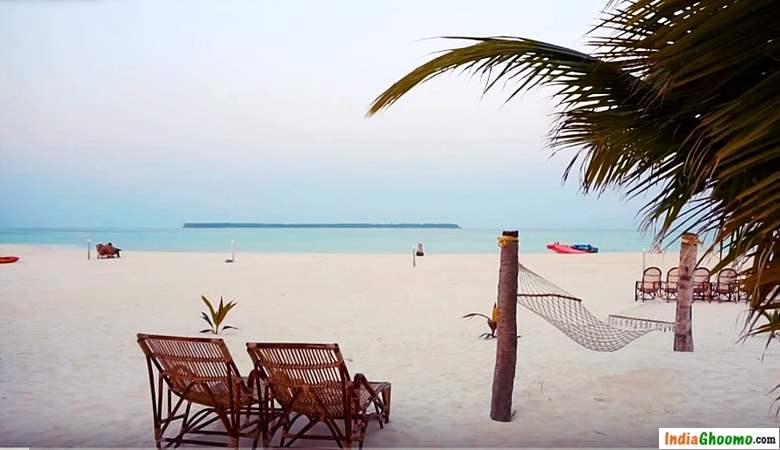 Lakshadweep – Thinnakara Island
The soft white sand at Thinnakara makes it one of the best beaches for lazing in the sun.The moment you step onto the soft white coral sand, the scenic location of this isolated island gives you the realization of meaninglessness of the materialistic world we live in, ambience of the island also makes us aware of the fact that real happiness can only be found in the lap of mother nature.
An Off-Beat Beach Vacation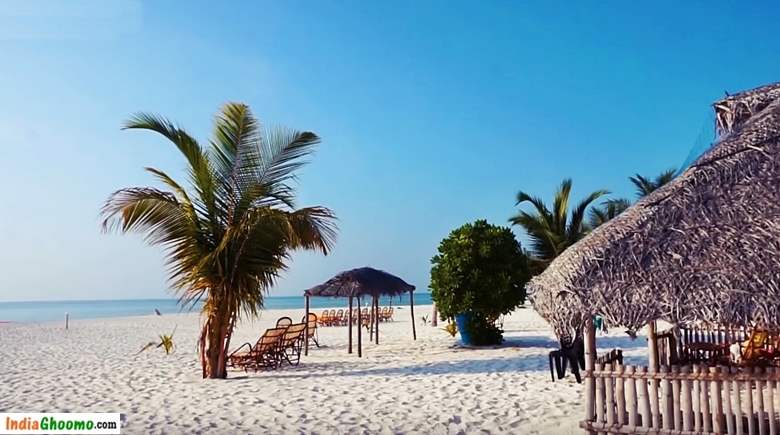 Lakshadweep – Thinnakara Island review
Thinnakara Island in Lakshadweep is one of the most Beautiful and Pristine place that gives you the feeling of being in the middle of nowhere . Tents with basic amenities make for a comfortable adobe. Luxuries of technology won't cross your mind as you have so much to soak in – fresh air, greenery, serenity and your own time away from crowded beach shores. Hammocks around the shore add to the cozy feel of the place. You will enjoy getting tanned here as Thinnakara has tonnes of palm trees and coconut trees that provide mesmerising ambience.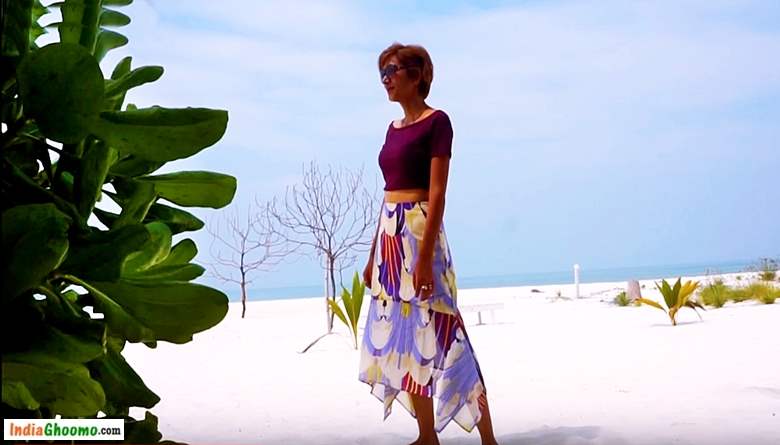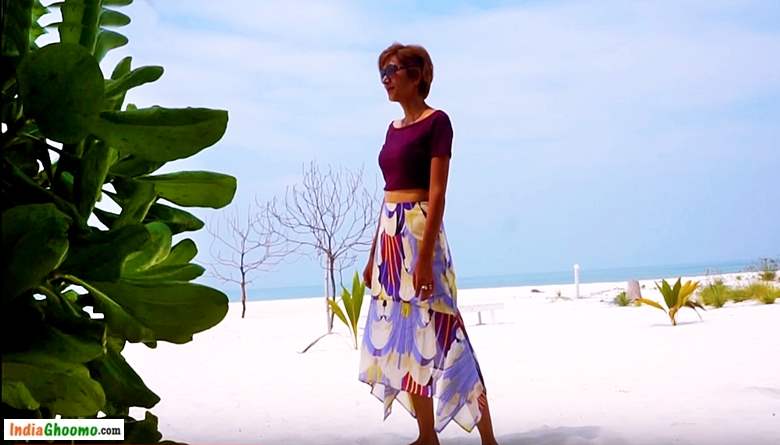 Lakshadweep Islands Thinnakara
Chase Sea Turtles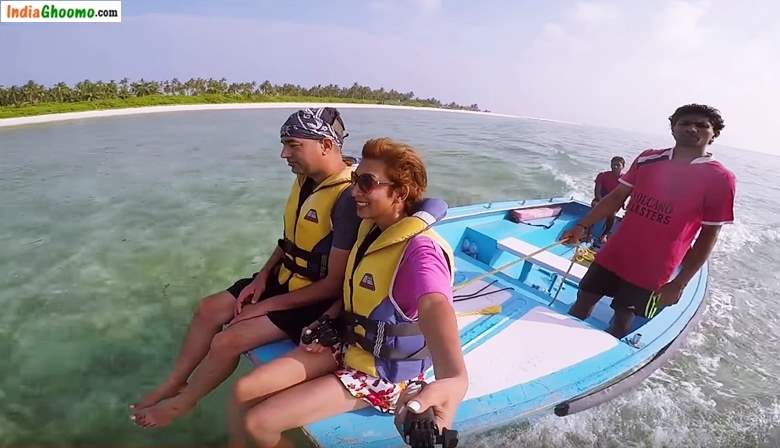 Lakshadweep – Thinnakara Island Turtle watching
The lagoon at Thinnakara island is full of sea turtles. The crystal clear emerald water offers unrestricted views of the gorgeous corals and colorful fishes. You can spot quite a number of sea turtles during a 1 hr boat ride that is arranged by the resort. For lovers of nature and all things cute, watching sea turtles swimming will be an unforgettable experience.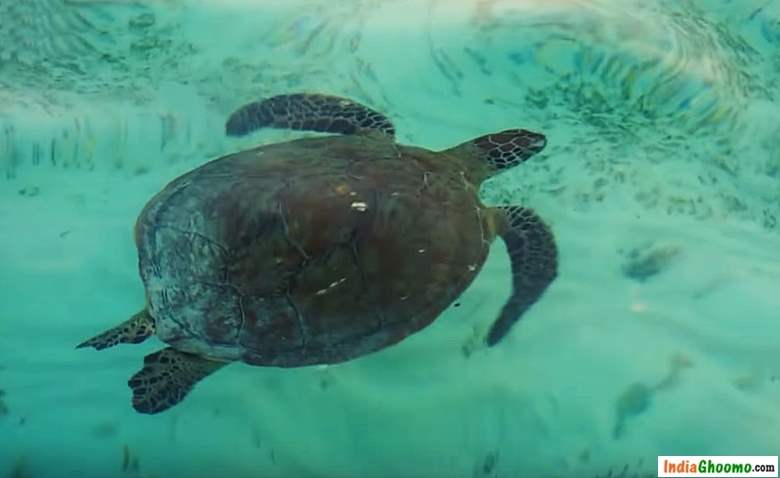 Lakshadweep – Thinnakara Turtle watching
Paddle through the lagoon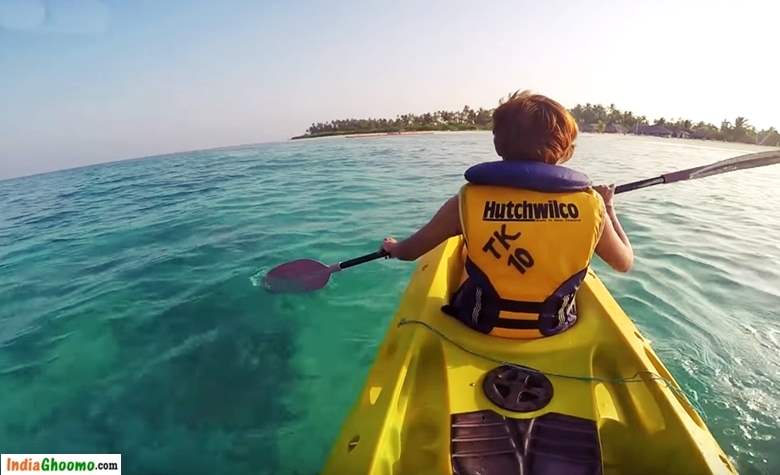 Lakshadweep – Kayaking
The shallow lagoon at Thinakara Island in Lakshadweep is perfect for kayaking as it is much calmer than the open sea is. Paddling through the blue lagoon while watching the breathtaking views of the island is an amazing experience at Thinakara Island in Lakshadweep.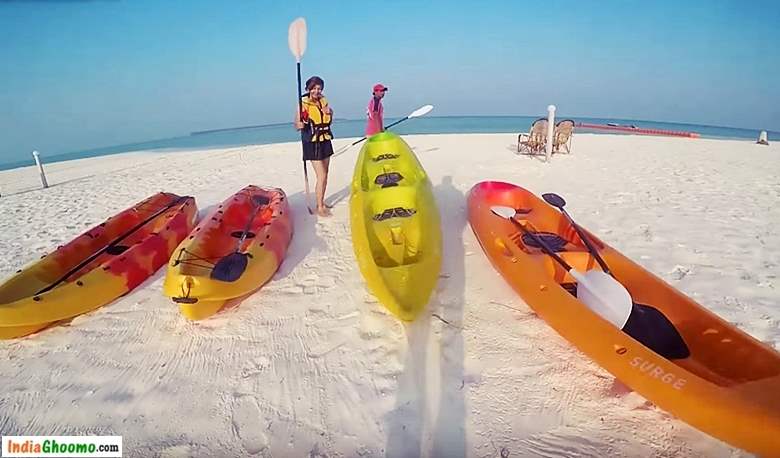 Lakshadweep – Kayaking at Thinnakara Island
Go for Shipwreck Snorkeling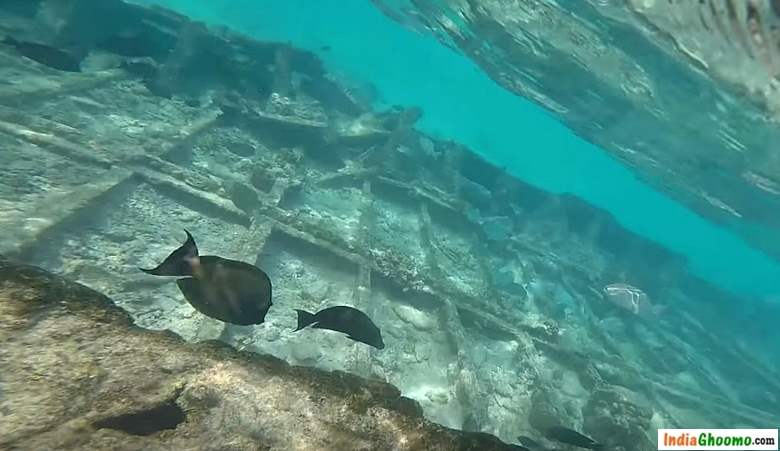 Lakshadweep – Snorkeling at Thinnakara Island
A 5 minutes boat ride from Thinnakara island – almost near the end of the lagoon is where ship princess royal sank 200 years ago. The warm crystal clear water and the bright sunlight makes for a perfect snorkeling experience. The shipwreck is full of marine life and you can spot a number of colorful fishes and corals.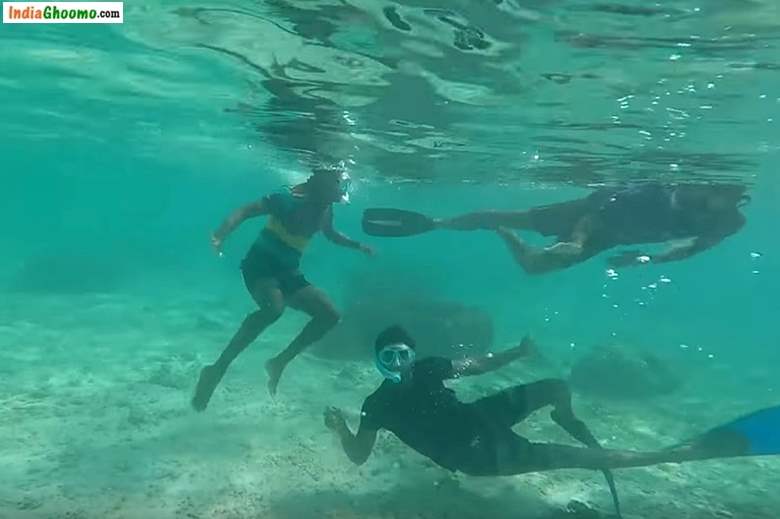 Lakshadweep – Shipwreck Snorkeling at Thinnakara Island
Beach Side Stroll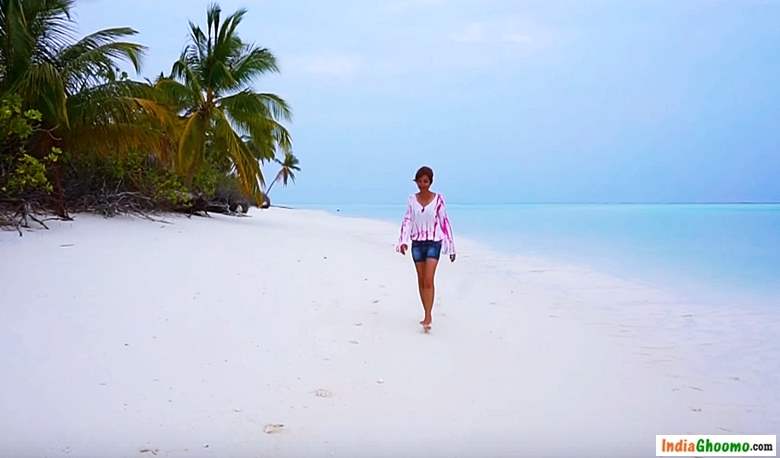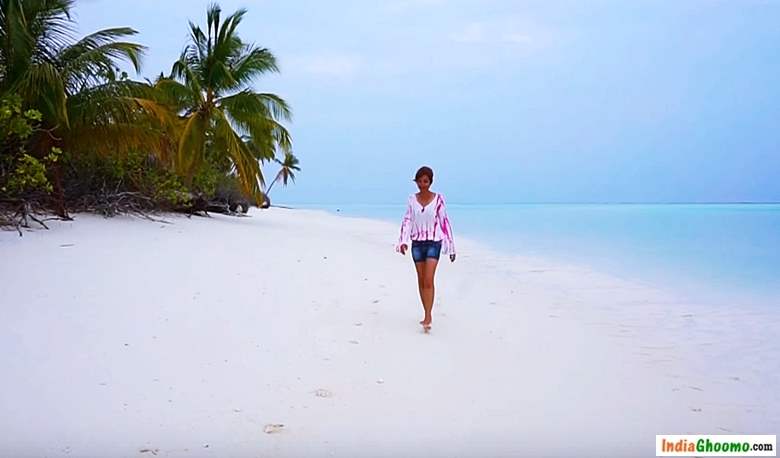 Lakshadweep Thinnakara Island
The sandy beach and lagoon at Thinnakara island towards the right is breathtakingly amazing especially during low tides. You can simply walk around the beach for hrs and even make a splash in the water.
Visit the neighbour islands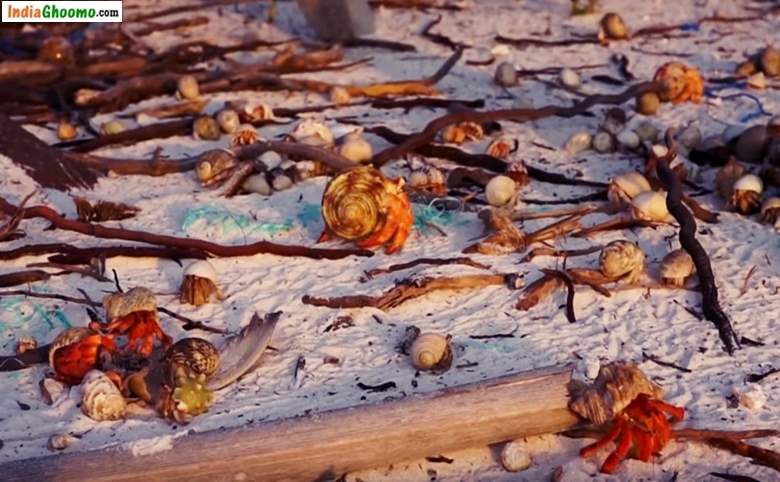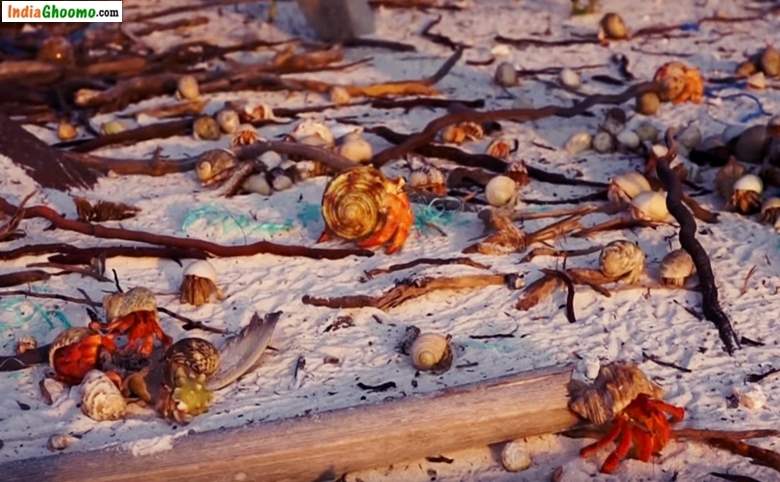 Lakshadweep Parli Island
You can visit the Parali – II island, which lies at the north-south edge of the lagoon. Again, a very beautiful and unspoiled island with pristine white beach. Here, you will see fishermen drying fishes and hundreds of hermit crabs emerging from their shell making a stark contrast against the white sand.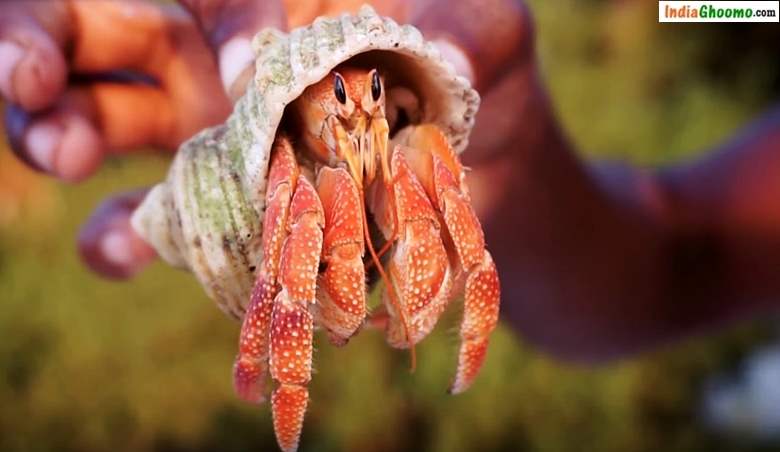 Hermit Crab at Lakshadweep Island – Parli II
Sunrise & Sunset views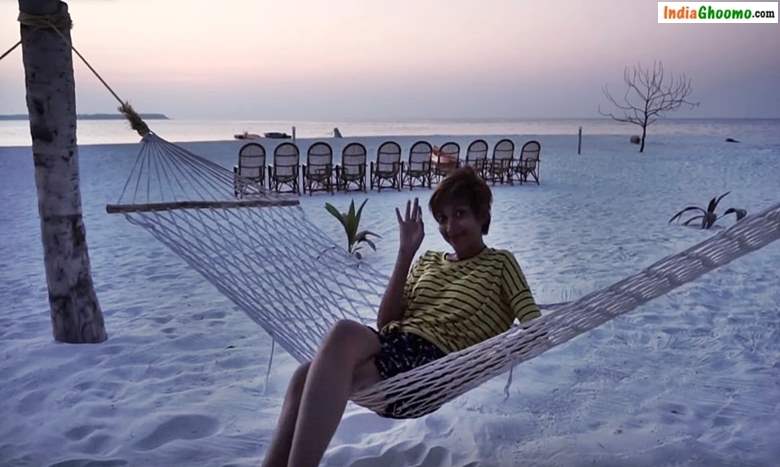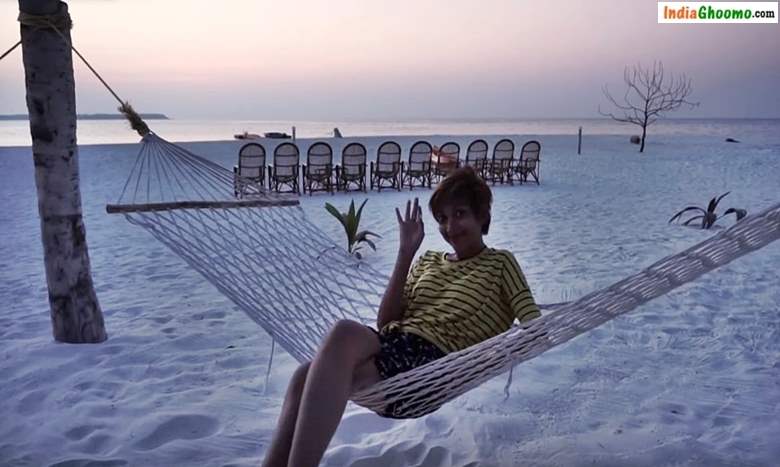 Sunset at Lakshadweep Thinnakara Island
Also, don't be surprised if you chased the sun and are up early to watch the sunrise at dawn and rejuvenate the fading light at dusk. All of this happens automatically without an alarm.
Friendly Staff
The staff at Thinnakara is extremely supportive and friendly. From planning a surprise to accommodating your food cravings everything is possible!
Additional Travel Tips & Things to Keep in Mind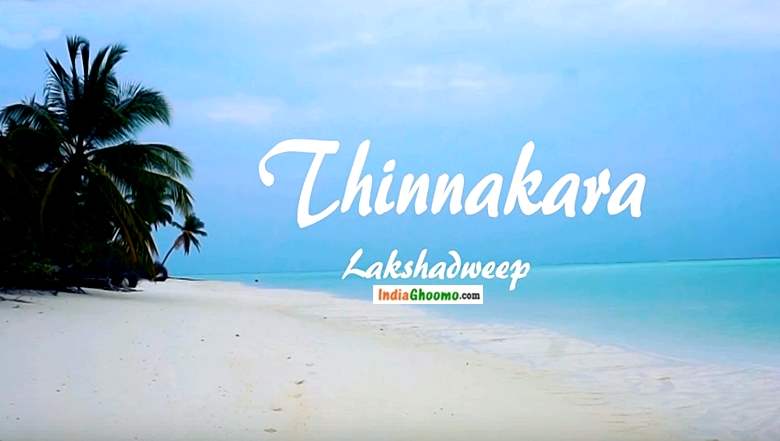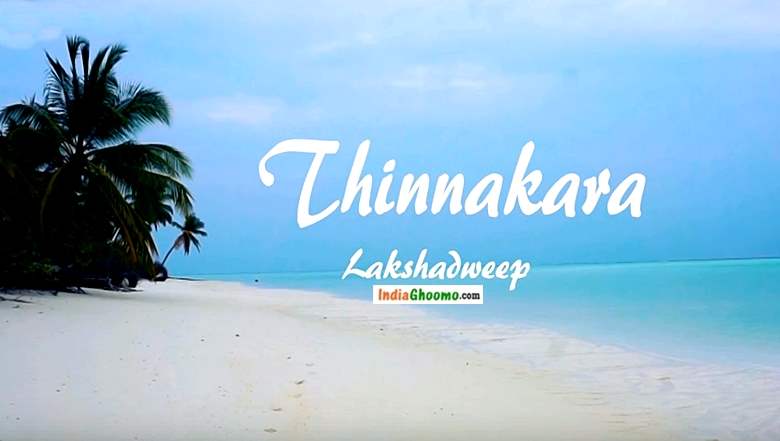 Lakshadweep Thinnakara Island Travel Tips
– The water in washroom contains sulphur compound, which makes it smelly. It's recommended to leave water in the bucket for at least 15 minutes before use.
-Kindly, do not litter around and keep the island and ocean clean.
-Do not touch corals.
-Don't venture out into swimming when it's high tide.
-If you don't know swimming, don't get into the water without a life jacket.
-Apply sunscreen and always wear goggles while at the beach.
VERDICT!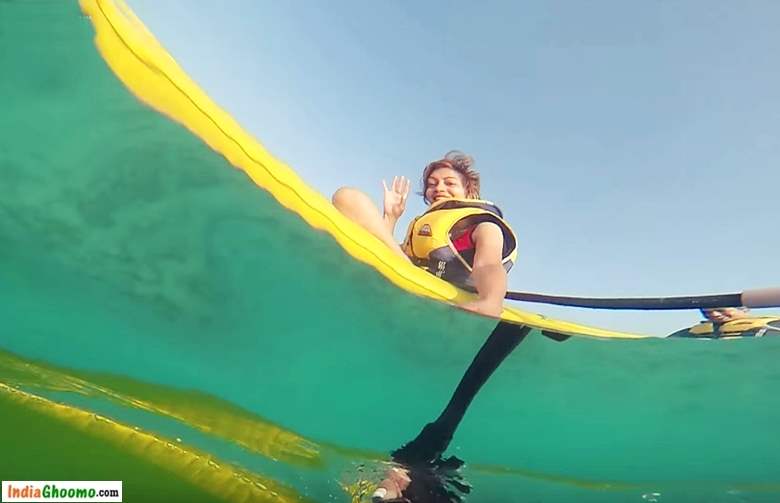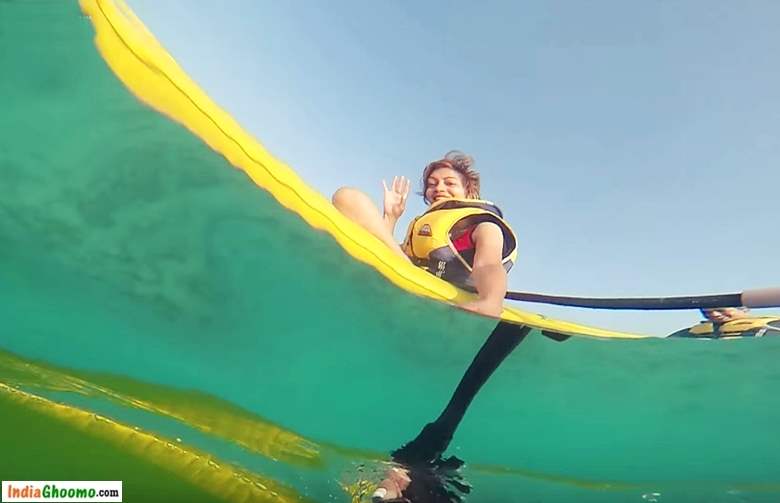 Lakshadweep Thinnakara Island Travel Tips information
If you are looking for a real get-away from the crowded beach locations and want a peaceful tranquil own time, Thinnakara should be on your mind and bucket list. It is perfect for couples.
Families should bring their children along as beach is very safe. Let your children explore the real taste of mother nature! Come with a companion or just by yourself. You will be happy that made the trip and will remember is for the rest of your life! We are all ears for your comments and feedback! India Ghoomo and Ghoomtey Raho!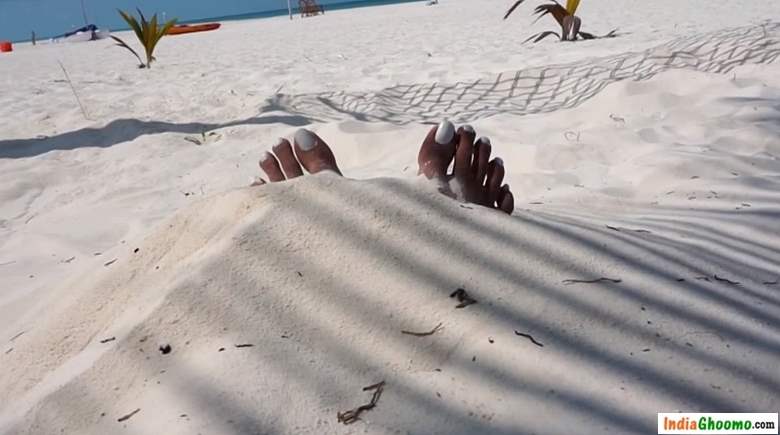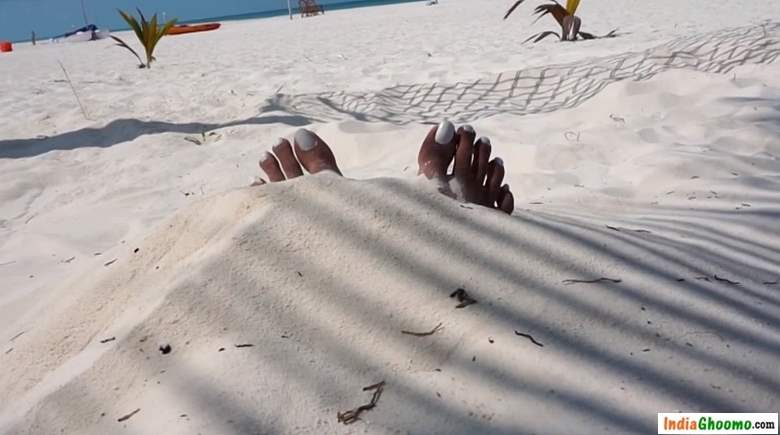 Lakshadweep Thinnakara Island Things to do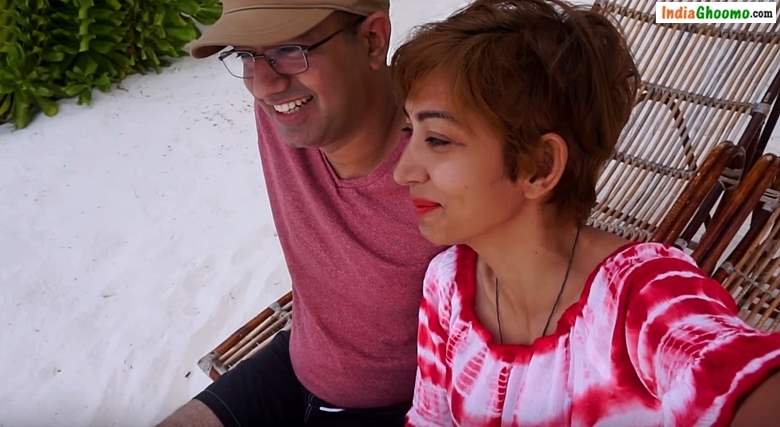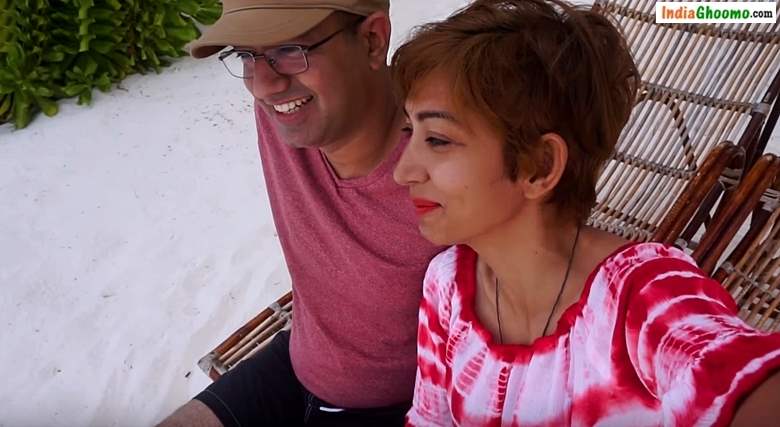 Lakshadweep Thinnakara Island Things to do – Sarita & Kamal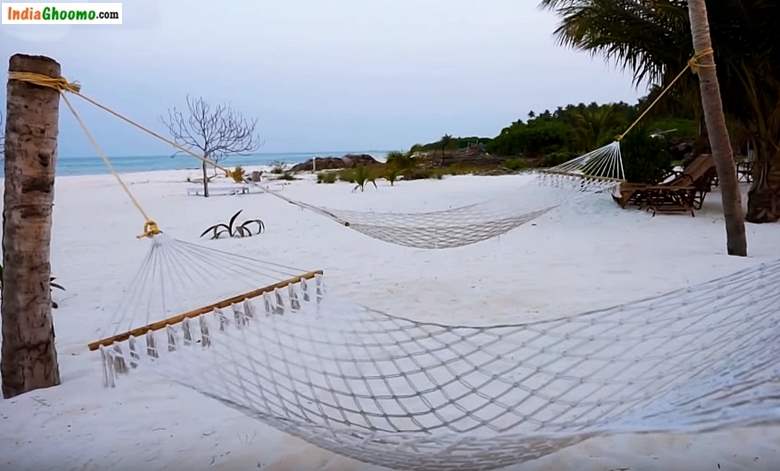 Lakshadweep Thinnakara Things to do