The hypnotic beauty of Ladakh's ever changing majestic and alluring landscapes beckons every traveller. At ladakh, every curve in the road captivates you with a unique view.
Ladakh is one of the most beautiful region in India. And when it comes to the best places to visit in Ladakh, Nubra Valley is right on top of the list.
Namastey from Team India Ghoomo, it's Sarita & Kamal and welcome back to Ladakh series on our BLOG/CHANNEL. In this video we are gonna give you an overview of Nubra Valley in Ladakh, top things to do in Nubra Valley, travel tips and other useful information.
Plz note, the tips and information mentioned in this video is totally based on our personal experience and includes all that we could possibly cover during our 1 day stay at Nubra Valley. Hope you will like it.
WATCH THE VIDEO –
Nubra Valley Additional Tips & Information
Nubra Valley Elevation – 10,000 feet above sea level.
Distance from Leh – 150 kms.
Leh to Nubra Valley Route – Leh – Khardung La Top – Nubra Valley
Things to Keep In Mind
-Acclimatize Well
Around 15o kms from Leh, the route to Nubra Valley goes through the highest motorable pass in the world, the Khardung La Top at an elevation of 18380 ft above sea level. Since the air pressure and oxygen level is extremely low at Khardung La top, It's important that your body is properly acclimatized before you head out for this journey or you may have to face some health issues. We have made a detailed article/video on Khardung La where we have mentioned travel tips and precautions. You can read it her – Ladakh – Khardung La Pass
-Travel on the 6th Day – We recommend traveling to Nubra Valley on the 6th Day of your Ladakh Trip (if you have landed in Leh via Air)
-Carry Sufficient Warm clothes
Temperature drops at the Khardung La Top and nights can be chilly at Nubra Valley. Therefore, carry sufficient warm clothes like a warm jacket, a pull-over, gloves, woollen caps and a warm blanket in your car.
Also, carry some food and sufficient water during the ride since nothing is available until you reach the Khardung La top.
There is a cafeteria at Khardung La Top which serves noodles and hot tea.
– Hunder Army Medical Camp
There is an army medical camp at Hunder in Nubra Valley where one can seek medical aid in case of uneasiness.
Nubra Valley Attractions –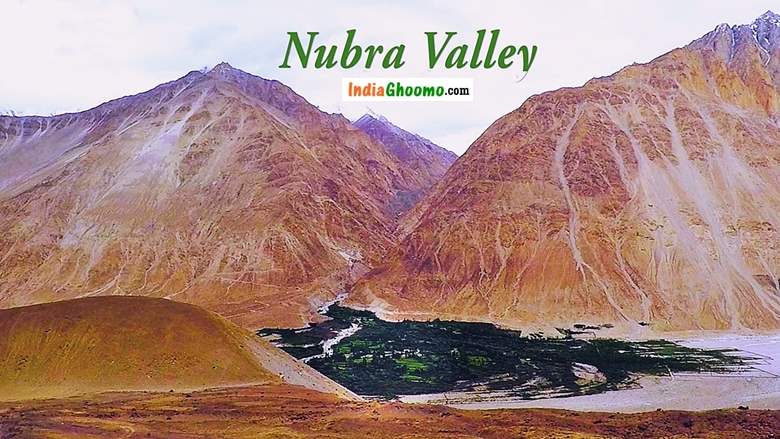 Nubra Valley Ladakh
Like the rest of Ladakh, Nubra is a high altitude cold desert at an elevation of 10,000 ft above sea level with little vegetation except along river beds. The ancient Silk Route passes through this valley. The bewitching beauty of Nubra Valley landscape will linger on with you for a really long time.
Diskit, Hunder, Turtuk, Sumur, Panamik, Tiger & Khalsar are some of the most popular attractions in Nubra Valley.
An Ideal Nubra Valley Itinerary
It usually takes around 6 hrs to reach Nubra Valley from Leh. But if the weather is bad, it may even take upto 10 hrs. Keeping this unpredictability in mind, according to us an ideal Nubra Valley itinerary should include total 3 days.
Day 1 – Should include Arrival to Nubra Valley by afternoon and rest.
Day 2 – Exploring Diskit, Hunder & Turtuk.
Day 3 – Should include exploring Sumur, Panamik, Tiger, Khalsar and return back to Leh.
Accommodation at Nubra Valley
Hunder and Diskit offer decent accommodations for tourists which you need to book in advance.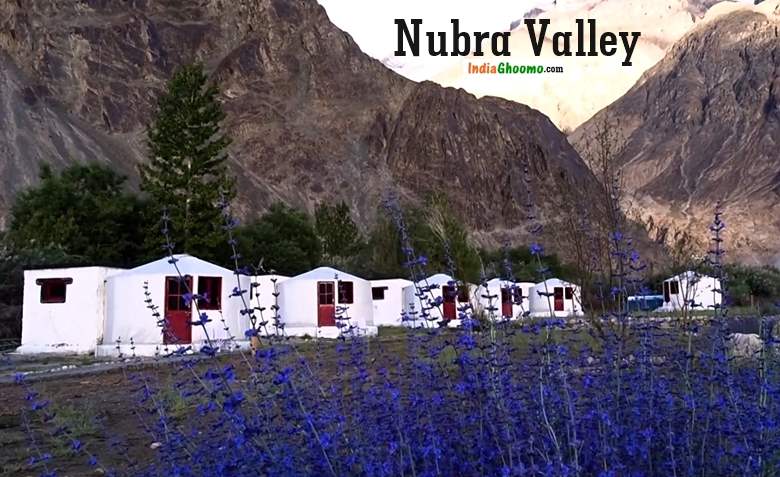 Nubra Valley Camping
Day 1) Leh – Nubra Valley ( Via KhardungLa Top)
By the 6th Day of your trip to Ladakh, your body will be acclimatized to Leh's altitude making your drive to Nubra Valley a joyous experience. Start off early at around 8:00 am from Leh and head towards Nubra Valley via Khardungla Top. Around 15o kms from Leh, the route to Nubra Valley goes through the highest motorable pass in the world, the Khardung La Top at an elevation of 18380 ft above sea level. The drive that goes through the winding snow clad mountains with dramatic curves offering breathtaking views of the surrounding mountains and valleys makes it the high point of the journey.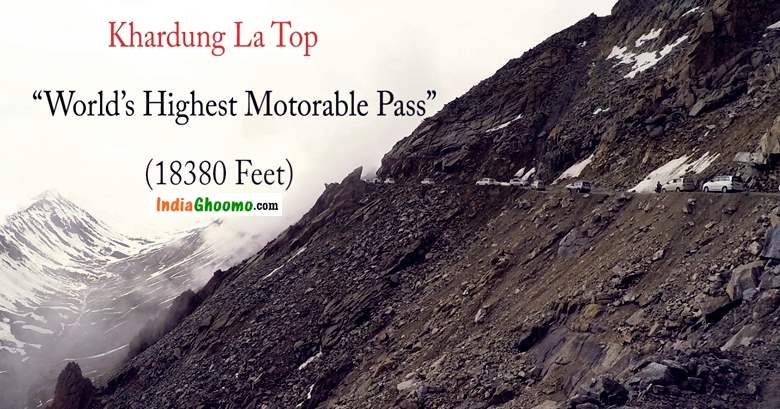 Khardung La Pass
Watching the monochrome landscape gradually change into a gorgeous valley of poplar trees and colorful flowers is what makes the journey to Nubra Valley from Leh via Khardung La Top is a delightful experience.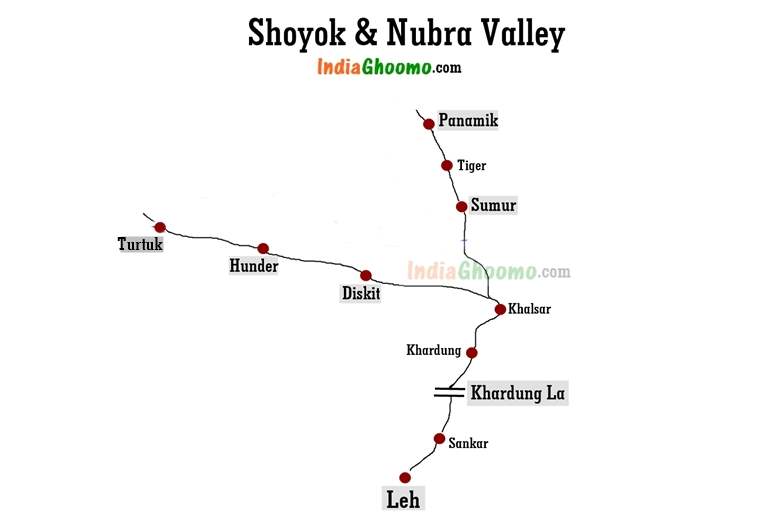 Nubra Valley Map
After reaching Nubra Valley, Check in to the hotel room, freshen up and rest for the day.
Day 2) Nubra Valley – Hunder, Diskit & Turtuk
On the 7th day of your trip, set out to explore the adventures of Nubra Valley starting from Diskit.
Diskit
Diskit is famous for Diskit Monastery and a 32 meter tall statue of Maitreya Buddha. A climb upto the Monastery offers panoramic view of the landscape all around and the towering Maitrey Buddha Statue on the opposite hill.
The imposing 32 meter tall statue of Maitreya Buddha. Visible from a distance as soon as one enters the Diskit Region, The Maitreya Buddha statue faces down the Shyok River towards Pakistan.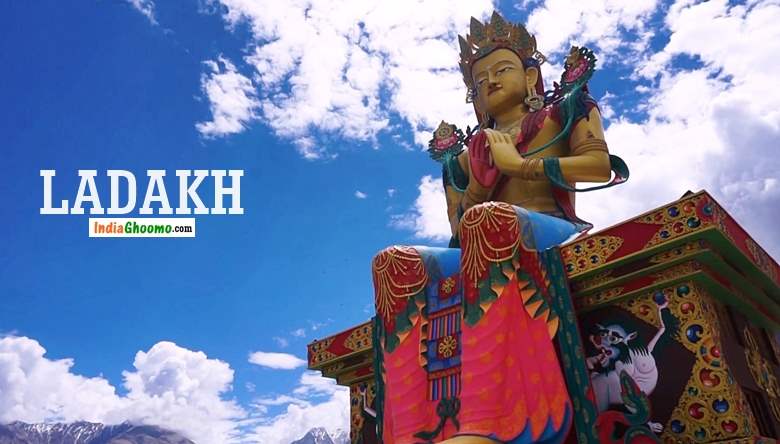 Ladakh Diskit
Hunder
About 8 km away from Diskit, Hunder is renowned for it's sand dunes and Bactrian Camel safari
While you experience some beautiful views of the vegetation in Diskit, Hunder is all about white desert making it another most alluring attraction of the Nubra valley.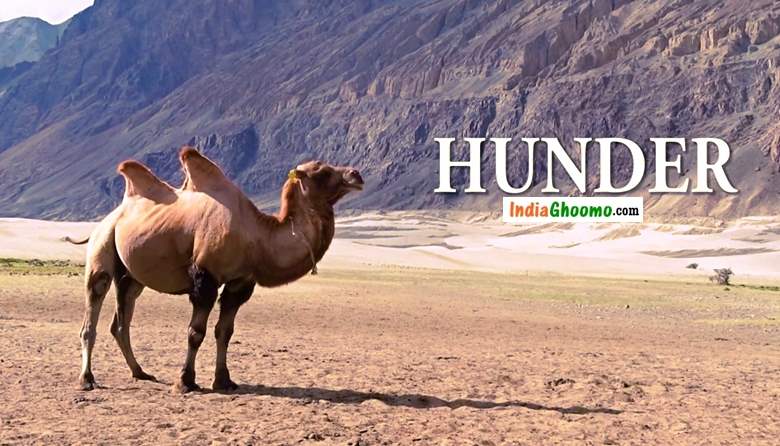 Ladakh Nubra Valley Hunder
Camel Ride at Hunder – This wide stretch in the valley is a desert complete with sand dunes and camels. In the afternoon gusty winds pick up sand to create miniature sand storms over Hunder. The Bactrian double humped camels found exclusively at this place in India, can often be seen grazing on the dune-like landscape. One can hire a ride on the double humped camels for Rs. 200 for an exciting experience. The camels are taken good care by the owners and they look happy. Camel ride timings are –
Morning : 8:00 am-10:am
Evening : 4:30pm – 6:30 pm
Turtuk
85 Kms from Hunder is the the beautiful village of Turtuk on the banks of the Shoyok river. Turtuk is the last outpost in India after which the Pakistan-controlled Gilgit-Baltistan begins. It is the last major village where tourist activity is allowed before the Line of Control.
Return back to your camp and rest for the day.
Covering Diskit, Hunder and Turtuk should be enough for the day. Return to your camp and spend the night. That completes your 2nd day at Nubra Valley.
Day 3 ) Nubra Valley – Sumur, Panamik, Tiger, Khalsar & Back to LEH
Start early on the 3rd day at Nubra Valley and set off to explore Sumur, Panamik and Tiger .
At Sumur – Samstanling Monastry is the main attraction of this village.
At Tiger Village – Zamskhang Palace is a tourist attraction.
At Panamik Village – one can enjoy hot water springs & a few kms ahead of Panamik one can enjoy the gorgeous views of Yarab Tso
ATV RIDE At Khalsar – On the way near village Khalsar you can enjoy ATV ride amidst sand dunes and then make your way back towards Leh . The thrilling ride Priced for Rs. 1200/ per ride includes a 15 minutes drive across the sand dunes reaching upto the edge of the gurgling Shoyok river that flows nearby. One must try this adventure activity – the entire experience of driving on the vast stretch of sand with panoramic view of the Mountains right in front is amazing.
Ladakh ATV Ride Khalsar Nubra Valley
Return Leh by afternoon and rest for the day.
So, these were a couple of additional information that would make your Nubra Valley journey a pleasant and memorable one. We hope you found the informations useful and enjoyed watching the video. Stay tuned for more Ladakh Videos and blog posts.
Ghoomtey Raho!
NUBRA VALLEY PICTURES –
Ladakh Nubra Valley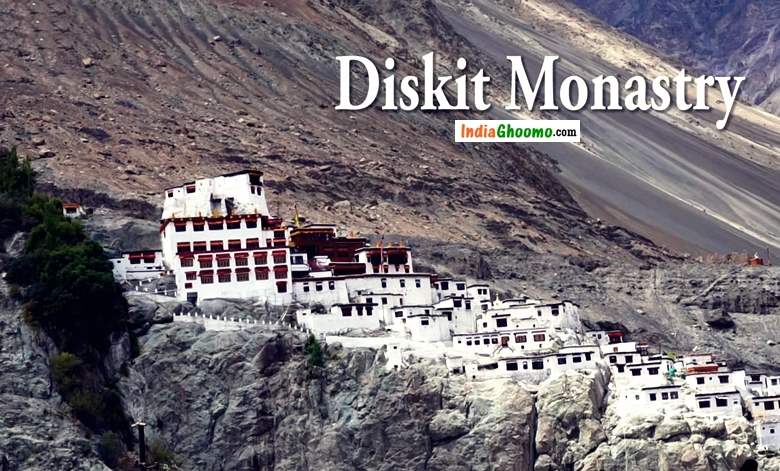 Diskit Monastery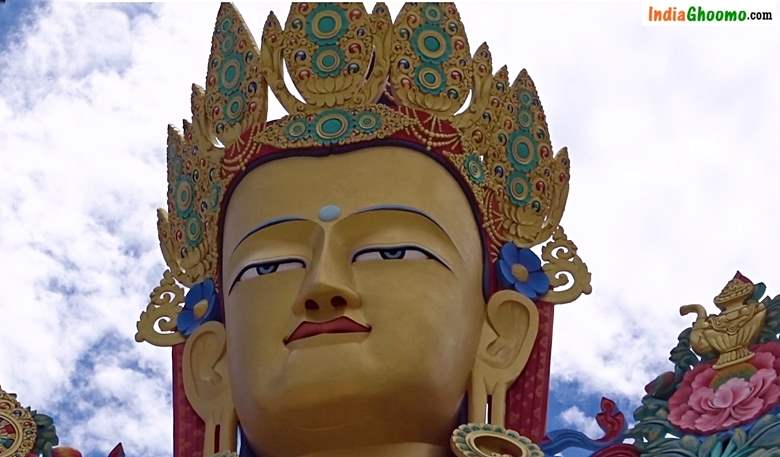 Diskit Monastery Ladakh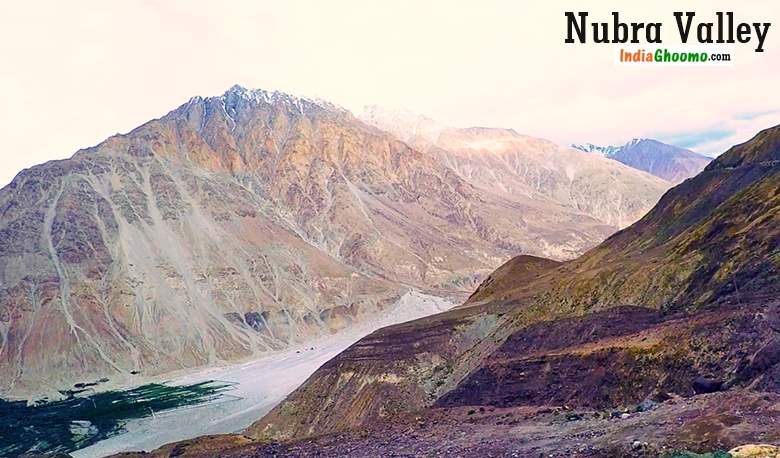 Nubra Valley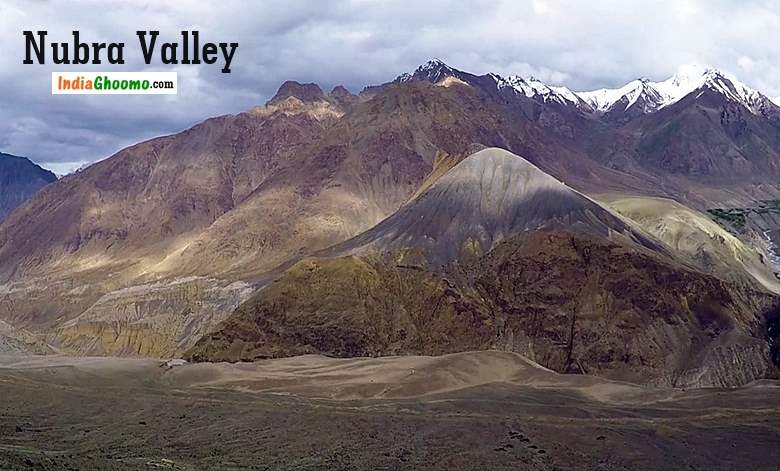 Nubra Valley Landscape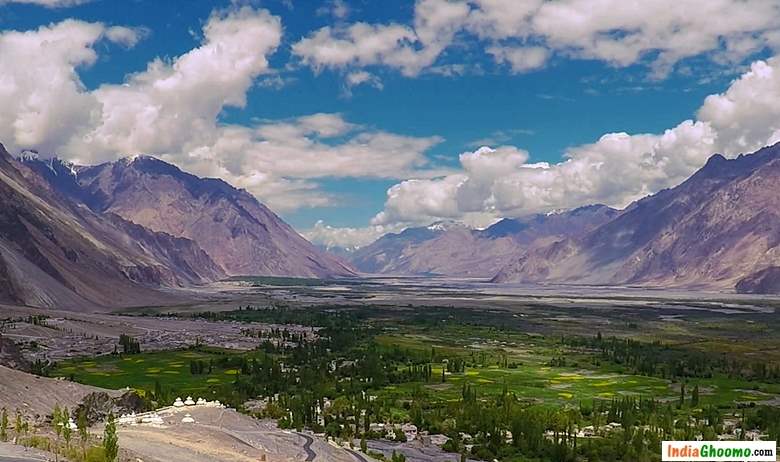 Nubra Valley view from Diskit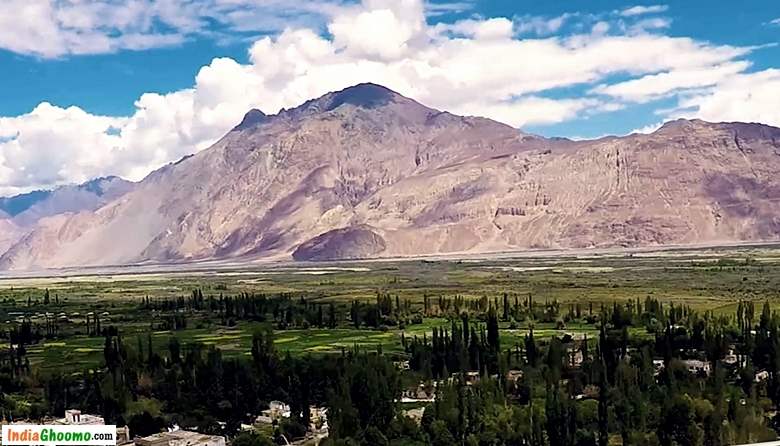 Nubra Valley Diskit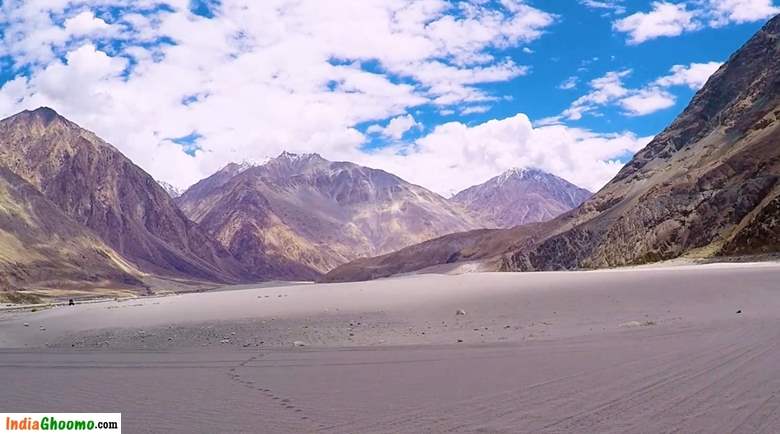 Hunder Sand Dunes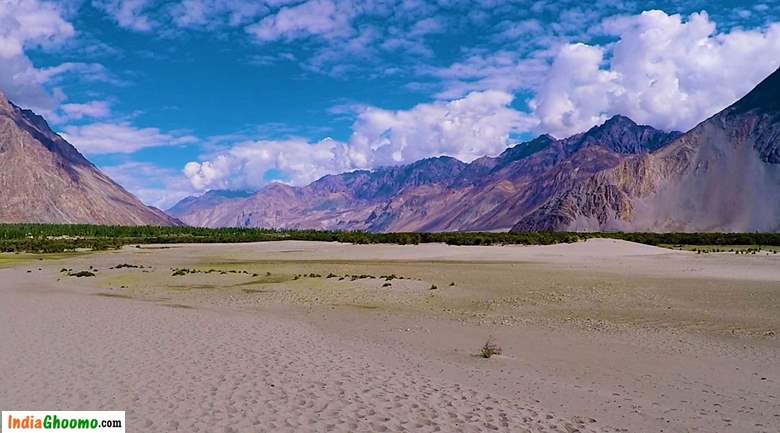 Hunder Nubra Valley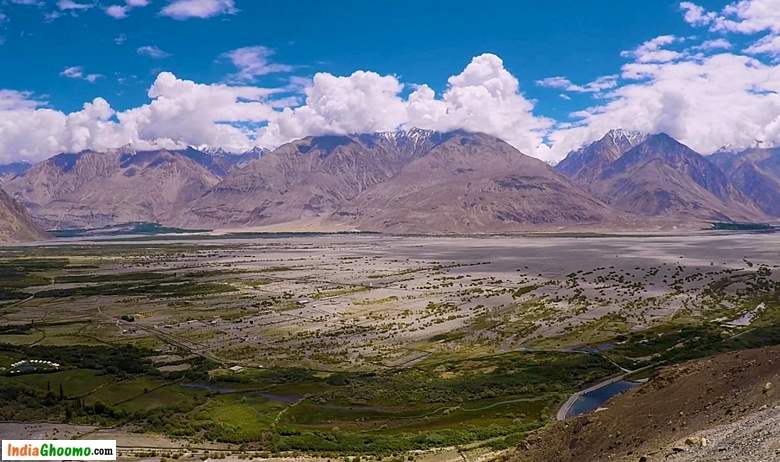 Diskit Nubra Valley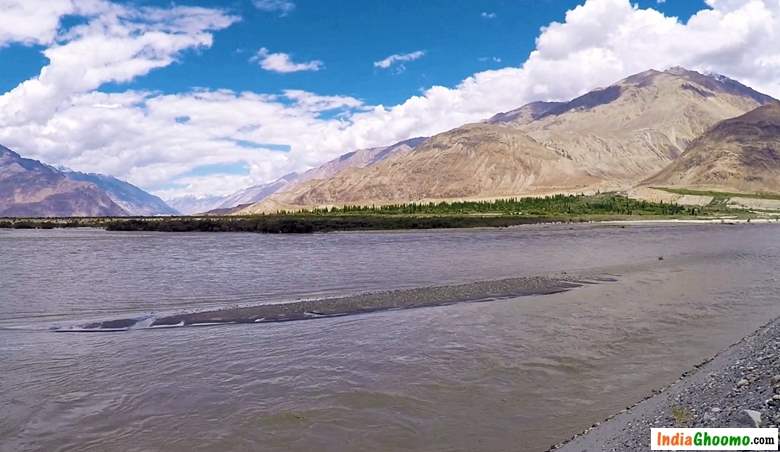 Ladakh River Shoyok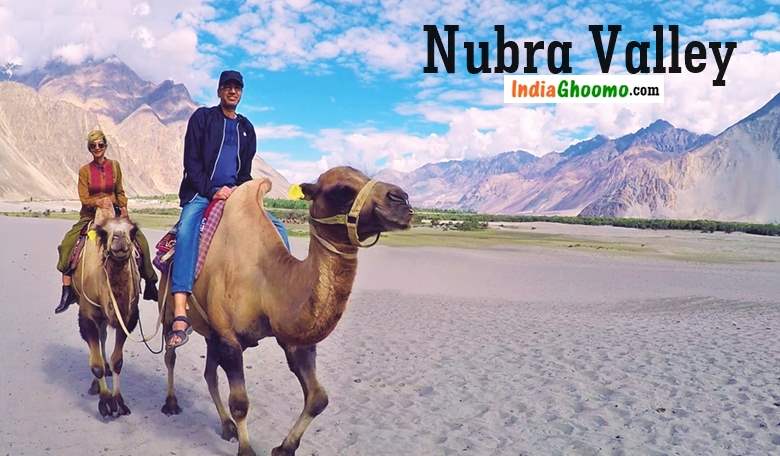 Nubra Valley Camel Ride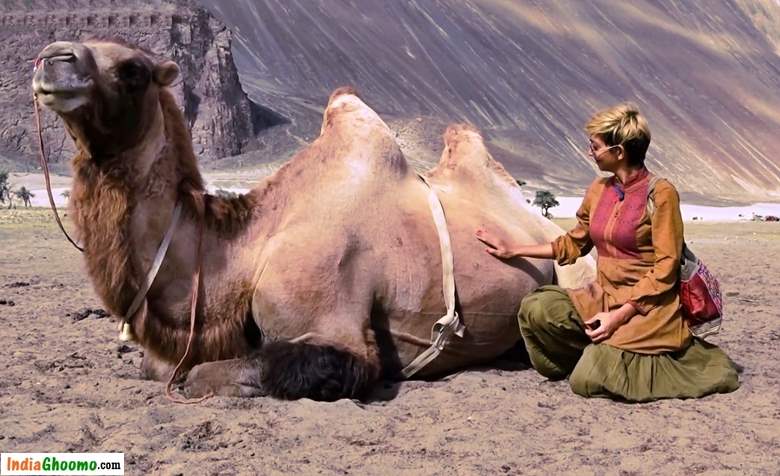 Nubra Valley Camel Ride Hunder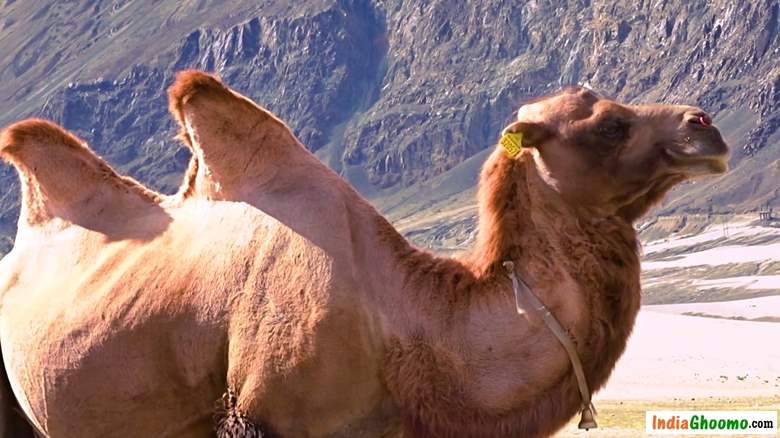 Hunder – Bactrian double humped camel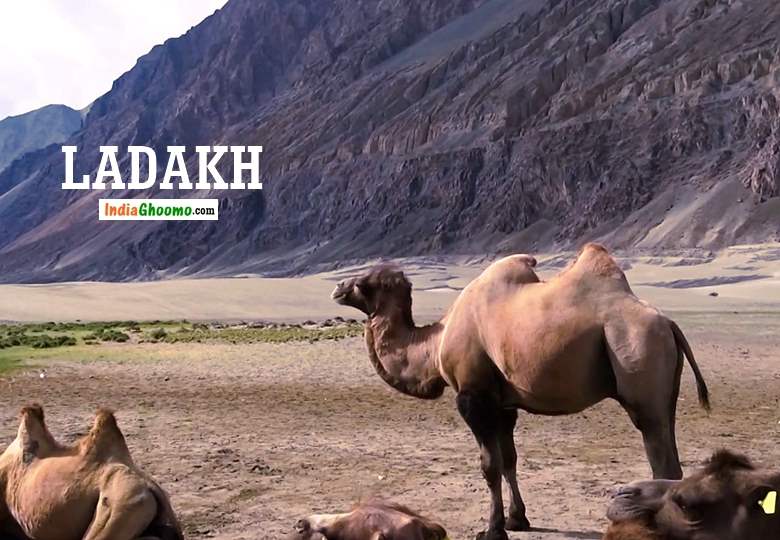 Ladakh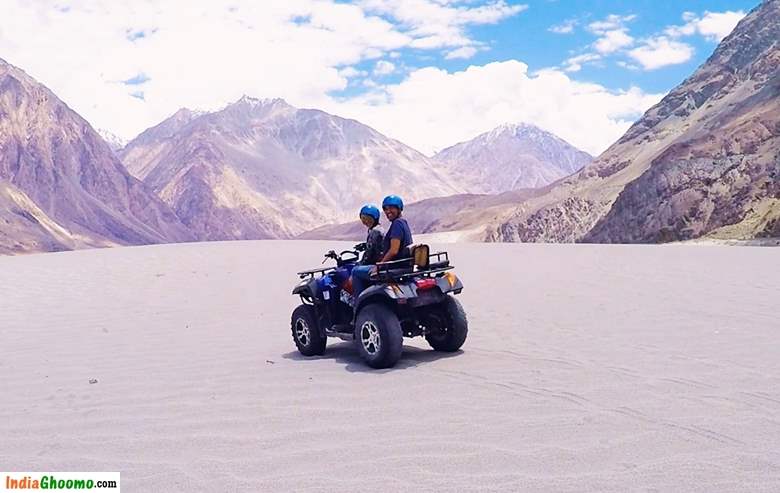 Ladakh ATV Ride Hunder Sand Dunes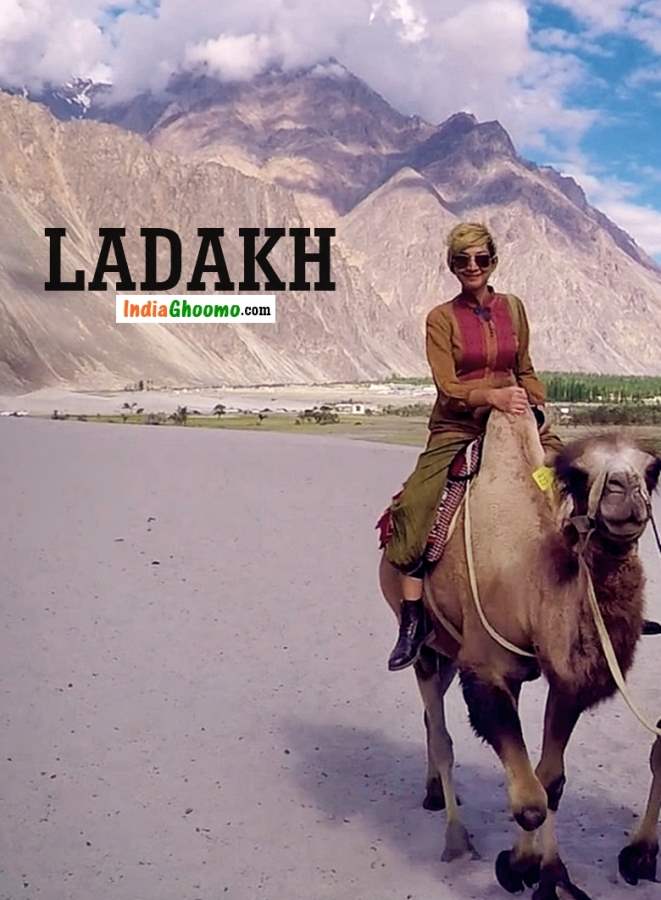 Ladakh – India Ghoomo